11 Best Vegan Face Scrubs Of 2023 To Exfoliate Your Way To Flawless Skin! (With Reviews)
Tackle dullness and achieve a healthy glow with skin-friendly facial exfoliators.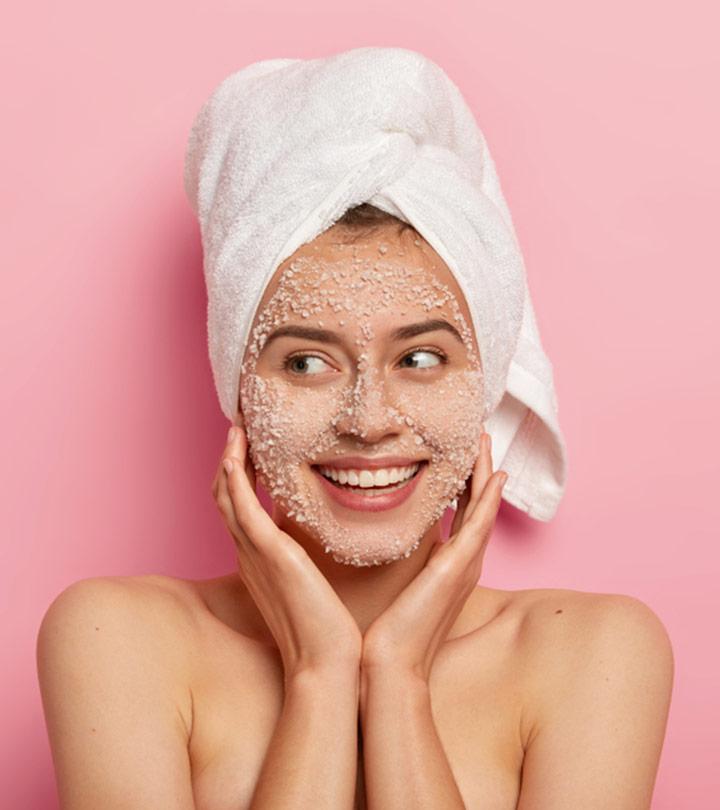 A face scrub exfoliates your skin, removes dead cells, eliminates oil buildup, and keeps your skin clean and smooth. However, a generic face scrub may contain some chemicals that trigger allergies and irritation on your skin. Instead, get your hands on the best vegan face scrubs that are formulated using plant-based ingredients and are chemical-free. These face scrubs are cruelty-free and do not include animal-derived ingredients. In addition, they help to keep your skin radiant and flawless. Some vegan face washes are formulated to remove acne-causing bacteria along with dead cells, while some nourish your skin by cleansing all impurities. In this article, we bring you the best vegan face scrubs that exfoliate your skin gently. Scroll down and grab an amazing face scrub for yourself!
Yep, scrub away for a beautiful, clear, and stunning glow! Go on, check out our list of 11 best vegan face scrubs of 2023 below:
Read on to know more!
Top 11 Best Vegan Face Scrubs For Animal Lovers
Exfoliate to shine beauties! Staying true to its name, here's a scrub that will brighten up your skin with a healthy glow instantly. Pulling out the toxins, impurities, and dead skin cells, watch your pores look cleansed and tighter with every use. Packed with skin-friendly ingredients such as sea kelp, lemon peel, Madonna lily, and French green clay, it claims to detox, soften, and purify your skin all in one go. Don't believe us? Go on, exfoliate to witness the glow up!
Pros
Eliminates dullness
Rejuvenates and replenishes skin
Cruelty-free, paraben-free, sulfate-free, mineral oil-free, and more
Suitable for all skin types
Cons
The scrub particles may be too gentle for intense exfoliation.
Price at the time of publication: $7.99
The Elizabeth Mott Vitamin C Face Scrub is crafted with the nourishing Vitamin C that brightens the skin tone. It contains coconut fruit extract that combats aging signs and sunflower oil that restores the skin barrier. This gentle face pack deep cleanses the pores, rejuvenates dull skin, and reduces hyperpigmentation. With only a small amount of the scrub, you will achieve baby-like soft, smooth and radiant skin in no time.
Pros
Suitable for all skin types
Does not irritate the skin
Softens the skin
Pleasant fragrance
Cruelty-free
Cons
Might leave a greasy residue
Price at the time of publication: $19.99
Having a vegan exfoliating scrub that contains biodegradable ingredients for gentle daily cleansing is a treasure. This one from Health Priority contains jojoba pearls that are safe both for your skin and the environment. Its rich and creamy texture removes rigid dead skin cells, dirt, and makeup, leaving the pores deeply detoxified. The enriching combination of Vitamin E and organic oils nourish the skin, leaving the skin tone and texture improved and rejuvenated. It doesn't over-dry the skin but soothes it and works for all skin types. What a bonus!
Pros
Cruelty-free
Paraben-free
Alcohol-free
Suitable for all skin types
Gentle exfoliator
Detoxifies pores
Revives skin tone and texture
Nourishes the skin
Cons
Might have an unpleasant smell
Price at the time of publication: $23.97
More like an energy booster, watch your skin go from meh to mesmerizing instantly with this vegan scrub by Thrive. Powered by plants, it contains juanilama and fierillo, which have antioxidant, anti-bacterial, anti-inflammatory, and anti-fungal properties to combat infections and pull out toxins and impurities diligently. Leaving your skin fresh and rejuvenated with every use, its medium-level exfoliation also tackles ingrown hair, dryness, and dead skin. Besides this, it exfoliates with grounded coffee from Arabica and potent plant oils from Costa Rica. Give it a try!
Pros
100% natural ingredients
Ideal and safe to use post-shaving
Improves uneven texture and skin tone
Energizes and exfoliates at the same time
Eliminates oil buildups, sweat, and SPF
Shields skin from damages, irritation, and stress
Gluten-free, non-GMO, and cruelty-free
Free from microbeads, synthetics, color, fragrances, and artificial ingredients
Cons
Price at the time of publication: $38.45
Let every exfoliation be gentle, healthy, and satisfying for you and the animal lover in you! Here's a vegan exfoliating face scrub packed with non-toxic ingredients such as marine red algae, lilac plant stem cells, and red algae concentrate that work together to cleanse, soothe, and manage oil on your skin. Also, it is formulated with skin-restoring benefits and enhances the sensitive skin texture too. A great option if you are dealing with clogged pores and excess oil problems, try it if you don't mind spending on a premium product.
Pros
Refines and purifies pores
Soothes redness and enhances texture
Eliminates dead skin cells and impurities
Protects skin against skin-damaging radicals
Gluten-free, cruelty-free, and environmental-friendly
Suitable for dry and oily skin
Cons
Pricey
Price at the time of publication: $58.0
The Pacifica Pore Warrior Soft Scrub features plant-based scrubbing beads and papaya fruit acids that dissolve the debris and eliminate them from your skin. Made with skin-soothing ingredients like cucumber, niacinamide, mint, lavender, and Vitamin E, the scrub is completely suitable for sensitive skin. Additionally, it is also completely free from any harsh chemicals like parabens and phthalates.
Pros
Softens the skin
Easy to apply
Does not strip the moisture away
Does not irritate the skin
Paraben-free
Phthalate-free
Cruelty-free
Cons
Leaves a film on the skin
Price at the time of publication: $11.87
Enjoy the benefits of exfoliation, scrubbing, and polishing all in one with MyChelle Fruit Enzyme Scrub. Tough on impurities and dead skin cells, it's gentle on the skin and refines pores without irritating or drying the surface. The formula contains jojoba oil beads, AHAs, bamboo extract, fruit enzymes, and powerful antioxidants to exfoliate, protect, and restore skin to its optimal health. Yep, who's up for a fruity experience?
Pros
Exfoliates intensely
Stimulates blood circulation
Protects against skin-damaging radicals
Eliminates dry, dull, and damaged skin cells
Combats hyperpigmentation and blemishes
EWG-verified, cruelty-free, gluten-free, and Non-GMO
Sulfate-free, silicone-free, petroleum-free, paraben-free, and more
Suitable for oily, combination, and acne-prone skin
Cons
Not recommended for sensitive skin or rosacea
Price at the time of publication: $19.0
The NuRevealSkincare Bright Star Scrub is a certified face and lip scrub. The scrub is infused with blood orange red which helps increase the blood flow. It also contains peppermint oil that naturally cleanses and soothes inflamed skin. The scrub also features white willow bark, chamomile, and lavender water that rejuvenate and improve the texture of your skin. The rosehip and sunflower seed oil combats against the radical aggressors and reduces redness, respectively, and the organic aloe leaf juice heals skin conditions like rosacea and dermatitis. Additionally, the AHA acids and the walnut shell powder in the formula treat hyperpigmentation, deep cleanse clogged pores, restores the pH balance, and turn your skin baby soft and smooth.
Pros
Organic
Lightweight
Soft texture
Non-greasy
Not overpowering fragrance
Washes off easily
Paraben-free
Cruelty-free
Cons
Are you looking for a gentle vegan scrub? Quit searching as this organic face scrub will be a great option for you. Ideal to use as a cleanser as well, all thanks to the gentle microdermabrasion, your scrub session can't get any more pampering than this. Getting rid of all kinds of impurities from oil build ups to dirt, it also hydrates intensely and repairs skin damages. The formula contains bamboo powder, a blend of superfruits, aloe vera, volcanic powder, chlorophyll, and more vegetable-derived cleansers. Yep, consider your skin cleansed, nourished, and beautified with this one.
Pros
Non-irritating formula
Prevents blackheads and blemishes
Leaves skin glowing and healthy
Eliminates dullness and combats aging signs
Cruelty-free and free from harsh chemicals
Suitable for all ages and skin types
Cons
Not for daily use if you have sensitive skin
Price at the time of publication: $24.99
Sugar, yes please! If you enjoy homemade scrubs, then you'll love this brown sugar scrub by Brooklyn Brown. Formulated to exfoliate from head to toe, you can enjoy a full-body scrub with this softer version of natural sugar. And if you are wondering if it will be harsh on sensitive skin, then let us assure you that it is gentle enough to be used as a lip scrub too! And the best part, it not only scrubs but moisturizes as well. Too sweet to be missed, don't you think?
Pros
100% all-natural formula
Locks in natural moisture
Ideal to use post waxing or shaving
Eliminates dead skin cells, dirt, and oil buildups
Combats blackheads, blemishes, and dryness
Reduces the appearance of acne and scars
Cruelty-free, paraben-free, sulfate-free, and alcohol-free
Cons
May be slightly greasy for oily skin
Price at the time of publication: $9.99
Lastly, this pumpkin-powered facial scrub that claims to detoxify, nourish, and repair skin— all in one go. So, are you dealing with dull and tired skin, or are blackheads giving you a tough time? Indulge and scrub with this natural exfoliator that ensures to penetrate deep into the skin, drive out the impurities and nourish with its enriching formula. It contains apple, almond acid, pumpkin enzymes, pumpkin oil, vitamin E, and apricot grains, thus making it one of the best vegan scrubs out there.
Pros
Ideal for all skin types
Nourishes intensely
Purifies and polishes skin
Leaves skin fresh and glowing
Prevents breakouts and blemishes
Protects against skin-damaging radicals
Cruelty-free, sulfate-free, and paraben-free
Suitable for acne-prone and mature skin
Cons
Not recommended if you prefer fragrance-free scrubs
Price at the time of publication: $28.0
There you go— we've made your scrubs paw-friendly now! Yep, those were the 11 best vegan face scrubs that you must try this season. Do you need more assistance with buying the right face scrub? Or are you wondering how long you should scrub? We've explained it all in the buying guide below.
Buying Guide:
How do I choose the right vegan face scrub?
Look out for the following features while choosing a vegan face scrub:
Skin type: There are vegan scrubs available for all skin types, be it dry, oily, combination, acne-prone, sensitive, and mature skin. So, before choosing a scrub, figure out your skin type and then pick the one that best suits your skin condition.
Exfoliates intensely: Pick a scrub that exfoliates intensely and guarantees to cleanse and minimize the appearance of pores for soft, clearer, and cleaner skin.
Chemicals-free formula: Vegan scrubs should ideally be chemical-free, so your skin can bask in the all-natural blend without coming in contact with chemicals that can irritate the skin.
Non-irritating scrub: A scrub should not irritate your skin while exfoliating, or else it is a lost cause. Hence, pick a scrub that guarantees to scrub without over-drying, is non-irritating and gentle too.
Avoid animal-derived ingredients: If a product contains animal-derived ingredients such as beeswax, etc., it is not 100% vegan. So, look for products that do not contain animal-derived ingredients for the best experience.
How long should you scrub your face?
Not more than a minute! Ideally, you must scrub as long as you feel satisfied to have cleansed and exfoliated all the areas. However, the scrubbing time should not exceed more than a minute.
Yep, ready for TLC with some paw-sitive love! Now, anyone can scrub without feeling the slightest guilt of hurting their furry friends. These vegan scrubs with all-natural ingredients will not only exfoliate gently but ensure your skin looks healthy with a vegan glow. With 11 options on our list that are chemical-free and environment-friendly, there's no reason why you must give them a miss. Hurry, go vegan with the best scrub today!
Why Trust Stylecraze
Vaishnavi Kothuri is an articulate writer. Her expertise lies in the field of writing about skin care products. She has curated a list of the best vegan face scrubs in this post. Her content is supported by in-depth research to guarantee the great quality and efficiency of the product. She has also backed her recommendations with expert reviews from the skin care industry to help you make a trustworthy choice for your skin care routine.
Frequently Asked Questions
Is a scrub good for your face?
Yes, a scrub is very good for those who are dealing with blackheads, dead skin cells, clogged pores, or tired skin. It helps exfoliate intensely to leave your skin cleaner, clearer, firmer, and younger-looker than before.
Is it okay to use a face scrub every day?
No, you should not use a face scrub more than thrice a week. Also, if you have sensitive skin then stick to using it twice a week only. Scrubbing your skin too much can irritate the pH balance and damage the skin rather than protecting it.
Is apricot scrub bad for your face?
It depends on your skin type and condition. Vegan scrubs with apricot may be grainy and ideal for intense exfoliation that might not suit sensitive or rash-prone skin. However, if you are looking for one, then Peter Lamas Naturals Exfoliating Pumpkin Facial Scrub is a great option.
Can I use face scrub after face wash?
Yes, you can, if your cleanser is gentle, so that you don't have to scrub too much. However, avoid using an intense face wash before scrubbing as you may end up disturbing the natural moisture/oil balance of your skin.
Do facial scrubs damage your skin?
Not all facial scrubs damage your skin, but any scrub containing large, irregularly shaped particles causes micro-tears on the skin's surface.
Should I apply moisturizer after scrubbing?
Yes, applying a moisturizer afterwards is very important as scrubbing makes the skin dry.
Recommended Articles