10 Best Vegan Hair Dyes That Actually Work – 2022's Top Picks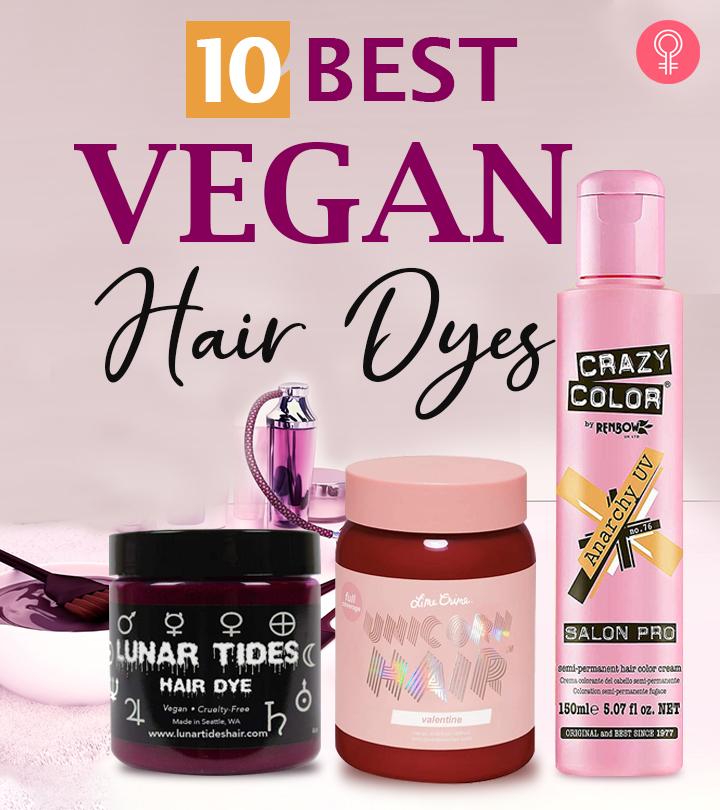 Color-dyed hair looks attractive. Many chemical-based color dyes are easily available in the market. But these color dyes may damage your hair if your hair is constantly exposed to those chemicals. This is why you can shift to using the best vegan hair dye that can dye your hair without damaging your hair strands, even if you use it in the long run. These vegan dyes are free from animal-derived ingredients and include only plant-based ingredients. In addition, they are available in different shades as well. Scroll down and take a look at our list of the 10 best hair dyes made with vegan ingredients.
10 Best Vegan Hair Dyes
The Arctic Fox Semi-Permanent Hair Color is a direct dye that does not require a developer to deposit color on your hair. It is formulated to fade within its original color spectrum, meaning your hair will fade into a lighter shade of the same color.
The shade Aquamarine is a vibrant turquoise shade and gives the best results on pre-lightened hair. However, it gives a deep teal tint to darker hair. This product contains no harmful chemicals and conditions your hair to keep it soft and prevent damage. The hair color lasts for 4-8 weeks, depending on your hair type and hair care routine. If you want to know more about the results, take a look at this review on YouTube.
Pros
Affordable
Sweet scent
Does not dry out hair
Easy to apply
Ammonia-free
Ethyl alcohol-free
Peroxide-free
PPD-free
Smears less
Long-lasting
Cons
The Revlon Total Color is a dermatologically tested formula containing hair nourishing ingredients like camellia oil and cannabis sativa (hemp) seed oil. These ingredients also enhance the dye's ability to give vibrant results. The color is long-lasting and stays for at least six weeks without any touch-ups. The shade Light Auburn gives brilliant results on light hair. However, it may leave a darker reddish-brown hue on dark hair.
Pros
Long-lasting
Provides gray hair coverage
Affordable
Easy to use
Mild scent
Paraben-free
Mineral oil-free
Sulfate-free
Gluten-free
Phthalate-free
Silicone-free
Cons
The Splat No Bleach Kit is a range of semi-permanent dyes that last for up to 30 washes or more, depending on how you maintain your hair. It has an ultra-conditioning formula that gives vibrant results without pre-bleaching, i.e., it does not damage your hair. It contains quinoa extract that strengthens and protects your hair while improving its shine and locking in the color. The shade Midnight Tanzanite is a brilliant purple color that works on every hair type and color. The kit includes the dye, instruction manual, gloves, and a deep reconstructor for conditioning the hair. You can check this YouTube video for more information about the product.
Pros
Long-lasting
Easy to use
Available in unique colors
Potent formula
Cons
Bleeds when wet
May stain the skin
The Manic Panic Semi-Permanent Hair Color Cream has mixable colors and tones – you can mix different dyes of the same brand to customize your shade. This semi-permanent dye is ready to use and does not require any developer. This hair dye does not penetrate the hair cortex and lasts for 4-6 weeks without causing any damage. The shade Rock 'N' Roll Red is a warm, vibrant, and medium-hued red and gives the best results on hair pre-bleached up to level 8. If you are still unsure about purchasing, you can check out a review of this product on YouTube.
Pros
Ready to use
Does not dry out hair
Pleasant fragrance
Ammonia-free
PPD-free
Phthalate-free
Gluten-free
Paraben-free 
Cons
The Lime Crime Unicorn Hair gives semi-permanent results and full coverage. This dye deep conditions the hair while depositing color and keeps it soft and silky with a sweet fragrance. It has a damage-free formula minus any harmful chemicals and delivers a vibrant and saturated color to pre-bleached platinum to medium blonde hair. However, it gradually fades to prolong the color. The shade Valentine has a crimson color and can be used straight out of the jar without any developer.
Pros
Does not damage hair
Pleasant fragrance
Suitable for all hair types
Easy to apply
Bleach-free
No harsh chemicals
Cons
The Lunar Tides Hair Dye has highly pigmented velvet tones that last long and give your hair rich color. This semi-permanent hair dye is non-damaging and does not require a developer. The shade Fuschia Pink imparts a vibrant fuschia color to light hair and dark violet color to dark hair.
Pros
Non-drying
Easy to use
Available in a variety of colors
Highly pigmented
Long-lasting 
Cons
The Good Dye Young Hair Color is infused with botanical ingredients like sunflower and bergamot extracts and other hair conditioning ingredients to keep the hair nourished and prevent damage. This professional-grade dye gives vibrant results and is mixable – you can mix and customize your hair color. The shade Kowabunga Green is a vibrant shade of green and works best on light or bleached hair.
Pros
Affordable
Natural scent
Long-lasting
Easy to apply
Non-drying
Ammonia-free
UV protection
PPD-free
Paraben-free
Formaldehyde-free
Cons
The Cosmic Element Light Brown Hair Color is henna powder and perfect for conditioning dry and damaged hair while adding a light brown color. This henna powder has anti-inflammatory and antimicrobial properties that maintain your scalp and hair health. It covers gray hair and is best for those who desire a more natural-looking, muted hair color. The product gives you soft and silky hair and is available in a variety of shades. 
Pros
Natural product
Ideal for all hair types
Natural fragrance
Covers gray hair
Non-GMO
Cons
None
The Special Effects Semi-Permanent Hair Dye is a semi-permanent dye that gives vibrant and beautiful results to even the thickest and darkest hair. This hair dye can last for up to a month without fading and drying the hair. Blue Mayhem is a vibrant navy-blue color. It gives bright results on light hair and a deep blue tint on dark hair.
Pros
Easy to use
Long-lasting
Non-drying
Great coverage
Cons
The Crazy Color Semi-Permanent Hair Color Cream gives vibrant color and stays bright for up to 6-8 washes. This anti-fade UV hair dye conditions your hair, making it feel soft and smooth after use, and also gives it a luxurious sheen. It contains sunflower seed, raspberry seed, and avocado oils to keep your hair healthy. You can also mix different hair dyes to create your custom shade. The shade Anarchy UV No. 76 is a chrome yellow hair dye, suitable for light or blonde hair.
Pros
Easy to apply
Provides a great coverage
Gluten-free
Paraben-free
PPD-free
Ammonia-free
Cons
Vegan hair dyes do not contain ammonia and peroxides, while chemical dyes are loaded with these two harmful ingredients. If you are wondering how the chemical dyes damage your hair, go scroll down to the next section.
What Are Chemical Dyes Actually Doing To Your Hair?
The majority of the semi-permanent and permanent chemical hair dyes are derived from coal tar and petrochemicals to produce chemical compounds like:
Ammonia
Hydrogen Peroxide
Para-phenylenediamine (PPD)
1,2,4 trihydroxy benzene
All these ingredients in the hair dye may cause harm to your hair and overall health in the following ways:
May Cause Cancer: Using chemical hair dyes may increase the chances of developing lymphoma, a type of blood cancer. A study analyzed 2,302 cases of lymphoid neoplasms (an abnormal mass of lymphocytic cell population) and found that people who used hair dyes more than 12 times a year had a higher risk of lymphoma. However, the compounds responsible for cancer were not explained in the study (1).
May Cause Allergic Reactions: The chemicals in the hair dye may irritate the scalp and cause irritation, redness, itching, and other allergic reactions. It may eventually cause hair loss.
Dry Out The Hair: The ammonia in chemical hair dyes swells up the hair cuticles, causing extensive hair damage. It weakens the hair bonds, causing hair breakage, dryness, and split ends.
Why Trust StyleCraze?
The author, Oyendrila Kanjilal, is a certified skincare coach, who loves diving deeper into the science and technology behind the various cosmetics products. She is aware of the many harmful effects of chemical-based hair dyes and how they affect your skin and hair over time. She has researched the various beauty forums and reviewed several customers' feedback to curate this list of the best vegan hair dyes for you. These are not only vegan and cruelty-free but also free of harmful toxins and chemicals. These help nourish and strengthen your hair from within along with giving your hair that natural shine and color.