6 Best Vegan Hair Removal Products Of 2023
Keep your skin silky smooth by preventing ingrown hairs with natural products.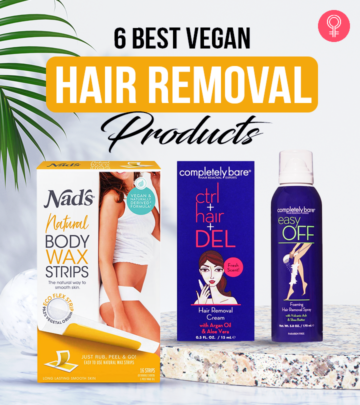 Everyone should switch to vegan products to help stop cruelty against animals. And one place you can begin from is the best vegan hair removal products. Waxing isn't an easy process, as many struggle to cope with the pain that comes with it. When we can't bear the pain of waxing, it isn't fair for us to promote products that inflict pain on the animals.
As human beings with a conscience, we should promote vegan products that may help reduce the cruelty against animals. Buying vegan products is one way to help stop unethical testing on animals and the usage of animal-derived ingredients in the product. This article lists the best vegan hair removal products that can help you get silky smooth skin without hurting innocent creatures. Keep scrolling!.
6 Best Vegan Hair Removal Products
The Nad's Natural Body Wax Strips are created to give you long-lasting smooth skin. These eco-flex strips are designed using 90% natural ingredients that are extremely gentle on the skin. They stick to your body contours and remove hair by the root, leaving you with silky and hair-free skin for a long time. These strips can be used to get rid of unwanted hair anywhere on your body, arms, bikini line, and legs. This all-in-one home wax kit also includes post wax oil that removes any sticky residue and delivers a perfect finish. To understand the nuances of this wax strip kit, you can check this review out on YouTube.
Pros
 Easy to use
 Fragrance-free
 Works for any hair thickness
 Safe for sensitive skin
 Synthetic color-free
 No artificial fragrances
Cons
None
Price at the time of publication: $9.99
This depilatory mask by Roots & Herbs is an instant hair removal ubtan powder that is infused with a patented 97% natural formula. Both men and women can use this to remove hair and tan from all over the body, bikini line, and pubic area. It is a great alternative to waxing and helps effectively clear out ingrown hair while making the skin baby soft.
This hair removal formula is infused with a blend of herbs, minerals, and clay that lend a cooling sensation to your skin post application. These include neem, fennel, aloe vera powder, green lentil powder, rice starch, calcium carbonate, camphor, multani mitti, along with essential oils of basil, vitamin E, sweet fennel, and tea tree. This Ayurvedic formula delivers instant results and helps slow down hair growth, thanks to its depilatory effect.
Pros
 Easy to use
 Non-irritating
 Suitable for all skin types
 GMP-certified
 Dermatologically tested
 Alcohol-free
 Synthetic color-free
 Silicone-free
 Ammonia-free
 Barium sulfide-free
 Mineral oil-free
 Sulfate-free
 Paraben-free
 Eco-friendly
 Non-GMO
 Pesticide-free
 Sodium-free
 Non-toxic
Cons
Price at the time of publication: $19.99
The Sugar Coated Full Body Hair Removal Kit offers excellent salon-like hair removal at home and contains wax, spatula, and reusable strips. The wax is formulated with a blend of pure sugar syrup (sucrose) and water (aqua) that is safe to be used from head to toe. The water-soluble formula is free of citric acid, resins, and artificial additives and leaves your skin feeling gentle and smooth without causing any damage. Its sugary caramel aroma is definitely a plus! If you want an honest review of this wax strip kit, make sure to check out this skincare aficionado's detailed video.
Pros
 Reusable strips
 Easy to use
 Mess-free
 Suitable for all skin types
 Full-body wax
 Pleasant fragrance
 Eco-friendly
 100% natural
Cons
 Doesn't work well on thicker hair
Price at the time of publication: $21.49
The Completely Bare Easy Off Foaming Hair Removal Spray is probably the easiest hair removal product of all! It is your perfect companion for when you are in a rush. This spray not only removes hair but also contains a nourishing blend of ingredients that provide skin care benefits. These include volcanic ash that exfoliates the skin, sea kelp that provides anti-aging benefits, and aloe vera that hydrates and heals dull, dry, and damaged skin.
It also includes shea and cocoa butter that act as natural moisturizers, vitamin E that stimulates collagen production and aids cell regeneration, and capislow that slows down hair growth. The symrelief (100) calms redness, irritation, and sensitivity, while the blend of sodium hydroxide and potassium thioglycolate melts hair from the roots.
Pros
 Easy to use
 Mild fragrance
 Removes ingrown hair
 Paraben-free
 Phthalate-free
Cons
 May cause a burning sensation
Price at the time of publication: $10.99
Say goodbye to unwanted hair with this painless and hydrating formula of Completely Bare Ctrl+Hair+Del Hair Removal Cream. The precise pen-like tip ensures easy application without any errors. It is infused with moisturizing argan oil that improves skin texture and treats cracked and irritated skin. In addition, the aloe vera enriched with vitamins, minerals, amino acids, and active enzymes helps enhance cell rejuvenation, smoothens the skin, and heals wounds.
Pros
 Extremely gentle on the skin
 Non-irritating
 Easy to apply
 Paraben-free
 Phthalate-free
 Vegan
 Cruelty-free
Cons
 Doesn't work well on thicker hair
Price at the time of publication: $5.79
The Preserve Shave 5 Razor System not only gives you a precise shave but also ensures that you stay eco-friendly. It is designed with cocoa butter and aloe vera covered strips and ceramic coated blades for additional skin comfort. The handle is ergonomically designed using eco-friendly materials that allow an easy grip. It comes in six different shades – navy, key lime, neptune, coral, sunshine yellow, and bright poppy red.
Pros
 Lightweight
 Durable
 Eco-friendly
 Non-irritating
 BPA-free
 Cruelty-free
 Eco-friendly
 Safe for sensitive skin
 Ergonomic handle
Cons
None
Price at the time of publication: $9.99
Choosing vegan hair removal products is a great way to ensure that you're doing your part in minimizing animal exploitation. But, the tough part is recognizing if the product is actually vegan or not, and if it is at all suitable for you. Given below is a list of factors to consider before purchasing a vegan hair removal product for your skin.
How To Choose Vegan Hair Removal Products
Skin Type
It is imperative to keep your skin type in mind when choosing the right hair removal products. Look for hydrating ingredients like argan oil, shea butter, green apple, or white chocolate if you have dry and dehydrated skin. For oily skin, look for oil-soluble waxes or creams with niacinamide, avocado oil, and turmeric in the formula. Likewise, if you have sensitive skin, go for products with soothing ingredients like green tea, avocado, and aloe vera to avoid any inflammation or irritation.
Formulation
Hair removal products come in a varying formulations, including creams, waxes, spray-on foams, and gels. Decide on the most convenient formula as per your preference. For instance, if you do not like creams spread across your skin, you can go for waxes that do not make your skin feel greasy or sticky. Similarly, if you are in a rush, it is always a good idea to use spray on foams for quick hair removal.
Area Of Use
Hair removal products differ in terms of formulations depending on the area of the skin you wish to use it on. For instance, since the face and bikini area tend to be more sensitive, it is best to use a cream with hydrating oils and butters to avoid any irritation. Similarly, waxes are best suited for stubborn hair removal on the legs and hands, as they are a bit stronger than creams for removing thick hair.
Ingredients To Avoid
It is best to check and avoid certain common animal-derived components that are used in most hair removal products. Common ingredients in a hair removal wax include beeswax and honey, which are both naturally produced by honeybees, making them animal-based ingredients.
Check For Certifications
Few certified accreditors are responsible to ensure that the product is actually 100% vegan. You can check their website to find out whether a brand is certified vegan or not.
Some of the most prestigious certifications are as follows:
The Vegan Society
Vegan action
Vegetarian Society
American Vegetarian Association
PETA-Approved Vegan
Why Trust StyleCraze?
The author of this article, Shiboli Chakraborti, is a certified skin care coach. She curated this list of the best vegan hair removal products after carefully researching, checking reviews online, and going through multiple forums for user feedback. These vegan products are cruelty-free and devoid of artificial fragrances.
Frequently Asked Questions
What should I not do after using hair removal cream?
You should not wear clothes that cause sweating, irritate the skin, and even avoid deodorant or creams.
Does hair removal cream work permanently?
No, hair removal creams do not remove hair permanently as they remove hair only from the skin and not from the roots. However, they can slow down hair growth.
Which hair removal method lasts the longest?
The electrolysis method of hair removal lasts the longest as it removes the hair from the roots.
What to use after hair removal cream?
After hair removal, apply a thick layer of body cream or lotion to your skin.
Is it safe to use hair removal products?
Yes. Not all hair removal creams are harmful, but products with calcium hydroxide and potassium hydroxide can irritate or discolor the skin. So, look for hair removal creams that are chemical-free or vegan.
Recommended Articles