13 Best Vegan Leather Tote Bags For All Seasons – 2023
Flaunt your gorgeous tresses with accessories that compliment your outfit.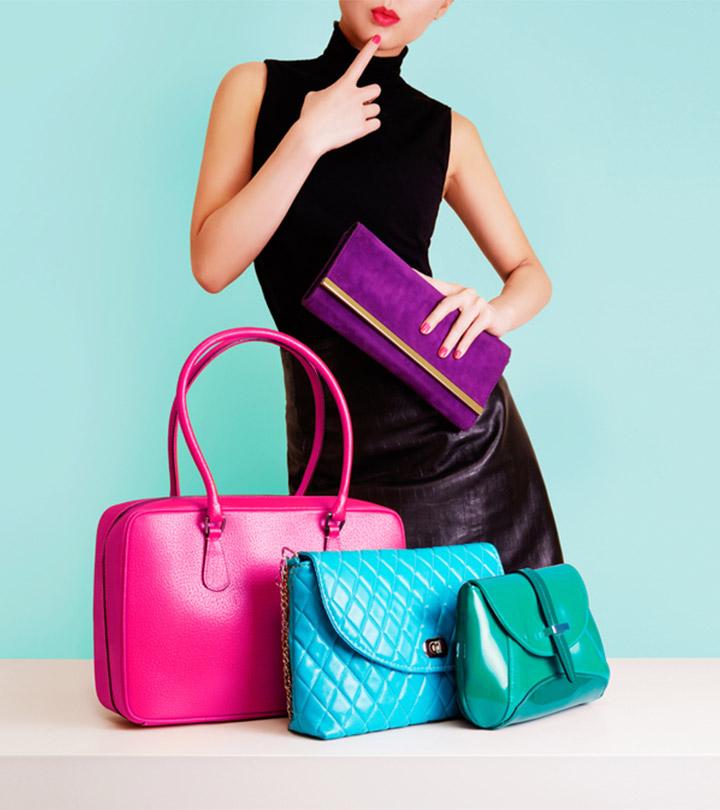 A vegan leather tote bag is the perfect choice for all those that want to look stylish without negatively impacting the environment. It is a perfect combination of style and function while being extremely affordable and sustainable. Leather is an all-time classic that never goes out of fashion, but vegan leather is the need of the hour. This is because it is an environment-friendly option that is also safe for the animal kingdom. It is also extremely affordable and durable.
Tote bags look casually stylish and breezy and can be carried to different occasions and matched with a variety of outfits. Whether it's a day out with your friends, family, or loved ones, or a casual day event, a tote bag is a perfect accessory. If you are looking to incorporate leather in your handbag collection, we have compiled a list of the best vegan leather tote bags. Keep scrolling to find out more about these sustainable and stylish choices.
13 Vegan Leather Tote Bags That Are Cute And Eco-Friendly
BROMEN's black vegan leather tote is a classic everyday bag that has an adjustable printed woven shoulder strap giving it a much-needed pop of color. Accented with silver hardware, this accessory uses a metal magnetic buckle to keep your items safe. The main compartment is divided into the main pocket, an inner zippered one, and 2 slip pockets that house your phone and cards. This vegan leather black tote also features exterior storage in the form of 2 slip and magnetic buckle pockets each for easy reach. The bag also includes an extra leather strap for when you want a little change in the look.
Pros
2 interchangeable shoulder straps
Exterior and interior pockets
Silver hardware accents
Magnetic closure buckle
Strong clasps
Available in 15 colors
Cons
Price at the time of publication: $43.34
This vegan leather tote purse by WESTBRONCO is lined with fabric on the inside to keep your valuables well-protected. While the zipper closure aids in safety, the bottom studs are helpful in keeping the bag clean. On the inside, the soft vegan leather tote opens into 2 slip pockets and a zippered one with a small pocket on the rear for easy-to-access essentials. The 2-toned side rivet design adds an elegant touch and pairs with most outfits. As the bag is roomy enough to fit a laptop, you can carry it to work with no hassle.
Pros
Available in 26 colors
Multiple inner and outer pockets
Front tag and side rivet detail
Sturdy silver hardware
Bottom anti-scratch studs
Adjustable shoulder strap
Cons
Price at the time of publication: $69.99
Constructed with high-quality polyurethane, MKF Collection's vegan leather tote bag with zipper keeps all your belongings organized wherever you go. Stash larger items in the spacious compartment with tinier trinkets going into the 2 zippered and 1 slip pocket—its durability will last you for years to come. Easily transitioning into a vegan leather crossbody tote, the handles keep the purse lightweight for long durations. Decorated with gold-toned hardware and repeating logos, this bag is ideal for both casual and formal use.
Pros
Available in 17 colors
Gold-toned hardware
Outer side slip pockets
Inner zippered and slip-in pockets
Transitions into a crossbody
Smooth zippers
Cons
Might have an initial chemical odor
Price at the time of publication: $44.99
Dasein's mini vegan leather totes are super-soft with polished gold accents and fully lined with fabric on the inside. The handles are rolled and stitched, while the long adjustable shoulder strap can also be used for long hours of carrying. Delicately textured on the exterior, this star purse has a luxe look and delivers with the storage as well. The 3 parallel zip compartments are supplemented with a magnetic buckle and allow you to arrange your belongings in a mess-free manner. With protective studs on the bottom of this modern vegan tote, wear and tear are also minimized.
Pros
Available in 12 colors
Polished gold accents
Rolled handles and adjustable strap
Multiple compartment storage
Protective bottom studs
Zipper and buckle closure
Cons
Price at the time of publication: $39.99
Made to be waterproof, this vegan tote bag by Angel Kiss keeps moisture away and makes for easy cleaning. Featuring a large capacity, this purse is complemented with sturdy silver hardware including a center logo. The main compartment has a zippered pocket and one on the rear. The 2 slip pouches on the sides are supplemented with 5 frontal zippered pockets for convenient organization. The cherry on top of this vegan tote purse is definitely the convertible straps that allow you to change up ways of wearing.
Pros
Available in 5 colors
Waterproof
Sturdy silver hardware and logo detail
Multiple inner and outer pockets
Convertible and adjustable shoulder straps
Lightweight and breathable
Cons
The zippers might snag a little.
Price at the time of publication: $36.99
Carry it on the side or wear it over your shoulders like a backpack — this large vegan vote by ECOSUSI can do it all. The inner lining of polyester makes for efficient organization and is designed with a padded laptop compartment. This brown vegan leather tote is definitely going to be a winner among students owing to the multiple kinds of pockets such as zippered, slip-in, and pen pouches. With an open front pocket and a zippered one hidden at the back, you can easily reach for your most-used items in a jiffy.
Pros
Detachable, adjustable shoulder straps
Padded laptop compartment
Multiple inner and outer pockets
Water-resistant
Matte finish
Offered in 3 colors
Cons
Some might find the straps slightly thin.
Price at the time of publication: $43.99
A bag that functions as 2, this versatile vegan leather reversible tote is ideal for those looking to adopt minimalistic habits. Turn the bag inside out for contrasting solid colors fully equipped with trendy tassel details. Durable and water-resistant, this vegan leather work tote can be fastened with a magnetic closure and is roomy enough to keep all your essentials at hand. The premium craftsmanship and high-quality stitching lend it an elegant edge, making it suitable for formal as well as casual occasions.
Pros
Available in 2 color combinations
Removable tassel detail
Magnetic buckle closure
Spacious compartments
Water-resistant material
Easy to clean and dry
Cons
No segregated compartments
Price at the time of publication: $39.89
EMEPERIA's classic-looking vegan leather laptop tote comes with a contrasting lining that is easy on the eyes, not to mention a small zippered pouch to take your organization to the next level. The simple pebbled texture adds an elegant detail to the overall look as the waterproof and dustproof fabric lasts you a long time. The magnetic snap closure removes the hassle of zippers and keeps your items secure.
Pros
Small zippered pouch
Contrasting inner lining
Pebbled texture
Waterproof and dustproof
Magnetic snap closure
Cons
The straps might be slightly thin for some.
Price at the time of publication: $39.95
With Montana Wests's black vegan leather tote bag, you not only get straps both long and short, but you can also make use of the small zippered pouch for tiny items. If you like, you can attach the pouch inside the bag so it remains secure without getting in the way. Fastened with a strong magnetic snap, this big vegan leather tote features 3 slip pockets on the inside to keep your phone, lip balm, and other essential accessories handy.
Pros
Available in 8 colors
Long and short straps
Detachable mini zippered pouch
Magnetic snap closure
3 inner slip pockets
Gold-toned hardware
Cons
Price at the time of publication: $25.99
CLUCI's cool vegan leather tote is designed with 2 contrasting colors and silver hardware for an appealing look. A front and 2 side slip-in pouches keep everyday essentials close, while on the inside, an open pouch and a zippered pocket keep your items neatly placed. With 2 adjustable shoulder straps included, you can choose between the thick or thin one depending on your preference.
Pros
Available in 10 colors
SIlver hardware
Multiple inner and outer pockets
2 adjustable shoulder straps
Magnetic snap closure
Cons
Some might find the tote to be a bit stiff.
Price at the time of publication: $49.99
Super elegant with tassel detailing, Dreubea's faux vegan leather tote will complement most of your outfits. An inner slip pouch can hold your cards and smartphone for when you're on the go. Spacious enough to fit electronic devices and paperwork for your meetings, this neutral-colored bag has a golden magnetic snap closure for security. Lightweight and durable, this bag makes for the ideal companion when you are on vacation.
Pros
Lightweight
Tassel details
Gold hardware
Magnetic snap fastener
Inner slip pouch
Spacious interiors
Cons
Might have a slight chemical odor initially
Price at the time of publication: $9.99
Top-notch polyurethane leather is used in the making of Nodykka's bags, which are stitched durably for a longer lifespan. The classic silhouette is supplemented with lone tassel details and golden hardware on the magnetic snap fastener. With a roomy inner compartment, the back slip pocket can help you store everything you need when you're on the move. The handles can also seamlessly double as shoulder straps for maximum convenience.
Pros
Durable stitching
Tassel detail
Gold hardware
Magnetic snap
Back-wall slip pocket
Roomy interiors
Cons
No segregated compartments
Price at the time of publication: $17.49
Ever-so-classic and timeless, Lacoste's tote features the signature logo right in the center. Its handles make carrying the bag easy even when you need to go long distances. The zippered main compartment comes with a large capacity along with a smaller pocket to store all your valuables such as phone, cash, and more. With 18 fun colors available, you can choose a tote that syncs with your personality and wardrobe's dominant color palette.
Pros
Long carrying handles
Available in 18 colors
Inner zippered pocket
Logo detailing
Works as a diaper bag
Durable stitching
Cons
Price at the time of publication: $97.95
Now that we've seen some of the best vegan leather totes on the market, let's learn what you should keep an eye out for when selecting the right one for yourself.
How To Choose The Best Vegan Leather Tote Bag
Look for polyurethane or faux leather instead of PVC as the latter is harmful to the environment. Also ensure that it is waterproof and dustproof so that your belongings are protected, with the bag also being easy to clean.
Zippers and magnetic snaps are often used as fasteners, so check them before the purchase to make sure they are functioning smoothly. Hardware studs at the bottom are a good feature to look out for as they help the bag retain its shape and protect the bottom from stains and abrasion. Having adjustable shoulder straps is a must for customization, and you can also pick convertible ones to turn your tote into a backpack or a crossbody if preferred.
Tote bags generally have a large compartment where you can throw in all your stuff and call it a day. But if you're one of those people that finds happiness with pockets galore, a lot of brands make bags with multiple pockets. Zippered and slip-in pockets both on the inside and outside can help keep your belongings neatly organized.
Why Trust Stylecraze?
Priyam Gupta is a style and fashion enthusiast who can help you style your outfit as per your needs and fancies. After going through multiple site comparisons and customer testimonials, Priyam is here with her specially curated list of the best vegan leather tote bags right here for you. These sustainable bags are not only eco-friendly but also come in various styles and patterns to take up your style game a notch higher.
Frequently Asked Questions
Is vegan leather good quality?
When compared with real leather, vegan leather is thinner and of lower quality with a shorter lifespan. However, it is more sustainable and can be made durable with the right materials.
How long will a vegan leather bag last?
If maintained in a proper way, a vegan leather bag can last you years as long as it is made of good-quality faux materials and stitched durably.
Which designer bags are vegan?
Brands like Stella McCartney, Alkeme Atelier, Swala, and Watson & Wolfe carry excellent vegan leather bags. You can also opt for Lacoste if you're looking for something more affordable.
Do any designers use vegan leather?
Yes. Designers like Stella McCartney and Doshi use vegan leather.
Does vegan leather last long?
Yes. Vegan leather is made by compressing several base material layers and coated with durable and water-resistant layers.
Is vegan leather just fake leather?
Yes. Vegan and faux leather feature artificial or plant materials instead of animal skin. So, they are the same thing.