10 Best Vegan Lip Balms For A Juicy & Beautiful Pout – 2022
Make that bold pout look glamorous and stunning with these affordable chapsticks.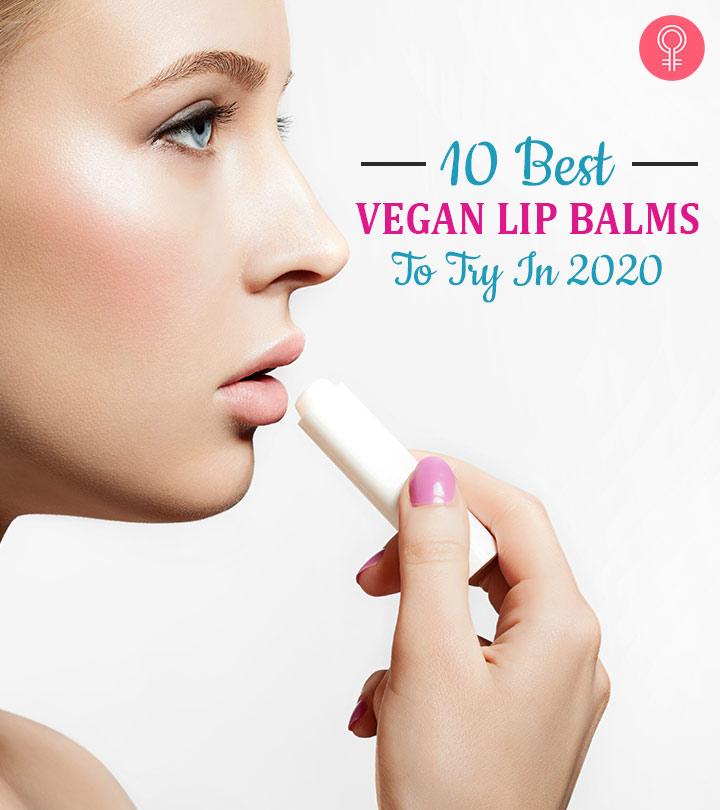 Vegan lip balms are reigning over the beauty market right now. The best vegan lip balms are cruelty-free, organic, plant-based, conscious about wildlife conservation, and use ingredients that are sourced sustainably and responsibly. If you want a vegan lip balm to keep your lips hydrated, soft, and smooth, we have got you coverd.
Read on to get the list of the best vegan lip balms you can try to make your pout look luscious, juicy, and beautiful. Scroll down to get all the details!
10 Best Vegan Lip Balms
The Pacifica Lip Care SPF 30 Mineral has a soft and creamy texture and nourishes your lips with its added minerals. The coconut and shea butter in it repair lip damage. The all-natural, vegan formula also makes it an excellent base for lipsticks, allowing the tint to last longer.
It is water-resistant for up to 80 minutes. Its balanced formula allows for an even application. You can apply it liberally at least 15 minutes before sun exposure.
Note: Ensure you do not apply it on broken lips. If you experience any reactions, contact a doctor.
Pros
UV protection with SPF 30
Nourishes lips
Paraben-free
Petroleum-free
Silicone-free
Phthalate-free
Free of chemical UV absorbers
Cons
The Hurraw Almond Lip Balm is made of natural cold-pressed oils and premium organic essentials as key ingredients, including cold-pressed and mechanically extracted nut/seed oils and butters. These are pressed at low temperatures to retain important nutrients.
The lip balm comes in various flavors, including Black Cherry, Chocolate, Coconut, Papaya Pineapple, and Vanilla. The product is 100% vegan and is also registered by the Vegan Society. This lip balm offers intense moisture and protection. If you want to know more about the results, take a look at this review on YouTube.
Pros
Over 15 variants
Deeply moisturizing
Long-lasting
Power-packed with natural ingredients
Non-GMO
Gluten-free
Cons
Can dry out lips in some cases.
The Honest Beauty Tinted Lip Balm comes with a moisture lock formula of 8 hours, ensuring both softness and shine.  It comes in variants like dragon fruit, lychee fruit, fruit punch, plum drop, summer melon, and white nectarine.
The lip balm is made of avocado oil that contains fatty acids that improve skin barrier function. It also contains acai and pomegranate sterols that boost antioxidant activity. You can check this YouTube video for more information about the product.
Pros
Deeply moisturizes the lips
Paraben-free
Petroleum-free
Paraffin-free
Silicone-free
Mineral oil-free
No synthetic fragrances
Dermatologist-tested
Toxicologist-verified
Cons
Unpleasant taste and smell
May dry your lips out
The Drunk Elephant Lippe Balm moisturizes sensitive, parched lips. It transforms them into a plump and youthful pout. The lip balm is enriched with a combination of peptides and sea fern algae. The formulation also contains a blend of avocado, mongongo, and marula oils that soften your lips.
The vitamin C and green tea leaf in the balm protect the lips from UV radiation. It can be applied with or without lipstick. It repairs, replenishes, and hydrates the lips when used as a daily ritual. If you are still unsure about purchasing, you can check out a review of this product on YouTube.
Pros
Cruelty-free
Rich in vitamins
Infused with avocado oil
Suitable for sensitive skin
Twist-up container packaging for easier application
No sensitizing colorants
No fragrant essential oils
Cons
Issues with quantity
Could be too oily/greasy
May smell unpleasant
The Crazy Rumors Lip Balm consists of a 100% cruelty-free, plant-based formula with the goodness of jojoba oil and shea butter. It soothes dull, dry, and cracked lips. The non-cakey texture sits wells on the lips and is meant to hydrate and moisturize.
The lip balm is also free of gluten, parabens, and other harmful chemicals. This lip balm comes in some enticing flavors with a delicious scent (banana split, raspberry sorbet, French vanilla, and more).
Pros
Cruelty-free
Paraben-free
Nourishes and protects lips
Long-lasting
Cons
None
The Eco Lips Bee Free Lip Balm uses ingredients that are Fair Trade and USDA certified. It is sourced from high quality, organic, and non-GMO raw materials.
It contains a wholesome combination of organic cocoa butter, candelilla wax, and organic coconut oil, which provides ultra care for dry and cracked lips.
Eco Lips also doubles as a lip primer, creating a smooth canvass for flawless coverage and lasting finish.
Pros
Cruelty-free
Eco-friendly
No petroleum
No corn
Deeply nourishing
Cons
Very less quantity
May dry out lips in some cases
The Pacifica Beauty Color Quench Lip Tintcontains vitamin E, avocado, coconut oil, and essential fatty acids that give your lips a healthy, buttery smooth finish.
This product is formulated without parabens, phthalates, gluten, or petroleum derivatives. It comes in six shades, including Coconut Nectar, Sugared Fig, Blood Orange, Guava Berry, Vanilla Hibiscus, and Coconut Cherry.
Pros
Organic
Lip care + tint
Smooth texture
Petroleum-free
Phthalate-free
Silicone-free
Gluten-free
Cons
The Pure + Simple Aria Lip Balm contains natural oils that help repair and rejuvenate lip-skin cells. This lip balm stands out as it contains one note of steam distilled essential oils in every tube.
It is infused with vitamin E and avocado, jojoba, and castor oils. The lip balm is approved by PETA and is available with a money-back satisfaction guarantee.
Pros
Available in many variants
Organic
Cruelty-free
Gluten-free
Sulfate-free
Paraben-free
No synthetic fragrances
No petroleum products
Cons
May make the lips chapped.
The Kopari Coconut Lip Glossy uses 100% pure, organic coconut oil that is sourced from the Philippines. The fatty acids and vitamin E in the oil make your lips smoother and better hydrated. The lip balm is free of sulfates, parabens, and GMOs. It also comes with a 100% money-back guarantee.
Pros
Organic
Enriched with vitamin E
Doubles as a balm and gloss
Paraben-free
Non-GMO
Sulfate-free
Cons
The Sun Bum Sunscreen Lip Balm contains aloe and vitamin E that protect and keep your lips moisturized all day long. It also has an SPF triple-action formula that offers protection from both UVA/UVB rays. It comes in a variety of feel-good, fruitful flavors.
Pros
Organic
Cruelty-free
Non-sticky
Gluten-free
Paraben-free
Cons
Unpleasant taste
Allergic reactions
Why Trust StyleCraze?
The author Shakshi Bahal is a skin care expert who has reviewed many products over the years. She goes the extra mile to do her research on ingredients to help users choose safe products for their skin. This list of vegan lip balms is formulated with antioxidants and hydrating ingredients that lock moisture and keep your lips supple, soft, and plump throughout the year.
Frequently Asked Questions
Are vegan lip balms safe to use?
Yes, vegan lip balms contain natural ingredients or gentle, beneficial chemicals that help to nourish your lips.
How often should I use a vegan lip balm?
Just like any other lip balms, vegan lip balms can become a part of your everyday routine. You can apply it multiple times during the day whenever your lips feel chapped.
Can kids use vegan lip balm?
Yes, vegan lip balms are safe for children to use. Most of them contain little to no chemicals and are gentle enough for the whole family.
How long does vegan lip balm last?
As a general estimate, most vegan lip balms can last anywhere from 1 year to 1.5 years.
Can you overuse vegan lip balm?
Yes, if you use vegan lip balm excessively, some of the ingredients can make your lips dry.
Recommended Articles