The 13 Best Vegan And Cruelty-Free Lipsticks Of 2023
Get the dazzling, picture-perfect pout with these creamy and hydrating lipsticks.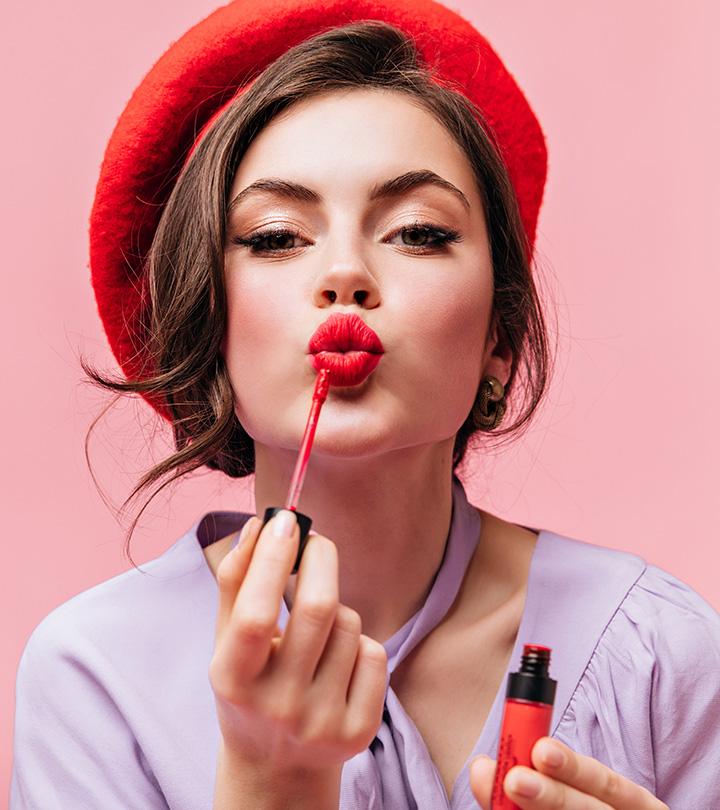 Choosing the best vegan lipstick is a must when you consider switching to cruelty-free makeup. Just a smidge of color to your lips adds a beautiful glow and elevates your look. Since time immemorial, people have used lip color unquestioningly. However, many of us don't know that these colors have been formulated with by-products of animals, including animal fat, keratin, beeswax, honey, and lanolin; not to forget the carmine from the crushed shells of cochineal beetles to give the vivid hues of pinks and reds. It doesn't sound so appealing anymore, does it?
Some lipsticks may not use animal byproducts but are still tested on animals. If you prefer food sans animal products, you should do the same with lipsticks. That's why it is significant to choose cruelty-free vegan lipsticks from the market. These lipsticks are made using natural ingredients enriched with nourishing oils, minerals, and vitamins. So, if you want to have gorgeous lips without compromising the safety of innocent animals, take a look at our top picks of cruelty-free vegan lipsticks.
13 Best Cruelty-Free Vegan Lipsticks Of 2023
Join the numbers who have fallen in love with this delectable red lipstick with a velvet matte finish. It's formula is ultra pigmented and long lasting and is designed to be applied in a single, light, and thin layer while giving you the full color. Its velvet formula gently enhances your lips without forming a thick layer that cracks or dries out. Every lipstick is gently enriched with vitamin E, which is a powerful antioxidant. You need to allow the formula to fully set for 1-2 minutes before pressing your lips together or drinking from a glass. This vegan lipstick will stay put for hours once dried, and only fades if it makes contact with very oily foods. Use a waterproof makeup cleanser for removal or maybe coconut or baby oil. In addition to the lipstick, there are 2 precision applicators included to help take your lipstick application to the next level.
Pros
Cruelty-free
Enriched with vitamin E
Long-lasting color
Smudge-free
Matte finish
Cons
Some may find the texture too dry for their liking.
Price at the time of publication: $18
Who doesn't like being a drama queen from time to time? Well, with this vegan lipstick, a little goes a long way and then lasts pretty much the entire day.  The best part is that it goes on in virtually one swipe. It has a rich color and a texture so soft that you barely notice that you have something on. It nourishes and softens your lips as if it's a lip balm. It doesn't dry out your lips or smudge or transfer. It goes on creamy and matte with a great stay and coverage. These lipsticks have an 8-hour wearing time, as long as you don't eat anything too oily. This Black owned vegan lipstick company is making great strides in the world of lip color!
Pros
Cruelty-free
Long lasting
Matte finish
Rich color
Cons
Application may not be smooth enough for everyone's liking.
Price at the time of publication: $13
This all-day wear clean vegan lipstick is the winner of the Allure Best of Clean Beauty Award of 2023. It offers hydration throughout the day powered by clean ingredients, especially hyaluronic acid. The best thing about this lipstick is that it doesn't dry out your lips and in fact nourishes them, thanks to the avocado oil present in it. It has a high pigment payoff and has 8 richly colored shades in a shine to matte finish with a long staying power. For optimal results, let it dry for 5 minutes before you pucker up your lips.
Pros
Cruelty-free
Silicon-free
No fragrance
No synthetic film formers
No isododecane or carmine
Cons
Some find the finish cakey and the texture sticky
Price at the time of publication: $4.95
Looking for that perfect lipstick? This lipstick has a long lasting formula that provides natural, luxuriant lip color with hydration, and is enriched with nourishing ingredients. Made from a petrochemical-free base of candelilla wax, jojoba seed oil, and aloe vera, this cruelty free vegan lipstick locks in moisture and protects your lips from environmental aggressors. It also contains other natural and mineral based ingredients like sesame seed oil, safflower seed oil, sea fennel extract, iron oxide, mica, st. john's wort extract, and titanium dioxide to name a few. So, get ready to face the day or night with this luxuriant lip color.
Pros
Cruelty-free
Gluten-free
Non-toxic
Suitable for all skin types
Cons
Some may find the color too shiny.
Price at the time of publication: $19.35
If you are looking for a rich color with a velvet finish for your lips, look no further. This lipstick is a rusty plum color that nourishes and protects your lips. Its luxurious formula not only soothes your lips but also has a long staying power. It's infused with cranberry, white tea, and vitamins C and E, which are antioxidants that protect your delicate lips from free radical damage. In addition, cocoa butter and avocado oil hydrate and condition, keeping your lips soft and supple. This pigment-rich, long lasting vegan lipstick has full color coverage and is infused with other botanicals like sunflower seed oil, sesame seed oil, aloe vera, and coconut oil to name a few. As it doesn't tend to smudge or feather, you can always be ready with the perfect pout.
Pros
Hypoallergenic
Smooth application
Has hydrating properties
Cruelty-free
Gluten-free
Paraben-free
EWG-certified
No artificial fragrance
No harsh ingredients
Long lasting
Cons
The base of the lipstick could be stronger.
Price at the time of publication: $13.92
Who doesn't like a lipstick that also works as a lip balm? This gluten free vegan lipstick is created with a simple and healthy formula of vegetable oils, waxes, and mineral pigments that add creaminess to it and prevent it from feathering. Like a lip balm, this natural lipstick moisturizes without chapping or flaking. Infused with flower cutins, this lipstick is water-resistant so it has a longer staying power, and is free of gluten, petroleum, and fragrances. It's infused with vitamin E, organic calendula oil, organic chamomile oil, and organic jojoba oil to bring you a high quality and authentic product. This natural and organic lipstick is hypoallergenic and formulated for sensitive skin. So, maybe it's time to welcome one of the cleanest, safest, and prettiest lipsticks.
Pros
Cruelty-free
Hypoallergenic
Paraben-free
Lead-free
Gluten-free
No petroleum derivatives
Dye-free
Fragrance-free
Cons
Some feel it could be more moist and creamy.
Price at the time of publication: $18.5
A satin finish with a luscious color payoff in just 1 swipe, who wouldn't love that!
This product is made with pure pigments and plant-derived ingredients that are just as effective as they are safe. So no more dry, cracked lips, and flaky lipstick as its formula contains vegan sourced hyaluronic acid that locks in moisture and keeps your lips feeling hydrated throughout the day. Konjac root heals and repairs dry lips and natural botanicals along with vitamin E and grape seed oil condition, gently nourish, and pamper your lips. This natural vegan lipstick is all about clean beauty and the best quality product for you, so you can look and feel amazing.
Pros
Cruelty-free
Paraben-free
Sulfate-free
Phthalate-free
Cons
Tends to melt at high temperatures
Price at the time of publication: $22
This vegan lipstick with a semi matte finish has a beautiful fresh fig red color with grapefruit undertones. It's a lipstick with a long staying power and has a conditioning formula and vivid color. The satin sheen further adds a subtle touch of a dewy glamorous look. Infused with jojoba oil, rosehip oil, olive oil, and vitamin E, it softens and plumps up dry, thin lips! Just 1 swipe ensures a pure, pigmented color with a velvety finish and creamy texture. Its neon-tinged hue is designed to look stunning on every skin tone. Amp up your style and boost your confidence with this vibrant lipstick.
Pros
Cruelty-free
Buildable coverage
Fade-resistant
No GMOs
Paraben-free
No fillers
Cons
The orange undertones may be too overpowering.
Price at the time of publication: $21
The 3ina 362 The Lipstick is perfect for everyday wear. It is highly pigmented and has good coverage. The light pink color is soft, flattering, and perfect for all skin types. This product is highly-pigmented and covers the lips well with just one coat of color. It is made from high-quality vegetable waxes and nutrient-rich essential oils that enrich and nourish your lips. This lipstick is paraben-free, making it safe to use on sensitive skin, but it is recommended to perform a patch test before full usage. It provides high coverage with an extremely comfortable texture for you. It also has a magnetic case for proper closure.
Pros
Moisturizing formula
Highly-pigmented
High-quality ingredients
Offers full coverage
Creamy formula
Offers satin-matte finish
Paraben-free
Ideal for sensitive lips
Cons
Price at the time of publication: $15.95
Ready for the Gothic look? This black vegan lipstick is a deep shade of opaque black, with a rich, velvety matte finish. This lipstick has long lasting color and is enriched with antioxidants and natural moisturizers that make this a great moisturizing lipstick. It's cruelty-free and in fact is tested on celebrities, not animals. Do try out this lipstick for guaranteed super soft and supple lips, and to top it, this lipstick comes in a glamorous diamond-etched lipstick case.
Pros
Paraben-free
Gluten-free
Lead-free
Talc-free
Cruelty-free
Cons
Price at the time of publication: $15.5
Not everyone wants to be a trophy wife but that shouldn't stop you from trying this luxurious, cruelty-free vegan lipstick. Its long lasting, natural, and moisturizing formula has a creamy, semi matte finish. It includes natural ingredients like candelilla wax, castor seed oil, shea butter, almond oil, grape seed oil, jojoba oil, and coconut oil. It's also infused with strawberry to give the lipstick a subte sweet fragrance and flavor. As clean ingredients are the brand's main priority, it's made with plant based wax and not beeswax. Just 1 swipe is enough for a light look and 2 for a bold look. So, now you can maintain that perfect pout whatever the occasion!
Pros
Cruelty-free
Long lasting
Semi matte finish
No harsh chemicals
Plant based ingredients
Cons
Some may find its texture too dry
Price at the time of publication: $14.99
This organic vegan lipstick is designed to keep your lips feeling soft and supple through the day. It's supremely creamy and rich in hydration which improves the elasticity of your lips so you can say goodbye to dry, cracked lips! It glides on your lips very smoothly, leaving them with a glossy finish and lasting color. Infused with coconut, avocado, and jojoba oils, it helps to keep your lips safe from the damaging rays of the sun. It also has organic butters like mango, cocoa, and cupuacu that are packed with nutrients and antioxidants that are soothing, hydrating, and have regenerative properties. Highly pigmented, it gives full color and coverage to your lips!
Pros
Cruelty-free
Gives a luxurious feel
Antioxidant-rich
Organic
Gluten-free
No unhealthy preservatives
Cons
May be too drying for some
Price at the time of publication: $17.99
Tired of those sticky, greasy lipsticks? This vegan lipstick has a lightweight, natural finish and feels like air on your lips. It's a heart-shaped lipstick with a very light, cushiony formula that gives your lips a highly saturated color and feels ultra light on them. It is infused with rose extract that hydrates your lips, keeping them soft and supple. Just glide the heart-shaped, pointed tip of the lipstick along the edges of your lips to contour and line them, and then fill in the color. With beautiful packaging and an imaginative formula, this lipstick is a powerhouse of Korean innovation, and is suitable for all skin types and skin tones.
Pros
Cruelty-free
Organic ingredients
Non-drying
Comfortable wear
Paraben-free
Sulfate-free
Phthalate-free
Cons
Some may not like the taste of the lipstick
Price at the time of publication: $29.86
Now that you have been through our review of the 13 best vegan lipsticks, let us tell you what a vegan lipstick really means and which non-vegan ingredients you need to look out for while buying your lipsticks.
What Does Vegan Lipstick Mean
A PETA-certified vegan lipstick is one that not only does not contain animal ingredients but also has no animal-derived ingredients. These bold and intense colors are not only completely void of dead animals and beetles, but they are also ethically manufactured and sourced. Vegan lipsticks are not synonymous with cruelty-free lipsticks, which are lipsticks that are created without any sort of testing on animals and also include not using any raw materials that have been tested on animals.
Carmine, also known as cochineal, beeswax, lanolin, and squalane are some of the common non-vegan ingredients found in lipsticks.
Now that you are clear about what a Vegan society-certified lipstick means, let us give you a few pointers on what to look for while choosing your vegan lipstick.
How To Choose The Best Vegan Lipstick
The first thing to check is that there are no animal products or animal by-products in the lipstick. Ingredients like carmine, beeswax, lanolin, tallow, and squalane are all derived from animals and should be avoided. Common plant based ingredients that are used in vegan lipsticks are avocado, marula oil, and vitamin E, which is a natural antioxidant. Other common ingredients found in vegan lipsticks are candelilla wax, shea butter, almond oil, argan oil, coconut oil, and jojoba oil which also nourish your lips.
Avoid non-transferable lipsticks
A good lipstick should moisturize your lips whereas non-transferable lipsticks tend to dry out your lips and cause chapping.
Deeper shades make your lips look smaller and brighter shades make your  lips look bigger. A nude, peach, pale pink, or soft mocha color are better for lighter complexions. Fuchsia, red, browns, and peaches work well on a medium skin tone, while copper, brown, red, wine and cranberry color look flawless on darker complexions.
You need to consider what type of lipstick you would like to go for— cream lipsticks, matte finish lipsticks, lipsticks with frost finish or shimmer etc.
Most lipsticks have a shelf life of 3 years, so it is important that you always check the date of  manufacture and date of expiration.
Why Trust StyleCraze?
Srijani Roy Chowdhury, the author of this article, is a fashion and makeup enthusiast who loves to keep up with the latest trends in the beauty industry and review makeup products. Having tried several lipsticks, she believes it is significant to choose cruelty-free vegan lipsticks. She has prepared this list of the best vegan lipsticks after checking reviews online and the ingredients in detail. The vegan lipsticks are long-lasting and smudge-free.
Frequently Asked Questions
Are vegan lipsticks healthy?
Yes, vegan lipsticks would be considered healthy as the raw materials that are used in cosmetics have been around for so long that they are well understood and have been thoroughly tested. Vegan lipsticks do not contain colorants that are made from insects and they do not contain ingredients that are derived from dead animals. Vegan lipsticks often use healthier ingredients and are usually more environmentally friendly. Because there are often fewer raw materials in vegan lipsticks they can also be hypoallergenic and they are usually not tested on animals. Most of them also come in sustainable packaging.
Which lipstick brands are vegan?
Apart from all the brands that we have reviewed for you, some other vegan lipstick brands are Biotique, Zuii Organic, Lotus, Iba Halal, The Body Shop, Wet N Wild, Soultree, Ruby's Organics, Oriflame, Organistick, and Disguise Cosmetics to name a few.
What makes a lipstick vegan?
Vegan lipsticks have no animal-based ingredients or its by-products such as beeswax, lanolin, or squalane.
Is Maybelline lipstick vegan?
No, Maybelline lipsticks are not vegan.
Is L'Oreal lipstick vegan?
No, L'Oreal lipsticks are not vegan.
Is Revlon lipstick vegan?
No, Revlon lipsticks are not vegan.
Which lipstick does not contain animal fat?
None of the lipsticks listed in the article contain animal fat. All these lipsticks contain safe ingredients and have vegan formulations, meaning they do not have any animal based ingredients.
Recommended Articles