9 Flawless Vegan Makeup Brushes That Work Like Magic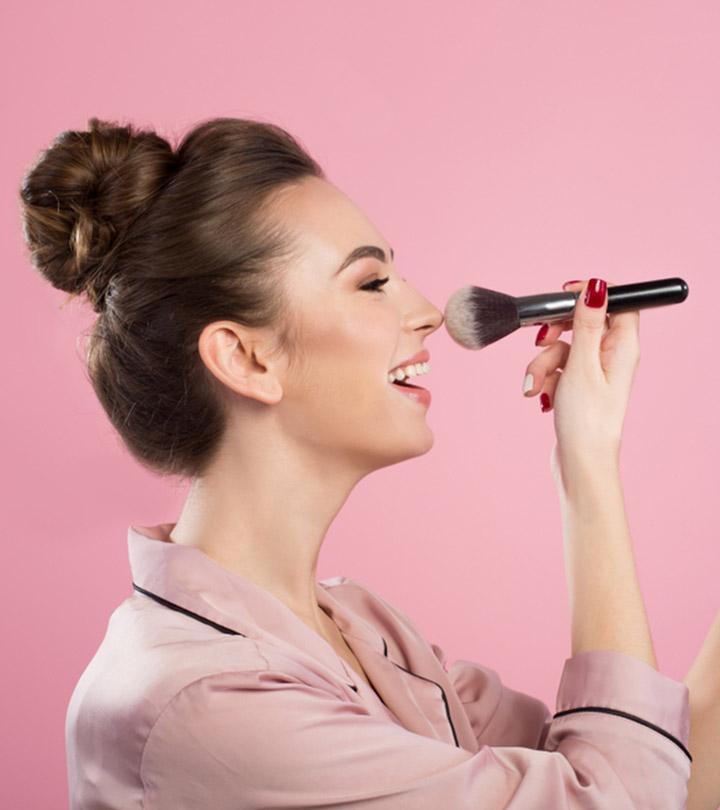 The rotating strokes of a smooth and flawless makeup brush feel almost therapeutic on your skin. The silky and fluffy bristles blend your makeup flawlessly, making you look like a goddess. But a lot of times, these soft-bristled brushes aren't cruelty-free, and that is what irks you the most, isn't it? We're slowly transitioning to a wholesome, vegan lifestyle, so why should our makeup brushes be any different?
Let's look at a beautiful and plush range of vegan makeup brushes that are stunning, soft, and oh-so-fluffy. They will make your makeup experience guilt-free and worth it. Read on to know more about it.
9 Best Vegan Makeup Brushes
Cleof's set of 13 makeup brushes is what dreams are made of. They are incredibly gentle on the skin and perfect for a beginner who wants to learn basic contouring and makeup skills. The brushes come in different shapes and sizes and are ideal for blending all kinds of foundations, powders, blushes, and other makeup items for daily use. As the brushes are made of bamboo, the bristles feel light to the touch. The set has an extensive range of brushes like kabuki, powder, blending, and blush, making it one of the most sought-after brush sets.
Pros
Airbrush finish
Handy pouch
Suitable for sensitive skin or for those with animal hair allergies
Easy to wash
Cruelty-free
Cons 
The bristles might fray if not taken proper care of.
These golden sets of glory will make your skin look ravishing and well-blended. Made with extra soft synthetic bristles, they are perfect for blending all kinds of makeup products. The tasteful set looks extravagant, stands a class apart, yet is reasonably priced. The set features 10 unique brushes for different types of contouring and makeup application. To give this set a new lease of life, soak it in a mild detergent and water, give it a good rinse, and they will be as good as new.
Pros
Foldable storage pouch
Long-lasting
Hypoallergenic
Antibacterial
Cons
Some may feel that the bristles may be extra soft for some makeup products.
This gorgeous and chic set of 15 brushes is to die for, at a reasonable rate! It is shed-free and doesn't harm your skin. The stunning collection includes brushes that can help you contour flawlessly, curl your lashes, or master the art of applying eyeshadow and more, making you look like an absolute dreamboat. The iconic black brush holder adds panache to your makeup box and is a source of envy for all your friends. The lustrous aluminum ferrules are a sign of class, and the silky smooth bristles blend all kinds of makeup with ease.
Pros 
Ideal for sensitive skin
Long-lasting
Chic look and design
Durable
Shed-free
Cons
Some may find the brushes smaller than expected.
Get ready to look like a complete diva without burning a hole in your pocket! This bewitching set of 30 brushes is made of Jessupro synthetic fibers and looks so pearly and sparkly; it would make your makeup box shine like a diamond. The peach-colored handles make the brushes look ultra-chic and stand out vibrantly. The soft and smooth bristles blend all kinds of makeup effortlessly. The durable wooden handles and the shiny ferrules look exquisite, and the set comes in an elegant gift box, making it even more desirable.
Pros
Long-lasting
No shedding
Odor-free
Lightweight
Cons
It may tarnish if not stored properly.
Say hello to this effervescent set! The gorgeous dual-colored bristles are cruelty-free, and the tenderness of the brush strokes will give you a pearly look you never thought you would achieve with a synthetic brush set. The handle is made out of champagne wood, and the ferrules look extraordinary with a glossy golden glow. This 24-piece set comes with different kinds of brushes specially designed for all parts of your face. So, what are you waiting for? Get your hands on it right now and make the most of this gorgeous vegan makeup brush set.
Pros
High-definition finish
Compatible with wet and dry makeup products
Durable
Suitable for sensitive skin
Synthetic fibers
Cons
The smell of paint tends to linger. You may use vinegar and baby shampoo to get rid of the smell.
These vegan makeup brushes are as delightfully hued and bedazzled as a unicorn and are an absolute must in your collection of brushes. The set comes with 16 unique brushes meant for different parts of your face. The bristles easily hold the powder as they are thick and fluffy, so don't you worry child, we've got you covered here (in beautiful contouring, of course). These are the softest set of brushes that we've come across and don't shed, making it long-lasting and worth the money you spend.
Pros
Comes in a plush rainbow box
Hypoallergenic synthetic material
A perfect box for gifting
Durable
Cons
Might get worn out if not taken good care of or washed correctly.
These rose gold makeup brushes are worth every penny you spend on them as they are completely animal hair-free and work wonders for your skin. They blend all kinds of makeup products effortlessly, and the set itself looks upscale and swanky. Made of premium synthetic fibers, these brushes come with a 100% money-back guarantee and 1-year warranty. It is perfect for beginners as the prices are pocket-friendly and ergonomically designed for a sturdy grip.
Pros
Suitable for sensitive skin
Affordable
Durable
24-piece set
Ideal for beginners
Cons
You might have to air the brushes for some time or wash them with a baby shampoo before use.
The shape of the handle and the ferrules make these vegan brushes stand a class apart. The blush brush is thick, fluffy, and blends your makeup smoothly. The wooden handle has a good grip and guarantees durability. These brushes are made of bamboo, which makes it organic and prevents breakouts. The microfibers are hypoallergenic and suitable for sensitive skin.
Pros
Easy to clean
Foldable storage bag
Vegan
Made of bamboo
Cons
You might have to wash it first to get rid of the smell.
This gorgeous set of 12 coffee-colored makeup brushes will make you want to doll up anytime, anywhere. The set includes 3 pieces of big kabuki brushes and 9 pieces of precise makeup brushes, ideal for both beginners and makeup enthusiasts. The soft and synthetic bristles go on the skin smoothly and work with both liquid and powder makeup products. The sturdy brushes also provide a comfortable grip for a precise makeup application. The set also comes with an elegant and recyclable brush holder to keep all your favs in one place.
Pros
Durable
Shed-free
Environmental-friendly
Sturdy design
Cruelty-free
Cons
None
Many people are opting for vegan brushes against natural animal hair brushes, and we must dive into the exact reasons for the same.
Vegan Brushes – The Future Of Modern Makeup And Contouring Techniques
Before we dive into the advantages of organic and cruelty-free makeup brushes, we must talk about some other important aspects.
What Are Vegan Makeup Brushes Made Of?
Vegan brushes are not made of animal hair or fur. Instead, synthetic materials like nylon or organic materials like bamboo are used to make these brushes. This way, you have a more eco-friendly and sustainable option, which you can make the most of, without harming an animal.
Advantages Of A Vegan Makeup Brush
These brushes will not give you any allergies as they are not made of animal hair.
People with sensitive skin can opt for these as they are hypoallergenic.
They are easier to clean as they are made of synthetic materials.
They are more durable and stronger than animal hair, which is why they tend to last longer.
Differences Between Synthetic And Natural Hair Brushes
Synthetic brushes are cost-effective as they have been made from organic raw materials. In contrast, natural hair brushes are marginally expensive as they require a lot of labor and hand-plucking.
The bristles in natural hair brushes are not uniform as they have been plucked from different animals, whereas synthetic brushes are man-made, which is why they are all uniform and well-made.
Compared to natural hair brushes, synthetic brushes are easier to clean. Natural hair brushes tend to retain a lot of product.
Synthetic brushes are more long-lasting.
The biggest difference is that natural hair brushes mean a lot of cruelty towards animals, while synthetic brushes do not even have a hint of animal hair. This makes it a better choice.
Looking drop-dead gorgeous and being conscious of the sustainability of nature by being kind towards animals can go hand-in-hand. You have to make the right choice when it comes to your makeup products and opt for vegan makeup brushes instead of those made with animal fur or hair. Making a smart, well-informed choice today will save millions of animal lives and keep your skin healthy and loved.
The following two tabs change content below.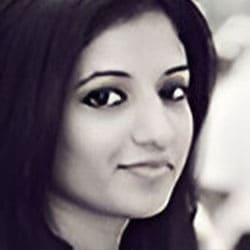 Chaitra is an extremely passionate writer and storyteller. She has a triple main Bachelor's degree in Journalism, Communicative English, and Economics and a Master's degree in Journalism and Mass Communication. She has more than three years of experience in content writing and editing and specializes in beauty, fashion, and lifestyle genres. Her background in journalism helps her guide her team in churning out fine content for the readers. When she's not editing or juggling tasks at work, she likes to daydream and stalk doggos on Instagram.