11 Best Vegan Mascaras For Fuller And Enhanced Lashes – 2023
Add beauty to your eyes and kindness to the world with these cruelty-free mascaras.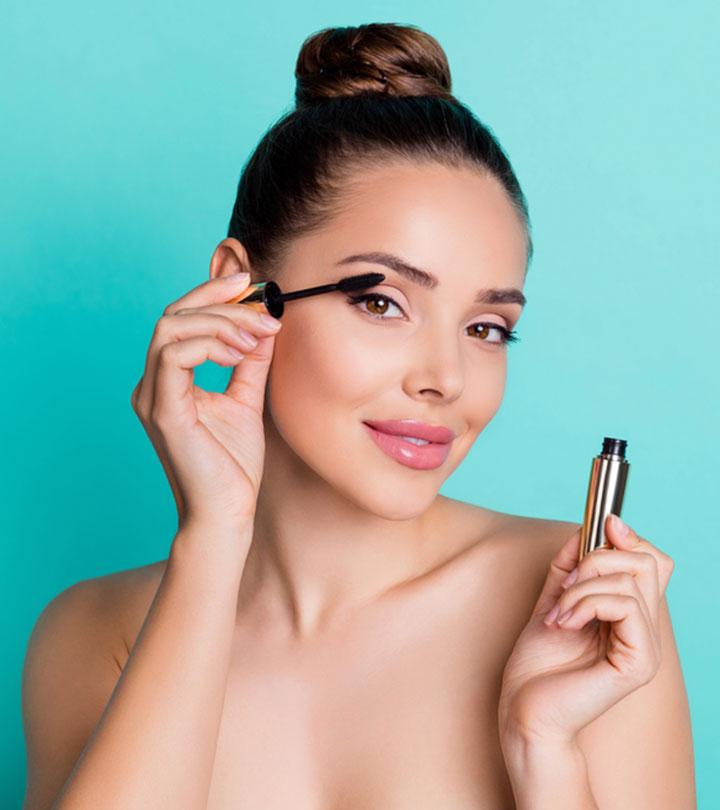 If you want to add drama to your eyelashes but avoid using products that have animal-derived ingredients in them, you must set your heart on the best vegan mascara in the world. Lush, intense, and gorgeously thicker lashes are everybody's favorite, and why not? They just up your game instantly. But if you do not want to feel guilty about using a mascara with the idea of animal cruelty attached to it, then these alternatives are your best friends.
Since the vegan movement is on, many brands today are producing vegan makeup products too. And a vegan mascara absolutely qualifies as a clean and animal-cruelty-free makeup product. So if you want to extend your vegan lifestyle to your makeup and beauty regime too, getting vegan mascara is an excellent step to start with. Vegetable oils, candelilla wax, and paraffin are some of the vegan substitutes used to formulate mascaras of this kind.
No, you do not have to worry about their effectiveness. Vegan mascaras will undoubtedly give you outstanding results. They provide good length and volume to your soft and delicate eyelashes and add instant radiance and intensity to them effortlessly. Therefore, knowing their immense significance, today, in this article, we have made a list of the most amazing vegan mascaras that you must put your hands on right away. With the umpteen options available in the market, picking the suitable one can be difficult. But this article will make your search mission easy. So, what are you waiting for? Go ahead and give this piece a read.
What Is Vegan Mascara?

Vegan mascaras are mascaras made without any animal-derived ingredients. These include but are not limited to honey, beeswax, collagen, and gelatin. They're the perfect choice for the conscious consumer who wants to extend her vegan lifestyle to her makeup and beauty regime. Vegan substitutes like paraffin, vegetable oils, and candelilla wax are used to formulate vegan mascaras. So don't let your veganism cramp your style! Instead, pick up a vegan friendly mascara and get ready to accentuate your beautiful eyes.
Glam Up With The 11 Best Vegan Mascaras Of 2023
Get ready to bat those voluminous lashes with this incredible vegan, waterproof mascara that adds instant drama to your eyes. This gentle formula lasts all day and does not flake, fade, or wear out, ensuring you look your best as you go about your day. In addition, the conic-shaped fiber brush makes application a breeze so that you can flaunt well-defined eyes without any clumps or unsightly globs. So, what are you waiting for? Say goodbye to cumbersome false eyelashes and enhance the beauty of your eyes with this must-have makeup essential.
Pros
Designed for all-day wear
Waterproof formula
Easy to apply and remove
100% vegan and cruelty-free
Cons
This mascara might not be best suited for very sensitive skin.
Price at the time of publication: $4.99
Clean beauty never looked this good! This high street vegan mascara provides buildable volume that allows you to create looks that range from natural and subtle to dramatic and over-the-top. Ideal for travel, this formula offers a defined, smudge-free look that is long-lasting and easy to remove. Safe for those with sensitive eyes, this one is ophthalmologically tested and is suitable for contact lens wearers. Ideal for the conscious consumer, this gorgeous mascara is made without any toxic and harmful chemicals and is never tested on animals.
Pros
Gentle formula without any harmful ingredients
Smudge-proof and easy to apply
Safe for sensitive skin
Free of parabens, SLS, and synthetic fragrances
Vegan and cruelty-free
Cons
Some might find the consistency of this mascara a bit thin.
Price at the time of publication: $16.9
If you love to flaunt your big, beautiful eyes but are worried about using products with harmful chemicals, you're going to love this all-natural vegan mascara which is chock-full of organic, good-for-you ingredients. Infused with nourishing chamomile and vitamin E, this long-wear mascara helps protect and condition your delicate lashes while accentuating their natural beauty. The eco-friendly packaging and gorgeous volumizing results are reasons enough that this mascara is a hot favorite amongst those who favor cruelty-free makeup.
Infused with chamomile and vitamin E
Free of parabens, lead, and harmful toxins
Gluten-free
Vegan and cruelty-free
Cons
Some might find that this mascara tends to smudge a bit.
Price at the time of publication: $23.95
Here's a natural mascara that actually works! Made with skin-loving, sustainably-sourced organic ingredients, this hypoallergenic, vegan mascara goes on beautifully without clumping or smudging and lasts all day long while providing gentle conditioning to your lashes. Safe for sensitive skin, this formula is water-resistant and tear-resistant, making it the ideal choice for those prone to allergies and dry eyes. And there's more! This multi-purpose gluten-free mascara can also be used as an eyeliner by simply using a slanted brush. So do your makeup routine a favor, and add this gentle lengthening mascara to your daily regime.
Pros
Made with all-natural, organic ingredients
Water-resistant formula
Non-GMO and gluten-free
Hypoallergenic and safe for sensitive skin
Free of parabens, petroleum, and mercury
Vegan and cruelty-free
Cons
Some might find the consistency of this mascara a bit thick.
Price at the time of publication: $23.95
Say hello to luxurious, fuller lashes with this smooth, all-natural mascara that promises to deliver unmatched length and volume. The nourishing formula is enriched with clay and flower extracts to build longer, natural-looking lashes without clumps or caking. Formulated for sensitive eyes, this long-lasting, non-toxic, vegan mascara coats and separates each lash for a gorgeous, wide-eyed result that really makes your eyes stand out. A bonus — the convenient built-in mirror makes this the ideal mascara to pack in your handbag for quick touch-ups on the go.
Pros
Smooth and easy application
Contains no synthetic fragrances
Comes with a built-in mirror
Free of parabens, mineral oil, and silicones
Vegan and cruelty-free
Cons
Some might find the texture of this mascara a bit dry.
Price at the time of publication: $18.0
Here's a magic wand that lets you fake it till you make it! Infused with nourishing coconut oil, kelp extract, and vitamin E, this clean, vegan formula conditions each lash as it strengthens and adds unbelievable length and volume. With this skin-loving, all-natural mascara, you no longer have to choose between health and beauty. Non-toxic and enriched with natural plant fibers and botanical extracts, this makeup must-have adds instant drama to your eyes while protecting sensitive, allergy-prone skin from harsh ingredients.
Pros
Natural, non-toxic formula
Enriched with a conditioning lash serum
Free of parabens, phthalates, and petrolatum
Contains no mineral oil
100% vegan and cruelty-free
Cons
Some might find the consistency of this mascara a bit watery.
Price at the time of publication: $15.99
Here's a fantastic mascara that adds endless length and intense volume to your luscious lashes for an extreme, dramatic effect that lasts all day long. Transition easily from a natural daytime look to a cat-eyed night look by simply adding more layers of this effective mascara as you go about your day. Smudge-proof and easy to remove, this vegan mascara is sure to become an instant hit with everyone who tries it. This formula is fragrance-free, making it a good vegan mascara for people who are sensitive to strong scents.
Pros
Provides intense length and volume
Easy to remove with soap and water
Free of parabens, synthetic dyes, and sulfates
Contains no added fragrance
Vegan and cruelty-free
Cons
Some might find the texture of this vegan mascara a bit thick.
Price at the time of publication: $29
Here's proof that good things can come in tiny, little packages. This affordable vegan mascara ticks all the right boxes for a beauty product that is easy to use and enhances your look without harming any furry cuties in the process. The hourglass-shaped brush ensures each lash is covered, and the twisted double-fiber bristles allow maximum pigment to transfer to your lashes for a finish that will make you throw your falsies away. So don't hesitate to add this gorgeous mascara to your makeup bag, and you can thank us later!
Pros
Lengthening and volumizing formula
Hourglass-shaped brush for easy application
No caking or flaking
Vegan and cruelty-free
Cons
Some might find the texture of this vegan mascara a bit dry.
Price at the time of publication: $22.63
Try this natural vegan mascara that promises rich, sultry color with a featherlight feel that won't fade, clump, or smudge. So get ready to flaunt beautifully bold lashes with this light, smooth formula that builds up effortlessly to deliver robust, healthy lashes that last all day long. Smudge-proof and water-resistant, this all-in-one mascara accentuates and lengthens the tiniest of lashes without any flaking. Ideal for travel, this doll eye mascara is an essential accessory to add to your handbag for beauty on the go.
Pros
Light, smooth formula
Safe for sensitive eyes
Gluten-free and water-resistant
Certified vegan and cruelty free
Cons
Some might find this vegan mascara a bit difficult to apply.
Price at the time of publication: $14.99
It's time to clean out your makeup bag and replace all your harmful, chemical-laden makeup with natural, vegan alternatives, and see for yourself the world of difference a few quality ingredients can make. Made without artificial colors, synthetic fragrances, and toxic preservatives, this all-natural vegan mascara delivers strong, healthy, dramatic lashes with gorgeous length and volume. And there's more, this hypoallergenic formula lasts all day long and can be used to create anything from a natural, doe-eyed look to an extreme, dramatic finish for a fun night out.
Pros
Made with natural and certified organic ingredients
Versatile finish
Strengthens and lengthens lashes
Hypoallergenic and safe for sensitive eyes
Vegan and cruelty-free
Cons
Some might find the application brush of this mascara a bit difficult to use.
Price at the time of publication: $22.99
If you're looking for the perfect vegan mascara to take you seamlessly from your early morning meeting to your lunch appointment through to evening cocktails with your friends, you're in the right place. This gentle, non-irritating formula is enriched with vitamin B5, which helps condition and strengthen lashes while delivering a smooth finish that doesn't smudge or clump. And there's more, the specially designed application brush expertly separates and defines each lash to create intense volume for eyes that are sure to stand out in a crowd.
Pros
Gentle and non-irritating formula
Infused with nourishing vitamin B5
Suitable for sensitive eyes and contact lens wearers
Non-GMO and gluten-free
Vegan and cruelty-free
Cons
Some might find this vegan mascara a bit difficult to remove.
Price at the time of publication: $17.6
Now that we've had a look at our pick of the 11 best vegan mascaras in 2023, let us look at some things to consider when picking the perfect mascara for your pretty peepers.
How Do I Choose The Right Vegan Mascara
Whether it is the unbelievable length you're going after or the intense lash volume you prefer, vegan mascaras offer many different finishes for you to choose from. While a lengthening vegan mascara is perfect for daytime use, a volumizing mascara might be better suited for the perfect smokey eye to go with your cocktail dress. If you prefer a more natural look, pick a mascara that adds subtle definition to your lashes without looking over-the-top and caked on.
Vegan ingredients don't always translate to natural and toxin-free, so a quick look at the ingredient list is still critical when you pick a mascara labeled as vegan. If you want your mascara to double up as a lash conditioner, select a product that is infused with nourishing ingredients like coconut oil and vitamin E, which will help strengthen your delicate lashes. If your skin is sensitive and allergy-prone, pick a mascara made of natural, organic ingredients and steer clear of harmful toxins like parabens and phthalates.
Make sure that the vegan mascara you choose has just the right texture and consistency to go on smoothly without unsightly clumps and globs. Nothing looks worse than mascara that goops up in the corner of your eye, and it is best to test a few out before you settle on the right mascara for your lashes. If you're planning to wear the mascara for over 12 hours, it is best to pick a long-wear mascara which is smudge-free and water-resistant.
Why Trust StyleCraze?
The author of this article, Chaitra Krishnan, is a makeup enthusiast. She loves to try different makeup products and believes that mascaras can make you look elegant and appealing. So, she browsed hundreds of reviews and checked the user feedback on various forums. She carefully curated the list of best vegan mascaras that make your lashes appear voluminous. In addition, these mascaras are cruelty-free and smudge-proof.
Frequently Asked Questions
Is mascara vegan friendly?
Yes, vegan mascaras are clean and produced without animal cruelty-free.
What is vegan mascara made from?
Vegan mascaras are made from aloe vera gel, activated charcoal, bentonite clay, and vitamin E.
Are vegan mascara better for the environment?
Yes, vegan mascaras are good for the environment as they do not contain animal products, and you can recycle the packaging.
Is vegan mascara good for sensitive skin?
Yes, vegan mascaras are suitable for sensitive skin as they are gentle and do not irritate the skin.
Is vegan mascara safe?
Yes, vegan mascaras are safe to use.
Is vegan mascara chemical-free?
Yes, most vegan mascaras are chemical-free as these are not tested on animals and safe to be used on human skin.
Does vegan mascara expire?
Yes, vegan mascaras expire after 3 to 6 months of use.
How long does vegan mascara last?
Vegan mascara can last for 3 to 6 months after opening the tube.
How often should you use vegan mascara?
As it is safe and provides an all-day shine to the lashes, you can use vegan mascara daily with your regular make-up regime.
Recommended Articles: