8 Best Anti-Aging Vegan Night Creams That Are Absolutely Worth Trying
Get clear results overnight with effective and rejuvenating skincare formulations.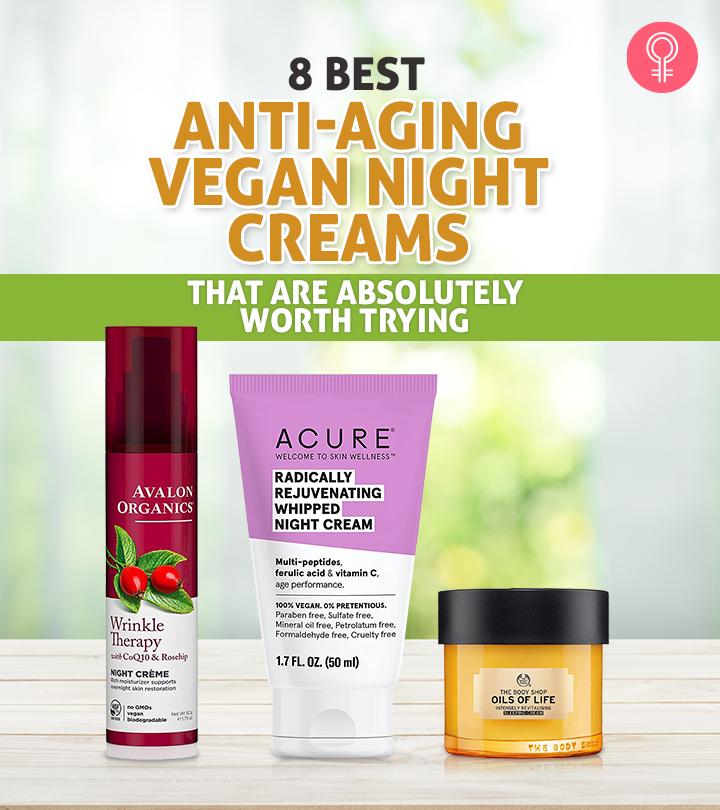 You deserve only the best when it comes to skincare products. Especially for your nightly regimen, you need to choose products that will eliminate unwanted impurities and restore your skin's health. This is why you need the best vegan night that will offer you a soothing, rejuvenating, and hydrating experience while you sleep. If you want to follow a beauty routine that must combine your ethical preoccupations with anti-aging benefits, there's nothing like a vegan night cream.
To help you with your purchase, we have curated a list of the 8 best women's vegan night creams. Scroll down to check them out.
Before we begin our list, let us first gain in-depth knowledge about vegan night creams.
What Is A Vegan Night Cream?
A vegan night cream is formulated without any animal-derived ingredient. They do not contain ingredients like honey, beeswax, keratin, collagen, glycerin, and squalene that are sourced from animals. Check the ingredients list to ensure that the packaging declares that it is vegan. You can also look for brands certified by Vegan Action, The Vegan Society, PETA, Leaping Bunny, etc.
However, note that vegan and cruelty-free are not the same. Read the labels well to make sure you are getting the kind of product you are looking for.
Benefits Of Using Vegan Night Creams
Planet-friendly: The beauty industry is gearing towards a sustainable and conscious pathway. Vegan night creams can be your way of avoiding products involving animal cruelty. Our list specifically mentions products that are as effective as their non-vegan counterparts.
Hydrating: Certain ingredients in vegan night creams help restore moisture to your skin slowly overnight. This can reduce the appearance of fine lines and wrinkles.
Soothing: Most vegan night creams with lightweight texture refresh and soothe skin. This is great if you have sensitive skin and want to avoid inflammations, allergies, etc.
Revitalizing: Unlike day creams, a night cream is specially formulated to work on repairing and replenishing your skin. It can be heavy in texture to reduce early signs of aging.
Now that you are well-acquainted with all the positive effects of using vegan night creams for your skin, it is time to explore our best vegan night creams.
8 Best Vegan Night Creams That You Must Try In 2023
If you are looking for a soothing and hydrating formula that also offers anti-aging properties, the Acure Radically Rejuvenating Whipped Night Cream is your best bet. This lightweight and rejuvenating whipped superfood replenishes moisture and helps your skin perform optimally at any age. It is rich in skin-friendly ingredients like vitamin C, multi-peptides, ferulic acid, and glacial glycoproteins.
Key Ingredients: Vitamin C, Multi-peptides, and Ferulic acid
Pros
Cruelty-free
Paraben-free
Sulfate-free
Mineral oil-free
Petroleum-free
Cons
Price at the time of publication: $15.49
Try this super-luxurious night cream that features the goodness of peanut, vegetable, and carnation oils. It is perfect for dry skin as it is collagen-enriched to preserve moisture, elasticity, and firmness. Its formula also has vitamins A and E to moisturize and soothe your skin, leaving it velvety soft. You can look and feel better with the Mario Badescu Elasto-Collagen Night Cream without any irritating fragrances.
Key Ingredients: Peanut, Vegetable, and Carnation oils
Pros
Suitable for sensitive skin
Thick, creamy consistency
Goes on smoothly
Cons
Price at the time of publication: $18.1
If you are looking for an intensely hydrating and nourishing vegan product for your night-time beauty ritual that absorbs fast, opt for the Ursa Major Golden Hour Recovery Cream. It replenishes weary skin with sea buckthorn's hydrating benefits, soothing calendula extracts, and moisture-retaining properties of sunflower. This face moisturizer is great for skin recovery and acts as a "wrinkle-busting" formula that is suitable for all skin types. In addition, its fragrance is rich in neroli and sandalwood with a hint of sour rose blended with fresh-soaked earth.
Key Ingredients: Sunflower, Calendula, and Sea buckthorn
Pros
Fast-absorbing
Cruelty-free
Paraben-free
Sulfate-free
Silicone-free
PEG-free
Synthetic fragrance-free
Artificial color-free
Cons
Price at the time of publication: $52
Defend your skin from premature signs of aging with the refreshing The Body Shop Oils Of Life Intensely Revitalising Sleeping Cream. Leave it overnight after gently massaging over your skin for a firmer, more supple, and revitalized feeling. It is infused with a power blend of 3 cold-pressed seed oils that offer revitalizing and repairing benefits to all skin types. For a thorough review of the product, have a look at this YouTuber's video.
Key Ingredients: Black cumin seed oil, Camellia seed oil, and Rosehip seed oil
Pros
Mineral oil-free
Silicone-free
Suitable for all skin types
Cons
None
Price at the time of publication: $48.89
The Avalon Organics Wrinkle Therapy Night Crème is the best choice for your nightly skin restoration process. It is made of plant-based botanicals and essential oils to infuse your skin with vital nutrients. It features hyaluronic acid that promotes moisture retention for firmer and smoother skin. In addition, it is free of harsh preservatives and improves skin texture while fighting aging signs. This plant-based night cream is enriched with Co-Enzyme Q10 and rosehip oil that offer skin-replenishing lipids, vitamins, and antioxidants to your skin.
Key Ingredients: Rosehip and CoQ10
Pros
Hypoallergenic
Non-GMO
Paraben-free
Synthetic color-free
Fragrance-free
Phthalate-free
Sulfate-free
Cruelty-free
Cons
Price at the time of publication: $22.27
The Algenist Genius Sleeping Collagen has a unique buttery texture and a formula with an intense concentration of vegan plant collagen, collagen amino acids, and ceramides. It works on your skin overnight and acts when your skin is at its optimal recovery time, leaving you with a visibly smoother, plumper, and glowing appearance for the next day.
Key Ingredients: Collagen amino acids and Ceramides
Pros
Clinically-tested
Buttery texture
Visible results in just 10 days
Cons
Price at the time of publication: $98.0
The DeVita Evening Rich Moisture Cream helps you to wake up to refreshed, radiant, and youthful-looking skin. It has hyaluronic acid that hydrates your skin and minimizes signs of premature aging like fine lines, wrinkles, and pores with retinol. Its formula also features a patented peptide complex that supports your skin's production of natural collagen and elastin for firmer, radiant skin. It contains the essential oils of lavender and geranium to provide a fresh scent.
Key Ingredients: Aloe-Hyplex, Hyaluronic acid, and Vitamin A
Pros
Cruelty-free
Gluten-free
Soy-free
Sulfate-free
Paraben-free
Cons
Price at the time of publication: $29.08
The nourishing and rejuvenating benefits of the Sukin Purely Ageless ​Restorative Night Cream make it one of the best vegan products on this list. The white hibiscus and baobab content in this rich cream improves skin elasticity and blocks aging signs. Its formula also contains acacia gum and cocoa butter that offer plump, hydrated, and smooth skin. Use it overnight and for naturally looking younger.
Key Ingredients: Pure ribose, Macadamia oil, and Cocoa butter
Pros
Natural ingredients
Non-GMO
Recyclable packaging
Carbon neutral
Grey water-safe
Cruelty-free
Suitable for all skin types
Cons
None
Price at the time of publication: $15.59
Using an effective anti-aging night cream is the best defense for the daily stress on aging skin. This addition to your P.M. skin care routine will transform your skin to make it youthful and radiant. A certified vegan product ensures your skin benefits from it while looking out for the animal kingdom. So, other than vegan formulation there are some more factors you should keep in mind while choosing your anti-aging vegan night cream. Scroll down to check them out now! .
How To Select The Best Anti-Aging Vegan Night Cream
Identifying your skin type is the first step in choosing any skin care product. Match your night cream to the skin type for the best results. For oily skin, choose lightweight, non-greasy products that do not clog your pores. Avoid ingredients such as shea and cocoa butter and choose non comedogenic actives such as hyaluronic acid, niacinamide, and peptides. For dry skin pick a vegan night cream that uses butters and plant oils to seal in the moisture and nourish the skin as well. Avoid fragrances and essential oils if you have sensitive skin.
Your anti-aging vegan night cream must contain ingredients that boost collagen production and reduce or delay the appearance of fine lines and wrinkles. Look out for active ingredients like peptides, natural plant extracts, niacinamide, lactic acid, retinol, AHA, BHA and ceramides.
Antioxidants in your night cream help fight free radical damage while preparing the skin to face UVA and UVB rays. Vitamin C and vitamin E are effective antioxidants that also aid in collagen production, reducing discoloration, and brightening the skin tone.
Be wary of toxic chemicals that can harm your skin. Opt for vegan night creams that are formulated without formaldehyde, paraformaldehyde, methylene glycol, mercury, phthalates and parabens. These can interfere with natural hormone production and cause long term damage to the dermis.
Most night creams are rich and creamy as they need to work through the night to restore and rejuvenate your skin. But, keeping in mind your skin type, you may prefer to choose a cream with a non-greasy, lightweight consistency. For dry skin, choose a cream with heavy emollients to seal in the moisture. Always choose fragrance-free formulations if you are allergic to certain scents, but if you enjoy a bit of aromatherapy, you can pick creams with essential oils like lavender and geranium to provide a refreshing scent.
If you are considering buying one of the above-mentioned vegan night creams, we recommend going through the next section to better understand which formula will fit your daily skincare regimen the best.
How To Select The Best Vegan Night Creams
Budget: It is important to invest in your skincare routine for the right results. But you can also avoid making any extravagant splurge as they are a number of affordable options too on the market.
Skin Type: Keep your exact skin type in mind while buying to avoid aggravating your existing skin problems or creating newer ones. Most products mention the particular skin type they are formulated for on their packaging.
Reviews and Ratings: Carefully comb through the customer reviews and ratings before making any purchase. This is all the more important for skincare products as they come in direct contact with your delicate facial skin.
Ingredients: Look for the product's ingredients list to choose a formula that works well with your skin. Always do a patch test to avoid any side effects or allergies.
Using a vegan night cream to soothe your skin at night can be one of the best skin care decisions! Some night creams revitalize your skin while blocking premature aging signs and making sure that your skin remains soft, supple, and radiant. The blend of natural ingredients can be helpful for acne-prone sensitive skin. However, while choosing the right vegan night cream for yourself, you should steer clear of products that might feel greasy or cause excessive itchiness.
Why Trust StyleCraze?
The author of the article, Shiboli Chakraborti, is a certified skin care coach. She has curated this list of the best vegan night creams after carefully browsing through online reviews from trusted e-commerce websites. The vegan night creams in the listicle offer rejuvenated skin that is devoid of dark spots, blackheads, and large pores. These creams can not only block signs of aging but also offer a visibly glowing appearance after every use.
Frequently Asked Questions
Is applying night cream good for skin?
Yes, a night cream helps soothe, revitalize, and hydrate your skin after a long day. In addition, it can amplify cell turnover and offer anti-aging benefits.
Do vegan night creams really work?
Vegan night creams contain skin-friendly ingredients that can reduce aging signs, dryness, etc.
Is it good to use vegan night cream every day?
Yes, a vegan night cream is a moisturizing product just like conventional night creams. Use it every day as a part of your night skincare routine and get plump, refreshed skin the next morning.
Can you leave vegan night cream overnight?
Yes, you can leave vegan night cream overnight. This will help your skin to hydrate and replenish your skin thoroughly.
How should I sleep after applying night cream?
You can try to sleep on your back with your head tilted at 20-30 degrees for at least the 1st hour. Try not to rub off your night cream on your pillowcase and let your skin absorb it.
Recommended Articles