11 Best Velcro Hair Rollers For Bouncy Curls (Buying Guide)
Get voluminous and gorgeous curls at home using these best-reviewed velcro hair rollers.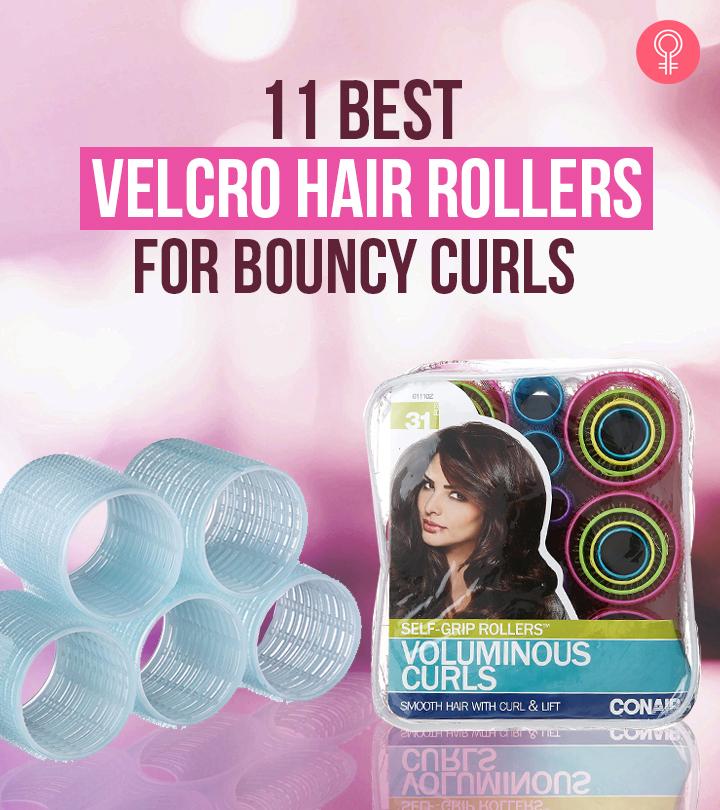 Regardless of the generation, Velcro hair rollers are a blessing. They can give the desired look instantly, and you do not even have to put much effort into it. Bouncy waves, tight curls, you name it. With this tool in hand, you can get them all. And the best part is, these volumizing hair rollers are not harsh to your hair. But since the market is brimming with umpteen options, we have listed the 11 best ones you must have ASAP!
11 Best Velcro Hair Rollers
The Conair Self-Grip Rollers let you achieve beautiful curls effortlessly. This versatile hair roller set contains 31 rollers in different (color-coded) sizes that give you tight coils or loose, bouncy curls. You can use them on wet or dry hair to effortlessly create beach curls, voluminous waves, or classic updos. They add volume to your hair while leaving it smooth and crimp-free and are a perfect suit for quick and convenient styling. These rollers come in a zippered storage bag, making them convenient to carry while traveling. This video detailing a tester's experience will help you understand the product better.
Pros
Great for setting hair quickly
Do not require heat for styling
Color-coded for convenience
Easy to use
Comfortable to wear
Cons
Price at the time of publication: $8.74
The Drybar High Tops Self-Grip rollers are professional hairstyling tools for a blowout-like effect. In this package, you get six rollers in two sizes – medium and large – to create stunning curls and add volume to the tresses. They are made of soft self-grip material, stay in place without clips, and prevent damage to your hair. These rollers are suitable for all hair types and hair lengths, easy to roll, and can be removed gently without tugging or pulling and give you salon-quality results. Check out the detailed review of a tester's experience of using the product in this video.
Pros
Gentle self-grip material
Prevents hair damage
Easy to use
Waterproof
Cons
Not suitable for all hair types
Price at the time of publication: $10.2
The UM24 Jumbo Self-Grip Rollers have strategically placed teeth to help your hair set and dry quickly. This set contains 8 jumbo rollers that are suitable for medium to long hair. These lightweight rollers are 2 inches wide and do not require the old-fashioned drums to stay in place. Many reviewers recommend these rollers to give your hair volume and bouncy curls, adding an extra layer to your look.
Pros
Long-lasting curls
Easy to use
Lightweight
Cons
Price at the time of publication: $8.91
The UM24 Medium Self-Grip Rollers are 1.25 inches in diameter and work well for medium-length hair. Each pack comes with 16 rollers that let you effortlessly style your tresses and helps create smooth and defined curls. These easy-to-use styling accessories stick on your hair and do not require clips or drums to stay in place. The cleverly placed teeth on the roller's outer side help your hair to set and dry fast. You can use these lightweight rollers to add bounce and volume to your luscious hair.
Pros
No crimps or lines on the hair
Lightweight
Easy to use
Cons
Price at the time of publication: $10.95
The Hair Art EZ Self-Gripping Rollers are lightweight styling tools for perfect curls. These super-jumbo Velcro rollers measuring 3.25 inches come in a pack of two and are easy to sterilize and clean. Use them on wet or dry hair to add volume to the hair or create bouncy curls that do not need any touch-ups. These curlers are suitable for perms and easy to remove. Several reviewers love using these rollers to add volume to their bangs.
Pros
No pins or clips required
Easy to clean and sterilize
Dry hair faster
Easy to use
Do not weight the hair down
Cons
Do not hold the hair in place
Price at the time of publication: $5.51
The Diane Self-Grip Ceramic Rollers are made from the highest quality thermal ceramic. Due to their ceramic body, these rollers can retain heat longer, bringing down the overall drying time and protecting the hair from heat damage. It's 3-inch diameter makes it easier to style your hair without mess or frizz. Each pack comes with two rollers available in vibrant colors.
Pros
Ionic ceramic thermal body
Protect hair from heat damage
Help the hair retain moisture
Heat up from the inside-out
Cons
May leave crimps in the hair
Price at the time of publication: $5.99
The Navadeal Hook & Loop Cling Rollers are great for overnight styling and made of flexible sponge foam that can be kept overnight. Its soft, spongy body lets you create stunning beach curls with wet or dry hair. This set contains 12 pieces, each with a diameter of 1.9 inches, suitable for medium-length hair and leaves it damage-free.
Pros
Made of soft sponge foam
Easy to use
Lifetime warranty
Cons
Price at the time of publication: $9.99
The Kitsch Ceramic Thermal Hair Rollers are highly durable, high-quality thermal rollers that will help you achieve salon-quality curls in no time. They will keep your hair sleek and smooth all day long. The rollers add volume to your curls and have long-lasting effects. They are made of self-gripping material that holds the hair gently without tangling them. They are available in sizes like 1.5, 2 and 2.25-inch which are safe for all hair types, are easy to use, suitable for both short and long hair and offer efficient results. Reviewers highly recommend these lightweight rollers as they do not feel heavy on the hair and are portable to carry. They are available in multiple colors and keep frizz at bay while blow drying.
Pros
Easy to use
High-quality material
Long-lasting results
Lightweight material
Travel-friendly
Combats frizz
Ideal for blow drying
Cons
Price at the time of publication: $11.17
This is another set of self-grip rollers from Navadeal suitable for short, wavy hair. These rollers are made from soft foam and have a diameter of 25 mm. Due to their cushiony body, you can keep these rollers in your hair overnight to set your hairstyle better. Each pack comes with 12 rollers, which can be used effectively to add volume to your beautiful locks without crimp lines.
Pros
Easy to use
Defined curls
Lifetime warranty
No crimp lines
Cons
Price at the time of publication: $9.99
These Cling Hair Self-Grip Velcro Rollers come in a pack of 24 and have a diameter of ¾ inch to give you all-over curls without heat treatment or a curling iron. These self-grip rollers require no clips or pins to stay in place. Plus, they are easy and convenient to use. They add volume and give a lift to your hair while straightening and smoothening it.
Pros
No clips and pins required
Perfect for small waves and curls
Cons
Difficult to use on long, thick hair
Price at the time of publication: $9.94
The Dini Wigs Large Professional Self-Grip Rollers come in a pack of 6 that lets you achieve perfect curls every time. Each roller is 2.25 inches in diameter and ideal for medium to long hair. These large, vented rollers let you add volume and texture to your flat hair. As they are self-gripping, they do not require pins and clips, making them easy to use at home or while you are traveling.
Pros
Easy to use
Made of eco-friendly material
Cons
Price at the time of publication: $18.99
These are the best Velcro rollers you can find online. Now, let's learn how to use hair rollers.
How To Use Velcro Rollers?
1. Wash Your Hair: Use a shampoo and conditioner according to your hair type.  Clean hair is easier to work with and style. But if you don't have the time to wash your hair, just dampen your hair with a spray bottle. Damp hair gives you more curls while dry hair is more suitable for gentle waves. Remember to towel-dry or air-dry your hair before using the rollers.
2. Detangle Your Hair: Your hair must be tangle-free before you use the rollers so that there is no frizz. Sergio Cardona, certified trichologist, suggests, "To detangle your hair, it is best to use a leave-in conditioner and then gently comb the hair."
3. Apply A Setting Mist: A hairspray or mists will prevent your hair from getting frizzy.
4. Divide Your Hair Into Sections: For best results, divide your hair in sections. This makes your hair more manageable and easier to style. The sections help you to curl your hair quickly and give a neater finish. Sergio Cardona, certified trichologist, says, "Be strategic when considering your sections and think ahead about the angle and direction in which you will place your rollers, since this will determine the flow of the hair."
5. Wrap And Roll: Choose the size of the rollers depending on the type of curls you want. The smaller ones give tighter curls, whereas the larger rollers add volume to your tresses. Once you have chosen your rollers, wrap your hair around one tightly and roll it up toward the scalp. Sergio Cardona, certified trichologist, notes, "Consider the end result. If you want your hair to fall to your back, place the rollers vertically. If you want them to fall down, place them horizontally. Consider if you are rolling over or under the hair, as it can change the direction of the hair flow. Some people like to create a mixed pattern of curls by placing the rollers in opposite directions (for instance under, over, under, over and so forth)."
6. Fix Any Non-Sticking Rollers: If any roller is loose or not sticking to your hair, it could be because there is too much hair on it. Unwind it and reduce the hair.
7. Set The Curls: To achieve long-lasting volume and set the curls quickly, you can apply hairspray while the rollers are in your hair.
8. Remove Gently: Unwrap the rollers carefully, one at a time. Do not rush this step as it can create frizz and tangles.
9. Loosen The Curls With Your Fingers: Run your fingers through your hair to open up the curls. Spread them evenly from roots to the tips for a voluminous look.
10. Use A Hairspray: Finally, spritz on some hairspray to hold your curls in place
Sergio Cardona, certified trichologist, says, "My father owned a beauty school and till this day, I am a fan of hair rollers, not only to create curls but to help dry the hair in a more natural way avoiding excessive heat. When we look at the science behind it, hair rollers are nothing short of amazing. By rolling damp hair, many hydrogen bonds are broken down and as hair becomes dryer, those bonds are rebuilt, molding the hair into a new shape."
Here are a few things you need to consider before buying rollers.
What Should I Consider When Buying The Best Velcro Hair Rollers?
1. Size: Choose the rollers depending on the type of curls you want. For tighter coils, pick up smaller rollers. In case you want to add volume to your hair, opt for large rollers.
2. Material: Rollers are made of different materials. Some are made of sponge or foam while others are made of ceramic. The spongy or foamy rollers are more comfortable to wear and can be used to set the hair overnight. On the contrary, ceramic rollers are heavy but can retain heat for a longer time and set your hair quickly.
3. Price: Choose rollers that are pocket friendly and durable.
4. Reviews: Check out user reviews to make an informed decision when buying hair rollers.
Why Trust StyleCraze?
The author, Shiboli Chakraborti, is a hair care enthusiast and writes well-researched product reviews for StyleCraze. After hours of research, she has compiled this list of the best Velcro hair rollers. She shortlisted the products after thoroughly scanning the reviews posted by users on trusted online forums. These easy-to-use rollers help you get long-lasting, bouncy curls in no time and do not damage your hair.
Frequently Asked Questions
Can I use Velcro rollers on wet hair?
Yes, you can, but it will not get you the best results. For gorgeous bouncy curls, use Velcro rollers on slightly damp and detangled hair.
Can I sleep with Velcro rollers?
You use soft foam Velcro rollers overnight.
Do Velcro rollers damage your hair?
No, Velcro rollers cause no damage to your hair. Conclusion
How long should I leave Velcro rollers in my hair?
Leave velcro rollers on your hair for 10-30 minutes. If you want to get quick results, spray some hair setting spray on your rolled hair.
Do velcro rollers make hair frizzy?
If you put too much hair in your velcro rollers it may slip off and cause frizz.
Do you need to curl hair before using velcro rollers?
No, you don't need to curl your hair before using velcro rollers. Just detangle and section your tresses before using rollers.
Are velcro or heated rollers better?
Velcro rollers are better if you want salon-style blowout hair. A velcro roller will give your hair volume but a heated roller will give you long-lasting, shiny ringlets.
Are velcro rollers good for fine thin hair?
Yes, velcro rollers are good for fine thin hair because they will help add volume to your hair.
Recommended Articles