The 10 Best-Selling Verso Skin Care Products Of 2021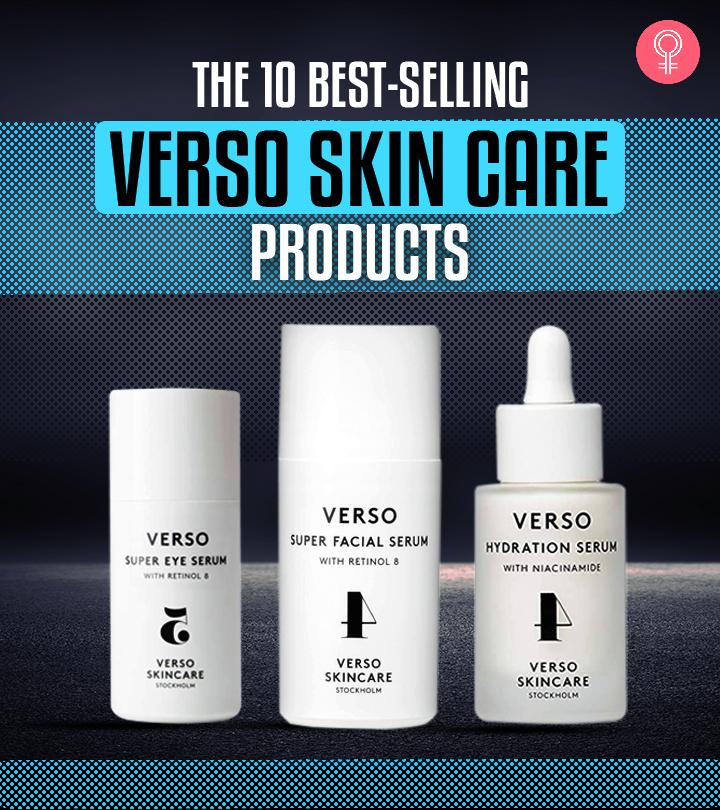 'Verso' in Latin means 'reserve.' Verso is a brand whose main focus is on offering the best anti-aging, hydrating, and nourishing skin care products. Their products are deemed amazing, thanks to their quality and for being 100% vegan and cruelty-free. They are also free of toxins, parabens, sulfates, and phthalates. Established in Stockholm in 2013, Verso aims to abridge your daily skin care regimen by making it shorter and simpler. Their collection fuses the elements of various products to shorten your skin care routine.
Verso's star ingredient is the vitamin A complex – Retinol 8 – that you will spot in it most of their products. Retinol 8 is deemed to be eight times as effective as traditional retinol while causing half as much irritation. It not only boosts collagen production but also reduces the signs of aging by improving your skin's health and texture. We have put together a list of the 10 best Verso skin care products that are worth every penny! Check them out below.
Top 10 Verso Skin Care Products
The Super Eye Serum is one of the best products in the Verso Retinol 8 range as it helps in rejuvenating the delicate, dull, and tired skin around your eyes for a refreshed appearance. It is formulated with a high concentration of premium retinol that helps in eliminating wrinkles, fine lines, dark circles, and sun-damaged skin. This lightweight serum strengthens, tightens, and soothes the fragile aging skin.
The amino acids in this eye serum reduce puffiness and smoothen out fine lines, while retinol tightens the skin by stimulating the production of collagen. Turmeric acts as an antioxidant that scavenges free radicals to reduce fine lines or sagging skin. Peptides work towards giving you youthful, radiant skin by reducing dark circles and crow's feet. This eye serum is sure to rejuvenate your skin, make it look younger, and eradicate skin dullness, fine lines, and eye irritation.
Key Ingredients: Retinol 8, peptides, amino acids, and turmeric
Pros
Tightens the skin
Revitalizes the skin
Nourishes the skin
Brightens the skin
Reduces puffiness
Gentle on the eyes
Prevents dark circles
Reduces fine lines, wrinkles, and crow's feet
Increases collagen production
Suitable for all skin types
Cons
Verso Night Cream makes your skin look healthy and youthful. It instantly hydrates and replenishes your skin to eliminate any irritation caused by environmental aggressors. Its unique Retinol 8 complex boosts collagen production and helps in diminishing the appearance of fine lines and wrinkles while being gentle on your skin.
This night cream is infused with rich antioxidants that combat and repair free-radical damage to ensure that your skin's complexion is radiant and youthful. The oats extract in it smoothens the skin to make it supple. The cream's light formula gets absorbed instantly to give you smooth and soft skin without a greasy finish. A proper night regimen with this cream is sure to help you deal with the daily stress and environmental damage to your skin. It is suitable for all skin types – mature, acne-prone, oily, combination, dry, and normal.
Key Ingredients: Oat extract, Retinol 8, and turmeric
Pros
Repair skin damage
Nourishes the skin
Moisturizes the skin
Rejuvenates the skin
Soothes skin inflammation
Fights fine lines and wrinkles
Smoothens and softens the skin
Protects skin from environmental damage
Suitable for all skin types 
Cons
The Super Facial Serum gives your skin an extra boost of freshness and promotes long-term skin rejuvenation. It helps impart a natural glow to your tired complexion. Its quick-absorbing formula leaves your skin feeling smooth and supple. Retinol 8 reduces fine lines, wrinkles, and dark spots without irritating your skin. Meanwhile, vitamins C and E offer antioxidants that help promote young-looking skin and natural radiance.
This serum works on reducing the signs of aging by boosting collagen production and plumping up the skin. From stubborn scars to deep-set expression lines – this serum helps in lightening them all. It also strengthens your skin to be better equipped to protect itself from the aging effects of environmental stresses.
Key Ingredients: Peptides, ceramides, vitamin A, vitamin E, vitamin C, and Retinol 8
Pros
Strengthens the skin
Brightens the skin
Lightens scars
Evens out the skin tone
Boosts skin elasticity
Reduces wrinkles and fine lines
Increases skin cell quality 
Cons
Your lips are often neglected in the skin care routine. It's time you showed some TLC to your lips with the Verso Lip Serum. It helps maintain your lips and keep them plump and soft. Moreover, it works effectively as an anti-aging treatment to eliminate the fine lines around your lips and lightens dark lips. It is not only a lip moisturizer but also a corrective serum that shows a positive impact on the lip's texture and tone. This is especially helpful if you are a smoker and noticing discoloration on your lips.
This lip serum contains turmeric that is rich in polyphenols which lighten the lips. It also has great anti-inflammatory and antioxidant properties. This lip serum dramatically transforms your lips by hydrating them and making them look younger. You are sure to notice fewer fine lines and deep-set creases, and smooth, supple, and plump lips.
Key Ingredients: Hyaluronic acid, peptides, turmeric, and Retinol 8
Pros
Hydrates the lips
Nourishes the lips
Plumps up the lips
Restores dry and thin lips
Reduces discoloration of lips
Diminishes creases and lines
Eliminates fine lines on and around lips
Suitable for smokers
Cons
Not suitable for extremely chapped lips
If you have dry or dehydrated skin, the Verso Hydrating Serum is a must-have! This serum instantly hydrates and nourishes your skin to lock in moisture, thereby creating a protective barrier. This moisturizing barrier provides long-lasting hydration as it is formulated with niacinamide, Nordic lipids, and other rich extracts.
This rich blend effectively prevents your skin from drying out and keeps it rejuvenated, smooth, and younger-looking. Niacinamide is deemed to strengthen the skin barrier, reduce fine lines, and reduce the appearance of enlarged pores. Vitamin E and ceramides have an antioxidant effect which helps in defending the skin from the harmful sun and environmental aggressors.
Key Ingredients: Niacinamide, ceramides, Nordic lipids, and vitamin E
Pros
Smoothens the skin
Rejuvenates the skin
Hydrates the skin
Prevents skin damage
Reduces fine lines and wrinkles
Repairs and restores the skin
Reduces enlarged pores
Cons
Unpleasant fragrance
Expensive
The Verso Foaming Cleanser is a gentle and non-drying cleanser that purifies and cleanses your face thoroughly. It gently removes light makeup, pollutants, and impurities to give you clean skin without causing dryness. It quickly eradicates impurities without upsetting the skin's delicate protective oil layer. It is suitable for dry and dehydrated skin types.
This luxurious cleanser is richly formulated with fruit enzymes that help in breaking down dirt to cleanse your skin in an easier and more effective way. Vitamin E and shea butter work together to hydrate and nourish your skin and make it softer, smoother, and healthier. The retinol in this cleaner acts as a booster to help energize, refresh, and plump up your skin for a supple look. Just a little amount of this cleanser is sure to refresh your skin for the remaining skin care routine steps.
Key Ingredients: Fruit enzymes, shea butter, retinol, and vitamin E
Pros
Soothes the skin
Energizes the skin
Softens the skin
Plumps up the skin
Removes makeup
Boosts natural radiance
Suitable for all skin types 
Cons
Does not lather well
Expensive
Verso Day Cream not only moisturizes your skin but also protects it from the signs of aging and environmental aggressors. This ultimate hydrating agent keeps your skin looking youthful, fresh, and radiant all day long. From boosting radiance and smoothening creases to protecting your skin from the sun and environmental aggressors – this day cream does it all.
This cream is formulated with a rich blend of niacinamide, turmeric, and Retinol 8 that work to strengthen the skin barrier, smoothen out wrinkles, reduce spots and pigmentation, and supply your skin with much-needed oxygen without causing irritation.
Key Ingredients: Niacinamide vitamin B3, Retinol 8, and turmeric
Pros
Hydrates the skin
Plumps up the skin
Rejuvenates the skin
Imparts a natural radiance
Reduces fine lines and wrinkles
Boosts collagen production
Smoothens and softens the skin
Protects skin from environmental damage 
Cons
Verso Dark Spot Fix is perfect for those who are looking to restore their complexion or wish to say goodbye to blemishes, dark spots, and scars. This is a targeted treatment that lightens and remarkably reduces the appearance of stubborn blemishes, acne scars, and dark spots. It is formulated with the goodness Retinol 8 that also reduces the appearance of dark spots caused by aging and sun damage.
This product is made with a unique blend of niacinamide, Retinol 8, and turmeric that effectively decreases hyperpigmentation. Also, it prevents the overproduction of melanin, which then leads to a more even skin tone. Hyaluronic acid improves skin elasticity and makes the skin plump and firm. From harnessing the skin's strength to restoring its natural radiance, this dark spot treatment will leave you in awe with its effective and quick results.
Key Ingredients: Niacinamide, vitamin B3, hyaluronic acid, Retinol 8, and turmeric
Pros
Tightens the skin
Brightens the skin
Visible results
Evens out the skin tone
Reduces dark spots
Diminishes scars
Combats hyperpigmentation
Can be used on the face, hands, and body
Cons
Expensive
Unsatisfactory quantity
Verso Daily Facial Fluid is an ultra-moisturizing formula with a light and velvety texture. It gives your skin a natural radiance and makes it look younger. It is formulated with lightweight oils and lipids that prevent clogged pores and prevent an oily appearance. They are also rich in antioxidants. This serum is especially suited for skin in climates with higher levels of humidity. It also helps in protecting the skin from premature aging.
The goodness of Retinol 8 that boosts the skin's production of collagen and slows down signs of aging. Meanwhile, niacinamide controls the excess production of sebum, minimizes enlarged pores, and prevents congestion and breakouts, thereby leaving you with smooth and soft skin. Turmeric's anti-inflammatory properties and hyaluronic acid help your skin fight free radicals. They also hydrate and nourish your skin from within for a long time. The Daily Facial Fluid is sure to give you enviable results like a refreshed and rejuvenated complexion and flawless skin. Also, it can be used under makeup as a smooth primer base.
Key Ingredients: Hyaluronic acid, niacinamide, vitamin B3, turmeric, and Retinol 8
Pros
Hydrates the skin
Imparts a radiant glow
Smoothens the skin
Rejuvenates the skin
Strengthens the skin
Boosts collagen production
Prevents clogged pores 
Cons
Loaded with a burst of hydrating and skin-strengthening properties, the Verso Nourishing Cream is a blessing for dry, dull, irritated, uneven, aging skin. This cream thoroughly hydrates your skin for a long time while minimizing the appearance of fine lines and wrinkles.
This cream is formulated with niacinamide which works as an antioxidant and improves your skin's outer barrier by amplifying cell turnover and lipid production. It gently treats dry skin by reducing fine lines, wrinkles, hyperpigmentation, and redness. Combined with oat lipids, this rich cream provides intensely long-lasting hydration that leaves you with soft and supple skin. Beta-glucans, ceramides, fatty acids, and antioxidants give you both instant as well as long-term hydration for a healthier complexion with continued use.
Pros
Locks in moisture
Restores skin radiance
Soothes irritated skin
Imparts a healthier complexion
Boosts cells turnover
Provides long-lasting hydration
Smoothens and softens the skin
Improves the skin's outer barrier
Minimizes fine lines and wrinkles
Reduces hyperpigmentation and redness 
Cons
Not suitable for oily skin
Expensive
Verso's skin products are formulated with luxurious and effective ingredients. Find out more about them in the next section.
What Are The Key Ingredients Of Verso Skin Care Products?
Apart from all the rich antioxidants and peptides, there are a few key ingredients that Verso uses throughout their product range. These key ingredients include Retinol 8, oats extract, and shea butter that provide significant skin benefits.
Retinol 8: Retinol 8 is the star ingredient in most of their products. It has the goodness of vitamin A and provides eight times more effective results than regular retinol. It is also safer to use on your skin as it does not cause any irritation or rashes. Moreover, it converts into retinoic acid – its active form – when it gets absorbed into the skin. This active form of Retinol 8 helps in boosting the production of new collagen in the skin by increasing the speed of epidermal cell turnover. This cell turnover thereby causes the dispersion of melanin granules which helps in evening out the skin tone. It also improves the skin's texture, minimizes the appearance of pores, dark spots, age lines, and wrinkles, and restores the skin's natural radiance and firmness. It is also an antioxidant that treats acne, eczema, and skin discoloration.
Oats Extract: Oats extract, also known as Avena sativa oil, is yet another key ingredient found in most of the Verso skin care range. Oats are known for their exfoliation properties, but their extract is famous for being a soothing agent. It instantly relieves skin irritation and itchiness as it is loaded with a rich supply of fatty acids. Oats have a high quantity of linoleic acid that works on improving the skin's protective barrier function. It effectively works on preventing moisture loss from the skin while protecting it from harmful environmental aggressors. Its rich antioxidants like tocotrienols and tocopherols protect your skin from the harmful UVA and UVB rays. Thus, oats extract plays a key role in preventing skin damage.
Shea Butter: Verso is known for their nourishing products, and that is where shea butter plays a key role. Shea butter is loaded with moisturizing and nourishing properties that make these products lightweight, creamy, and packed with hydration. The extracted fat from the nuts of the shea tree is rich in triglycerides and fatty acids that help in restoring and replenishing the skin's natural barrier function. Shea butter instantly melts at body temperature and forms a thin coat of moisture over your skin. This coat further helps in stopping the evaporation of the skin's natural moisture and infuses hydration into the skin by layering it on the outer layer.
If you have sensitive or acne-prone skin or are longing for firm and younger-looking skin, Verso's skin care range has got you covered. These 10 products are the best for fighting the signs of aging, tackling skin dryness, and addressing a range of skin issues. They are also vegan and non-toxic. Verso skin care products are worth a try as they show visible results that will leave you in awe. Grab a few of the products listed above to experience the results yourself!
Frequently Asked Questions
Are Verso skin care products cruelty-free?
Yes, all Verso skin care products are 100% cruelty-free.
Are Verso skin care products clean?
Yes, all Verso products are 100% vegan and do not contain paraben, phthalates, sulfates, or any other harmful toxins.
Recommended Articles
The following two tabs change content below.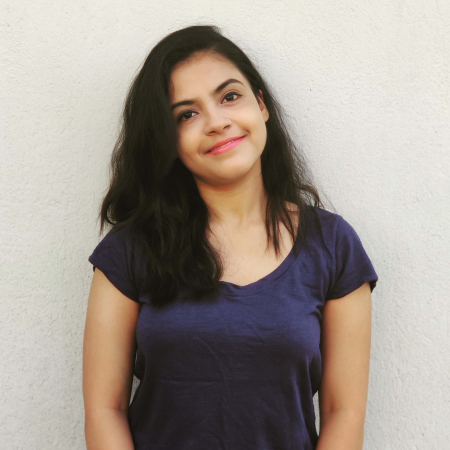 Oyendrila Kanjilal has a Master's Degree in English Literature. As a Beauty and Lifestyle writer, she writes about everything that the modern woman needs to know about grooming and self-care. She also reviews makeup, skin care, and lifestyle products to help readers make the best purchase. She is a trained classical dancer and loves binge-watching web series of different genres.