11 Best Vibrating Foam Rollers Of 2023 – Reviews & Buying Guide
Bid pain and strains adieu as you effortlessly soothe weary post-workout muscles.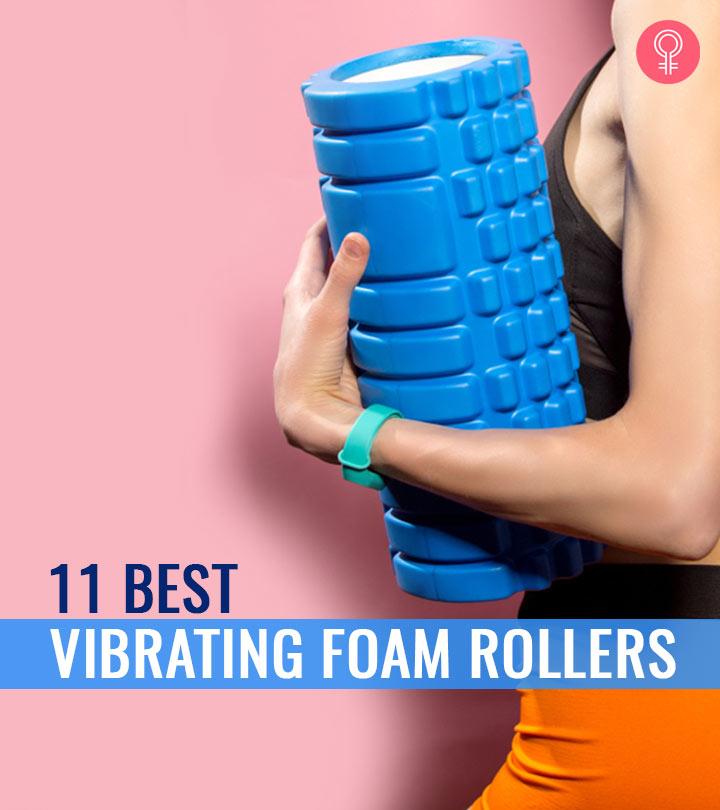 The best vibrating foam roller is specially designed to relieve stress, reduce pain, prevent injuries, and improve flexibility. You can use these rollers after pre-and post-workout. The massagers prep your body for doing a high-intensity workout. It also cools the body post-workout. It has become a staple these days for fitness enthusiasts.
Jesse Feder, registered dietitian, Florida International University, says, "Vibrating foam rollers are also great to desensitize areas of pain or stiffness. By stimulating the nervous system constantly through vibrations, we are able to calm down some of these problem areas. I personally recommend vibrating foam rollers to my clients!"
This post discusses the 11 best rollers that you can treat yourself with. Keep scrolling to check them!
What Is A Vibrating Foam Roller?
A vibrating foam roller is a regular foam roller with a powerful engine to create vibrations that pass micro pulses to minimize pain, tension, or soreness in the muscles. It also accentuates recovery, improves blood circulation, and increases flexibility.
The vibrating foam roller penetrates and activates muscles. It warms up the muscles for a heavy-duty workout and relaxes them post-workout. This fitness device comes with various intensity levels for customized user experience.
There are several benefits of a vibrating foam roller, especially if you often feel pain or soreness before and after a workout. Let's now look at the benefits of a vibration foam roller.
Do Vibrating Foam Rollers Really Work? Benefits Of A Vibration Roller
Reduces pain
Improves flexibility
Increases blood circulation
Prevents injury
Improves joint mobility
Speeds up recovery
Provides deep tissue massage therapy
Reduces muscle stress and soreness
Is there a difference between vibrating and non-vibrating foam rollers? Let's look at the following section to know more.
Vibrating Vs. Non-Vibrating Foam Rollers
The only difference between a vibrating and a non-vibrating/regular foam roller is that one has an engine to create vibrations, and the other does not. A study conducted in 2017 showed that using vibrating foam rollers can increase the body's pain tolerance more than a regular foam roller (1). Vibration foam rollers also improve blood circulation, which helps speed up recovery and repair muscles. Another study showed that whole-body vibrations strengthen muscle stimulation and improve their functionality (2).
Read on to know our picks of the best vibrating foam rollers you should check out now!
11 Best Vibrating Foam Rollers
Pros
Portable
Compact
Multifunctional
3 speed options
Cons
The charging process is difficult
Price at the time of publication: $99.99
Pros
Lifetime warranty
Includes a drawstring bag
Portable
Durable
Cons
Price at the time of publication: $99.96
Pros
Lightweight
Portable
Eco-friendly
Cons
Price at the time of publication: $76.99
Pros
Cons
None
Price at the time of publication: $55.99
Pros
Lightweight
Portable
Available in various colors
Cons
Price at the time of publication: $30.84
Pros
Durable
High-quality materials
Multifunctional
Long battery life
Rechargeable
Multi-speed options
Cons
None
Price at the time of publication: $39.99
Pros
Cons
None
Price at the time of publication: $93.52
Pros
Supports up to 300lbs
LED indicator
USB charging
Cons
Price at the time of publication: $54.39
Pros
Sturdy
Cordless
Easy to use
Cons
Price at the time of publication: $89.99
Pros
Portable
Comes with a charging cable
Multifunctional
Rechargeable
3 speed options
Cons
None
Price at the time of publication: $62.99
Pros
Lifetime warranty
Includes a carrying case and online access to "Full Body Foam Rolling" program
Cons
Price at the time of publication: $98.86
Here are some pointers to consider while choosing a vibrating foam roller.
Vibrating Foam Roller Buying Guide: Features To Consider
Foam Density: Vibrating foam rollers put pressure on the muscles to alleviate tension, pain, and soreness. If you are new to it, choose a low-density foam roller. As you get accustomed, opt for high-density foam rollers. The lower density foam rollers are soft and ideal for beginners.
Surface Texture: Vibrating foam rollers often have textured surfaces with nobs, spikes, or ridges. These textures target specific pressure points and reach deep into your muscles to relax them.
Vibration Settings: Vibrations improve blood circulation in the muscles. The faster the vibrations, the more heat is built up with high blood circulation. The slower the vibrations, the lesser the intensity of the foam rollers. Opt for vibrating foam rollers that come with different intensity and speed settings, so you can customize your pre and post-workout routine.
Battery Life: Most vibrating foam rollers come with rechargeable lithium-ion batteries with a charging cable or plug. These batteries require recharging based on your frequency of use and battery life. Most batteries last for 3-4 hours with a single charge.
Why Trust StyleCraze?
The author, Aditi Naskar, has a diploma in health & wellness and a good understanding of how vibrating foam rollers work. She has thoroughly analyzed various vibrating foam rollers available on the market and has particularly gone through hundreds of reviews online. This list of products has been finalized keeping in mind durability, portability, and their ability to reduce pain, increase flexibility, and minimize body tightness.
Frequently Asked Questions
How often should I use a foam roller?
You can use foam rollers daily pre and post workouts. They release muscle soreness, tightness, or pain.
Can I hurt myself with a foam roller?
The higher the foam roller density, the harder it will feel. If you are a beginner, opt for a low-density foam roller as it is soft.
Does foam rolling help pulled muscles?
Yes, foam rolling helps with pulled muscles to ease the pain.
Does vibration foam rolling reduce belly fat?
No, vibration foam rolling will not reduce belly fat. Although electric vibrations can tone your muscles, they will not specifically eliminate fat in one part of your body.
Which foam roller is best for beginners?
A smooth foam roller, like the Hyperice Vyper Vibrating Fitness Roller, is a good choice for beginners.
How long should you foam roll for?
You should foam roll for not more than 30 to 60 seconds.