11 Best Vibrating Foam Rollers Of 2023 – Reviews & Buying Guide
Bid pain and strains adieu as you effortlessly soothe weary post-workout muscles.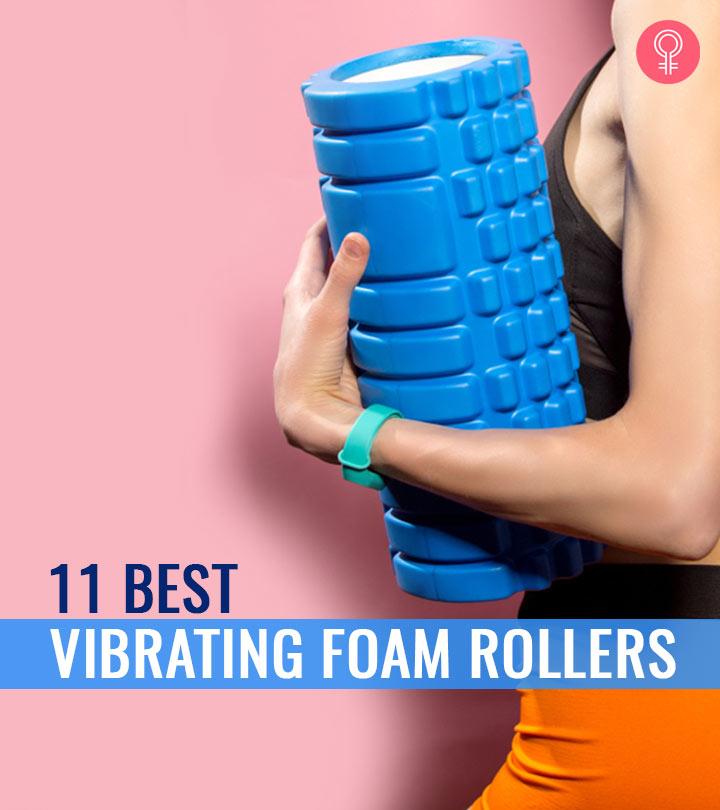 The best vibrating foam roller is specially designed to relieve stress, reduce pain, prevent injuries, and improve flexibility. You can use these rollers after pre-and post-workout. The massagers prep your body for doing a high-intensity workout. It also cools the body post-workout. It has become a staple these days for fitness enthusiasts. This post discusses the 11 best rollers that you can treat yourself with. Keep scrolling to check them!
What Is A Vibrating Foam Roller?
A vibrating foam roller is a regular foam roller with a powerful engine to create vibrations that pass micro pulses to minimize pain, tension, or soreness in the muscles. It also accentuates recovery, improves blood circulation, and increases flexibility.
The vibrating foam roller penetrates and activates muscles. It warms up the muscles for a heavy-duty workout and relaxes them post-workout. This fitness device comes with various intensity levels for customized user experience.
There are several benefits of a vibrating foam roller, especially if you often feel pain or soreness before and after a workout. Let's now look at the benefits of a vibration foam roller.
Do Vibrating Foam Rollers Really Work? Benefits Of A Vibration Roller
Reduces pain
Improves flexibility
Increases blood circulation
Prevents injury
Improves joint mobility
Speeds up recovery
Provides deep tissue massage therapy
Reduces muscle stress and soreness
Is there a difference between vibrating and non-vibrating foam rollers? Let's look at the following section to know more.
Vibrating Vs. Non-Vibrating Foam Rollers
The only difference between a vibrating and a non-vibrating/regular foam roller is that one has an engine to create vibrations, and the other does not. A study conducted in 2017 showed that using vibrating foam rollers can increase the body's pain tolerance more than a regular foam roller (1). Vibration foam rollers also improve blood circulation, which helps speed up recovery and repair muscles. Another study showed that whole-body vibrations strengthen muscle stimulation and improve their functionality (2).
Read on to know our picks of the best vibrating foam rollers you should check out now!
11 Best Vibrating Foam Rollers
The Hyperice Vyper Vibrating Fitness Roller increases body flexibility and circulation and reduces soreness in the muscles. It comes with three vibration settings to deliver a customized experience. This vibration roller is portable and fits in a gym bag. It increases the body's range of motion by 40%.
This German engineered, eco-friendly EPP roller comes with a dual-zone exterior. It is made from neoprene material. This device is suitable for the legs, shoulders, arms, back, and feet. It is equipped with a powerful 40 W motor and a rechargeable lithium-ion battery. Check out this review for a detailed features about the product.
Key Features
Rechargeable lithium-ion battery
Powerful 40 W motor
Dual-zone exterior
3 vibration settings
Pros
Cons
Price at the time of publication: $119
The Lifepro Active Recovery Surger Vibrating Roller improves recovery and flexibility before and after weight-lifting, yoga, jiu-jitsu, and cardio exercises. It provides high-penetration relief and reduces body tightness. This foam roller offers deep compression massage therapy for active recovery and workout warm-ups. It is made of premium soft material and consists of high, firm nodules that relax tight muscle fascia and remove knots.
The device comes with four vibration frequency levels and a 10,400 mAh battery. You can choose a custom intensity with a single toggle control for personalized recovery therapy to relieve muscle pain in the back, knees, quads, hamstrings, shoulder, and arms. The foam roller is portable and comes with a user-friendly manual, a quick charger, and a drawstring bag for convenient storage. It is used by athletes, fitness trainers, and physical therapists.
Key Features
10,400 mAh rechargeable battery
Single toggle control
4 vibration frequency levels
Pros
Lifetime warranty
Includes a drawstring bag
Portable
Durable
Cons
Price at the time of publication: $99.96
The Vulken Vibrating Foam Roller provides deep tissue and trigger point massages for the arms, legs, and back. It has a powerful motor that provides the highest penetration muscle relief. The roller comes with four vibration speed settings and an auto-pulsating level for easy muscle relaxation.
It is best suited for warm-ups, improving circulation, and sore and tight muscle recovery. The device is lightweight, portable, and made of eco-friendly, air-injected plastic shell, offering maximum vibration. The rechargeable lithium-ion batteries last for over two hours with a single charge.
Key Features
Rechargeable lithium-ion batteries
4 vibration speed settings
Auto-pulsating level
Pros
Lightweight
Portable
Eco-friendly
Cons
Price at the time of publication: $76.99
The Fitindex Electric Foam Roller provides high-intensity therapeutic vibration that helps relieve muscle soreness. It features four different vibration speeds (light, medium, auto, and high) and a smart auto-off function that shuts down the device automatically after 10 minutes of inactivity.
This foam roller is made of high-quality, durable EPP and ABS materials and uses a 2200 mAh internal lithium-ion battery that runs for four hours in a single charge. It is lightweight and portable. This foam roller helps you recover after running, yoga, weight-lifting, martial arts, cycling, boxing, and other exercises. It is suitable for the neck, back, arms, elbow, thighs, and calves.
Key Features
Rechargeable 2200mAh battery
4 vibration speeds
Smart auto-off function
Pros
Cons
None
Price at the time of publication: $55.99
The 321 Strong Foam Roller is a solid core EVA massage roller with triple grid 3-D massage zones that mimic the finger, palm, and thumb of a therapist to release soreness and tightness. It penetrates soft tissue layers effectively to relieve tired muscles.
The roller is soft and can be used for a lower back injury, sciatica, or plantar fasciitis. It is also suitable for the hamstring, IT band, back, glutes and calves. This product is lightweight and travel-friendly. It increases blood flow to the massage site and flushes away stored lactic acid. This foam roller provides you instant relief from sore muscles, back pain, shin splints, and scar tissue.
Key Features
Triple grid 3D technology
500 lb rating
Pros
Lightweight
Portable
Available in various colors
Cons
Price at the time of publication: $30.84
The NextRoller Vibrating Foam Roller comes with 3-speed vibration options for customizable use. It is made of high-quality materials that help relieve muscle soreness and pain in the lower and upper back, IT band, quads, hamstrings, shoulders, and arms.
This foam roller improves recovery, mobility, and flexibility before and after working out. It is the best muscle roller for self-massage and myofascial release. This product features a wall-outlet charging cable, and the battery lasts for two hours with a single charge.
Key Features
Rechargeable battery
3-speed vibrations
Wall-outlet charging cable
Pros
1-year warranty
Ergonomic carry handle
Sturdy
Great range of motion
Cons
Price at the time of publication: $42.99
The Trigger Point Performance Vibrating Foam Roller utilizes opposing ridge curves and three vibration frequencies to relieve muscle pain and discomfort, enhancing recovery. The high and wide opposing ridges expand the muscles, while the high and narrow ridges contract the muscles. This increases circulation to hard-to-reach tissues.
The rhythmic expansion and contraction with the different vibration frequencies release muscle tension. This foam roller is suitable after physical activities like boxing or workout routines. You can use it on the back, calves, adductors, quadriceps, hamstrings, and shoulders. This foam roller is portable and features a rechargeable battery with an AC charger. The battery lasts up to two hours in a single charge.
Key Features
Rechargeable battery
Opposing ridge curves
3 vibrating frequencies
Pros
Cons
None
Price at the time of publication: $93.52
Reduce post-workout soreness with the URBNFit Vibrating Foam Roller. The device features five vibration levels, high-density foam, and a rechargeable battery. In addition, this foam roller comes with a switch that allows you to toggle between high- and low-intensity massage levels. The roller  helps to relieve soreness from  hips, calves, upper back, lower back, and arms.
The honeycomb pattern of the foam roller provides smooth gliding and improves overall recovery. This customized uniform pattern helps to relieve muscle tension and knots. This roller assists in a myofascial release that relaxes your muscles and makes you less prone to injuries. Moreover, the roller improves circulation, reduces lactic acid buildup, increases oxygen levels in muscles, and allows you to heal quickly. This video review will help you understand more about the product.
Key Features
High-intensity rechargeable battery
Eco-friendly material
Five vibration levels
Pros
Supports up to 300lbs
LED indicator
USB charging
Cons
Price at the time of publication: $74.99
The CubeFit Pulse Vibrating Foam Roller is fitted with an LED vibration speed dial to toggle between three vibration intensities. It comes with an automatic timer that shuts off after 16 minutes of rolling time. This cordless roller features a rechargeable lithium battery that lasts up to 10 hours with a single charge. It is ideal for pre-workout stretching and post-workout recovery, improving mobility, agility, and flexibility. This medium density foam roller is made of high-quality material and comes with a one-year no-questions-asked return policy.
The vibration technology provides myofascial release to alleviate pain, soreness, and tightness. This device comes with eight-speed options. The first level is a low-intensity range for warm-ups with three speed options – 450, 900, 1350 RPM. The second level is a medium intensity range for revving workouts with three speed options – 1800, 2250, 2700 RPM. The last level is a high-intensity range for recovery post workouts with two speed options – 3150 and 3600 RPM. This product has textured nodules on the surface to activate trigger points for deep muscle therapy.
Key Features
LED vibration speed dial
Automatic timer
8 speed options
Rechargeable lithium-ion battery
3 vibration intensities
Pros
Sturdy
Cordless
Easy to use
Cons
Price at the time of publication: $89.99
The Fitness Junction Vibrating Foam Roller is a trigger point foam roller with five vibration levels from 300-3400 RPM for personalized recovery. It helps relieve back pain and improves flexibility and mobility. The roller also acts as a myofascial release tool that aids in quick recovery post workouts and releases tensed muscles.
Its effective vibration technology reduces lactic acid buildup significantly and provides a deep tissue massage along with pain relief. This deep massage vibrating roller has uniform bumps on the surface to activate trigger points and enhance recovery. It comes with a rechargeable lithium battery and a USB charging cable.
Key Features
Rechargeable battery
5 vibration levels
Pros
Portable
Sturdy
Travel-friendly
Cons
Price at the time of publication: $49.99
The Epitomie Fitness Vibrating Foam Roller provides vigorous rehabilitation with intense vibrations. The powerful 3600 RPM engine creates strong pulses that reverberate through tight and sore muscles relieving tension and soreness. It comes with four intensity and a pulsating setting. This foam roller restores and repairs muscles for maximum performance. The vibrations penetrate deep into the muscles to soothe and relieve any tension or soreness.
The roller comes with a rechargeable battery, a USB cable, and a lifetime warranty. It also improves mobility and flexibility, minimizing pain. This foam roller reduces lactic acid buildup and keeps you refreshed even after high-intensity workouts. It also speeds up the healing process by increasing blood flow and oxygen to muscle tissues. This product features a LED control panel and honeycomb design, which boosts workouts with less recovery time. The grip pattern and high-density foam act like a masseur's hands that relieve deep muscle tension.
Key Features
Powerful 3600 RPM engine
LED control panel
4 intensity settings
1 pulsating setting
Honeycomb grid
Rechargeable battery
Pros
Lifetime warranty
Includes a carrying case and online access to "Full Body Foam Rolling" program
Cons
Price at the time of publication: $98.86
Here are some pointers to consider while choosing a vibrating foam roller.
Vibrating Foam Roller Buying Guide: Features To Consider
Foam Density: Vibrating foam rollers put pressure on the muscles to alleviate tension, pain, and soreness. If you are new to it, choose a low-density foam roller. As you get accustomed, opt for high-density foam rollers. The lower density foam rollers are soft and ideal for beginners.
Surface Texture: Vibrating foam rollers often have textured surfaces with nobs, spikes, or ridges. These textures target specific pressure points and reach deep into your muscles to relax them.
Vibration Settings: Vibrations improve blood circulation in the muscles. The faster the vibrations, the more heat is built up with high blood circulation. The slower the vibrations, the lesser the intensity of the foam rollers. Opt for vibrating foam rollers that come with different intensity and speed settings, so you can customize your pre and post-workout routine.
Battery Life: Most vibrating foam rollers come with rechargeable lithium-ion batteries with a charging cable or plug. These batteries require recharging based on your frequency of use and battery life. Most batteries last for 3-4 hours with a single charge.
Why Trust StyleCraze?
The author, Aditi Naskar, has a diploma in health & wellness and a good understanding of how vibrating foam rollers work. She has thoroughly analyzed various vibrating foam rollers available on the market and has particularly gone through hundreds of reviews online. This list of products has been finalized keeping in mind durability, portability, and their ability to reduce pain, increase flexibility, and minimize body tightness.
Frequently Asked Questions
How often should I use a foam roller?
You can use foam rollers daily pre and post workouts. They release muscle soreness, tightness, or pain.
Can I hurt myself with a foam roller?
The higher the foam roller density, the harder it will feel. If you are a beginner, opt for a low-density foam roller as it is soft.
Does foam rolling help pulled muscles?
Yes, foam rolling helps with pulled muscles to ease the pain.
Does vibration foam rolling reduce belly fat?
No, vibration foam rolling will not reduce belly fat. Although electric vibrations can tone your muscles, they will not specifically eliminate fat in one part of your body.
Which foam roller is best for beginners?
A smooth foam roller, like the Hyperice Vyper Vibrating Fitness Roller, is a good choice for beginners.
How long should you foam roll for?
You should foam roll for not more than 30 to 60 seconds.