15 Best Vibration Plate Machines For Toned Muscles – 2023
Add some high-level shaking tools to get the best toned-up muscles easily.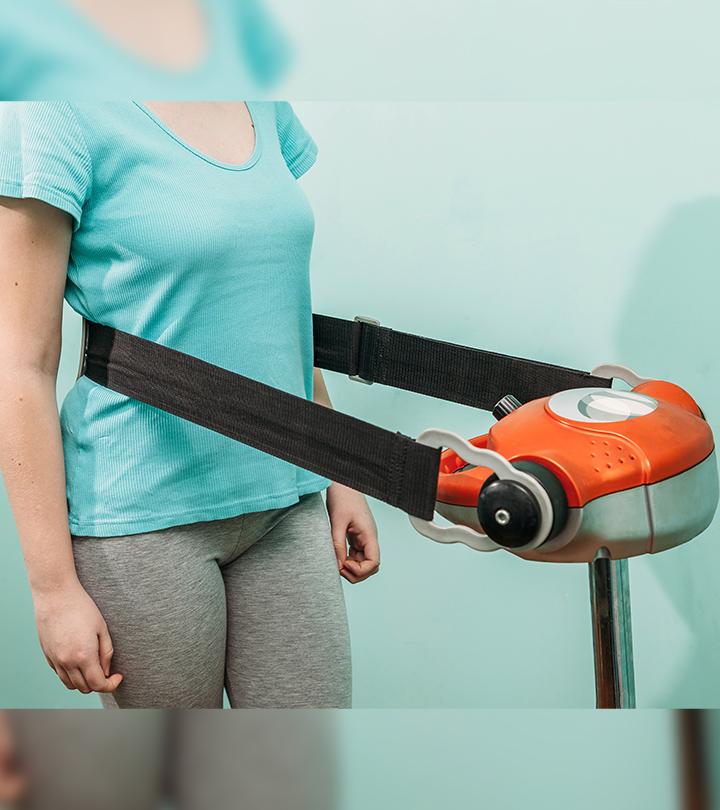 If going to the gym is getting too taxing, you can enjoy a good workout right at the comfort of your home by investing in the best vibration plate in the market. This exercise machine stimulates your muscles by using high-speed vibrations. This fitness training system is used by many to help with weight loss, aid fat burn, improve flexibility and blood circulation, as well as decrease the stress hormone called cortisol. It also helps build your core strength especially when used with resistance bands. What's the best part of this device, you ask? Without moving another muscle to see results, you simply need to stand on it for as little as 15 minutes, 3 times a week. With consistent use, you too can achieve the toned and ripped body of your dreams.
James Shapiro, a sports performance coach and personal trainer with over 9.5 years of experience, states, "The use of vibration plate machines not only helps you recover from workouts and improve the firing rate of muscles via your nervous system but also can create a challenging stimulus as part of a new workout routine."
Especially with the pandemic, when you cannot be out and about to get physical exercise, these machines prove to be a godsend. If you're like us and can't wait to add a vibration plate to your workout routine, read on. Our list of the best vibration plates of 2023 will help you decide on the perfect device you need to take home!
What Does A Vibration Plate Do?
A vibration plate is an exercise plate that sends vibrations at a high speed through all the muscles of your body. They stimulate your muscles at a rate much higher than usual. Unlike the usual rate of contracting and relaxing once or twice a second, our muscles contract and relax 30 to 50 times a second as energy is transmitted to them by the vibrations of the plate which stimulates them. When you stand on the plate when it's vibrating, your body gets the feeling that it's falling, so it goes into a stress reflex and the muscles start contracting rapidly. This not only improves muscle strength but also burns calories. It gives you all the benefits of a treadmill without causing stress to your joints.
15 Best Vibration Plate Machines Of 2023 To Strengthen And Tone Your Body
Everyone has the right to look their best, and this vibration plate takes care of that as it causes vibrations through your body and increases muscle activation and contraction by stimulating muscles. Apart from that, it improves blood circulation and boosts metabolism, thus increasing bone density, burning unwanted fat and reducing the stress on joints. It features 4 resistance bands which further add to the strength and toning of the body. The levels of vibration can be adjusted from 1 to 99 to maximize the effectiveness of your workouts. The remote control, display screen, and wheels attached to the plate add to its convenience, maneuverability, ease of use, and storage. Its user-friendly manual and online workout videos will ensure that you are as fit as a fiddle in no time. Check this video to learn more about the product.
Pros
Features loop bands
Weighs 31 pounds
Anti-slip rubber
Noiseless vibrations
Safe and steady
Cons
Some may find it a bit bulky and heavy.
Price at the time of publication: $199.99
Shake the world with this oscillating, multi-directional vibration plate that comes with resistance bands to ensure that your body is strengthened and toned. Its vibrations, which can be generated at different frequency levels, make your body work harder to stay stable. With this full body vibration platform fitness machine, you can either walk, jog, or run and get a complete body workout with vibrations that stimulate and contract the muscles. All muscles are engaged with the advanced vibration technology and are toned and tightened, while the resistance bands give you a good cardio workout. You can choose speeds between 1 to 99 on this powerful vibration machine depending on the workout you want. Before you know it, you will see a huge difference in how your body looks. Take a look at this video to get more information on the product.
Pros
Easy-to-use remote control
User-friendly workout guide
Can carry weight up to 330 pounds
Measures 24 x 15 x 4.7 inches
Cons
Some feel it should have a handle or wheel to move it around.
Price at the time of publication: $152.58
Your body will enjoy the benefits of 1 hour of jogging in just 10 minutes with this vibration plate. Its shell is constructed of upgraded ABS, making it a lot more stable and durable. It can take a load of up to 350 pounds and its anti-slip feet with vacuum suction prevent it from slipping and sliding when in use. It features an LED screen that displays the speed, time, and amount of fat burnt. It has a small, compact size which makes portability and storage that much simpler. It has simple controls, and the vibration speed can be adjusted between 1 to 99 which can be done by simply clicking the remote control button. It also comes armed with resistance bands, arm cords, and a detailed user's manual. This video offers a more detailed explanation of the product.
Pros
Ergonomic design
Rubber protective surface
Has a variety of exercise modes
Improves muscle strength
Increases bone mineral density
Enhances circulation and flexibility
Integrated bluetooth speakers
Cons
Some may find it a bit loud.
Price at the time of publication: $72.39
Programmed with 10 workout modes that are preset and speeds that can be adjusted between 1 to 99, the Best Choice Products Vibration Plate gives high intensity vibrations with low oscillation. It enhances circulation of blood, toning of core muscles, balance, and weight loss. The timer, power, and speed can be adjusted manually and the suction pads at the bottom prevent it from slipping or sliding. This vibrating fitness platform also features a handle for easy transportation and a pair of detachable resistance bands to add different kinds of exercises while doing your workout. It measures 26.75 x 13.75 x 5 inches and can take a load up to 330 pounds.
Pros
Gentle massage
Remote control included
In-built handle for easy transportation
Addresses all muscle groups
Cons
Better suited for bigger rooms as it requires 8 feet clearance on all sides
Price at the time of publication: $99.99
Improve your flexibility and burn fat with this vibration plate that ensures fitness for your entire body. It activates all your muscles from the comfort and convenience of your home. It builds and tones muscles, enhances stamina and circulation, boosts metabolism, improves bone density, and builds the strength of your core muscles. Its dynamic oscillation technology can be adjusted at 20 different levels of speed, reduces cellulite, and causes 2300+ revolutions of vibration per minute in all parts of the body. It has the added feature of handheld resistance bands that are detachable, especially for exercising the upper body and arms. It has a load capacity of 265 pounds and just 10 minutes on this vibrating plate are enough to get you fighting fit.
Pros
Revolutionary design
Anti-slip surface
20 levels of speed
Easy to store
Accelerated weight loss and fat burning
Cons
Price at the time of publication: $150.79
This innovative and unique vibration plate features 3 incredibly quiet drive motors that deliver oscillation, vibration, and micro vibration which can be done either together or separately. You can enjoy a massage akin to reflexology as well with this vibrating exercise platform because of the micro oscillation magnetic beads that enhance circulation to all parts of your body. It has a good sized curved surface for maximum contact and its non-skid surface is both safe and comfortable. The exercise intensity is recorded with the help of intuitive red, orange, and green LED lights. It features 3 programs and 7 manual combinations that are carefully designed for your benefit. It helps you burn fat and lose weight, increases muscle power, enhances core strength, and tones and shapes your body.
Pros
Magnetic therapy sensors
Wrist remote control
Bluetooth 4.0 speakers
Clear and crisp sound
Easy to use control panel
Includes resistance bands
Ergonomic and wearable remote control
Workout and nutrition guide
Multi-language instruction manual
Cons
Some may not find the remote control effective.
Price at the time of publication: $356.11
This unique vibration plate has a surface which gives shiatsu acupressure to your feet by pressing the pressure points and relieves headaches, back pain, insomnia, anxiety, stress, and joint and muscle pain. It releases blocked energy and improves overall health. Muscles from head to toe are stimulated and contracted so that they are strengthened and toned. The speed for this vibrating plate workout can be set between 1 to 20, has a touch panel, and integrated bluetooth speakers. It works on the principle of reflexology and relieves pain from the root, enhances bone density, boosts metabolism, and improves blood circulation, flexibility and muscle strength. It can take a weight up to 350 pounds and has 5 different modes. Lose weight while reducing abdominal fat with this incredible vibration plate.
Pros
Includes loop bands
Noiseless copper motor
Includes free fitness tracking watch
Lifetime warranty
Cons
Some may find the platform too hard for their liking.
Price at the time of publication: $179.99
Work out your core, upper, and lower body with this weight loss vibration plate that strengthens and tones your muscles, improves circulation and flexibility, and promotes weight loss. It features an ergonomic design, is durable and sturdy— thanks to its ABS shell, and can take a load of up to 330 pounds. It also features anti-overload and anti-static devices, has 5 in-built automatic modes and 1 manual mode for different requirements, and you can listen to music while working out. Its powerful motor produces high frequency vibrations almost noiselessly while you walk, jog, or run on it. Just 10 minutes on this vibration machine may relieve back pain and the intensity and time of your exercise is displayed on an LCD screen.
Pros
Integrated bluetooth speakers
Single press button to change modes
Includes a remote control
Features a detachable resistance band
4 anti-slip feet with vacuum suction
Rubber protective surface prevents sliding
Cons
Some may find the machine a bit heavy to move.
Price at the time of publication: $49.75
This stable vibration plate has a powerful motor and can be set at different speeds depending on the workout you want. You can choose between 5 pre-set programs or even combine them. The non-slip vibration plate promotes burning of calories, strength, and balance, and is especially useful in reducing fat and strengthening the muscles of the lower body. It's also very effective to warm up before working out or relaxing after a workout. It includes loop bands so that you can combine different exercises with the vibrations. It can take a maximum weight of 330 pounds with a speed that can be adjusted between 1 to 99. It features a wireless remote control and an LED screen so that you can operate it conveniently.
Pros
Noiseless and stable motor
3D oscillation
Anti-slip pedal
Anti-slip feet
Cons
Best to avoid if you have knee or hip issues
Price at the time of publication: $99.99
This vibration plate gives you a lot more choices with 180 speed levels and strong vibrations that massages your entire body. Its in-built USB speakers and bluetooth enables you to enjoy your workout with music while you choose different modes depending on your workout. Both comfortable and durable, it also includes 2 resistance bands with which you can do other exercises that improve circulation, boost metabolism, increase bone density, burn fat, and reduce the stress on your joints. This vibrating plate exerciser is like having your own home gym and so you no longer have to feel overwhelmed or frustrated about not being in shape.
Pros
Whisper quiet vibration
User-friendly display
Anti-slip rubber
Small compact size
Cons
The motorway gets overheated with prolonged use.
Price at the time of publication: $129.9
This 2XL vibration plate is incredibly stable and measures 32 x 19.3 x 7.5 inches and can carry a load of up to 440 pounds. It can be used by 2 people at the same time because of its large surface area and has 4 non-slip suckers on the base for added stability. The motor is silent and powerful and the strong vibrations get rid of body fat and boosts the production of collagen. It helps you lose weight while enhancing flexibility and just 10 minutes on this machine gives you the benefit of 1 hour in the gym. The speed can be set between 1 to 99 by a remote control and the program can be selected on a LCD digital screen that can simulate walking, jogging, and running.
Pros
Made of ABS
Piano paint for durability
Massage stone design
Boosts metabolism
Plays music while exercising
Compatible with phone and tablet
Cons
Some may find the vibrations too strong.
Price at the time of publication: $199.49
This oscillating vibration plate comes along with detachable resistance bands, measures 26.5 x 16 x 6 inches, and can take a load of 330 pounds. With 9 pre-set modes of 10 minutes each and speed levels between 1 to 99, it simulates walking, jogging, and running. It has a silent and powerful motor which produces strong vibrations that melts away fat, boosts collagen production, and tones muscles. You will feel your muscles relaxing and there will be improved blood circulation to the muscle. The oscillating vibrations dig deep into your muscles and give instant relief to tired and aching ankles, soles, back, and legs.
Pros
Anti-slip natural rubber surface
Magnetic therapy through feet
Shiatsu mat surface
2 detachable resistance bands
Increases bone density
Cons
Some may find the power cord difficult to insert.
Price at the time of publication: $89.99
If you have been looking to boost your balance, strength, and flexibility, this may be just the product for you. Its strong vibrations enhance contraction of the muscles, increase circulation, and stimulate your muscles. It causes minimal impact to your joints, burns fat, and reduces cellulite by boosting lymphatic drainage and circulation. With 10 pre-programmed modes and 3 speed levels, you can customize your workouts to your requirements and fitness level. Fitpulse vibration plate has an extremely user-friendly design and includes 5 resistance bands, push up bars, loop bands, foot massage pad, and an easy-to-use remote control so that you can do a gym-like cardio from the comfort of your home.
Pros
3 speed levels
10 pre-programmed modes
Stable suction rubber legs
Silent motor
User-friendly design
Includes 5 resistance bands
Cons
Should be avoided if you have knee pain
Price at the time of publication: $172.99
Incredibly effective, this vibrating platform exercise machine has dual 200W motors for better reliability, 3D oscillation movements, 3 vibration modes, and noiseless motors. Its convenient LED screen displays speed and time so that you can adjust your workout while its remote control makes it easy to operate. This full body vibration platform fitness machine is absolutely safe to use as it features non-skid feet and multiple circuit protection systems while its handle makes it convenient to carry. Its vibration speed can be adjusted at 120 levels and includes 2 removable resistance bands to exercise your upper body and arms. Its ABS construction, corrosion-resistance, and shock-resistance makes it sturdy and durable, and it can take a load of 330 pounds. It burns more calories, tones and builds muscles, and improves flexibility.
Pros
Dual motors
3 vibration modes
ABS construction
LED display screen
Includes 2 removable resistance bands
Cons
Some feel the power cord could be longer.
Price at the time of publication: $149.99
Designed by a physiotherapist, this vibration plate has a powerful motor and provides you a good workout with its sturdy and durable construction. Do your workout to the sound of music and LED lights which support both a USB port and bluetooth function. It features a remote control which you can use to conveniently operate the vibrating plate while training. It also features 2 resistance bands that you can use while exercising in your preferred mode. It can take a load of up to 330 pounds, is portable, and is easy to store. Its non-skid feet prevent you from slipping or falling and its ABS shell adds to its stability and durability. It has a vibration frequency of 50 to 60Hz, 10 preset programs, 4 non-slip rubber bases, and 99 speeds.
Pros
USB port to play music
3D stereo music
Intelligent remote control
Includes loop bands
Detachable resistance bands
Cons
Some people may experience pain in their ankles because of vibrations.
Price at the time of publication: $138.84
Now that you have been through our review of the 15 best vibration plates of 2023, let us give you a few pointers on what to keep in mind while choosing one for yourself so that you have the perfect workout.
How To Choose A Vibration Machine Plate
Platform dimensions
One of the most important things to keep in mind is that the vibration plate is large enough to carry out a number of different exercises. Ideally, it should cater to your whole body because as you become more comfortable with it, you will want to try out a wide range of exercises on it. This makes economic sense as well if you are planning to use it in the long run. Sometimes, a bigger platform may come at the cost of performance, as the machine has to work harder. So look for a plate that can produce the vibration that you require as well as the platform size you want.
Intensity of vibration
This is determined by the frequency of vibrations or the frequency of oscillations per second. As per studies, vibration for whole body training is usually between 25 to 40Hz. Though most vibration plates function between 15 to 60Hz, there are many models that have a frequency of just 15 to 30Hz, or even between 30 to 50Hz. You have to be careful about getting one that has the desired frequency.
Pre-set training programs
Many vibration plates feature pre-set training programs for different parts of your body. They are customizable to your specific needs and have different modules and frequency settings. Some even come with a personal coach to guide you through the workouts.
Avoid knock offs
Be sure of the source from where you are buying the vibration plate, as imitations or sub-standard products can lead to injuries or stop functioning. A good quality machine from a reliable seller is what you should go for. And do remember, that vibration plate exercises are not a replacement for healthy, balanced diet or regular exercises.
Size, weight, noise, and power consumption
Everyone wants a more compact and noiseless machine that consumes less power, but the fact is that a lot of mechanical energy is released which is then transferred to activate the muscles. So, the heavier, louder, and bigger vibration plates that consume a lot of energy, actually give you the best workout.
Motor size
The motor size cannot accurately predict either the longevity or efficiency of the vibration plate. So rather than just going by the motor size, it's better to check the vibration specifications and the warranty.
Aesthetics and user interface
Don't get taken in by the looks and cosmetic features of the vibration plate rather go for one that has the ideal frequency and a high rate of acceleration.
Personal requirements and intended use
You will need to decide between a compact vibration plate and full body vibration plate that features handlebars. The compact vibration plate has a strong motor and resistance bands and targets your legs, arms, and core. Because of their size they are cheaper and easier to store. It has a frequency of 4 to 12Hz and is perfect for muscle toning, rehabilitation after injuries, and some weight loss. For people with balance issues and limited mobility, vibration plates with handlebars makes more sense. They are more powerful, stable, and many can monitor your heart rate through sensors.
Safety
Ensure that you only use the plate for what it's meant for. Also ensure that it has non-slip legs, the surface has a strong grip, there's an emergency stop button, and it has handlebars.
Now that you know what to look for in a vibration plate, it's as important to know how to use it so that you can derive maximum benefit from it, and have a fit and sculpted body in no time at all.
How To Use A Vibration Plate
To derive the maximum from your vibration plate, you should ideally do calisthenic exercises on it. Calisthenic exercises do not require any training equipment, and include rhythmic exercises like push-ups, sit-ups, and squats.
Along with a healthy diet, it removes excess fat from your abdomen. While doing isometric squats, stand on the vibration machine with your feet at shoulder width and balance yourself by holding its handles.
After getting the correct position, you just need to bend your knees and squat till your thighs are parallel to the floor. Hold the squat for 30 to 60 seconds, rest for a few seconds, and repeat.
For split squats, place your left foot flat on the vibration plate, and place the ball of your right foot on the floor.
Stretch your right foot backwards while holding the handlebars of the vibration plate for balance. Lower your back knee to a 90°position and bend both your legs at the same time. Come back to your original position and repeat.
For push ups, place your hands on the vibration machine. Lie down and stretch your legs behind you, till only your hands and feet are supporting your weight. Your heels, hips, and shoulders should be in a straight line.
Lower your chest by bending your knees, and tighten your core. When your chest is near the platform, hold the position for a few seconds, come back to your original position, and repeat.
There is nothing to completely replace a healthy, balanced diet, and a regular and efficient workout for a fit and sculpted body. But thanks to the pandemic and the closing of gyms and the fact that sometimes we may not be in a physical state for a vigorous workout, it may not always be possible. That's where a vibration plate comes into the picture as it can give you all the benefits of a good workout without over exerting yourself or having to go to the gym. Stephen Holt, a fitness and nutrition coach with 20 years of experience, reaffirms, "Vibration plates offer effective ways to enhance your workouts without putting too much strain on your joints." Towards this end, we hope our review of the 15 best vibration plates machines will help you find what you are looking for and you are able to take care of your fitness regimen.
Why Trust StyleCraze?
The author, Shreya Vishwanathan, is a fitness enthusiast and writes research-based product reviews for StyleCraze. She has compiled this list of the best vibration plate machines, considering the host of benefits. To complement her hours of research on the products, she has gone through feedback gathered from different online forums. These machines feature ergonomic design and help build muscle strength, induce fat loss, and improve blood circulation and flexibility.
Frequently Asked Questions
Do vibration platform machines work?
Many experts believe that using platform machines for vibration 3 times a week for approximately 15 minutes does help in burning fat, weight loss, improving flexibility, decreasing cortisol which is the stress hormone, building strength, reducing soreness of muscles, and enhancing blood flow.
Do vibration plates help lose belly fat?
Combined with a diet for weight loss, vibration plates have more long term results in weight loss and reduction of belly fat than a weight loss diet combined with a traditional exercise routine.
Can vibration plates cause back pain?
There are very conflicting views about this. The vibration plates which are designed for homes and gyms are usually low impact. Muscles are stimulated without much effort at a high rate, which makes it ideal for patients and older people.
Do vibration plates help cellulite?
They do not really remove cellulite but it helps to improve it by tightening the skin. If that's combined with exercise, healthy eating, a good cellulite cream, and a strong cellulite treatment, it can have lasting effects.
Is a vibration plate good for lymphedema?
Yes. Since lymphedema affects the legs and feet, a high-frequency full-body vibration plate can be used effectively on them. Improvement can be seen in a few days.
Can vibration plates cause headaches and heart problems?
No, not always. However, excessive use of vibration plates may result in discomfort, weariness, headache, raised blood pressure, and heart rate alterations.
Do vibration plates improve circulation?
Yes, vibration plates stimulate blood circulation, which enhances flexibility and strength.
How often should you use a vibration platform?
You can use a vibration platform three to four times every week. It simply takes 15 minutes of your time and can be done from the comfort of your own home or office.
What exercises can I do with a vibration plate?
• Pushups
• Squats
• Crunches
• Planks
• Lunges
• Calf raises
• Arm rows
Recommended Articles: