10 Best Violet Perfumes That Make You Feel Like A Queen
Enjoy the sweet aroma of long-lasting Violet perfumes that offers multiple alluring floral notes.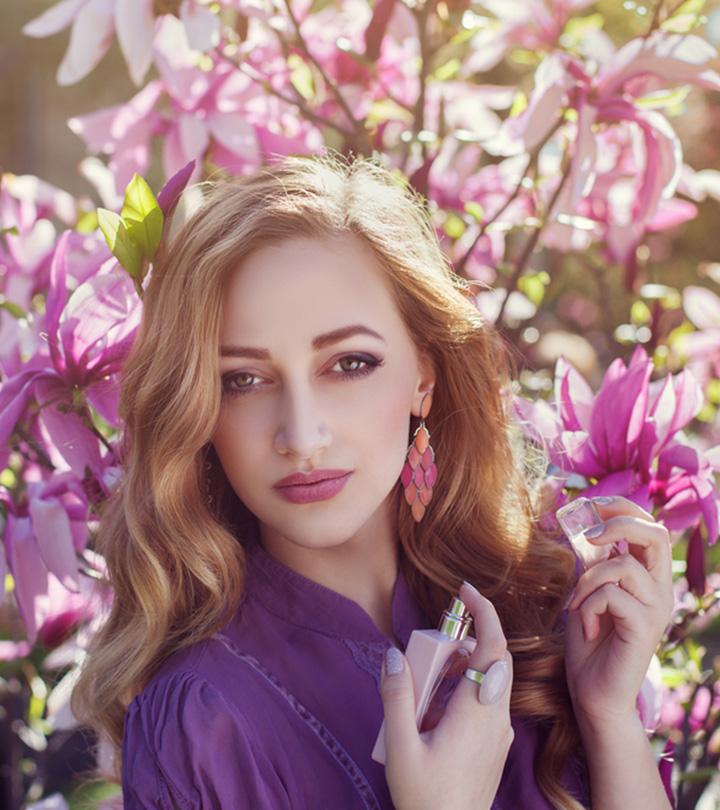 If you love floral scents and fragrances, then a delicate and feathery violet perfume must be on your list of perfumes to try and buy! The violet blossom emits an enchantingly wonderful aroma that has been bottled to create an ideal perfume that you can wear on a regular basis, especially when it is springtime. The fragrance of violets when bottled is sweet and powdery with breezy and dewy notes which aren't overwhelming. Violet scented fragrances have a gentle and natural sillage that waft behind you in the air.
The scent of violets is delicate and subtle. However, it can be enhanced in many ways, depending on how it is blended and bottled. Said to have been a favorite with Queen Victoria, the violet scent can make you feel quite elite as it has been associated with luxury and royalty. So, if you want to smell like a queen, you can spritz a bit of violet perfume on you! But which violet perfume will you spray on? Fret not, as we are here to help you! To pick one of the best perfumes crafted with the pure scent of violets, check out our carefully collected list of the top 10 violet perfumes that money can buy.
10 Dainty Violet Perfumes To Wear In All Season
Accent your lively spirit with a few drops of this fresh violet perfume from Ghost, named 'Daydream.' This violet-based fragrance has scents of citrus, salt, jasmine, tuberose absolute, and soft violets that results in a sensual, feminine fragrance. The perfume holds base notes of patchouli, cedarwood, musk, and amber and comes in a pretty lilac-colored multifaceted spray bottle, which portrays the notes of the violet leaf and flowers contained inside the bottle.
Pros
Floral notes
Notes of citrus, salt, jasmine, tuberose absolute, violet
Base notes of patchouli, cedarwood, musk and amber
Lilac-colored multifaceted spray bottle
Cons
Transport yourself to France with a splash of this Violetas Francesas cologne created using a genuine blend of oil of violets imported all the way from France. Safe for use by both adults and children, the delicate fragrance lasts for hours and comes in a glass bottle which can be splashed onto your skin. The soft and sweet signature scent has a calming and relaxing tone and the fragrance was formulated keeping young children in mind. The French violet perfume leaves a lasting and comforting powdery smell which lingers.
Pros
Safe for adults and children
Oil-based
Long lasting
Oil of violets imported from France
Calming and relaxing
Affordable
Cons
The scent may seem overwhelming for some
If you're like us and cannot get enough of Elizabeth Taylor's classic black and white movies, we've got great news for you! Created by the iconic Hollywood star herself, this one is a must-have for Talyor's ardent fans. Her perfume Violet Eyes is a unique fragrance with floral notes of jasmine, purple rose, and sweet peony coupled with fresh notes of white peach and earthy amber to leave you captivated by its silky violet scent. Just spritz some of this long-lasting sweet voilet perfume to all your favorite occasions and be the center of attention wherever you go! This video will give you more insights into the product.
Pros
Floral notes of jasmine, purple rose, and sweet peony
Fresh notes of white peach and earthy amber
Unique fragrance
Romantic-wear
Cons
Another must-have addition to your perfume collection should come in the form of Good Chemistry's violet-based fragrance in the scent 'magnolia violet'. This delectable scent contains notes of magnolia, peony, and amber and is also infused with essential oils which gives the perfume warm undertones. This romantic-wear perfume is floral scented and paraben-free as well. Its vegan and cruelty-free formula comes wrapped in a clear glass bottle with floral designs.
Pros
Floral scented
Notes of magnolia, peony, and amber
Contains essential oils
Vegan
Cruelty-free
Paraben-free
Propylene glycol-free
Cons
Scent may be a bit strong for some
Start your day with luxury and spritz on this gorgeous smelling violet-based perfume, 'Ultraviolet' from Paco Rabanne. An oriental floral fragrance, the scent has 3 separate vibrations, a spicy hot red pepper note, velvety jasmine, and osmanthus flower petals. It also has sensual notes that are characterized by a warm vanilla scent wrapped in amber and sandalwood. Contained in a small oval-shaped bottle, this bottle is designed to leave you feeling fresh and powerful. To make an informed decision before buying, you can check out this video.
Pros
Oriental floral scent
Spice red hot pepper note
Velvety jasmine and osmanthus flower petals notes
Carnal notes of warm vanilla wrapped in amber and sandalwood
Long lasting
Cons
Smell like violets every day with this violet-scented body spray from Bath and Body Works. This easy-to-use fine-mist fragrance spray can be easily carried around and spritzed on anytime, anywhere. It contains conditioning aloe mist which nourishes and refreshes the skin. Violet lily sky is a sumptuous blend of bergamot, fresh violet blooms, and pink pepper with notes of lily petals and sandalwood tones. This daily-use sheer mist is airy and light, and easy to spray on. Click here to check out this YouTuber's unbiased review.
Pros
Body mist
Floral fragrance
Blend of bergamot, fresh violet blooms and pink pepper
Notes of lily petals and sandalwood
Easily sprayed on
Airy and light
Infused with conditioning aloe
Cons
May be slightly expensive for a mist
Springtime is reminiscent of flowers and fresh floral smells, and it would be wonderful to imitate this smell in a perfume bottle. Bring that to life and don this delicate violet-based perfume from Yardley London which has hints of jasmine, pelargonium and lily-of-the-valley combined with tones of light vanilla and musk. With 90% naturally derived ingredients, this traditional scent is bound to leave you smelling daisy-fresh and perfect for daily wear or special occasions.
Pros
Floral fragrance
Hints of jasmine, pelargonium and lily-of-the-valley
Vanilla and musk notes
90% naturally derived ingredients
Cons
Another Violetas Francesas fragrance that you can spritz on and be instantly reminded of lush violet scents in the south of France is this cologne. It is also oil-based and contains oil of violets genuinely imported from France. The main difference between this cologne and the Violetas Francesas splash fragrance is that the sweet violet scent is more concentrated here and lasts much longer than the one created with children and sensitivity in mind.
Pros
Sweet violet scent
Oil of violets imported from France
Violet scent is more concentrated
Scent lasts longer
Comes in a glass bottle
Affordable
Cons
Scent may be very sweet smelling for some
If you have a garden party to go to, this beautiful floral scent containing blended notes of violet, blackberry, mandarin, rose, and amber is just what you need to get that perfect yet not overpowering scent want to turn heads. This spray-on fragrance imported from France is a traditional French floral perfume that combines the hearts and aromas of different flowers and is the perfect violet perfume you can wear out for a special occasion.
Pros
Floral fragrance
Notes of violet, blackberry, mandarin, rose and amber
Imported from France
Spray-on
Lingering scent
Cons
Expensive
Scent may be too subtle for some
If you're someone who prefers to mix it up with both fruity and floral notes, then this is the right fragrance for you! The opening notes of this luxe violet perfume are fresh peach and orange notes combined with a subtle hint of violet leaves. The heart tones of the scent are a blend of jasmine, rose, lily-of-the-valley, mandarin orange, and tangerine notes, and finally, the base notes of the perfume are musk, cedar, sandalwood, and honeysuckle, which are not wanting of a sweet ending.
Pros
Fruity and floral fragrance
Top notes of peach, orange and violet leaves
Heart tones of jasmine, rose, lily-of-the-valley, mandarin orange and tangerine
Base notes of Musk, cedar, sandalwood and honeysuckle
Cons
Expensive
Scent may be overpowering
 How To Choose the Best Violet Perfume?
If this is the first time you're picking out perfumes online, it may be hard to understand descriptors like opening, heart, and base notes. Top notes or opening notes are the opening notes of a scent and the first thing you perceive upon spraying the perfume. Heart notes come next and appear just before the top notes have entirely dissipated. They are more rounded and bind the top notes with the base notes. Base notes are the scents that usually linger on you after you've applied the perfume. Based on these notes and descriptors, you can pick out the best violet perfume for you.
No one wants to keep reapplying perfumes multiple times a day. So unless you want to visit the powder room for frequent touch-ups, pick a scent that is long-lasting and long-wearing.
Strength of violet scents
This collection of perfumes are all violet-based scents but in some the violet notes overpower the others. So decide how much of a violet scent you want to give off and choose one with more violet tones accordingly.
So it's time for you to embrace summer and floral tones and prepare to add the latest addition to your perfume collection with a brand new violet-based scent. These are fresh scents that are great for daily wear, or you can save them for special occasions. If you wish to feel like living like Queen Victoria, then this is a must-buy for you. This is a classy and traditional scent that you can never go wrong with, and if violets are your favorite go-to flower, then this is the way you can now embody the fragrance and spritz it onto your skin to keep you smelling fresh and relaxed all day.
Why Trust StyleCraze?
Chaitra Krishnan, the author of this article, is a makeup enthusiast. She believes that perfume adds confidence to the way you carry your attire. So, she conducted deep research on various perfumes and browsed official sites to pick the best violet perfumes for this list. The violet perfumes listed above lift your spirits and make you feel calm and relaxing. Furthermore, these perfumes are long-lasting are safe on your skin.
Frequently Asked Questions
What does violet fragrance smell like?
Violet fragrances have soft aromas. They offer a sweet and woody scent that is suitable for various occasions.
What does dewy violet smell like?
Dewy violet releases a sweet, powdery, and airy fragrance.
Is violet a calming scent?
Yes. Violet fragrances treat congestive pulmonary conditions and soothe your senses. They relax your mind and comfort you on a stressful day.
What scents blend with violet?
Violet scents blend with other essential oils like tuberose, lavender, cumin, and sandalwood.
What is a violet scent good for?
Violet scents strengthen and comfort your heart and mind during tiring days.
Recommended Articles
The following two tabs change content below.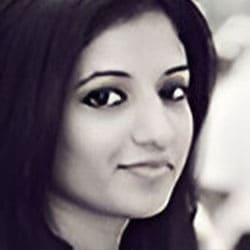 Chaitra has a triple main bachelor's degree in journalism, communicative English, and economics from St. Aloysius College, Mangalore, and a...
more