5 Best Vitamin A Serums Of 2023
Fight the signs of aging with this wonder ingredient in your beauty regimen.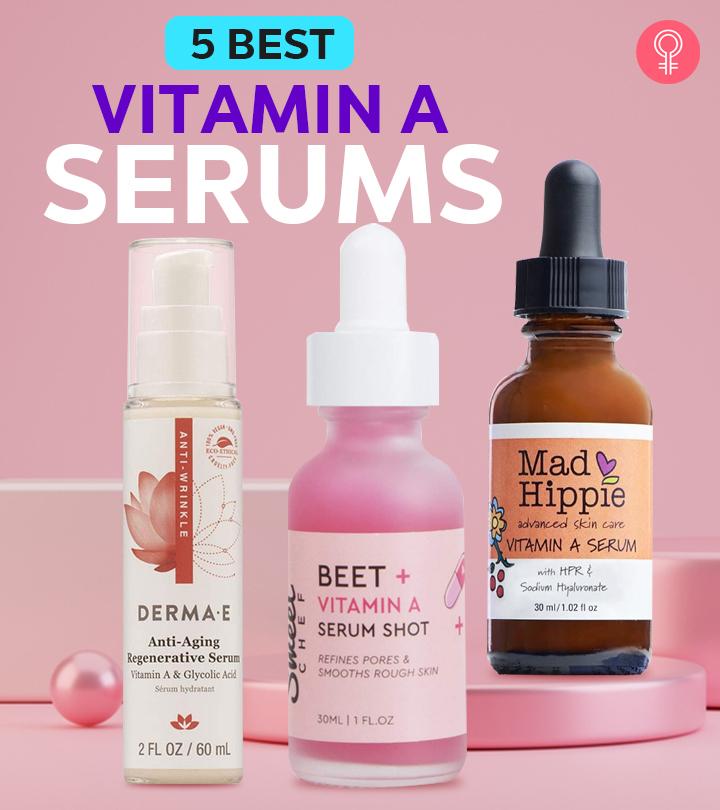 Look for a powerful substance that can both fight the aging signs on your skin, and you will find Vitamin A as the answer. Some of the best Vitamin A serums can even prevent signs of aging from occurring. Due to Vitamin A aka Retinol's clinical backing by different studies, it is used in some of the most advanced skin-care formulations targeting anti-aging (1,2,3). Retinols are potent formulas with high effectiveness and bioavailability. Use of retinol or Vitamin A serums can help reduce reducing fine lines and wrinkles, sagging skin, and dark spots with more effectiveness and speed. Although, direct use of Vitamin A can harshly affect the skin, which is why moisturizing agents are added to it to make it usable for people with sensitive skin. These products have received positive reviews from users. Check out our list of the best 5 Vitamin A serums and choose one for yourself.
5 Best Vitamin A Serums Available Right Now
Eva Naturals Retinol 2.5% Anti-Wrinkle Skin Firming Serum is powerful and effective for fighting the signs of aging such as fine lines, wrinkles, dark spots, sagging skin, and dullness. The results-driven formula contains 2.5% retinol that boosts natural collagen production and skin cell turnover. It also improves skin elasticity and firmness. Hydrating and moisturizing ingredients like hyaluronic acid, jojoba oil, and vitamin E nourish the skin and have a skin plumping effect. The antioxidant and astringent properties of green tea and witch hazel protect the skin from free radical and sun damage.
Key Ingredients
Vitamin E oil
Jojoba oil
Witch hazel
Green tea
Hyaluronic acid
Pros
Natural ingredients
Fights fine lines and wrinkles
Reduces inflammation
Improves complexion
Moisturizes the skin
Cruelty-free
Cons
Price at the time of publication: $14.99
TruSkin Retinol 2.5% + E & Hyaluronic Acid Serum is lightweight and effective. All the natural ingredients in it are derived from plants. It is also free from parabens, corn, soy, etc. Thus, it can be used by people with sensitive skin. This clinically-tested serum consists of a synergistic blend of skin care ingredients such as vitamin A, green tea extract, vitamin E, hyaluronic acid, and organic aloe vera that helps in skin rejuvenation. This potent anti-aging serum replenishes the moisture levels of the skin, lightens pigmentation, and soothes inflammation. It also helps in skin repair, reducing the appearance of fine lines, wrinkles, and crow's feet.
Key Ingredients
Organic aloe vera
Botanical hyaluronic acid
Vitamin E
Organic green tea extract
Pros
Reduces pigmentation
Dermatologist-tested
Hydrates the skin
Lightweight
Cruelty-free
Paraben-free
Vegan
Cons
Price at the time of publication: $19.99
Mad Hippe skin care products are all-natural and eco-conscious. Their Vitamin A Serum uses highly effective derivatives of active retinol and hyaluronic acid such as HPR (Hydroxypinacolone Retinoate) and Sodium Hyaluronate that penetrate deep into the skin. This serum also contains alpha-lipoic acid and phytoceramides that aid gentle exfoliation, reverse damage to the skin barrier, and replenish moisture in the skin. Thus, it helps your skin look brighter, plumper, and healthier. The oat beta-glucan and aloe extracts fight inflammation and soothe the skin. This potent vitamin A serum helps in fighting wrinkles and tightening the skin to make you look youthful and radiant. Perform a patch test before committing to this product, especially if you have sensitive skin.
Key Ingredients
Hydroxypinacolone Retinoate (Vitamin A derivative)
Phytoceramide
Oat beta-glucan
Sodium Hyaluronate (Hyaluronic acid derivative)
Pros
Tightens the skin
Soothes inflammation
Penetrates deep into the skin
Dermatologist-recommended
All-natural
Cruelty-free
GMO-free
Cons
May cause breakouts initially
Price at the time of publication: $26.39
The Skincare LdeL Cosmetics Retinol has a powerful formula that helps to improve the appearance of fine lines, wrinkles, and other signs of aging. This wrinkle reduction serum is formulated with 500,000 IU of potent vitamin A, also known as retinol, that improves skin texture for a smoother, younger-looking skin. The formula is designed to visibly firm and tone the skin for a more youthful appearance. It has been clinically proven to be as effective as more expensive products, making it a cost-effective solution for those looking for an anti-aging serum.
Key Ingredients
Vitamin A concentrate
Aloe vera
Pros
Mild scent
Safe and tested formula
Suitable for all skin types
Cruelty-free
Cons
Price at the time of publication: $39.99
Sweet Chef Beet + Vitamin A Serum Shot is infused with powerful antioxidants, multivitamins, and nutrients from the extracts of seaberry and beetroot. This anti-aging serum helps in getting an even skin tone and texture by refining pore size and smoothening the skin. Omega fatty acids and retinol nourish and rejuvenate dull skin to make it look healthy and beautiful, while also reducing blemishes. This serum is free from harmful chemicals such as parabens, alcohols, and artificial dyes.
Key Ingredients
Beetroot extract
Seaberry fruit extract
Vitamin A
Pros
Smoothens the skin
Reduces hyperpigmentation
Improves the skin tone
Vegan
Cruelty-free
Paraben-free
Alcohol-free
No synthetic dyes
Cons
May cause mild irritation
Price at the time of publication: $19.99
Why Trust StyleCraze?
Shiboli Chakraborti is a certified skin care coach who has expertise in reviewing and recommending the best products for your skin. She has prepared this list of the best vitamin A serums after thoroughly checking the product formulations and understanding their suitability for different skin types. She has also checked user feedback and reviews to understand the efficacy of each product before recommending them to you.
Frequently Asked Questions
Is vitamin A serum the same as retinol?
No, retinol is a vitamin A derivative.
What does vitamin A serum do for your skin?
Vitamin A serum reduces signs of aging, visibility of pores and pigmentation, and thickens the dermis for healthy skin.
Can you use vitamin A serum while pregnant and breastfeeding?
No. It is recommended to avoid vitamin A serum while pregnant and breastfeeding.
Can I use vitamin A serum every day?
Begin with twice a week and once your skin grows tolerance for it, proceed to use every alternate night.
How long does it take to see results from vitamin A serum?
It takes roughly three months for vitamin A serum to show visible and lasting results.
Does vitamin A serum help acne?
Yes, vitamin A is an antioxidant-rich serum that prevents cell damage and reduces acne breakouts and acne scars.