10 Best Vitamin C Clay Masks To Brighten Up Your Skin And Mood
Achieve the radiant, flawless skin of your dreams with the powerful natural antioxidant.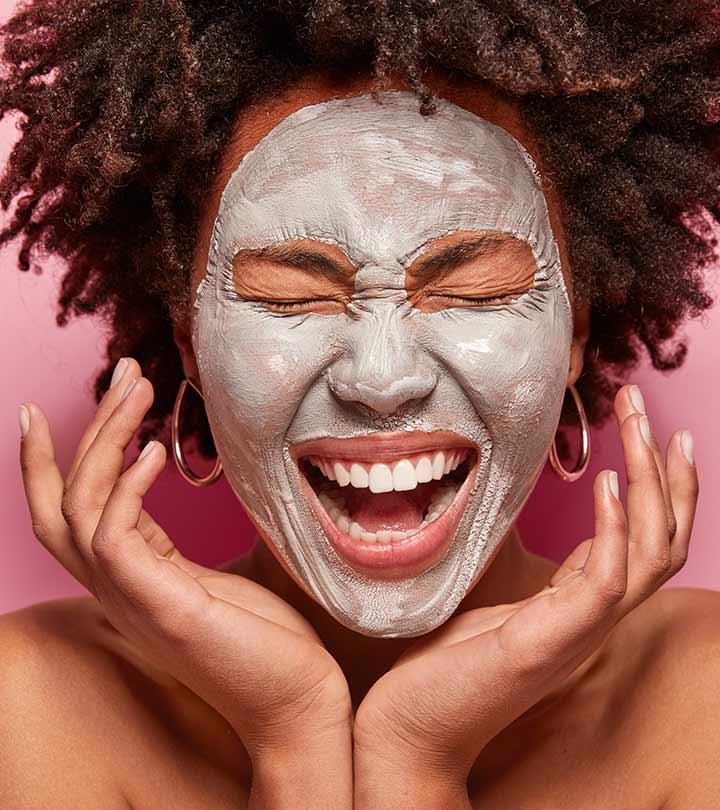 If you want glowing, smooth skin with an even complexion, using the best vitamin C clay masks can be your best bet. It is a simple yet effective way to rejuvenate and add instant glow to your skin. Vitamin C helps minimize dark spots, aging signs, and other imperfections while making your skin radiant. Vitamin C also helps combat free radicals, and it is a well-tolerated ingredient that suits most skin types. What's more? You can reap the benefit of these masks from the comfort of your home.
With increasing popularity, many skin care brands have come up with vitamin C products, and hence, it might be overwhelming for you to go ahead and pick one. But, fret not. We have made your search easy. In this article, we have compiled a list of the 10 best vitamin C clay masks that will benefit your skin. So, keep scrolling to find our top picks and get your hands on the best vitamin C clay mask now!
Brighten Up Your Skin With The Top 10 Vitamin C Clay Masks
Packing in the power of aloe vera and turmeric, this is a glow-up mask that helps you achieve that evasive bare-faced radiance. The yellow Australian clay brightens skin tone and evens out the texture of the skin to make it healthier and glowing from within. Vitamin C present in the mask fights dark spots, pigmentation, and discoloration that will make you more confident in your own skin. It comes in a ready-to-use formulation and a brush for application that makes it a dream to use.
Pros
All-natural
Vegan
Ethically-sourced ingredients
Cruelty-free
Ready-to-use out of the jar
Suitable for all skin-types
Cons
Not suitable for daily use
Price at the time of publication: $41.99
With all the skincare biggies such as bentonite clay, kaolin clay, retinol, vitamin B, C, E, and natural alpha hydroxy acids, this is a dream face mask for your skin that detoxifies as well as cleanses. This vitamin C mask for acne is a non-RX grade cosmetic product that is great in combating problems of acne, toxins, and inflammation. Retinol, collagen, and vitamin C combine to fight dark spots, signs of aging, and sun damage,while NaturePep pea extract ensures that the skin is not left dry and itchy.
Pros
Suitable for men and women
Non-GMO
Paraben-free
Cruelty-free
Suitable for acne-prone and sensitive skin
Cons
Price at the time of publication: $27.99
Longing for a luxurious facial spa-like experience at home? Look no further than this indulgent mask that uses activated bamboo charcoal, kaolin clay, vitamin c, spirulina, and kelp. While the activated charcoal deep cleanses the skin and cleans it out, the kaolin clay absorbs impurities and oil. Vitamin C, spirulina, and kelp are the glow-up ingredients that fight blemishes and spots to give you the no-make-up glow that we can all kill for! It is also enriched with coconut oil, aloe leaf juice, flaxseed oil, and rosehip oil, among nourishing ingredients that keep the skin moisturized.
Pros
Paraben-free
Cruelty-free
Hypoallergenic
Suitable for all skin types
Suitable for men and women
Cons
Some may find it slightly greasy
Price at the time of publication: $20.99
This is a mineral-infused clay mask that cleanses and brightens the skin. Turmeric, the hero ingredient, helps in solving skin woes such as inflammation and it can also get rid of free radicals, visible pores, while addressing the problem of sun damage, dullness, and wrinkles. The brightening clay mask also contains kaolin clay, which helps in getting rid of impurities and dirt to leave behind radiant skin with an even texture and color, while shea butter gives your skin the moisturization it needs.
Pros
pH-balanced formulation
Hypoallergenic
Anti-aging
Cruelty-free
Cons
The fragrance maybe be unpleasant for some
Price at the time of publication: $13.99
The ZealSea Turmeric Clay Face Mask is enriched with natural ingredients to deeply cleanse and revitalize your skin. It is formulated with vitamin C and kaolin clay that delays skin aging, stimulates the production of collagen, and rejuvenates the skin. It is also infused with aloe vera and vitamin E which helps restore hydration and balance your skin tone and reduce acne. Investing in this mask is sure to leave your skin feeling refreshed, brightened, and renewed.
Pros
Oil-free
Fragrance-free
Alcohol-free
Paraben-free
Cruelty-free
Travel-friendly
Gluten-free
Cons
None
Price at the time of publication: $32.49
A mask fit for all skin types, this one reduces the appearance of pores, clears clogged pores, fights acne and blemishes, clears pigmentation, evens out skin tone, and fights the signs of aging. Turmeric, aloe vera, coconut oil, kaolin clay, bentonite clay, almond oil, and vitamins C and E are the magic ingredients that make up this potion for your skin to address your concerns and help you achieve your skincare goals.
Pros
100% organic
Removes toxins
Ready-to-use formulation
Suitable for acne-prone skin
Cons
It may leave a faint stain on a wheatish complexion
Price at the time of publication: $14.99
The Vitamin C Clay Mask is a great addition to your skincare routine for a glowing, radiant complexion. The mask is a powerful blend of natural ingredients like pure vitamin C, tangerine extract, sunflower seed oil, and hydrologic acid that nourishes and rejuvenates your skin. The mask helps to brighten and even out your skin tone while exfoliating without irritating. The Kaolin Mud and BHA components help to draw out impurities from your pores, leaving your skin cleansed, and refreshed, with a brighter, more youthful complexion.
Pros
Hypoallergenic
Hydrating
Suitable for all skin types
Ideal for daily use.
Paraben-free
PEG-free
Phenoxyethanol-free
Cons
An organic natural skincare solution that, apart from tackling issues of dullness, spots, and aging, also takes care of blackheads, pores, and acne – this one's a win-win for anyone looking for a one-step solution for a host of skin problems. A cocktail of organic ingredients such as hyaluronic acid, collagen, vitamins A, C, B5, shea butter, argan, jojoba, and rosehip oils help in gently clearing out the skin to reveal a natural, healthy glow.
Pros
Unscented
Natural formulation
Organic
Suitable for men and women
Dermatologist-approved
Cons
May not be suitable for everyday use
Price at the time of publication: $59
Looking for an intense skin formulation to hard-tackle your skin problems? Try out this lightening-fast face mask that uses the power of vitamin C with retinol to combat aging, lines, wrinkles, and dark spots. The clay provides heavy-duty cleansing of the skin, making it free from impurities, oxidation agents, and unclogs pores. Sun damage, breakouts, and pigmentation are all also taken care of in the process.
Pros
Naturally-sourced ingredients
Paraben-free
FDA-certified
No synthetic fragrances
Cons
Price at the time of publication: $49
The Turmeric Vitamin C Clay Face Mask by Bella Jade is enriched with the power of turmeric. It is designed to deeply cleanse and revitalize your skin. The Clay Mask is formulated with a blend of powerful clays, including bentonite kaolin, manuka honey, and vitamin C. They work together to draw out impurities improve skin tone and texture, hydrate the skin, and reduce signs of aging leaving it feeling soft, supple, and glowing. It also has the nourishing extracts of aloe vera that emote humectant and emollient properties. It treats hyperpigmentation, reduces dark circles, boosts collagen produced, and works on healing acne.
Pros
Hydrating
SLS-free
Propylene glycol-free
Mineral oil-free
Phthalate-free
Paraben-free
Vegan
Cruelty-free
Comes with a brush
Cons
Price at the time of publication: $19.95
And with the reviews of our 10 favourite vitamin C clay masks out of the way, let us help you find and buy the best one with our buying guide.
Tips On Picking Out The Best Vitamin C Clay Mask For Yourself
How To Choose The Best Vitamin C Clay Mask
Pick one based on your skin-type and the problems you face. For instance, for oily skin, pick one with natural hydrators such as hyaluronic acid and also ingredients such as turmeric and aloe vera. For drier skin types, pick something that offers hydration and also something that balances the PH of your skin with ingredients like aloe vera, honey, vitamin E, and panthenol. For sensitive and acne-prone skin, look for hypoallergenic and antibacterial ingredients respectively. Shea butter, calendula extracts, beeswax are some favorable ingredients for those with sensitive skin.
Benefits Of A Vitamin C Clay Mask
Cleanses the skin
Fades dark spots
Fights the signs of aging
Brightens skin tone
Improves skin texture
Evens out skin tone
Protection from sun damage
Get your dream skin with a vitamin C clay face mask that helps improve the tone of your skin as well as the texture and also helps getting rid of dark spots. Healthy skin is always the best kind of skin and what you treat it to, shows on the outside. That evasive, dewy skin is now within your grasp as you give your face the much-needed indulgence and time with a face mask. So, what are you waiting for? Get a vitamin C clay face mask that suits you the best and go makeup free with confidence as you let your inner radiance do the talking.
Why Trust StyleCraze?
Vaishnavi Kothuri has a deep interest in skincare and loves writing about different skincare products. She has carefully selected these vitamin C clay masks, which have been closely reviewed and selected based on user reviews and feedback available on multiple forums and brand websites. The face masks listed in this article fight dark spots, pigmentation, and discoloration to make you more flawless.
Frequently Asked Questions
Is vitamin C good for dark spots on the face?
Yes, it helps in reducing the appearance of dark spots over time and usage of a beneficial product.
Does vitamin C help dark spots?
Yes, it helps in getting rid of dark spots over time, with regular usage of relevant products that have vitamin C in them.
Can you use a vitamin C clay mask every day?
No. Use vitamin C clay masks not more than two times a week to avoid irritating and over-drying your face.
Is vitamin C clay mask good for acne?
Yes. Vitamin C clay masks deep cleanse the pores and treat acne.
How long does it take for a vitamin C clay mask to work?
Vitamin C clay masks take only 10 minutes to work on your skin. For satisfactory results, use it twice a week for a few months.
Should I use a clay mask before or after showering?
Use the clay masks after showering if you have oily skin. The hot shower opens up your pores, and the mask deep cleanses the skin. But, if you have dry skin, apply the mask before showering to lock the moisture from the mask.
Do vitamin C clay masks actually work?
Yes. Vitamin C masks fade dark spots, treat acne and hyperpigmentation, and brighten the skin.
Do you put a clay mask on a wet or dry face?
Apply a clay mask on the damp face to help the ingredients penetrate the skin easily.