14 Best Vitamin E Creams Worth Buying In 2022
Natural formulations to give your skin the perfect freshness and glow it always needed.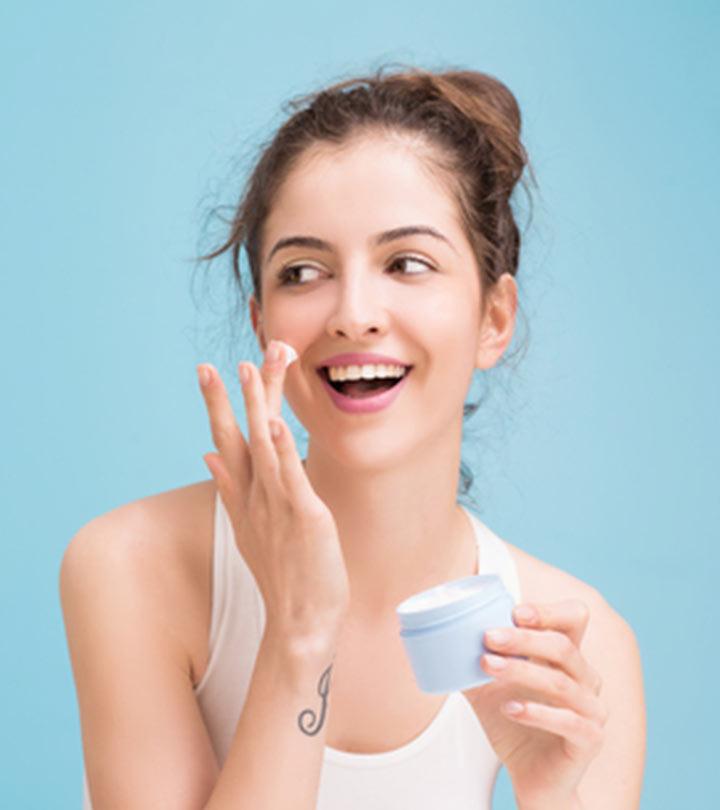 Certain skin care ingredients work wonders for your skin, and vitamin E is one of them. This ingredient is an antioxidant that helps combat free radicals and protects your skin from external stressors. An ideal way to incorporate this ingredient into your skin care routine is to use the best vitamin E creams. These creams are mostly meant for dry and sensitive skin, and it helps to address dry and itchy skin concerns. It is a powerful ingredient that hydrates and moisturizes dry and scaly skin and relieves skin concerns like sunburns, spots, rashes, blemishes, and scars. In addition, vitamin E strengthens your skin's natural barrier, and it gives you healthy, flawless, brightened, and smooth skin.
Therefore, vitamin E creams are beneficial, and you should add one to your skin care routine to reap its benefits. To make your search easy, we have compiled a list of the 14 best vitamin E creams that work best for all skin types in this article. Scroll through the list to take your pick!
14 Best Vitamin E Creams – Reviews With A Buying Guide
When wrinkles and hyperpigmentation take over your skin, this vitamin E cream helps in diminishing the signs of skin aging and adds a healthy glow to your skin. The key ingredients of this moisturizer cream are vitamin E and 2.5% active retinol along with green tea, hyaluronic acid, aloe vera, shea butter, and jojoba oil. These elements brighten and even your skin tone and boost natural collagen production while deeply nourishing your skin and protecting it against harmful environmental factors. With vitamin E as the main compound, this product repairs scars, acne, and stretch marks, and does not clog pores or cause skin irritation. This lightweight moisturizer with vitamin e offers you a radiant and youthful glow with a long-lasting moisturizing and hydrating effect. To know more about the Radha Beauty Miracle Retinol Moisturiser, watch this video.
Pros
Vegan
Non-sticky
Cruelty-free
Fast-absorbing
Suitable for sensitive skin
Cons
Does not contain SPF
Slightly expensive
Price at the time of publication: $14.95
This Honeydew Scar Cream is perfect for sensitive skin types because of its main ingredient known as tocopherol, which is a form of vitamin E. It helps to soothe, calm, and repair skin scars and stretch marks and leaves you with nourished healthy skin. This product also contains cocoa butter and shea butter to maintain the moisture balance and prevent skin dryness. And, rosehip oil, kokum butter, and coconut oil bring anti-aging benefits to your skin. If you are concerned about your dry and sensitive skin, apply this vitamin E cream for scars to the concerned area twice a day with fingertips and massage with medium pressure in a circular motion.
Pros
Boosts hydration
Does not clog pores
100% pure and natural
Not tested on animals
Free of sulfate, paraben, and mineral oil
Cons
Some matt find it slightly greasy
Price at the time of publication: $11.95
The Health Priority Natural Products Vitamin E Evolve Moisturizer + SPF 30 is a lightweight, mineral-based moisturizer with SPF that works for all skin types. Enriched with d-alpha tocopherol, it is best for sensitive skin types too. The presence of antioxidants, Vitamin E and B5 reduce signs of aging while zinc oxide and titanium oxide fade dark skin spots from melasma. This cream's gentle texture and matte finish allow it to be worn alone or under makeup without feeling heavy or cakey. The rich combination of jojoba, rice bran, and avocado oils keeps the skin moisturized, giving it a youthful and healthy appearance.
Pros
Lightweight
Suitable for all skin types
Matte finish
Comes with SPF 30
Cruelty-free
Organic and natural
Paraben- and alcohol-free
Cons
Leaves a whitish hue on skin
Alters the complexion
Price at the time of publication: $30.99
Prevent breakouts, soothe irritation, and improve skin texture with this vitamin E cream that includes 2.5% active retinol, making this product an excellent anti-aging formula. This moisturizer lotion also contains jojoba oil, vitamin B5, shea butter, hyaluronic acid, and green tea that help in skin rejuvenation. All the ingredients are natural and organic, and this cream does not include sulfates, parabens, artificial fragrance, or gluten. You can achieve even skin tone as it reduces dark circles, acne, spot scarring, wrinkles, fine lines, and sun damage, leaving you with radiant and flawless skin. This organic vitamin e cream offers the best results when applied twice a day. You can also use it before applying your makeup as a base.
Pros
Cruelty-free
Lightweight
Fast-absorbing
Suitable for all skin types
Non-greasy application
Cons
The moisturizing effect may not last long
Price at the time of publication: $13.95
Looking for age renewal cream for your mature skin? Get this Jāsön Vitamin E Moisturizing Crème that contains vitamin E as its main ingredient, making it the right choice for you. It is also infused with avocado oil that helps to restore the skin's elasticity and leave a youthful glow. You will get smooth, moisturized, and hydrated skin— thanks to the vitamin content found in this cream. It will help to reduce the wrinkles and fine lines along with the appearance of scars and spots, leaving you with flawless and vibrant skin. The ingredients used in this product are effective and safe to use on sensitive and mature skin. This hydrating vitamin cream does not contain GMOs, artificial colors, phthalates, sulfates, petrolatums, and parabens.
Pros
Organic
Cruelty-free
Fragrance-free
Free of parabens and sulfates
Long-lasting moisturizing effect
Cons
Some may find it a bit sticky
Price at the time of publication: $8.49
If you are sensitive to strong scent, this vitamin E cream is the right choice as it is unscented. Apart from calming your sense of smell, this cream also hydrates, nourishes, and moisturizes your dull, dry, and cracked skin of hands. It is formulated with nourishing herbals extracts including aloe vera, glycerin, almond oil, and unscented vitamin E. The blend of these elements protects against environmental aggressors. It diminishes fine lines that appear when your hands are dry and dehydrated. You can keep this paraben-free vitamin E cream in your purse or a small bag to use it whenever your hands feel parched or cracked.
Pros
Gluten-free
Natural ingredients
Ultra-soothing effect
Not tested on animals
No phthalate and paraben
Cons
It might take some time to fully absorb into the skin
Price at the time of publication: $16.99
This cream with vitamin E as its main content offers soft and smooth skin texture and even skin tone. It decreases the signs of aging by soothing and reducing wrinkles, fine lines, scars, and blemishes, leaving you with a flawless glow. This product is formulated with vitamin E, wheat germ, collagen, aloe vera, elastin, and sunflower seed oil, and these ingredients help to repair cracked skin and give you softer, smoother skin. You can apply this cream on your dry face, hands, and body, especially post-exposure to sun, wind, and cold weather. Watch this video to find out why the Fruit of the Earth Vitamin E Cream is one of the best moisturisers in the market.
Pros
Affordable
Non-sticky
Fragrance-free
Calms itchiness
Not tested on animals
Cons
Price at the time of publication: $6.75
Are you tired of trying to find the right product for your sensitive and dry skin? Try this Genes Vitamin E Creme that moisturizes your dull and dry skin and makes it smoother and softer. This cream includes blends of vitamins A, D, and E that help to fight against scars, dark spots, rashes, wrinkles, sunburns, fungal infections, and dehydrated skin due to hot or cold weather conditions. It also contains antioxidants and emollients like safflower oil, sesame oil, shea nut butter, and mango seed oil. Pamper your skin with this cream to achieve a bright skin tone and even skin texture. You can apply this cream for sensitive skin to your neck, face, hands, and body to protect against dryness. Check this video to know more about the merits of Genes Vitamin E Creme Swiss Collagen Complex Moisturising Cream.
Pros
Mild scent
Alcohol-free
Ultra-soothing cream
Restores skin's freshness
Skin stays moisturized for long
Cons
Price at the time of publication: $84
If you are suffering from skin issues, this soothing cream can be your number one solution. It is a blend of vitamin E and tea tree oil along with several natural oils and herbal extracts that keeps your skin moisturized for a long time. This cream is also a great healing product as it helps to calm skin woes from insect bites, fungus, and poison ivy. Plus, it can reduce blemishes, scars, acne, spots, fine lines, and sunburns. This antioxidant-rich product brightens your skin texture and evens the skin tone while nourishing and hydrating your skin. Apply this cream to the desired area whenever your skin feels itchy or dry and witness the magic.
Pros
Vegan
Soy-free
Cruelty-free
Prevents future skin problems
Does not contain mineral oil and gluten
Paraben, GMO, and sulfate-free
Cons
Some may find the smell too strong
Price at the time of publication: $12.71
Achieve long-lasting moisture with this vitamin E cream that helps to soothe skin irritation and keeps it moisturized and hydrated. This formula prevents damaging cellular integrity while deeply nourishing dry skin. If you have a sunburn, erythema, stretch marks, blemishes, or acne scars, this lotion helps to minimize such skin issues and protect against future possibilities of developing them. It also fights against oxidative damage, protects against environmental aggressors, and reduces wrinkles and fine lines, activating healthy skin cells to achieve vibrant skin. For best results, you should apply this vitamin e cream for stretch marks twice daily on your face as well as your body.
Pros
Paraben-free
Rich in antioxidants
Not tested on animals
Can be used as a primer
Suitable for all skin types
Cons
Price at the time of publication: $12
Protect your skin against free radicals and the signs of aging with this vitamin E-infused cream. Filled with antioxidant magic, this cream reduces wrinkles and fine lines, giving you youthful-looking skin. It is an ideal cold weather cream as it locks in moisture and provides hydration for the entire day. Enriched with natural origin hyaluronic acid, this cream keeps your skin supple and smooth while deeply nourishing the dry areas of your skin. If you have pimples and blemishes, this cream reduces them and gives you flawless skin.
Pros
Lightweight
Pleasant scent
Paraben-free
Not tested on animals
Ideal for all skin types
Cons
Price at the time of publication: $23.79
The power of the antioxidant vitamin E in this Palmer's Natural Vitamin E Concentrated Cream makes it an effective moisturizer for dry skin. This multi-purpose cream hydrates your skin and deeply nourishes it, keeping it soft and smooth for up to 24 hours. It helps to vanish the look of dull and damaged skin while the cream brightens your skin tone and evens the texture. Along with vitamin E, this product is also formulated with cocoa butter which is a natural moisturizing ingredient to transform your dry and cracked skin to restore skin health. It also contains apricot, avocado, coconut oil, and botanical blends to boost skin hydration and retain elasticity.
Pros
Fragrance-free
Safe for sensitive skin
Dermatologist-tested
No phthalates and paraben
Free of artificial colors
Cons
Some may find the smell unpleasant
Price at the time of publication: $4.97
This Cyclax Nature Pure Vitamin E Cream makes your skin super soft and smooth without the feel of greasiness. It works excellent as a base under makeup like a primer to smooth the surface of your skin. This replenishing cream cures your skin's dryness as it deeply moisturizes to give you a radiant glow. This antioxidant-rich product contains natural ingredients, making it safe and effective to use daily on your face and body. It also helps to diminish fine lines and wrinkles, leaving you with an even tone and texture and a younger-looking face. Your skin will be rejuvenated and feel fresh after the application of this incredible moisturizer.
Pros
Affordable
Easy to apply
Smells great
Blends easily
Not tested on animals
Cons
It might not be suitable for extremely sensitive skin
Price at the time of publication: $11.96
This moisturizing cream is what you need if you desire healthier skin texture and tone without feeling oily or greasy. It is infused with vitamin E and coconut oil, making it a safe and efficient product to use on your body. It can also be applied on the knees, elbows, hands, and feet. It is an excellent moisturizer that provides ultimate nourishment and hydration to dull and dry skin. You can achieve softer, smoother, and wrinkle-free skin after its application. The antioxidant-rich vitamin E helps to decrease the signs of aging and offers a healthy glow.
Pros
Cruelty-free
Paraben-free
Soothes itchiness
Contains natural ingredients
No colorant and ammonia
Cons
Contains artificial fragrance
Price at the time of publication: $7.89
"When you think of ingredients in anti-aging creams, you probably think of retinol, peptides, and hyaluronic acid. But vitamin E is also a strong player in your war against skin aging. While it may not have captured the spotlight much, it definitely plays a significant role in maintaining healthy, youthful skin," says Dr. Enrizza Factor, MD, Dermatology. If you want to take your anti-aging game a level up, read the section below to understand how you can pick out the best Vitamin E formula.
How To Choose The Best Vitamin E Cream
Long-lasting moisturizing effect
As most of the vitamin E creams offer moisturizing and hydrating results, you should pick the one that lasts for a long time. This will limit the usage and the cream will last for a long time before you make the next purchase.
Before choosing a cream, check the ingredients whether it contains tocopherol or not. This is the main form of vitamin E that should be present in good skincare products. You can also look for added ingredients such as coconut oil, aloe vera, tea tree oil, etc. for added moisturization.
When you try new products on your skin, always make sure that the contents do not include any harmful ingredients. A blend of vitamin E and any artificial compound or chemicals may lead to breakouts and blemishes.
Almost every vitamin E cream from various brands would mention the skin type that it is best suited for on its label. It is important to know your skin type before you pick a cream for yourself.
You should opt for vitamin E creams that are light and non-greasy. The best cream should absorb into your skin seamlessly, and if it makes your skin feel greasy, it can easily lead to discomfort and breakout, especially for oily skin types. 
To further assist you in picking the right product, let us help you understand the advantages of using vitamin E creams.
What Are The Benefits Of Using Vitamin E Cream?
It helps to decrease the signs of skin aging by preventing wrinkles and fine lines.
It fights skin irritation, redness, and inflammation by keeping your skin calm and hydrated.
It helps diminish scars, spots, and blemishes and heals the concerned areas.
It protects against harmful UV rays and environmental aggressors by fighting free radicals before they can damage your skin cells.
It keeps your skin moisturized and nourished, adding life to your dull and dry skin.
Vitamin E has been one of the most in-demand moisturizing and healing compounds for decades. And nowadays, this magic ingredient is being infused in several hair care and skincare products to provide nourishment to your body. Vitamin E creams are extremely effective and beneficial for your skin as they hydrate and calm dry, cracked skin while healing scars, spots, and damage caused by the sun. When infused with other effective and natural elements, vitamin E works wonders to give you a healthy and vibrant skin. So, take care of your skin with these products and we hope our list of the top 14 best vitamin E creams helps you to choose the right one for your skin type.
Why Trust Stylecraze?
Kirtana Divakar, the author of this article, lives and breathes skin care. She curated this list of the best vitamin E creams informing the readers about the best products on the market by researching all aspects of such creams and their reliable user feedback on multiple online forums and websites. With their hydrating and moisturizing formulas, the shortlisted products are a boon for dry and sensitive skin.
Frequently Asked Questions
Is Vitamin E cream good for your skin?
Yes, vitamin E is good for your skin as its antioxidant properties keep free radicals away from your skin.
Does Vitamin E darken skin?
No, vitamin E does not darken skin, instead, it helps to brighten skin tone and even the texture.
Can Vitamin E cream remove scars?
Yes, vitamin E can remove scars along with acne, blemishes, spots, sunburns, and fine lines.
Does Vitamin E help with wrinkles?
Yes, vitamin E is used as an anti-aging ingredient as it helps to get rid of fine lines and wrinkles.
Does Vitamin E cream help with acne?
Yes, vitamin E protects your skin against acne and scarring and soothes irritation.
How long should I leave vitamin E on my face?
Vitamin E gets absorbed easily, so massage it thoroughly for five minutes.
Is vitamin E cream good for melasma?
Yes, vitamin E treats melasma and helps you achieve a clearer skin.
What are the signs of too much vitamin E?
Rashes, headaches, tiredness, nausea, and vomiting are signs of a vitamin E overdose.
Recommended Articles