9 Best Vitamin E Oils For Healthy Hair
Give your dry, dull and frizzy hair a bouncy look with these Vitamin E oils.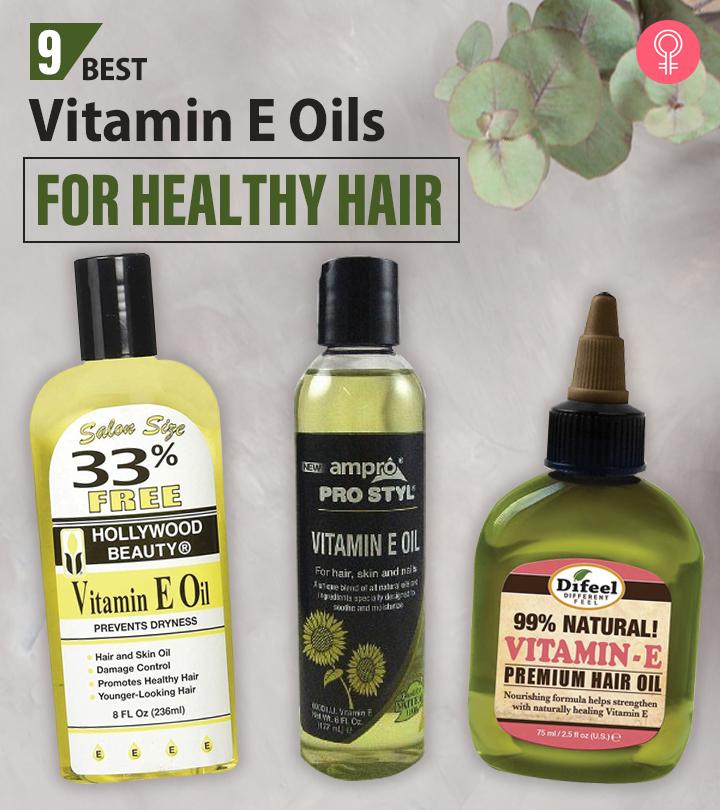 Along with the benefits of regular oiling, getting your hands on the best vitamin E oil for hair would make sure your strands get that extra dose of nourishing goodness. Vitamin E is well known for its multiple health benefits, especially in hair and skin care. Supplements in the form of capsules and oil help you reap its benefits in a more convenient way. To help you get started, we have shortlisted the 9 best vitamin E hair oils for you to choose from.
9 Best Pure Vitamin E Oils For Hair
The DESIGN ESSENTIALS SCALP & SKIN CARE Vitamin Drops helps in stimulating hair growth and adds nourishment to the scalp. It contains sunflower seed oil, cottonseed oil, rosemary leaf extract, and other natural ingredients that deeply moisturize your scalp and enhance its health.
This oil also protects your hair and scalp from UV rays and has a soothing effect. It has antioxidant properties that help in improving the elasticity of your hair and make it shiny. This product is suitable for damaged hair as it restores damaged hair follicles and supports hair repair. It is free of artificial fragrances, dyes, and mineral oil.
Pros
Dermatologically-tested
Artificial fragrances-free
Dye-free
Mineral oil-free
Cons
Price at the time of publication: $11.2
The Tropical Holistic 100% Pure & Natural Premium Grade Vitamin E Oil helps in promoting healthy scalp and provides effective hair nourishment. This cosmetic-grade pure vitamin E oil nourishes your scalp, promotes hair growth, and adds volume to your hair. It sinks into the epidermis layer of your scalp and imparts a radiant glow to your hair.
Just massage a few drops into your scalp using your fingertips in a circular motion. Let it stay for 30 minutes and then wash your hair the way you normally do. Repeat this powerful treatment 2-3 times a week for best results. This product is free of mineral oils, additives, and fillers and is suitable for all hair types.
Pros
Mineral oil-free
Additive-free
Filler-free
Suitable for sensitive scalp
Cons
Price at the time of publication: $21.99
The Difeel Vitamin E Premium Hair Oil rejuvenates the hair, promotes a healthy scalp, and imparts shine to the strands. This hair oil treatment contains soybean oil, canola oil, sweet almond oil, olive oil, and other botanical extracts that help in revitalizing the scalp. Massage it regularly to improve blood circulation in your scalp and stimulate hair growth. Doing this will also help in treating thin hair and restore the natural oils of your hair by adding required moisture. This hair oil is free of petroleum, alcohol, mineral oil, and preservatives and is suitable for all hair types and people of all ages.
Pros
Preservative-free
Mineral oil-free
Petroleum-free
Alcohol-free
Cons
Price at the time of publication: $7.49
The GOURMANTE Vitamin E Oil is an all-natural pure vitamin E oil that helps hydrate and nourish your hair and scalp. It contains d-alpha tocopherol and refined soybean oil that prevent dryness and add intense moisture to your hair. If you have dull and limp hair, this vitamin E oil can improve your hair quality by adding shine, smoothness, and moisture. It is suitable for all hair types. The oil can be incorporated into numerous natural remedies for hair growth or can be applied directly as well.
Pros
Paraben-free
Sulfate-free
All-natural ingredients
GMO-free
Comes with a dipper
Cons
Price at the time of publication: $16.99
The HOLLYWOOD BEAUTY Vitamin E Oil is rich in vitamin E that helps prevent dryness and controls hair damage. It is made with a unique blend of vitamin E, coconut, safflower, almond, soybean, peanut, and sunflower oils that intensely moisturize your scalp and hair. This oil supports hair growth, nourishes and moisturizes the scalp and hair, prevents dandruff, and adds shine.
Pros
Thick consistency
Anti-aging
Pleasant fragrance
Value for money
Cons
Price at the time of publication: $9.91
The ampro Vitamin E Oil helps in soothing and nourishing overly dry hair. It is formulated with tocopheryl acetate and a blend of grape seed and coconut oils that provide hair moisturization and help in restoring damaged, dry hair.
This oil is made with plant-based raw material, and you can either mix it with your desired serum or apply it directly to your hair. This product is free of harmful chemicals and can be used on all hair types. Apply it liberally to your wet hair from root to tip, comb through for greater distribution, and let it soak. Do not rinse. Watch this video to get a detailed review of the product.
Pros
Absorbed easily
Lightweight
Value for money
Cons
Price at the time of publication: $6.6
The Vitamin E Oil from OKAY Pure Naturals is a multipurpose oil that soothes and moisturizes the scalp. It deeply penetrates the hair follicles to nourish them from within and support hair strengthening in return. This oil also helps reduce breakage and split ends and keeps your hair soft, shiny, and manageable. It keeps the hair color vibrant and enhances scalp and hair health by repairing the damaged hair follicles.
Pros
Vegan
Non-GMO
Gluten-free
Paraben-free
Cons
Price at the time of publication: $12.26
The Eden's Semilla Vitamin E Oil is a 100% plant-extracted multipurpose oil that is non-greasy and absorbed quickly by the scalp and hair. The thick viscosity aids in smooth and hassle-free application. This organic blend of jojoba oil and rosehip oil soothes the scalp, adds luster and shine, and improves hair texture. It contains 35,000 IU, i.e., 25 % of pure vitamin E.
Pros
Non-greasy
Easily absorbed
100% money-back guarantee
Cons
Price at the time of publication: $14.95
This 100% pure vitamin E oil is extracted from wheat germ and contains 75,000 IU d-alpha tocopherol. It moisturizes the scalp and hair and helps replenish nourishment and shine. This cold-pressed and organic oil is easily absorbed and is free of parabens, sulfates, preservatives, and colorants. The product is ideal for all hair types and promotes hair rejuvenation.
Pros
Paraben-free
Sulfate-free
Colorant-free
Preservative-free
Cold-pressed
Cons
None
Hairstylist, Khamis Maiouf, says, " After suffering from dry, lackluster hair, I started using this 100% pure Vitamin E oil, and it's been a game-changer, revitalizing my hair and scalp with its powerful nourishment while giving me peace of mind knowing it's organic and free of harmful chemicals."
Price at the time of publication: $24.99
Whether you are dealing with hair fall or damaged hair or want to grow your hair naturally, vitamin E oil can be your savior. Find out the advantages of using it below.
Why You Should Use Vitamin E Oil For Your Hair – Advantages
Vitamin E oil has antioxidant properties that protect your hair from free radical damage caused by environmental aggressors.
It helps in improving the elasticity of your hair and imparts shine to it.
It prevents hair breakage and split ends and tames frizz.
Why Trust Stylecraze?
The author, Shiboli Chakraborti, is a certified skin care coach and uses her research skills and knowledge to help readers find the best products for their hair and skin concerns. In this article, she has listed the best vitamin E oils with their pros and cons after carefully researching their ingredients and user feedback. These oils are nourishing and provide you with strong and healthy hair.
Frequently Asked Questions
How long can I leave vitamin E oil on my hair?
If you want to get the most out of vitamin E oil, massage it onto your scalp and leave it on for 2-3 hours.
Can vitamin E oil be mixed with coconut oil?
Yes, vitamin E oil can be mixed with coconut oil. Coconut oil has moisturizing and nourishing properties that help in hydrating and strengthening the hair.
How often should you use vitamin E oil on your hair?
Dilute vitamin E oil with any base oil and massage the scalp with it three times a week. Vitamin E improves blood circulation. So, iIf you have thinning hair use the oil daily to nourish the hair follicles.
Can I apply vitamin E oil directly to the scalp?
No. Always dilute vitamin E oil with a base oil or another haircare product before applying it to the scalp.
What are the side effects of vitamin E?
Vitamin E is only unsafe when taken in higher doses. Greater than 1000 mg daily can cause headaches, nausea, fatigue, and bleeding. However, if it is used in a small quantity as a part of your skin and hair care regimen, it can benefit you greatly.
Does vitamin E help in hair regrowth?
Yes, vitamin E contains natural antioxidants that help reduce the amount of oxidative stress and free radicals damage. It also improves blood circulation which stimulates hair growth.
Recommended Articles