10 Best VLCC Facial Kits Available In India
Manage premature aging signs and dullness with effective formulas.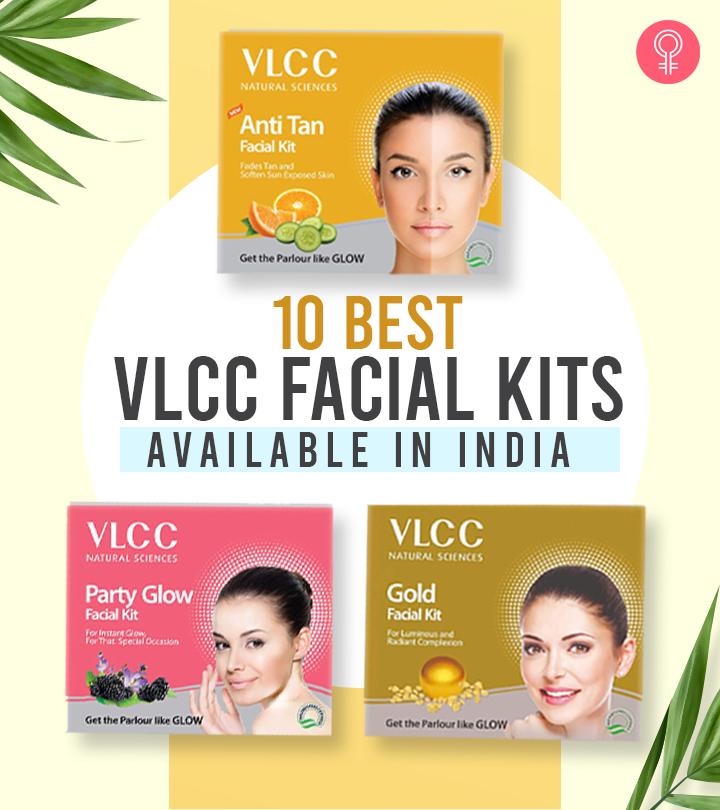 Does your face look dull, sagging, and tired? Do you have to attend an event but have no time to go to the salon for a pampering facial? Well, VLCC is here to the rescue! It has designed personal care facial kits infused with luxurious metals and rich natural ingredients that help cleanse, detoxify, hydrate, nourish, and refresh your skin. They also fight skin damage and aging signs. Check out our highly recommended list of the 10 best VLCC facial kits and give your skin the TLC it deserves. Scroll down!
10 Best VLCC Facial Kits In India
The VLCC Gold Facial Kit contains a cleanser-cum-toner, a scrub, a gel, a cream, a peel-off mask, and an oil-free moisturizing gel. This kit assures a salon-like facial at home when applied in the mentioned order. The enriching qualities of 24K gold bhasma infused in these products enhance the suppleness of the skin and preserve its natural luminosity. It also reduces wrinkles and fine lines and prevents premature aging. This luxurious skin care kit exfoliates the dead and dry cells while detoxifying the skin. It promotes cell renewal and nourishes the skin gently.
These products work in tandem to improve your skin's metabolism and hydration, clear pigmentation, boost collagen production, and strengthen the skin's elastin fibers. The rose petal extracts nourish and rejuvenate the skin, while turmeric offers antifungal and antibacterial properties that keep away infections. Aloe vera has anti-inflammatory properties that heal and soothe the skin. This facial kit imparts a porcelain-like smoothness and a radiant and youthful complexion.
Pros
Easy to use
Paraben-free
Oil-free
Suitable for all skin types
Cons
None
Price at the time of publication: ₹207
The VLCC Papaya Fruit Facial Kit is enriched with papaya extract, a rich source of vitamin A and papain enzyme. This organic ingredient breaks down inactive proteins that cause dead skin cells. It also helps hydrate the skin and balance its natural oil content. The powerful blend of botanicals like peach, orange, watermelon, and cucumber tightens the skin and reduces wrinkles, fine lines, and other aging signs.
The facial kit also contains cucumber that reduces dark circles and under-eye puffiness while hydrating and de-tanning the skin. The antioxidants, minerals, and vitamins in the peach extracts rejuvenate and nourish the skin. Orange peel is a rich source of vitamin C and phytonutrients that protect the skin against damages and UV rays. It evens out the skin tone and enhances the complexion. The facial kit leaves your skin feeling cool and refreshed. 
Pros
Suits all skin types
Easy to use
Includes a free cream
Cons
May cause breakouts in sensitive skin.
Price at the time of publication: ₹192
The VLCC Pearl Facial kit is enriched with pearls, sea minerals, and sea oils, which are rich sources of zinc, magnesium, calcium, and 22 amino acids. The ash of pearl or pearl bhasma provides natural moisturization to the skin. The polysaccharides and vitamin B complex improve the skin's metabolism.
The potent blend of sea jewels and natural ingredients leaves you with radiant and youthful skin. This pearl facial kit consists of a pearl lotion, a pearl powder, a pearl cream, and a pearl face pack. These products are infused with pearl oxide, vitamin E, turmeric, honey, wheat germ, sandalwood, sunflower, and fenugreek extracts. Together, they hydrate the skin by protecting it against cellular damage.  This facial kit cleanses the blocked pores, removes tan, and leaves the skin fresh and rejuvenated.
Pros
Paraben-free
Easy to use
Smells good
Lasts up to 2-3 times
Cons
Not suitable for very dry skin.
May cause itching.
Price at the time of publication: ₹210
The VLCC Anti-Tan Facial Kit moisturizes and rejuvenates dull, patchy, and damaged skin. The oatmeal scrub in this facial kit removes dry skin and dead cells and makes the skin feel soft and smooth. The melawhite gel, infused with the goodness of cucumber and aloe vera, keeps the skin soft and hydrated.
The pista massage cream contains pistachio and nutmeg that moisturize and protect the skin from free radical damage and UV rays. The melawhite detan pack is enriched with winter cherry's soothing qualities, while pineapple and turmeric heal sun damage and repair patchy, dull skin. Together, these natural ingredients nourish the skin and restore its youthful glow.
Pros
Paraben-free
Suitable for all skin types
Easy to use
Smells good
Cons
Price at the time of publication: ₹189
The VLCC Party Glow Facial Kit provides an instant glow for special occasions. The kit contains a scrub made with Indian berry, papaya seeds, and date extracts. This unique formula has curative powers. It exfoliates dead and dry cells, retextures the surface, moisturizes intensely, and gives the skin a refreshed feeling.
Saffron is blended with natural skin brighteners like mulberry, which removes tan and increases blood circulation. Mulberry also reduces aging signs and rejuvenates blotchy skin. Hazelnut is loaded with vitamin E that strengthens the skin and protect it from damage. This facial kit reduces dark spots and pigmentation. It hydrates the skin, making it feel softer and more radiant. 
Pros
Paraben-free
Easy to use
Refreshing scent
Cons
None
Price at the time of publication: ₹216
The VLCC Silver Facial Kit is powered with silver ash or silver bhasma. It is a natural exfoliator and helps lighten the skin tone. This metal is blended with natural ingredients to purify the skin thoroughly.
The winter cherry extracts in this product reduce aging signs and acne and have antiseptic qualities that protect the skin from deterioration. Licorice controls melanin production, while lemon and orange peel extracts are rich in phytonutrients and vitamin C, which protect the skin from free radical damages. This facial kit cleanses the skin of impurities, restores its pH balance, nourishes the layers, and provides a healthy luminous glow to the face.
Pros
Cons
Price at the time of publication: ₹210
VLCC Natural Sciences has designed a luxurious facial routine with diamond bhasma that slows down the skin's aging process and instantly transforms dull and sagging skin into radiant. The diamond ash is obtained by heating herbs and pulverized diamonds together. It has the properties of cell renewal and rejuvenation. This ash helps absorb other active ingredients that detoxify and hydrate the skin while increasing its metabolism.
The items of this kit stimulate the skin and fight premature signs of aging. It increases elasticity and firmness and forms a protective layer on the skin's surface. Diamond bhasma, along with jojoba oil, purifies and moisturizes the skin. Olive oil nourishes and soothes the skin, making it soft and supple. Aloe vera has anti-inflammatory and anti-allergic properties that heal the skin. This facial kit nourishes the skin, evens out the skin tone, and reveals a youthful, glowing complexion.
Pros
Paraben-free
Fights premature aging
Easy to use
Suitable for all skin types
Cons
Strong fragrance
May irritate the skin.
Price at the time of publication: ₹264
The VLCC Platinum Facial Kit helps cleanse the skin and restore its health. This facial kit contains a comfrey cleanser-cum-toner, a platinum scrub, a platinum gel, a platinum cream, and a platinum face pack. Together, these products exfoliate and retexture the skin by removing all dirt, toxins, oils, and impurities.
The infusion of colloidal platinum and petraea fruit extract prevents premature signs of aging. Grapefruit stimulates collagen production and increases elasticity, while cocoa butter minimizes pigmentation and keeps the skin thoroughly hydrated. This facial kit gives the skin a revitalized and youthful glow.
Pros
Suitable for all skin types
Easy to use
Instant effects
Cons
Price at the time of publication: ₹280
The VLCC Activated Bamboo Charcoal Facial Kit helps combat damages caused by environmental pollutants, indoor cooling, and stress. It combines the skin-rejuvenating benefits of Swiss actives and bamboo charcoal. They protect the skin from damaging UV rays, which may cause sunburns and early signs of aging. Active charcoal acts like a magnet to draw out impurities, toxins, oils, and bacteria from deep within the skin cells.
Cinnamon bark extract is a derma-protector that regulates sebum to treat acne-prone skin. It also fights against bacterial infections and stimulates immunity buildup in oily and weak skin. This kit's products contain enantia chlorantha bark extract that eliminates free radicals by cutting down the 5-alpha-reductase enzyme activity. It removes excess oil and makes the skin tight and firm. Sulfora white extract activates skin detoxification, thereby brightening the skin tone.
Pros
Paraben-free
Non-irritating
Easy to use
Cons
Price at the time of publication: ₹259
The VLCC Salon Series Pearl Fairness Facial Kit is specially made for those who want radiant skin. This popular facial kit counters skin problems caused by cellular damage.
The pack contains a comfrey cleanser toner, an Indian burberry face scrub, a saffron massage gel, a snigdha face cream, and an instant glow pack. These products are infused with turmeric and sandalwood that have antibacterial, antifungal, and antiseptic properties to heal and protect the skin. Zinc and wheatgerm provide nourishment and make dull skin youthful and radiant. The pearl polish brightens the skin tone and provides an instant glow.
Pros
Suitable for all skin types
Instant radiance
Cons
None
VLCC has always been a trusted name in the Indian beauty market. The home facial kits by VLCC's Natural Sciences have a remedy for every skin type. They nourish and hydrate the skin and leave it feeling soft, supple, and radiant. Pick any of the VLCC facial kits listed above for an instant glow and healthy-looking skin.

Recommended Articles