21 Best Volumizing Mascaras Available In India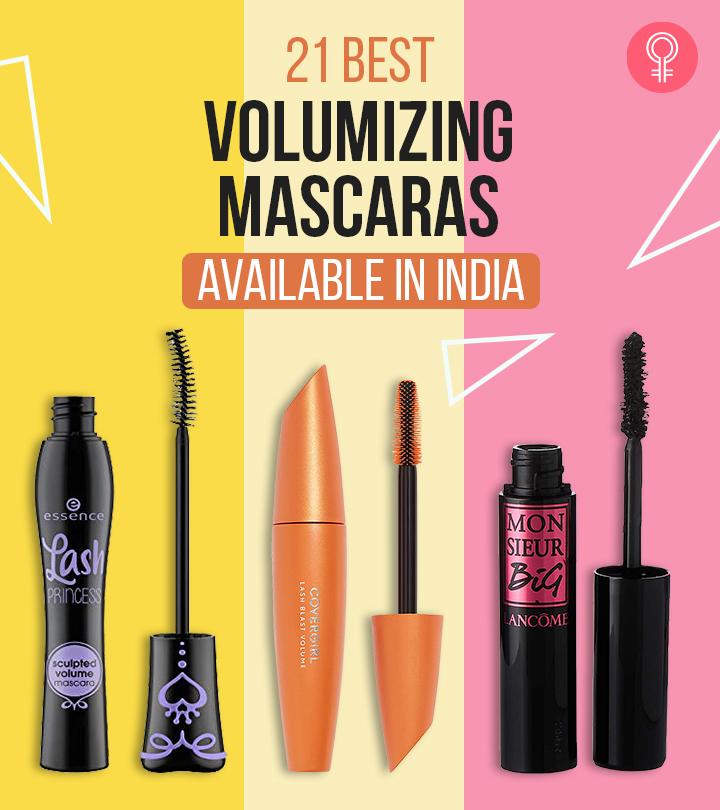 Want to achieve thicker eyelashes to add drama to your look? Get your hands on a volumizing mascara. It is an excellent tool to enhance the shape of your eyes and add drama and intensity to any makeup look. You can also use mascara in your daily makeup routine to add some flair to your otherwise toned-down look. Check out the list below to find out about the 15 best volumizing mascaras available in India.
21 Best Volumizing Mascaras Available In India
The Essence Lash Princess Sculpted Volume Mascara features a tapered brush that sculpts each lash for a well-defined look and dramatic volume. The wand is curved, so it easily coats the lashes and fans them out. It not only adds the perfect amount of volume to the lashes but also lengthens them.
Pros
Long-lasting
Smudge-free
Cruelty-free
Vegan
Paraben-free
Cons
The Volume Express Colossal Mascara by Maybelline is specially formulated to add 2x volume to your eyelashes. It is infused with collagen that keeps the lashes from clumping and makes them look well-defined. Sweep the mega brush from the root to the tip of the lashes and get instant lift and volume. This waterproof formula stays put for up to 12 hours.
Pros
Waterproof
Long-lasting
Smudge-proof
Ophthalmologist-tested
Safe for contact lens wearers
Cons
The L'Oreal Paris Volume Million Lashes Mascara adds definition, volume, and length to your lashes. This mascara comes with a millionizer brush that creates a fanned-out lash effect and coats the lashes evenly. The wand's inbuilt wiper removes excess mascara to avoid clumping. This mascara glides with ease and thickens and separates every lash for a rich and voluminous look.
Pros
Smudge-proof
Long-lasting
Ergonomic brush applicator
Safe for sensitive eyes
Cons
The Max High Volume & Definition Mascara creates lashes that are thick, bold, sleek, and defined. This mascara comes with a patented IFX brush that offers precise application and gives a gorgeous and bold look with a single swipe. It is also suitable for contact lens users.
Pros
Smudge-proof
No clumping
Suitable for contact lens wearers
Cons
The COVERGIRL Lash Blast Volume Mascara gives your lashes a well-defined and dramatic look. If you want to provide mega volume and dark intensity to your lashes, this mascara is the perfect choice for you. The smear-proof formula promises up to 10x volume. It has a two-sided brush that volumizes and intensifies the look and ensures it lasts throughout the day.
Pros
Intensely pigmented color
Smudge-proof
Does not clump
Easy to remove
Cons
The Lan come Monsieur Big Volume Mascara has a silky-creamy formula that glides effortlessly onto the lashes and makes them smooth and dramatic. This mascara delivers up to 12 times more volume than the average mascara. It lasts up to 24-hoursand even until the morning after.
Pros
Smudge-proof
Rich pigmentation
No clumping
Does not require many coats
Cons
Takes a long time to dry.
The Revlon Volume + Length Magnified Mascara is made with a high shine black fiber formula that creates amplified volume and length. It comes with the specially designed Revlon Magnifying Lash Brush, a square brush that anchors the formula to the lashes for an intense look.
Pros
Waterproof
Ergonomic applicator
Smudge-proof
Cons
Tends to chip off throughout the day.
The Wonder'Luxe Volume Mascara is infused with the goodness of argan, marula, maracuja, and camellia oils that leave the lashes smooth and conditioned. This mascara provides an instant boost of smooth, full-bodied volume to the lashes. It comes with a detangling brush that defines and separates each lash for a clump-free finish.
Pros
Long-lasting
Smudge-proof
Flake-proof
Ideal for very short lashes
Cons
Takes a long time to dry.
The Lotus Herbals Maxlash Botanical Mascara has a unique formula packed with natural ingredients. This waterproof and volume-building mascara offers intense color payoff. It protects the eyelashes, provides an instant cooling effect when applied, and makes them appear fuller and healthier. This mascara comes with a unique brush that picks and coats even the smallest and thinnest eyelashes and makes them look chic and well-defined.
Pros
Waterproof
Does not flake
Easy to apply and remove
Fragrance-free
Lightweight
No clumping
Suitable for sensitive eyes
Cons
The L'Oreal Paris Voluminous Extra-Volume Collagen Mascara is created with the Hydra-Collagen Complex Formula that enhances the thickness of your lashes. It creates up to 12 times more volume to provide breathtaking and glamorous results. This mascara comes with a patented instant impact brush, which is 50% bigger than the classic brush, to build incredible volume with the first stroke.
Pros
Ophthalmologist-tested
Allergy-tested
Waterproof
Does not flake
Smudge-proof
Suitable for sensitive eyes and contact lens wearers
Cons
The Rocket Volum' Express Mascara helps you create bold and dramatic lashes with ease. It has a patented supersonic brush with micro bristles that provide dramatic volume to your lashes. The fast-glide formula keeps the lashes smooth and creates minimal clumps. It provides up to six times more volume smoothly and effortlessly.
Pros
Waterproof
Does not flake
Smudge-proof
Intense color payoff
No clumping
Cons
The Bourjois Volume Glamour Mascara imparts instant and enhanced volume to your lashes and makes them look plumped up, thick, and curly. This mascara comes with an uplift brush, designed to provide extreme length and thickness. It also glides smoothly on the eyelashes and leaves them well-defined. This formula is buildable, does not dry or harden, and lasts for up to 16 hours.
Pros
Does not flake
Smudge-free
Lightweight
Long-lasting
Cons
None
The Volume Plumping Mascara by e.l.f has a rich formula infused with vitamin B that helps condition and strengthen the lashes. This mascara is ideal for a thicker-looking, bold, and volumized lash look. It comes with a dense, oversized brush head that fully coats each lash to create intense and dramatic eye looks.
Pros
Easy to apply
Does not flake
Long-lasting
No clumping
Smudge-proof
Cons
The Volume Effet Faux Cils mascara by Yves Saint Laurent delivers an intense and dramatic look to your eyelashes. This mascara is an exclusive blend of selected mineral pigments that coats the lashes from root to tip. The Triple Film-Complex in this formula coats each lash for added intensity, curl, and long-lasting wear.
Pros
Smudge-proof
Flake-free
Ergonomic brush applicator
Cons
The Magneteyes Dramatic Volumizing Mascara by Faces Canada creates bold and beautiful lashes. It fully coats the lashes from root to tip for a gorgeous and dramatic look. The mascara comes with a soft brush, which ensures volumized lashes. The smudge-proof formula lasts all through the day. This mascara thickens, lengthens, and defines the eyelashes and coats them individually for a false lash look with no clumping.
Pros
Intense black finish
Lightweight
No clumping
Easy-to-use applicator brush
Easy to remove
Cons
Not long-lasting
Not waterproof
The Va Voom Sexy Booster mascara provides a sultry and seductive lash look. This formula is infused with the scent of warm vanilla and other ingredients like androstadienone and cocoa extract, all of which are great for creating tempting lashes. The volume-boosting brush provides curvaceous and alluring lashes that look dramatically fuller, longer, and more defined.
Pros
Clump-free
Smudge-free
Long-lasting
Glides smoothly
Cons
The Lash Obsessed Mascara by Palladio Beauty provides extreme definition, amplified volume, and full, luscious length. It comes with a specially designed mascara brush that has molded spheres to glide through and coat each lash evenly, creating great length and fullness for a glamorous smokey eye look.
Pros
Buildable formula
Long-lasting
Does not flake
Cons
The High Impact Extreme Volume Mascara by Clinique creates an over-the-top brush wrap lash look in an instant and adds extra definition. It gives you ultra-thick and extremely volumized lashes, thanks to its unique brush that allows for precise application. The brush features a dome tip that reaches even the tiniest lashes along the corners. The rich formula is safe for sensitive eyes and contact lens users.
Pros
Ophthalmologist-tested
Flake-free
Safe for sensitive eyes and contact lenses wearers
Cons
The wand does not separate the lashes well.
The Lakme Absolute Flutter Secrets Volume Mascara takes your eye makeup to another level. It adds volume to the lashes and defines them to make your eyes look bigger and attractive. This revolutionary mascara is created with a long-term curl memory formula that gives your lashes volume, intense color, and definition. This is a safe product for the eyes and a simple solution to create dramatic volume and irresistible lashes.
Pros
Long-lasting
Waterproof
Easy-to-use applicator brush
Easy to remove
Cons
The Deborah Milano Absolute Volume Mascara can be a great choice to volumize and multiply your lashes with just a single coat. It gives a high-definition, dramatic look by creating a gorgeous volume that lasts long. This mascara comes with a jumbo size wand that can be used to get a false lash effect.
Pros
Long-lasting
Clump-free
Easy to use
Does not flake
Cons
The Xpresslash Volumizing Mascara by SERY provides alluring and well-defined lashes with each application. It makes your lashes look deeper, wider, and sexier. This volumizing mascara is crafted with a super-flexible formula that curls the lashes and lifts them to give them an ultra-volumizing and lengthening effect. The stunning fiber brush of this mascara is designed to define and amplify each lash without any clumping. This mascara is enriched with the goodness of castor oil, which nourishes, conditions, thickens, and lengthens the lashes.
Pros
Paraben-free
Does not clump
Easy to remove
Lightweight
Cons
There are myriads of options of volumizing mascaras available on the market. Here are the factors to help you choose the right mascara to define your eyes.
How To Choose The Best Volumizing Mascara
Intense or deep colors add drama to the lashes. The darker the mascara's formula, the more intense and volumized your eyes will look.
A good mascara is supposed to be buildable to create volume as per the user's preference. While a single coat provides a more natural curl to the lashes, a few more coats can offer intense volume and drama.
The brush applicator of a mascara plays an important role when you are trying to create seductive lashes. The applicator wand should coat each lash individually while lifting even the tiniest of lashes that tend to be in the corner of the eyes. Avoid mascaras with applicator brushes that clump up the lashes or are challenging to control.
A good volumizing mascara lifts the lashes and dries quickly to retain the curl. If it takes a long time to dry up after application, the lashes tend to droop and smudge easily.
A volumizing mascara holds the curl, length, and intensity of the lashes only if it is a long-lasting formula. A formula that is not long-lasting wears off quickly and does not hold the curl of the lashes. It may even flake off easily.
A volumizing mascara can be used to create many gorgeous makeup looks. Be it sexy, chic, or intensely dramatic, mascaras are a must for a proper finish. Now that you know about the best ones, choose from our list of the 21 volumizing mascaras available in India and rock the smokey eye look.
Recommended Articles
The following two tabs change content below.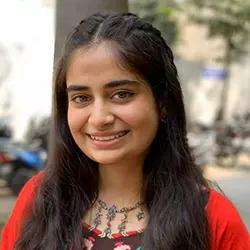 Latest posts by Safiya Syeda (see all)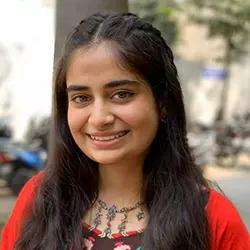 Safiya Syeda
Safiya is a copywriter and has worked extensively on brand campaigns. She also writes well-researched and engaging blog posts on topics related to beauty, fashion, health, and wellness. She aspires to explore and improve her usefulness in the advertising field by learning new skills like graphic designing and digital marketing. This young lady is obsessed with swimming and claims she is happiest when underwater.