15 Best Volumizing Mascaras That Make Your Eyelashes Thick – 2022
Get thick, dramatic, and captivating lashes each time with these fantastic products.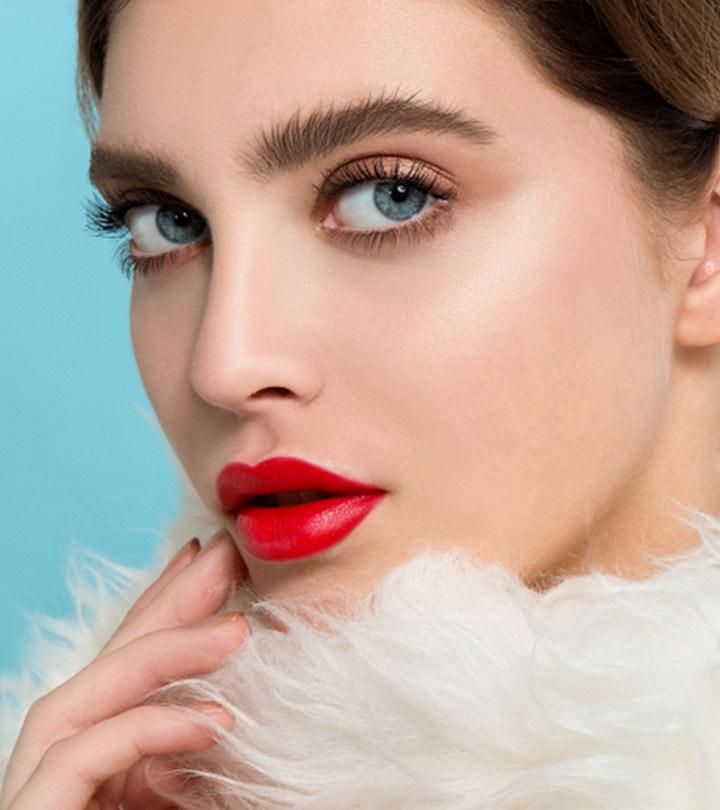 Some may like their mascara subtle, light, and feathery while others might prefer one that gives more of a dramatic, volumizing effect. If you are here looking for the best volumizing mascara, we got you covered!
A good volumizing mascara adds depth and thickness to your eyelashes. It not only gives your eyelashes that intense, well-defined false-eyelashes effect but also makes your eyes look more open, wide-awake, and beautifully fanned out. This also helps magnify your overall eye look if you have naturally small or thin eyelashes to begin with. With so many options out there, it might get a bit overwhelming to pick the right one for yourself. Fret not, we have shortlisted the 15 best volumizing mascara options for you to choose from!
Best Volumizing Mascaras That You Need To Try
Lash Princess False Effect Mascara lets you create those dramatic lashes without resorting to false eyelashes. The mascara helps define and style your lashes for a bold look. Its conic shape fiber brush allows the application of mascara to each lash while preventing any clumps or globs. The mascara is crafted to provide you with voluminous lashes with just a single stroke.
Pros
The mascara lasts all day long.
Doesn't form any clumps
The mascara doesn't flake off.
Cruelty-free
Gluten-free
Cons
This mascara is not waterproof.
With their Voluminous Lash Paradise, L'Oreal Paris brings you the perfect mascara to create a full lash fringe. It is crafted using a smooth glide formula that allows you to apply the mascara without any smudging or flaking. Its soft brush (with over 200 bristles) is designed to give your lashes a sculpted look. Apply just a single coat of mascara for intense length and volume.
Pros
Non-flaky formula
Does not smudge
Waterproof
Long-lasting formula
The mascara is easily removable.
Not tested on animals
Cons
Might not work well on thin eyelashes as the brush could be too thick.
Covergirl's Lash Blast Volume is designed to provide instant volume and length to your lashes. The applicator lets you define each lash with a single stroke of the mascara. Lash Blast Volume comes in a waterproof formula and promises to add 10 times more volume to your lashes. The volumizing mascara does not form any clumps or flakes, making it an ideal choice. You could finish the look off with an eyeliner for a more dramatic effect. It is available in 4 different shades to choose from.
Pros
Waterproof formula
Cruelty-free
Available in multiple shades
Cons
The formula could seem a little dry for some people.
Next up on our list of the best volumizing mascaras is this 4D Silk Fiber Eyelash Mascara from Tetyana Naturals. This volumizing mascara is designed to give your lashes a natural look while making it glamorous. The mascara adds instant volume and length to your lashes for a bold look. It comes with a non-flaky formula that prevents any spidery lashes. 4D Silk Fiber Eyelash Mascara is formulated to cater to sensitive skin as well and can also be worn while wearing contact lenses.
Pros
Does not smudge or flake
Deeply pigmented
Stays all day long
Waterproof
Hypoallergenic formula
Cons
Removing the mascara may not be easy
It's So Big Volumizing Mascara is crafted using flexible tubing polymers. Unlike a normal pigmented mascara, these polymers wrap around each lash, giving a 360 degree coverage. This enhances the volumizing effect on each lash. The mascara is infused with a lightweight, natural wax formula that prevents your lashes from weighing down. It has a water-based formula that helps create lengthy lashes. The mascara comes with a corset-shaped brush that helps in easily curling your lashes during application.
Pros
The mascara does not clump.
Smudge-free formula
Water, sweat, and tear-proof
Lightweight formula
Cruelty-free product
Cons
The scent might not be appealing to everyone.
Next up is the Superhero Elastic Stretch Volumizing Mascara by IT Cosmetics. This nourishing mascara is formulated with peptides, proteins, collagen, and lash-lifting polymers. This allows the mascara to perfectly coat each lash without having to use repeated strokes. Its elastic stretch technology provides your lashes with a bold and fuller look. It comes in a dark black shade that helps you achieve a glamorous look in no time.
Pros
The mascara is highly pigmented.
Flake-free volumizing mascara
Does not clump
Only a single coat is required to perfect your lashes
Cons
The mascara is not waterproof
Much like the name suggests Maybelline's the Falsies Lash Lift Mascara is specially designed to lift your lashes instantly. The mascara is infused with fibers that help in adding volume and length to your lashes and features a smear-proof formula. The separator brush helps coat each lash and also allows you to lift them effortlessly to make your lashes look as full as falsies!
Pros
The mascara lasts all day long.
Does not flake or clump
Suitable for sensitive eyes
Can be worn while wearing contact lenses
Cons
The product might dry up during application.
If you are looking for a mascara that nourishes your lashes while styling it, then you might want to check our next pick. BADgal Bang! by Benefit Is infused with provitamin B5, which helps to strengthen and thicken the lashes. The mascara is crafted with a gravity-defying formula that helps add volume to your lashes with each coat. Moreover, its custom big Slimpact! Brush allows for easy application and helps you add multiple layers to your lashes. This mascara comes in a pitch-black shade to add extra drama to your look!
Pros
Smudge-proof
Water-resistant formula
Lightweight formula
Cons
The fragrance might not be appealing to some.
This Lash Volumizing Mascara by Buxom is infused with patent leather pigments, and natural ingredients such as vitamin E and antioxidants. This helps nourish your lashes, while helping create fierce and well-defined lashes. The nylon brush comes in an hourglass-shape that allows the mascara to coat each lash and enhance its length and curl. The mascara is specially formulated to soften your lash, to create flexible and dramatic fringes. Buxom Lash Volumizing Mascara provides 3 times more volume in a single stroke.
Pros
Non-clumping volumizing mascara
Does not contain synthetic fragrance
Free from synthetic dyes and petrochemicals
Easy to remove
Cons
The product might dry up over time.
Hello Lashes 5-in-1 Mascara by IT Cosmetics is way more than just your ordinary mascara. This is a volumizing mascara, lash enhancing serum, conditioning lash primer, curler, and a lash tint in a single product! The mascara comes with a triple-action brush that adds length, creates curls, and separates your lashes all at the same time. The brush also comes with a lash ball detailer tip that allows you to define your lashes vertically and reach every corner of the lash. It is infused with biotin, collagen, jojoba, and green tea for a long-lasting effect.
Pros
Acts as a primer, serum, tint, and curler as well
Provides long-lasting effect
The applicator comes with a lash ball detailer tip
Cons
The mascara is not waterproof.
This Volumizing Mascara by Mineral Fusion is infused with 100% pure mineral pigments to help you create well-defined lashes. The mascara is formulated using non-irritating ingredients such as white tea and aloe vera. It also contains vitamins that soothe and nourish your lashes and prevent any allergic reactions. It comes in a mineral jet shade that helps create voluminous lashes. The mascara comes with a full-bristle applicator that evenly coats each lash and enhances its volume.
Pros
Flake and smudge-free formula
Hypoallergenic volumizing mascara
Cruelty-free product
Vegetarian and gluten-free
Does not contain harsh ingredients
Cons
healthy volume by Neutrogena is formulated using sweet almond and olive oils for a long lasting effect. The natural oils also help maintain the rich black color of the mascara. The mascara comes with a super-sized volume brush that covers each individual lash. The formula also penetrates inside the lashes and plumps it up from the core for a voluminous look. The mascara comes in 3 different shades that you can choose from.
Pros
Dermatologist and ophthalmologist-tested formula
Safe for sensitive eyes
Can be worn while wearing contact lenses
Does not form any clumps or flakes
The mascara is flake and smudge-free.
Cons
The product might dry up over time.
Burt's Bees' all aflutter black brown mascara is designed to lengthen, curl, and add volume to your lashes. The mascara is formulated using nourishing ingredients such as jojoba oil and beeswax. This helps condition your lashes while providing definition. The Black Brown shade is perfect for defining pale eyelashes and suits every skin tone and eye color. The mascara comes with an easy-to-use brush applicator to effortlessly curl your lashes for that date with your S.O.!
Pros
SLS, paraben, and sulfate-free
Does not contain synthetic fragrances
Ophthalmologist-tested
Smudge and flake-free formula
Cons
The bristles on the wand may be placed too far, preventing easy application
May not be waterproof
Diorshow Iconic is the first of its range of lash lifting mascaras by Christian Dior. The mascara is specifically crafted with a lash-lifting formula to give your lashes a defined and sculpted look. The elastomer brush ensures that the mascara coats all the eyelashes while curling them. Crafted using a unique lifting formula that helps lengthen your lashes and maintain its curl, Diorshow Iconic is available in 3 different shades—Black, Navy, and Chestnut.
Pros
Curls the lashes while adding volume
Does not clump
Provides a false eyelash effect
Cons
The mascara tends to get dry after a few months of use.
Next up is butter London's Stroke of Wow Volumizing Mascara. This mascara is crafted to provide your lashes with maximum volume while maintaining its shape. Stroke of Wow comes with a double-sided molded brush that helps in defining and lengthening your lashes while adding volume. It also evenly coats each lash and is designed to help you add multiple coats effortlessly. The mascara contains natural emulsifiers to condition your lashes and provide even coverage.
Pros
Conditions your lashes
Brush specifically designed for easy application
Helps lengthen your eyelashes
Cons
Tends to get flaky after some time
Choosing the perfect mascara can be tricky if you are a newbie to this product. Check out our detailed buying guide where we answer all your questions.
Buying Guide For Volumizing Mascaras
How To Choose Volumizing Mascara?
While choosing a volumizing mascara it would be better to look for one that specifically says that. Check if the product is formulated for giving your lashes a fuller effect. You may also want to look for a mascara that comes with a dense brush applicator that individually coats each lash for a well-defined look.
How Does Volumizing Mascara Work?
A good volumizing mascara does the work of your good old false eyelashes—minus the hassle. It is specially formulated to give your lashes a thick and fuller effect. The best volumizing mascara is the one that helps you add drama to your lashes with just a few strokes.
Important Steps To Use A Volumizing Mascara
Before applying mascara, make sure to curl your lashes using an eyelash curler to achieve the perfect look. While using the wand make sure to rotate it in the tub instead of pushing it in and out. This way you get the perfect amount of mascara on your wand.
The next step is to start applying the mascara starting from the base of your lash and gently moving towards the tips. Repeat this depending on the volume you would want on your lashes. However, make sure you don't overdo it, as too much mascara can weigh down your lashes and could form clumps.
Now, repeat the same process for your lower lashes with a lighter touch. This is because the lower lashes are usually shorter and finer.
Read up on the ingredients that are used in a mascara before buying it:
While looking for mascara it is always wise to go through the ingredients to make sure that the product you are getting is free of any toxins or irritants. If you have sensitive eyes then always go for a mascara that is specifically catered towards that issue.
Why Trust StyleCraze?
The author of this article, Chaitra Krishnan, is a makeup enthusiast and loves to try various makeup products. She researched various mascaras online and went through hundreds of reviews to compile this list of the best volumizing mascaras for her readers. These mascaras help make your lashes appear lustrous and curly and are smudge-free, enhancing your makeup look with every application.
Frequently Asked Questions
What mascara is the best for volumizing and lengthening?
The best mascaras for volumizing and lengthening are essence Lash Princess False Lash Effect Mascara, L'Oreal Paris Voluminous Lash Paradise, It's So Big Volumizing Mascara by Elizabeth Mott, and Maybelline New York the Falsies Lash Lift mascara.
Should you put on lengthening or volumizing mascara first?
Always start with a volumizing mascara first and then follow it up with a lengthening mascara. However, make sure there isn't a long time gap between the two to ensure that the first layer does not dry up completely. You could also go for a formula that comes with both volumizing and lengthening effects to save your time and effort.
What's the difference between lengthening and volumizing mascara?
Volume mascara is all about providing the correct thickness to your eyelashes, whereas lengthening mascara helps extend your eyelashes.
How can I make my mascara more voluminous?
You can make your mascara voluminous by adding translucent powder or baby powder to your lashes.
How do you know when mascara is done?
You can understand that your mascara has expired when it becomes dry, flaky, blobby, or smells like licorice.
Recommended Articles