20 Best Volumizing Shampoos To Get The Bouncy Hair Of Your Dreams
Bouncy and voluminous hair of your dreams is no longer far from your reach.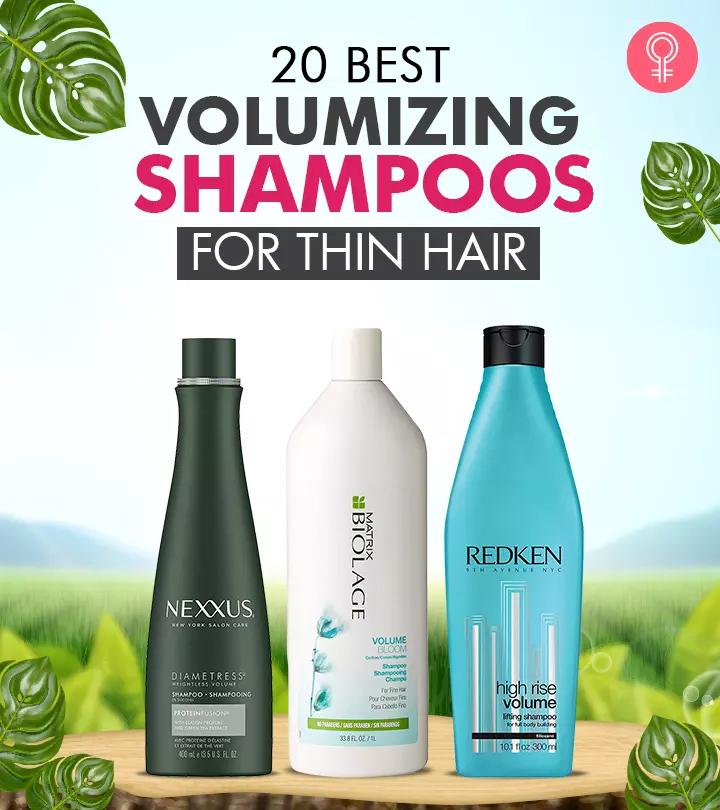 If you have thin and fine hair while dreaming of thick, bouncy locks, we have got the 20 best volumizing conditioners for thin hair. It will add body and volume to your hair, giving you the thick hair of your dreams to flaunt. Go get shiny, lustrous hair now!
20 Best Volumizing Shampoos
This shampoo volumizes your locks with a natural shine. It is lightweight and cleanses your locks without stripping its natural oils. The gentle formula works on your hair from roots to the tips without weighing it down. It is inspired by the expansive properties of cotton flower to provide body and volume to limp, lifeless hair. The product is paraben-free and suitable for all hair types.
Key Ingredients: Cotton flower
Pros
Long-lasting
Pleasant fragrance
Does not weigh the hair down
Paraben-free
Lightweight
Gentle formula
Cons
May make your hair greasy
Give your fine, flat hair exceptional volume and bounce with the Nexxus Diametress Weightless Volume Shampoo. This salon-quality shampoo contains green tea extract and concentrated elastin protein that lift the thinnest of hair with a healthy shine. It also plumps and softens your locks. This silicone-free shampoo claims to boost your hair diameter by up to 17% without weighing it down. The nourishing ingredients make your hair more manageable.
Key Ingredients: Green tea extract and Elastin protein
Pros
Gentle formula
Pleasant scent
Silicone-free
Lightweight
Cons
The Moroccanoil Extra Volume Shampoo is lightweight and volumizes limp, thin hair. It contains argan oil that is rich in antioxidants, essential fatty acids, and vitamins to hydrate the hair, impart shine, and improve movement and manageability. The linden bud extract plumps your locks naturally. This color-safe shampoo cleanses your scalp thoroughly and gets rid of the residues or impurities from hair styling products. It is free of parabens, synthetic colors, phosphates, and sulfates.
Key Ingredients: Argan oil and Linden bud extract
Pros
Lightweight
Long-lasting
Paraben-free
No synthetic colors
Phosphate-free
Sulfate-free
Color-safe
Cons
This shampoo volumizes and thickens your locks with a shine from the very first wash. It is rich in rosemary and aloe vera extract that reduce hair fall, while the minerals and pro-vitamin B5 minimize hair breakage. These ingredients are absorbed into your hair to strengthen, soften, and nourish it.
This color-safe shampoo contains biotin that enhances hair growth and keeps your hair healthy. Sage treats thin hair and alopecia by restoring the hair's natural oils and providing the essential nutrients to the hair roots. Rosemary extract promotes circulation in your scalp, reduces dandruff, and prevents premature graying. This cruelty-free product does not contain sulfates and parabens.
Key Ingredients: Biotin, Sage, and Rosemary
Pros
Unisex
Sulfate-free
Paraben-free
No harmful chemicals
Cruelty-free
Pleasant fragrance
Reduces dandruff
Cons
The Hempz Herbal Volumizing Shampoo is formulated with ultra-mild cleansers to volumize and revitalize color-treated hair for both men and women. It gently cleanses the hair while providing body and fullness. This shampoo contains 100% pure hemp seed oil, shea butter, honey melon, and sweet pineapple that thicken the hair and stimulate new hair growth. The help protein blend and antioxidants protect your hair from heat and humidity and enhance its elasticity. This gentle formula is color-safe and suitable for sensitive hair. It is free of parabens and sulfates.
Key Ingredients: 100% pure hemp seed oil, Pineapple extract, Honey melon extract, and Shea butter
Pros
Protects the hair from heat and humidity
Suitable for sensitive hair
Pleasant tropical smell
Paraben-free
Sulfate-free
THC-free
Gluten-free
Cruelty-free
Cons
Redken Volume Injection Shampoo is ideal for fine hair. It is a volumizing shampoo that lifts fine and limp hair, adding body to it. The lightweight formula adds weightless volume, leaving the hair to look fuller. The pH-balanced formula contains filloxane and 1% bodifying complex that lifts the roots instantly to give you a voluminous mane. It also leaves the hair feeling soft and shiny.
Pros
pH-balanced
Paraben-free
Cleanses hair well
Instant root lifting
Weightless volume
Cons
This volumizing shampoo fights oily hair troubles and dandruff. It strengthens your hair, gets rid of loose skin flakes, and enhances cell growth. The shampoo soothes the redness and discomfort of an itchy scalp. It helps reduce excessive sebum secretion that makes your hair greasy. The argan oil, sage, tea tree, and lemon essential oil hydrate your scalp and hair to minimize dandruff. The non-toxic formula is suitable for all hair types, including gray, blond, curly, color-treated, and straight hair. This cruelty-free product does not contain parabens and sulfates.
Key Ingredients: Lemon essential oil, Sage, Rosemary, Tea tree oil, and Argan oil
Pros
Minimizes dandruff
Suitable for all hair types
Soothes itchy scalp
Paraben-free
Sulfate-free
Cruelty-free
Cons
None
This thickening shampoo makes flat and fine hair fuller and revitalized. The Amplifex System formula makes your locks light and soft. This shampoo lifts your hair from the hair roots and imparts a salon-style gloss. The cationic polymer technology treats the vulnerable areas of your hair. This shampoo infuses fiber particles into your hair and cleanses the scalp, getting rid of residue buildup and dandruff.
Key Ingredients: Amplifex System (Cellulose powder, cationic polymers, intra-cylane, and stylight texture)
Pros
Lightweight
Adds shine
Eliminates dandruff and residue buildup
Cons
Expensive
Contains sulfates
The L'Oréal Paris Elvive Volume Filler Thickening Shampoo contains filloxane that is rich silica, which strengthens your hair. Filloxane penetrates your hair to thicken and reinforce the core protein microfibrils. Salicylic acid prevents hair and scalp dryness. This shampoo works to create texture from within to lift the roots and impart volume to hair over time. It claims to make your hair appear fuller and thicker in a single wash.
Key Ingredients: Filloxane
Pros
Strengthens the hair
Long-lasting
Detangles the hair
Cons
Not suitable for sensitive scalp and hair
Contains sulfates and alcohol
Strong smell
This all-natural volumizing shampoo contains biotin, provitamins B5 and B7, and seven botanical extracts that thicken your hair and shine after each wash. The natural ingredients nurture your hair deeply to replenish your locks right from root to tip. This shampoo repairs damaged hair caused due to styling. It nourishes and moisturizes dry, curly, normal, straight, oily, colored, frizzy, and textured hair.
This unisex shampoo protects your locks and rejuvenates them and helps neutralize the hard water effects to prevent your hair from drying and dullness. The green tea extract gives your scalp an added dose of caffeine for hair growth, which blocks DHT's harmful effects and improves hair health. This shampoo is suitable for all hair types and free of alcohol, sulfates, and parabens.
Key Ingredients: Biotin, Provitamins B5 and B7
Pros
Suitable for all hair types
Pleasant scent
Blocks DHT
Sulfate-free
Paraben-free
Alcohol-free
Cruelty-free
Cons
Not suitable for inflamed scalp
The Matrix Total Results High Amplify Shampoo enhances the volume of thin, flat hair. The 24-hour full boost technology reinforces the hair from within. This shampoo contains panthenol and Phyto-protein that hydrate and nourish your hair to make it look fuller. It strengthens the hair with protein and adds lift and body to limp, lifeless hair. The mild formula removes dirt, oil, grease, and other impurities to soften your locks. This product is free of silicone and sulfates.
Key Ingredients: Panthenol and Protein
Pros
Lightweight
Long-lasting
Sulfate-free
Silicone-free
Cons
None
This hair volume shampoo contains biotin that thickens the hair, enhances hair growth, prevents hair loss, and makes the hair glossy and soft. It employs the CP:BLOCK™ technology and nourishes your hair by blocking the buildup of DHT on your scalp, which is a major cause of hair loss and thinning. This shampoo contains all-natural ingredients like keratin, vitamin B complex, caffeine, argan oil, and saw palmetto that lock in moisture, reduce hair fall and adds body and volume to thin hair. It is suitable for sensitive scalp and chemically and color-treated hair. This product is free of parabens and sulfates.
Key Ingredients: Biotin, Keratin, Argan oil, Caffeine, and Saw palmetto
Pros
Sulfate-free
Paraben-free
Cruelty-free
Phosphate-free
Phthalate-free
Formaldehyde-free
Suitable for sensitive scalp
Safe for color or chemically treated hair
Cons
Get fuller, glossy, and bouncy hair with the It's a 10 Miracle Volumizing Shampoo.  The sulfate-free formula makes your locks supple and improves its texture. It contains natural ingredients like hydrolyzed rice protein, hydrolyzed silk, and marshmallow root, acai, chamomile, green tea, and sunflower seed extracts that restore scalp health and impart bounce and vitality to hair.
Marshmallow root extract conditions the hair, reduces scalp irritation and dryness, and imparts lift and volume. The acai extract strengthens the hair, and chamomile extract soothes the scalp and hair. The green tea extract with antioxidants nourishes your locks, and sunflower seeds extract acts as a natural sunscreen to prevent the color from fading. The hydrolyzed rice protein rebuilds and strengthens damaged hair, while the hydrolyzed silk restores the natural moisture balance to the scalp and hair and imparts strength and shine. This shampoo is safe for color-treated hair.
Key Ingredients: Marshmallow root extract, Acai extract, Chamomile extract, Green tea extract, Sunflower seed extract, Hydrolyzed rice protein, and Hydrolyzed silk
Pros                
No residue
Safe for colored hair
Sulfate-free
Non-drying
Lightweight
Cruelty-free (Leaping Bunny certified)
Cons
None
This shampoo with anti-hair loss ingredients like caffeine fights hair thinning and volumizes your locks. Caffeine helps curb DHT, which is the major cause of hair loss and baldness. The natural ingredients, such as Chinese knotweed, acacia, and black sesame seeds, reduce hair fall, protect and rejuvenate the hair, and add gloss. This unisex shampoo nourishes and hydrates your hair.
Key Ingredients: Caffeine, Acacia, Chinese knotweed, and Black sesame seeds
Pros
Gentle formula
Pleasant scent
Imparts shine
Unisex
Cons
None
The TIGI Bed Head Massive Volume Shampoo has an innovative Uploader technology that volumizes your locks instantly by depositing an active volumizing ingredient onto your hair. This technology gives your tresses volume memory, which means if your hairstyle starts dropping, you can just push back to rebuild the volume. The volumizing shampoo comes with a foaming cleansing system that eliminates buildup, which makes the hair heavy. It is color-safe and suitable for all hair types.
Key Ingredients: Acrylates copolymer, Punica granatum extract, and Paullinia cupana seed extract
Pros
Pleasant fragrance
Smoothens the hair
Color-safe
Suitable for all hair types
Cons
May feel sticky
Contains sulfates
The Aveda Pure Abundance Volumizing shampoo is a natural, plant-based hair solution that helps build your hair volume and body. It contains natural components such as acacia gum and kaolin clay that make thin, limp, and fine hair look fuller with a single wash. This shampoo is infused with the pure essence of plants and flowers that nurture your locks deeply. The clay acts as a natural conditioner to give your hair thrice its volume. This cruelty-free shampoo is free of silicone and sulfates.
Key Ingredients: Organic acacia gum and Kaolin clay
Pros
Sulfate-free
Silicone-free
Cruelty-free
Pleasant scent
Cons
Might cause allergic reactions
The AG Hair Care Thikk Wash contains keratin, panthenol, and silk proteins to build body and volume. It comes with a regenerative complex, packed with pea sprouts, ginger, and ginseng that promote hair growth. The coconut-derived surfactants are color-safe and gentle on all hair types.
Pea sprout boosts hair density, while organic tilicene enhances volume by creating a supportive and protective film on your tresses. Ginger extract has anti-inflammatory, antiseptic, and antioxidant properties, while ginseng root extract triggers your scalp's metabolism by circulating blood in the hair roots. The rosemary leaf makes your hair healthy and disinfects and soothes your scalp. The nettle, sage leaf, chamomile, hops, and wild cherry bark extracts impart shine to hair and soothe the scalp. This shampoo is unisex and free of parabens.
Key Ingredients: Panthenol, Keratin, and Silk proteins
Pros
Gentle formula
Suitable for all hair types
Safe on color-treated hair
Paraben-free
Unisex
Cons
This volumizing shampoo is best for colored or dyed hair. It strengthens your locks, supports your hairstyle, and retains hair color 95% longer. This shampoo prevents color fading and hydrates and softens your tresses while adding shine. It contains a blend of quinoa, rice protein, meadowfoam seed oil, aloe vera leaf juice, and vitamins that nourish and strengthen the hair to boost volume. This shampoo is free of gluten, parabens, sulfates, sodium chloride, and DEA.
Key Ingredients: Hydrolyzed quinoa, Hydrolyzed rice protein, Aloe vera leaf juice, Meadowfoam seed oil, and Panthenol
Pros
Long-lasting
Gluten-free
Sulfate-free
Paraben-free
Sodium chloride-free
DEA-free
Vegan
Cons
None
The Fekkai Full Blown Volume Shampoo Weightless Amplifier helps lift, moisturize, and detangle your hair without making it heavy. It claims to give your hair twice the volume that lasts for eight hours. The shampoo is enriched with French oak extract that contains unique micronutrients that enhance your hair's vitality. It protects your hair and cleanses residue buildup from the scalp. This shampoo is powered with photo-protection features that fight against color distortion, fading, and brassiness. It is vegan, cruelty-free, and does not contain gluten, parabens, silicone, phthalates, and sulfates.
Key Ingredients: French oak extract
Pros
Lightweight
Vegan
Paraben-free
Silicone-free
Phthalate-free
Sulfate-free
Gluten-free
Cruelty-free
Pleasant scent
Suitable for dyed and keratin-treated hair
Cons
The Aquage Volumizing Shampoo rejuvenates thin, fine, and dry hair with bodybuilding cleansing ingredients. It strengthens your hair and protects it from heat, UV exposure, and color fading. This shampoo is formulated with algae-resultant bio-energizers, an enzymatic complex, and sea botanicals that hydrate the hair. It locks the cuticles and builds a heat-activated protective guard to keep your hair safe from heat damage. This sulfate-free shampoo makes the hair supple, adds shine, and controls frizz.
Key Ingredients: Algaeplex sea botanicals
Pros
Gentle formula
Protects the hair from heat and UV rays
Safe for colored hair
Sulfate-free
Cons
Now that we know what the best volumizing shampoos for thin hair are, here are a few essential points to consider before buying one.
How To Choose The Best Volumizing Hair Shampoo
Scalp Type: Check whether your scalp is sensitive or not. If you have an oily scalp, pick strengthening, and balancing shampoos. If you have an itchy scalp with dandruff, look for a volumizing shampoo that can fight dandruff.
Ingredients: It is safe to opt for a volumizing shampoo with all-natural ingredients. Look for ingredients like biotin, amino acids, glycerin, vitamin E, peppermint, and other plant-based and floral extracts for fuller hair. Avoid shampoos that contain parabens, gluten, and phthalates.
Why Trust StyleCraze?
Shiboli Chakraborti is a certified skin care coach who loves trying out different products on her hair. She relies on volumizing shampoos for thick, bouncy locks and believes that they are a must-have for anyone with thin hair. Shiboli has curated this list for her readers while ensuring the products are budget-friendly and of high quality. These volumizing shampoos mentioned in the list add volume and shine to your hair.
Frequently Asked Questions
What are the benefits of volumizing shampoos?
An ideal volumizing shampoo makes your hair fuller and thicker and adds shine and bounce.
Why is my hair flat?
There can be several reasons your hair is flat. One might be aging, because the hair diameter gets thinner as you grow old. Also, if you use excessive heat and chemical-rich hair styling products, the hair will become flat.
What is the difference between a thickening and volumizing shampoo?
Thickening shampoos target the hair strands to infuse protein and collagen and make them thicker. On the contrary, a volumizing shampoo targets the entire head of hair to make it fuller and bouncier.
Can I use volumizing shampoo every day?
No. Using a volumizing shampoo daily, strips of the natural oil from the hair and dries the scalp and hair..
Why does volume shampoo not work?
Hair texture determines the effect of volumizing shampoo. If you have naturally fine hair, volumizing shampoo might not show satisfactory results. In addition, hair health plays a vital role in reversing the effects of hair products. For example, a volumizing shampoo may further deteriorate hair with dandruff.
How often can you use volumizing shampoo?
Wash your hair thrice a week with a volumizing shampoo to cleanse, moisturize, and add volume.
Why does my hair have no volume?
High follicle sensibility to normal levels of androgens turns your hair flat. As a result, the follicles shrink and produce hair particles of smaller diameters. In addition, a large amount of product buildup leads to low hair volume.
Does volumizing shampoo make hair frizzy?
No. Volumizing shampoo enhances the look of the hair and nourishes the tresses from within. However, the hair can turn frizzy if the shampoo has a high ph level.
Is volumizing shampoo good for hair?
Yes. Volumizing shampoo balances sebum production and reduces scalp redness. It also soothes scalp irritation and enhances the look and feel of the hair.
Recommended Articles