10 Best Reliable Walking Canes – 2020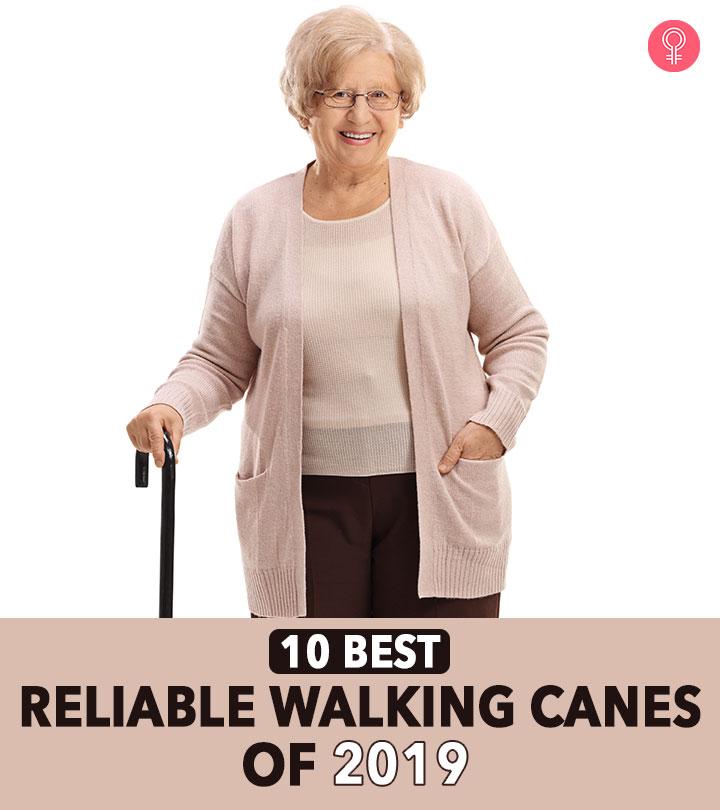 Although the elderly may discard the idea of walking canes, it is our responsibility to attend to their needs.
A walking cane is an excellent option for those who need assistance with their mobility. They impart a sense of safety and security and make you feel independent.
A sturdy, high-quality walking cane is undoubtedly the best option for elderly individuals and patients recovering from an injury.
There is a myriad of walking canes available on the market.
From the traditional wooden walking cane to the ultra-tech foldable LED walking cane, everything is just a click away.
To help you choose a suitable product, we have curated a list of the 10 best walking canes. Keep reading!
Top 10 Walking Canes For Stability
The Vive Offset Cane provides excellent stability and durability. It prevents you from falling and allows you to adjust to different terrain heights quickly. The rubber base offers great stability and supports weights up to 300 pounds. This product is safe for anyone who needs little support while getting around.
It stands 4 feet tall and adjusts to one's height quite easily. It has premium brass pin locks to fasten the adjusted height. It also has a slip-resistant, non-skid rubber base that gives extra grip while walking on uneven ground. The handle features a wrist strap to restrict you from dropping the cane accidentally.
Key Features
Adds support and stability
Customized sizing – choose and adjust the height in 1-inch increments (up to 38″)
Premium-quality rubber base
Corrosion-resistant frame – constructed with anodized aluminum
Pros
Lightweight
Helps you ascend or descend stairs
Solid and wide base
Suitable for both right and left-handed use
Cons
Can get too wobbly after extended use
The HurriCane Freedom Edition is designed to provide support and confidence with every step. It uses a sturdy grip to increase traction and improve balance. It is suitable for both indoor and outdoor use.
This hurrycane walker folds down to 13.75 inches in a second. It is designed with a shock-absorbing handle that offers great safety.
It also allows you to adjust its height as per your choice. The pivoting WhisperFlex design provides noiseless performance.
The feet-locking feature spares you from the constant clicking sound every time you walk. This tool was designed to feel like an extension of the body. It has four features – it has a sturdy body just like the human foot, it pivots like an ankle, it folds like a knee, and it adjusts its height according to the height of the user.
Key Features
SteadiGrip base
Pivoting whisperFlex design
Comfort-Fit handle
Foldable design
Pros
Travel-friendly
350 pounds weight capacity
Easy to store
Available in 4 colors
Comes with a wrist strap
Comfortable handle
Cons
None
BigAlex Folding Canes are among the sturdiest walking canes in the market. It pivots and flexes at the base and allows you to move around freely.
It has a built-in LED light that is not common among other canes. Its ultra-stable tip has four supporting pads that allow you to stand independently. It uses a magnesium alloy base (instead of plastic), giving you more years of service.
The firmness from the anodized aluminum stick makes it capable of supporting 300 pounds. You can adjust the height from 33 inches to 38 inches with simple push buttons.
Key Features
360-degree free rotation
5 adjustable height levels
Foldable
Durable structure
Ergonomic design
Pros
Cushioned handle
Premium-quality material
Lightweight
Collapsible walking stick
Cons
None
These wooden canes are strong enough to support 250 pounds. Its curved handle is designed to support your body weight at all times.
It comes at a manageable height of 36", but if you want to decrease the height, you can remove the rubber tip. This product is suitable for men and women during all the activities of everyday living.
Key Features
Supports your body weight
Secure grip
Lightweight structure
Pros
Allows you to navigate across all terrains
Non-flaking structure
Durable
Made from solid white ash wood
Cost-effective
Cons
None
This Campbell cane is fashionable canes that are lightweight and sturdy walking cane that provides 10 different height adjustments with 360° traction rings. The ergonomic grip handle eliminates downward pressure, making it easy for you to walk without cramping your shoulders or wrists.
You will feel more comfortable and independent. This revolutionary handle ensures to align your line of sight. It provides balance and mobility with every step.
Key Features
Bio-mechanically engineered the design to support the strength of the body
Sturdy design
A mechanism to adjust the height
Durable 360° self-standing stability tip
Pros
Suitable for someone who is recovering from surgery
Provides support while shifting from the seated to the standing position
Premium-quality material
Cons
None
This quad cane offers enough support to walk on all terrains. It has 11 different height settings to ensure you find the perfect height. It also features a shock-absorbing cushion-top handle with reflective strap for added safety.
It has push buttons to change the height settings (which can be operated in seconds).
The ergonomic handle is designed to fit more comfortably in your hand. The product supports weight up to 300 pounds.
Key Features
Uses the patented Hugo quad wide base for extra stability
Push buttons for adjusting the height
Premium rubber tips for stability and traction
Pros
Provides incredible stability
Holds up to 300 pounds
Shock-absorbing handle
Great self-standing ability
Easy to lean on
Cons
None
This unique design provides a sturdy support cane when closed and a comfortable seat to rest on when open. It has a strong aluminum construction and a tripod design (with vinyl tipped, contoured legs).
It can withstand a weight capacity of 250 pounds. This walking cane cum seat is the best option for users who are always on-the-go.
Moreover, its height can be customized according to one's choice. It is a great aid while traveling, resting, outdoor events, and waiting in lines.
Key Features
Sturdy and durable structure
Tripod design for extra stability
Vinyl tipped, contoured legs
Extruded aluminum tubing
Pros
Made with strong yet lightweight material
Easy to carry
Features a soft handle
Has anti-slip tips
Cons
None
This walking cane is light, sturdy, fashionable, and adjustable. The fancy designer patterns offer appealing styles for both men and women.
The wooden top handle will feel smooth in your hand, and the slip-resistant rubber tips will help you stand strong even on slippery surfaces.
The cane is adjustable from 31 to 40 inches in 1-inch increments. It supports weights up to 250 pounds.
Key Features
Unisex design
Adjustable height
Extremely lightweight
It doesn't leave marks on the floor.
Pros
Functional and well designed
Comfortable to walk with
Durable
Cons
None
This 2-in-1 product is both a cane and a grabber. It increases independence for people with limited mobility. This innovative feature makes it easy for the person to grasp or pick any object from hard-to-reach areas. It can easily be transformed into a sleek and elegant cane that offers stability on-the-go.
This patent design is made with high-quality materials like aircraft-grade aluminum, stainless steel, and space-age plastics, making it incredibly durable and strong.
You can choose from three available sizes:
Small: If you are between 4'5″ to 5'5″ tall
Medium: If you are between 5'5″ to 6'1″ tall
Large: If you are over 6'1″ tall
Key Features
Award-winning, patented all-in-one walking cane
Made with the highest quality materials
Versatile grasper
It allows you to pick large objects, including phone, wallet, etc.
Pros
Available in 3 sizes
Supports weights up to 350 pounds
Can grasp items weighing up to 5 pounds
Anti-slip base
Comfortable handle
Cons
Expensive
Enhance your mobility with this foldable, lightweight, and height-adjustable walking cane. It is designed to make your mobility more comfortable and convenient. It is the best walking cane for stability, its innovative non-skid 5-pod rubber tip delivers 20% more support than other walking canes.
It alleviates pressure on your wrists, elbows, and ankles while allowing the cane to stand on its own. It also has a built-in LED flashlight for safe navigation in areas with poor lighting.
Since it is made from an anti-resistant aluminum alloy, it offers superior portability. You can use this product on uneven surfaces as it features an all-terrain traction anti-slip base.
Key Features
Lightweight and sturdy construction
Adjustable cane height from 35" to 39."
Illuminating LED flashlight with on/off button
Pros
Easy to store
Travel-friendly
Reasonably priced
The tip absorbs shock.
Cons
Makes sound while walking.
That was our round-up of the best walking canes on the market. As you make your purchase, it is important you know how to pick the right product. The following buying guide can help.
Buying Guide – Walking Canes
Here are the features to consider while buying a walking cane:
1. Material
a. Aluminum
This is the most durable material today. Most canes use aluminum to provide 100% stability while walking.
b. Wood
The traditional canes were made of wood, with a round handle. But they are not adjustable and do not provide a wide base for balance. Often, manufacturers choose cheap wood that can lead to cracking or flaking. Choose wisely by picking a reputed brand.
c. Steel
Steel also is a durable material, but it is heavier than aluminum canes.
2. Type
a. Quad Canes
Quad canes have a large base with four points of contact with the ground. They offer stability for the user but are usually heavier than the other types of canes.
b. Collapsible Canes
These walking canes can be folded easily. They are easy to store and travel-friendly. They come with push buttons to open and close. You can simply put them in your car or a travel bag.
c. Single-Point Cane
Single-point canes just have one point of contact with the ground. They are light and travel-friendly. But the downside to these canes is that they do not provide proper grip.
d. Seat Canes
These are designed with a seat attached to the cane. They provide instant seating and are suitable for someone who needs to rest for short periods.
3. Measurement
a. Measure the size of an existing cane.
Take a measuring tape and measure the cane.
b. Measure half the height of the user.
Stand upright on a leveled surface.
Relax your arms to your sides.
Measure from the crease of your wrist to the floor. The results shown should be the height of your cane.
There are many canes on the market today, but choosing the most functional and stable product is crucial. Pick your favorite product from the list and let us know how it has worked for you! Do share your experiences by leaving a comment in the box below.
Recommended Articles
The following two tabs change content below.

Latest posts by Pooja Karkala (see all)

Pooja Karkala
Pooja is a Mass Communications and Psychology graduate. Her education has helped her develop the perfect balance between what the reader wants to know and what the reader has to know. As a classical dancer, she has long, black hair, and she knows the struggle that goes into maintaining it. She believes in home remedies and grandma's secrets for achieving beautiful, luscious hair. When she is not writing, she learns Kuchipudi, practices yoga, and creates doodles.