7 Best Walking Shoes For Wide Feet That Are Comfortable – 2023
Put on these shoes crafted specially for wide feet and walk your way to wisdom!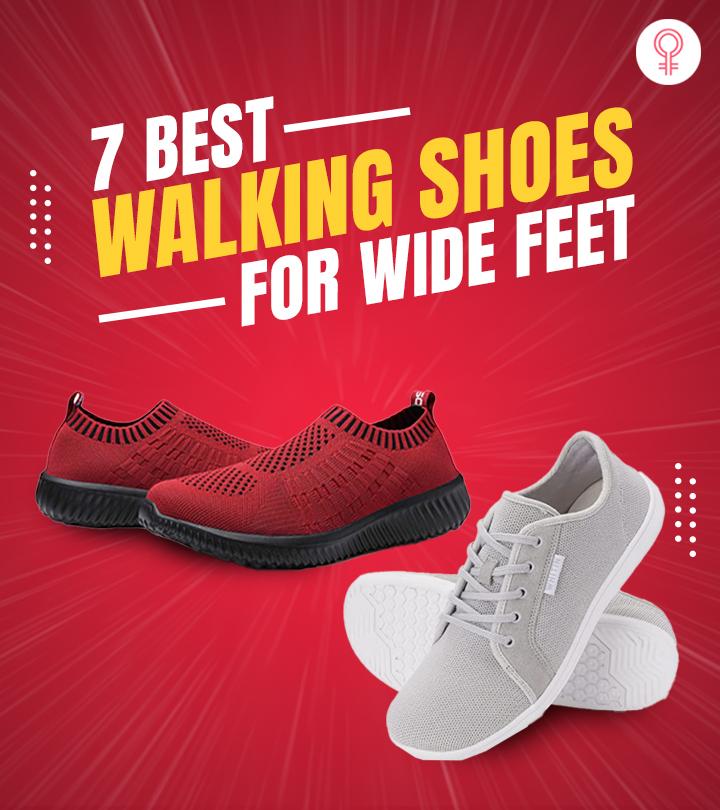 Wearing improper shoes may cause blisters, calluses, or corns, which can be painful and quite inconvenient. And, if you have wide feet, the struggle increases manifold. Thus, the best walking shoes for wide feet help you enjoy the benefits of walking, preventing soreness and fatigue. In addition, these walking shoes are breathable and provide a comfortable fit. Although most walking shoes claim that they provide extra room for a comfortable fit, unfortunately, they fail. Hence, finding the right walking shoes to fit your wide feet can be a not-so-easy quest. In this article, we list the 7 ideal walking shoes suitable for wide feet. Keep scrolling and grab a pair that suits your preferences!
Top Picks
7 Best Walking Shoes For Wide Feet
Pros
Durable
Breathable
Wash-resistant
Sleek design
Lightweight
Comfortable
Super flexible
Available in 30+ colors
Cons
None
Price at the time of publication: $38.99
Pros
Durable
Ergonomic design
Lightweight
Comfortable
Adequate cushioning
Offers arched support
Leather-upper protection
Cons
None
Price at the time of publication: $39.97
This unique pair of walking shoes by FitVille features a wide toe box and high instep for wide feet and individuals with foot problems like flat feet, plantar fasciitis, hammer toes, and bunions. The patented propel core sole offers impeccable cushioning and great support to minimize foot fatigue and maximize comfort. The upper material contains three mesh knit layers, which keep your feet dry and cool. The shoes are designed with non-slip rubber bottoms that provide a solid grip to ensure safety.
Pros
Breathable
Moisture-wicking
Good cushioning
Shock-absorbing
Ergonomic design
Cons
Price at the time of publication: $79.59
Pros
Breathable
Lightweight
Shock absorption
Lace-up closure
Adequate cushioning
Easy to wear
Cons
None
Price at the time of publication: $41.98
Pros
Lightweight
Sturdy
Removable memory foam
Adequate cushioning
Offers shock absorption
Cons
None
Price at the time of publication: $39.98
Pros
High-quality material
Lightweight
Anti-slip
Durable
Cons
None
Price at the time of publication: $90
Pros
Rubber sole
Lightweight
Breathable
Adequate cushioning
Cons
None
Price at the time of publication: $44.99
Wearing ill-fitting shoes can hamper your natural walking pattern and give rise to issues like inflammation and blisters. The walking shoes for wide feet listed above not only provide more space for your toes but are also breathable and shock-absorbing to minimize impact. Let's now check out the factors to look for while buying a pair.
What To Look Out For When Buying The Best Walking Shoes For Wide Feet
Find walking shoes that fit the anatomy of your feet perfectly. If they are too tight, they are likely to cause friction and form blisters, and if they are loose, they can slip off easily. Ensure you go for shoes that have a roomy toe box to allow your toes to wriggle freely.
The insoles should have structural layers to provide optimal support and comfort. Make sure the foot bed can protect, cradle, and support your heel all the time. It should also have antimicrobial properties to keep your feet feeling fresh and prevent odor. Check if the midsoles are made of foam, gel, or air. These materials not only cushion your feet but also minimize impact when you walk. Outsoles with grooves provide better grip on the ground and prevent slipping and falling
Walking may cause your feet to sweat. Hence, ensure the shoes have a breathable layer. This keeps your feet from sweating and prevents odor-causing bacteria and discomfort.
Shoes with good shock absorption can reduce pressure and stress, lowering joint pain and the risk of a foot injury.
Why Trust StyleCraze?
The author of this article, Baishali Bhattacharya, is a certified image consultant and a fashion expert. She lives and breathes fashion, and believes that comfort and durability are two important factors that define the best walking shoes. With this in mind, she sifted through various user feedback online and carefully curated this list of walking shoes for wide feet. The shortlisted items are breathable, durable, and affordable, making your walks stress-free and pain-free.
Frequently Asked Questions
How to measure the size of your feet properly?
• Find a flat or hard surface and place a piece of paper on the floor.
• Wear socks that are similar to the one you wear while playing on the court or walking.
• Stand with one foot on the paper.
• Keeping your body weight on your foot, trace a thin line around the outside of the entire foot. Make sure you hold the pen perpendicular to the ground while drawing the line.
• Measure vertically down the tracing. This is the length of your foot.
• Measure horizontally across the widest part of your tracing. This is the width of your foot.
How often should you replace walking shoes?
Most walking shoes can stay put for up to 300 to 500 miles. With proper care and better grounds, some shoes can last for up to 1000 miles as well.
Is it OK to wear running shoes for walking?
Yes, it is. Running shoes have good impact absorption and are lightweight, breathable, and durable. Thus, they are a great choice for walking as well as running.