13 Best Wall Mirrors Of 2022 – Reviews And Buying Guide
Install the prettiest wall mirror and enhance the aesthetics of your room.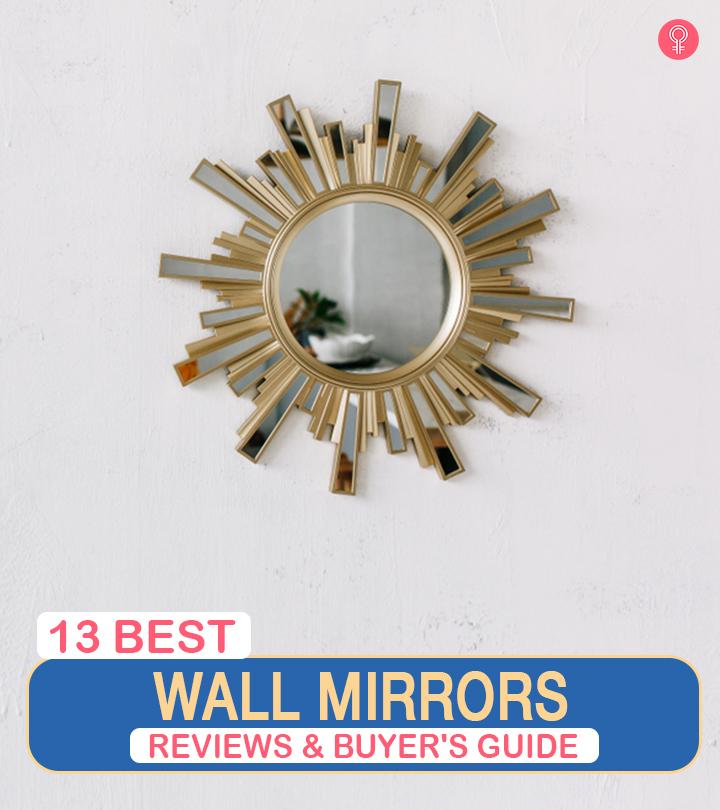 While mirrors are a necessary part of our daily lives, the best wall mirrors can serve as amazing statement pieces for your home decor. They improve the look of your rooms and add a touch of elegance. So, if you are in the process of refurbishment or want to give your interior a makeover, wall mirrors are a must! They are stylish and functional, therefore an indispensable part of every home. Moreover, they create an illusion of brightness and space by reflecting natural light.
In this article, we have listed the 13 best-rated wall mirrors loved by the users. Also, our detailed buying guide will help you choose the right designs for your home. So, what are you waiting for? Scroll down to explore the list and grab your favorite!
13 Best Wall Mirrors Available Right Now
MCS Wall Mirror is chic, stylish, and durable! It instantly highlights any space with its beautiful frame molding made of polystyrene. This pewter-finish frame with ridges adds depth and dimension to your wall. The 4D ring hangers make installation effortless. They also providethe for hanging the mirror vertically or horizontally. This mirror fits into most decor themes and can be hung in your bedroom, living room, lobby, or bathroom. If you are looking for a sophisticated and chic mirror for your living room, this one should be your pick!
Features
Dimensions: 21 x 1.37 x 27 inches
Item Weight:35 lbs
Color: Pewter
Material: Glass
Frame Material: Polystyrene
Finish Type: Pewter
Mounting Type: Wall-mount
Shape: Rectangular
Pros
Chic design
Durable
Sturdy
Value for money
Can be hung both vertically and horizontally
Easy to install
Cons
None
Mirrotek DM1448BLK Door Mirror has an elegant and timeless yet contemporary design. This full-length mirror is convenient to hang at the back of the door, on the closet door, or in the living room as it does not require any assembling. In fact, the attachable hooks can be adjusted to your desired height during installation. This durable particle board mirror from Greenwich collection is known for its quality and sturdiness. The black-finish rectangular frame looks sophisticated and captivating. It transforms the space with its clean, slim profile. This door mirror is also available in other beautiful finishes such as oak, cherry, green marble, black, white, floral, hounds tooth, and toile to complement your decor.
Features
Dimensions: 14 x 1.5 x 48 inches
Item Weight:5 lbs
Material: Glass
Frame Material: Wood
Finish Type: Black
Mounting Type: On the door
Shape: Rectangle
Pros
Full length
Tool-free and easy assembly
Sleek, functional, and versatile design
Premium quality
Sturdy and durable
Available in multiple colors/finishes
High-quality brackets
Slim profile that fits most doors/closets
Saves space
Cons
Has a slight image distortion from a distance
Umbra Hub Round Wall Mirror looks classy and is highly durable due to its signature protective frame. This adds texture and focus to the mirror. This accented mirror can become a statement piece in your room decor! This contemporary frame is safe and stays fixed on the wall securely. This mirror boosts natural light and has a modern minimalist look that is Instagram-worthy! Coming to the functionality – round mirrors are known to reflect better as they draw focus to the center of the mirror. This mirror also creates an illusion of depth and dimension by playing with light and reflection. Thus, it makes the room seem spacious and bright, making it perfect for bathrooms and closets. This mirror is available in a variety of colors such as charcoal, spruce, gray, coral, brass, titanium, and black. 
Features
Dimensions: 24 x 24 x 1 inches
Item Weight: 8 lbs
Material: Glass
Frame Material: Decorative rubber
Finish Type: Black
Mounting Type:Wall-mount
Shape: Round
Pros
Stylish and modern
Ergonomic design
Magnifies every detail
Creates an illusion of space and depth
Durable rubber frame
Available in multiple sizes and finishes
Rubber rim acts as a protective bumper
Boosts light
Versatile
Cons
This handcrafted mirror by HBCY is a gorgeous 16-inch mirror that is made with utmost attention to detail. It is backed by real silver for creating a perfect reflection. This beautiful round bathroom mirror will instantly enhance any room in your home! Its matte black frame looks great in country, industrial, farmhouse, modern, industrial, and rustic style homes. It comes with ready-to-hang hooks with 3 option anchors. The thin metal frame adds to the rustic style and has a timeless feel. This high-quality mirror comes in safe packaging and is durable. 
Features
Dimensions:5 x 18.25 x 3 inches
Item Weight:79 lbs
Material: Glass
Frame Material: Metal
Finish Type: Black
Mounting Type: Wall-mount
Shape: Round
Pros
Thin metal frame
Comes with hanging hardware attached
Ready to mount
Individually packaged for safe shipping
Cons
This timeless masterpiece from Hamilton Hills is sleek with clean lines that look great in the living room or bedroom. This sturdy wall mirror has a wooden back that protects the custom inlaid glass, while the reinforced D-ring hooks secure it safely. This mirror can be hung both vertically or horizontally. This uniquely designed mirror has an inch of air space separating the frame to form a protective air cushion. This antique design has a sophisticated appeal.
Features
Dimensions: 30 x 2 x 40 inches
Item Weight:5 lbs
Material: Glass
Mounting Type: Wall-mount
Shape: Rectangular
Assembly Required: No
Pros
Versatile
Durable
Wooden back provides stability
Easy to install
Cons
This wall mirror with gold trim looks stunning against any backdrop. This chic mirror has sawtooth frame hangers that can be used to hang it either vertically or horizontally. For the price you pay for it, it is of reasonable quality. This mirror is perfect for upscaling or DIY crafts! It has a vintage look and is well-made. It will definitely a stylishtouch to your home. It can be hung in a salon, bedroom, corridor, bathroom, or living room. This wall-mount mirror makes for a perfect gift for loved ones. 
Features
Dimensions:1 x 10.2 x 0.4 inches
Item Weight:6 oz
Material: Glass
Frame Material: Gold trim (color)
Mounting Type: Wall-mount
Shape: Rectangular
Assembly Required: No
Pros
Lightweight
Easy to install
Affordable
Vintage design
Great craftsmanship
Cons
Quality needs to be improved
This white oval wall mirror from Kole Imports is a lovely decor piece for your home. It has a vintage vibe with a hint of contemporary flair. The decorative plastic frame is charming and can elevate the look of the area it is hung in. This classic mirror comes in an individually wrapped box and with all the hardware pre-installed. Thus, it is very easy to hang. It fits perfectly in the living area or as a vanity mirror. The delicate vines add a touch of classic beauty to your interior decor. 
Features
Dimensions: 11.5 x 1 x 15 inches
Item Weight: 1.2 lbs
Material: Glass
Frame Material:White plastic
Mounting Type: Wall-mount
Shape: Oval
Assembly Required: No
Pros
Easy to install
Solid packaging
Durable
Lightweight
Great quality
Cons
The size of the mirror is quite small
AmnoAmno's LED wall mirror is perfect for your makeup or vanity space. This double-sided mirror has a magnifying mirror on one side so that each and every minor detail can be observed with clarity and precision. This is especially beneficial during makeup application. The mirror comes with a 27-piece LED light that is adjustable. So, you can use it in dark or poorly lit rooms. The 360-degree rotation feature allows you to adjust the angle of the mirror for better reflection.  This lightweight chromium mirror can be used in the bathroom for shaving or in the bedroom for jazzing up the space. It is also the perfect mirror selfie! 
Features
Dimensions: 16 x 8.6 x 1.06 inches
Item Weight:4 lbs
Material: Glass
Frame Material: Chrome
Mounting Type: Wall-mount
Shape: Round
Assembly Required: No
Pros
Adjustable LED light
Durable
No installation required
Magnifying mirror on one side
360°rotation
One-touch button
Suitable for makeup application
Cons
This large framed wall mirror from Hamilton Hills looks classy and sophisticated. It adds charm to the lobby, living room, or bedroom. The design of the mirror adds depth as it gently slopes towards the center. The strong wooden panel at the back adds stability and protection to the mirror. This also prevents warping or distortion in the mirror. It is easy to install as it comes with D-rings that let you hang the mirror vertically or horizontally. This gorgeous rectangular mirror blends seamlessly with most decor. It comes in various sizes and makes for an amazing statement piece! 
Features
Dimensions:5 x 24 x 36 inches
Item Weight: 37 lbs
Material: Glass
Frame Material: Wood, silver finish
Mounting Type: Wall-mount
Shape: Rectangular
Assembly Required: No
Pros
Beautiful modern design
Easy to install
Protective wooden panel
Versatile
Premium quality
Cons
This ultra-stylish and contemporary mirror by Hamilton Hills is a must-have as it oozes style. It complements chic or modern decor, and its sleek metal frame instantly steals the show as a statement piece. This mirror has a solid wooden back panel for support and stability. It also has hooks that let you hang the mirror without any hassle. The simple and clean edges lift up the space around the mirror.
Features
Dimensions:9 x 21 x 4.8 inches
Item Weight:5 lbs
Material: Glass
Frame Material: Stainless steel, brushed finish
Mounting Type: Wall-mount
Shape: Rectangular
Assembly Required: No
Pros
Excellent craftsmanship
Great quality
Durable
Sturdy
Contemporary design
No warping
Cons
None
This fantastic wall-mounted makeup mirror from Alhakin is perfect for your vanity space. It offers 10x magnification on one side. The swivel feature allows you to turn the mirror at different angles so you can check the finer details of your makeup easily. The swanky nickel-finish adds oomph to this piece. This double-sided mirror makes for a great gift. It is stylish as well as functional.
Features
Dimensions:5 x 1.2 x 16.8 inches
Item Weight:85 Lbs
Material: Glass
Frame Material: Metal, nickel finish
Mounting Type: Wall-mount
Shape: Round
Assembly Required: No
Pros
Functional
Swivel feature
10x magnification
Foldable
Cons
Reflection may be distorted
This frame less wall mirror by The Better Bevel is a timeless classic that is known for its premium quality. The sloping frame offers an amazing depth to the entire piece and creates an illusion of spaciousness in the room it is hung in. This sturdy mirror can be hung with the pre-installed loops. This elegant mirror is available in various sizes to cater to your decor needs. The versatile design of the mirror can be paired with modern, contemporary decors for that  minimalist look which is quite trendy these days. The 1/4" grade class ensures that the quality of the reflection is top-notch. The silver back panel protects the mirror from humidity and increases its durability. 
Features
Dimensions:5 x 40 x 30 inches
Item Weight: 25 lbs
Material: Glass
Frame Material: Frameless, polished finish
Mounting Type: Wall-mount
Shape: Rectangular
Assembly Required: No
Pros
Durable
Adds depth
Easy to install
Anti-humidity silver back panel
Timeless design
Premium quality
Cons
Edges may get chipped quickly
The Harmati Eula Round Mirror comes with a unique design comprising a stylish yet minimal black metal frame along with a small hook. It can fit perfectly in your well-decorated bed rooms, along with the living room, lobby, or bathroom. Available in three sizes, it offers a crisp and distortion-free reflection. If you are obsessed with making your home look aesthetically pleasing, this mirror should be your top pick!
Features
Dimensions: 20 x 20 x 0.7 inches
Item Weight: 5.73 lbs
Material: Glass
Frame Material: Metal
Mounting Type: Wall Mount
Shape: Round
Pros
Sleek design
Shiny finish
Lightweight
Built-in hook for stability
Easy to install
Cons
These are some of our best picks for wall mirrors to up your decor game. With countless options available, it might be a little tricky to choose the one best suited for your needs. So, here is a simple buying guide to help you select the perfect wall mirror for you! 
Wall Mirrors – Buyer's Guide
1. Shape
The first thing that you should consider is the shape of the mirror. Most mirrors are either round or rectangular.
Round Or Oval: These mirrors are often put up in bathrooms or dressing rooms as they can magnify details due to their central focal point. They break the monotony of lines and bring variation to the decor. These functional mirrors also have a vintage effect.
Rectangular: Rectangular mirrors are one of the most versatile shapes as they complement most home decor styles. They have been evolving with time and trends. There are many options to choose from depending on your style.
Abstract: For unique decor, abstract mirrors are the best option. These unconventional mirrors – such as sunbursts or other quirky patterns – make a style statement.
2. Frame Material
Plastic: Plastic and resin are popular for making frames. They are easy to design and lightweight. It is also easy to maintain them. They are used in contemporary and abstract designs.
Glass: A good glass mirror reflects natural light, creating an airy and bright environment. It adds depth and dimension to the room.
Wooden: These statement pieces add warmth to the room. Most traditional designs are made of wood with a range of finishes. They bring in texture that enhances the decor of the room.
3. Other Features You Should Check Out
Size: Always keep in mind the dimensions of your mirror and where you want to hang it. It is better to avoid cluttering the house with too many mirrors as it will look disharmonious. Avoid mirrors that are very small as they don't serve any function.
Weight: A lightweight mirror is a good bet. A heavy mirror is difficult to transport and install. It also poses safety risks. However, do keep in mind that flimsy mirrors are not as durable and may fall off easily.
Materials And Construction: Invest in good-quality mirrors. They are durable and last long.
Thickness: Thin glass can distort images at certain angles, which defeats the purpose of having a mirror.
Frequently Asked Questions
Which quality of mirror is best?
Premium-quality mirrors with consistent glass that does not distort reflections are the best.
Are mirror walls outdated?
No, mirror walls were more popular in the 70s, 80s, and 90s. However, interior designers still use the design to add some uniqueness to a room.
How thick should a wall mirror be?
Wall mirrors typically have a thickness of 1/4-, 1/8- or 3/16-inches.
What is a good size for a wall mirror?
Good wall mirrors come in sizes between 25 to 30 inches.
Do wall mirrors make a room look bigger?
Yes, wall mirrors make your room appear larger and more open. They make your room feel spacious and offer an illusion of depth.
Which is better, a round or a square mirror?
Round mirrors are better since they are more elegant and modern, and offer visual variety.
Recommended Articles: