15 Best Wall Mirrors To Brighten Up Your Living Space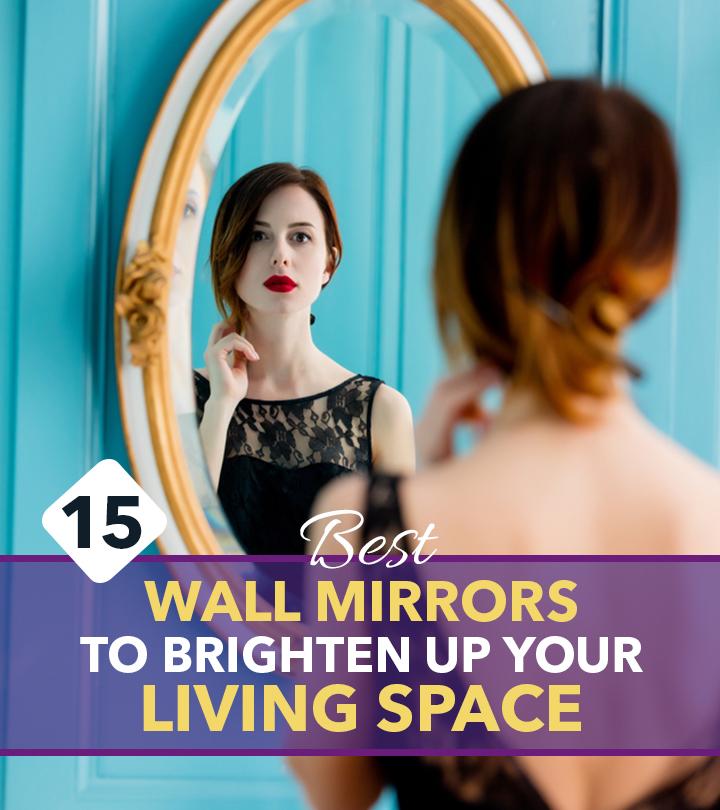 If you are having your home redecorated or refurbished and are looking for classy and contemporary décor, consider investing in a good and elegant wall mirror.
Wall mirrors aren't simply to check yourself out or get ready. They can make your living space look modern and elegant. Many interior decorators and designers suggest that having a wall mirror in your bedroom or living room adds depth to the room and makes it look brighter and bigger as the light bounces off it and creates an illusion.
There are many types of mirrors one can choose from – like full wall mirrors, oversized wall mirrors, wall mount mirror, lightweight wall mirror, oval wall mirrors, and antique decorative mirrors. We compiled a list of 15 best wall mirrors that can help brighten up your rooms. Take a peek.
15 Best Wall Mirrors
The Mirrortek Mirror is so convenient to hang at the back of the door, on the closet, or in the living room. The product does not require assembling and needs to be hung directly. It is made of durable particleboard that is strong and has sturdy metal brackets that ensure the longevity of this wall mirror.
The rectangular wall mirror can perfectly fit into any bedroom or living space. It has a black rim that gives it a sophisticated look. It is available in a variety of finishes, like Black, White, Cherry, Cherry, Oak, Floral, Green Marble, Toile, and Hounds Tooth.
Dimensions: 14 x 1.5 x 48 inches
Item Weight: 7.5 lbs
MCS's wall mirror is chic and very stylish and can be hung in the living room as an accessory or element to highlight the room. The wall mirror's edge molding is made of polystyrene material and can be easily installed either vertically or horizontally with the D-ring hanging attachments.
The sharp and prominent frame adds depth and dimension to the wall.
You can hang this wall mirror in your bedroom, living room, lobby, or even your bathroom. If you are looking for a sophisticated and chic décor for your living room, this one should be your pick!
Dimensions: 21 x 1.4 x 27 inches
Item Weight: 7.35 lbs
Umbra Hub's wall mirror is a classy, round mirror. It comes with a protective rubber frame that adds to the dimension and works great as a distraction or point of focus if there's too much texture around. The wall mirror perfectly reflects natural as well as artificial lights.
You can hang this wall mirror in your bedroom, living room, study, or workspace. Many interior designers claim that adding a round mirror creates an illusion of a bigger room as the large mirror instantly doubles the light and visual depth of a smaller room. It comes in a variety of colors like Black, Brass, Charcoal, Coral, Gray, Spruce, and Titanium.
Dimensions: 24 x 24 x 1 inches
Item Weight: 8 lbs
This stunning and sleek wall mirror looks great as décor for the living room, bedroom, bathroom, or the powder room. The clean and modern style wall mirror is secured with a solid wooden back that ensures stability and prevents damaging.
The wall mirror comes with reinforced D-ring hooks that you can use to hang it vertically or horizontally. The glass is custom inlaid and is secured by the surrounding frame. The clean, modern lines make this wall mirror a timeless piece.
Dimensions: 30 x 2 x 40 inches
Item Weight: 39.5 lbs
This stunning piece has a broad, thick frame that secures the mirror glass. The broad seamless frame adds to the depth of the wall mirror and ensures to give the room a broader and bigger feel. It is one of the ideal add-ons for your bedroom, living room, or bathroom space.
It can be hung vertically or horizontally, depending on the space, as it comes with 4 D-rings that can be bent in any way to hang. The frame molding is made from durable polystyrene material, and the mirror features a 1-inch bevel.
Dimensions: 21 x 1.4 x 27 inches
Item Weight: 7.35 lbs
Stealstreet Kole's wall mirror would look stunning on literally any colored wall or backdrop. The thin golden frame is sure to give even a simple room a very chic and sophisticated look. This wall mirror would be great for a bedroom, living room, or bathroom.
If your home décor has a rustic golden tint and hues, opt for this simple yet classic and vintage looking wall mirror that will surely add some more depth and style to your living space. You can mount this on a wall vertically or horizontally with the attached sawtooth frame hangers.
Dimensions: 12.1 x 10.2 x 0.4 inches
Item Weight: 10.4 lbs
This white oval wall mirror is a super stunning piece that you should definitely add to your home décor if your living space has a contemporary vibe. This vintage wall mirror has a decorative plastic frame with flourishes and curling vines that look charming. Elevate the look of your modern living space with a piece of this vintage-looking art.
Dimensions: 11.5 x 1 x 15 inches
Item Weight: 1.2 lbs
Amno's LED wall mirror is a perfect add-on for your vanity room or makeup space. This wall mirror is perfect for makeup as it highlights each little detail. The mirror is double-sided and has 10x magnifying with a wide angle view that offers clarity and precision for makeup.
This vanity wall mirror has an in-built 27 piece LED light that allows you to do your makeup in slightly dark, dimly lit, or poorly lit rooms. The light provides a natural and cool lighting effect that doesn't hamper with your makeup shades. The button provided under the mirror increases and decreases the light as per your requirement. Another amazing thing about this wall mirror is that it offers 360-degree rotation, which means you can turn it to any angle you like.
Dimensions: 16 x 8.6 x 1.1 inches
Item Weight: 3.4 lbs
A wall mirror as sophisticated and classy as this one is a must-have! You can hang it anywhere – in your bedroom, study room, living room, or lobby. This wall mirror will add charm and modern touch to the space.
It has a 3-inch broad frame that gently slopes towards the center and adds to the depth. The back of the wall mirror has a strong core wood back that ensures stability and sturdiness and avoids distortion. It comes with D-rings and hardware screws that enable you to hang the wall mirror vertically as well as horizontally. The mirror comes in four sizes to choose from.
Dimensions: 1.5 x 40 x 30 inches
Item Weight: 54.3 lbs
If your décor is contemporary, modern, or something ultra-stylish, opt for this Hamilton Hills wall mirror. The sleek black metal toned wall mirror oozes sophistication and style. It is perfect for decorating your vanity, bathroom, or powder room.
The mirror is secured with solid metal curved corners that also add depth to it and make it look appealing. The wall mirror has a solid wooden back that adds to the stability and finishing. It also comes with a 4-way hardware hook that enables you to hang it vertically or horizontally as per your preference.
Dimensions: 28.9 x 21 x 4.8 inches
Item Weight: 18.5 lbs
This is yet another perfect wall mirror that is ideal for makeup and to get dressed in your vanity space. This 1x/10x magnifying wall mirror can be rotated 360 degrees to enable the best angle for different makeup needs. You can wall mount this as your powder room or bathroom mirror or next to your full-length mirror to check your makeup.
Dimensions: 12.5 x 1.2 x 16.8 inches
Item Weight: 1.85 Lbs.
This frameless wall mirror has a sloping frame that gives an amazing depth to the entire piece.  If you are looking for a classic and subtle wall mirror that goes with every piece of décor in your space, this one should be your pick.
The simple frame is elegant and classic and made of premium quality silver backing with a sturdy finish. It comes in many size options that offer a perfect fit for your space. It has pre-installed hoops that help you hang the wall mirror vertically or horizontally.
Dimensions: 0.5 x 40 x 30 inches
Item Weight: 25 lbs
Homfa's wall mirror is perfect if you are looking for a mirror for your bathroom, powder room, or vanity room. The mirror is sleek, pure white, and has a small shelf at the bottom. It is durable and sturdy as it is made from high-grade MDF material. It is insect-proof and environment-friendly. The tiny shelf can be used to stack up tissues, soaps, cosmetics, or decorative items.
Dimensions: 23.6 x 4.7 x 27.6 inches
Item Weight: 10 lbs
KOHROS wall mirror is what minimalism is all about. The mirror is frameless and sleek and is perfect for the lobby, bedroom, living room, or bathroom. You can hang it vertically or horizontally as per your choice.
The sleek glass finish of this frameless wall mirror is eye-catching, and you are bound to check out your makeup in this mirror before stepping out. It comes in various silhouettes, like oval, rectangle, square, and round. It has two hooks at the back to mount the mirror on the wall.
Dimensions: 28 x 20 x 0.2 inches
Item Weight: 6 lbs
This ready to hang wall mirror has a simple, contemporary design that fits in with any design aesthetic. You can hang it in the entryway, bedroom, living room, or bathroom. It is made of 54% glass and offers durability and crystal clear reflection.
You can hang a single mirror in an area that reflects the windows or hang multiple mirrors in a creative design to expand the room. The frame comes in five different colors – Black, Brass, Nickel, Walnut, and White. 
Dimensions: 20 x 1.6 X 28 inches
Item Weight: 10.7 lbs
That was our round-up of the 15 best wall mirrors that are classy and stylish. If you are planning to decorate your brand new home or revamp your space, add any of these above-mentioned wall mirrors to the décor, and brighten up the room instantly.
The following two tabs change content below.

Latest posts by Harini Natarajan (see all)

Harini Natarajan
Harini has over 12 years of experience in content writing and editing for online media. She specializes in the areas of business, health and wellness, and lifestyle and is proficient in Medical Sciences (Biology, Human Anatomy and Physiology, and Biochemistry). As the Chief Editor, Harini ensures that her team delivers interesting, engaging, and authentic content. Her background in Biomedical Engineering helps her decode and interpret the finer nuances of scientific research for her team. Harini is a certified bibliophile and a closet poet. She also loves dancing and traveling to offbeat destinations.