6 Best Wall Mounted Hair Dryers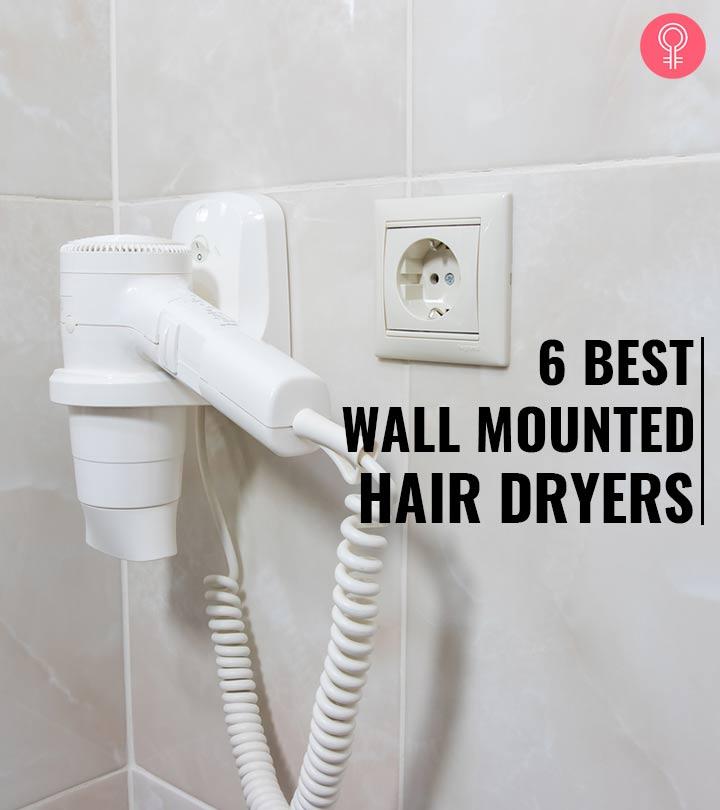 You would have probably come across little hair dryers firmly attached to the walls in a dressing room or a hotel washroom. These are quite convenient to use. The good news is, they are not meant for commercial places alone. You can get one such addition in your home too – and make your life much easier!
Here, we have listed the 6 best wall mounted hair dryers available online. Check them out and take your pick!
Top 6 Wall Mounted Hair Dryers
This wall-mounted hair dryer by Conair requires 1600 Watts of drying power. It is super compact and lightweight. The best feature is its LED night light that makes it so convenient to locate when the room is dark. The wall mount holds the hair dryer in place. It is easy to be mounted on most surfaces, including ceramic tiles. The dryer automatically shuts off when placed in the wall mount. It is perfect for small bathrooms or living spaces.
Features
2 heat/speed settings
Built-in LED night light
6′ coil cord
Removable filter for easy cleaning
Pros
Durable
Lightweight
Long coil cord
Easy to clean
Auto shut-off
Cons
No tourmaline
No cool shot
This hair dryer from Andis needs 1600 Watts to power up. It has a LED night light. It has a quiet motor that lasts long. It has a lifeline shock protection built into the unit. This wall-mounted dryer has three position switches. The mounting plate is made of metal for a secure wall attachment. It also has a hanger loop. It comes with a diffused electronic light that provides visibility. It stays cool even after a long hair drying session. The dryer is energy efficient.
Features
LED night light
Built-in lifeline shock protection
3 position switches with 2 heat/air settings
Metal mounting plate
Pros
Long-lasting motor
Quiet operation
Multiple heat and air settings
LED night light
Shock protection
Cons
The ProVersa Hair Dryer runs on 1600 Watts of power. It is gentle enough for everyday hair drying. It has a compact wall caddy design for easy installation. This hair dryer includes an ALCI plug built into the caddy that protects you from electric shocks. It has a removable air and lint filter that makes cleaning it super easy and quick. It also turns off automatically when placed back on the wall mount. This dryer has two heat settings and three speed settings. It comes with mounting hardware.
Features
2 speed settings and 3 heat settings
Removable air and lint filter
A 1-year limited warranty
Pros
Easy to install
Easy to clean
ALCI-certified
Protects from electric shock
Auto shut-off
Durable
Cons
Overheating issues
 Small curl cord
The Jerdon Wall Mounted Hair Dryer dries your hair in minutes. This hair dryer has two speed settings and two heat settings. It runs at 1600 Watts of power. It has an ALCI safety plug built into the power cord that prevents electric shocks. It also prevents impact failure during thunderstorms and power surges. The Jerdon Hair Dryer comes with all of the required hardware for easy installation.
Features
2 speed settings and 2 heat settings.
1600 Watts
Built-in ALCI safety plug
25 x 7.75 inches in size
A 1-year limited warranty
Pros
Protects against shocks
Quick results
Cons
The Sunbeam Wall Mounted Hair Dryer has a super quiet motor and a 6-foot coiled cord. It provides ALCI shock protection and has an anti-theft wall bracket. It has a contoured handle with a soft-touch finish for easy handling. It comes with a 2-year limited warranty. Its ionic technology delivers up to 1875 Watts of drying power. It has separate air and heat controls. The lint filter comes off easily, making cleaning and maintenance of the hair dryer very easy.
Features
Dual wattage for energy savings of up to 35%
Energy-saving LED nightlight with 'dimmer' switch
2 airspeed and 3 heat settings
A Cool Shot button
Ionic technology
Removable lint screen
Pros
Energy efficient
Anti-theft wall bracket
Affordable
Dual heating
Quiet operation
Lightweight
Cons
Not durable
No wall mount hardware
The Oster Professional Wall Mounted Hair Dryer handset can be secured to the wall with a magnet. The unit shuts off automatically when it comes in contact with its base. It has two settings available for styling options. It comes with a night light. The filter is removable, making cleaning and maintenance a seamless process. The curled cord is 6 feet long and offers ease of use.
Pros
Magnetic shut-off system
Easy cleaning
Auto shut-off
Long curl cord
Night light
Lightweight
Easy to install
Cons
No cool shot
Small power cord
These are the top 6 wall mounted hair dryers available online. You need to know what factors to consider before you make a purchase. The following section can help.
What Features Should You Look For In A Wall Mounted Hair Dryer?
Size And Shape
First and foremost, you need to focus on the size and shape of the wall mounted hair dryer. It should have a compact design and should not be bulky. Most wall mounted hair dryers have a generic shape and size and take up very little storage space.
Shockproof Design
Ensure your hair dryer is shockproof. This is very important because most people operate hair dryers with wet hands. A shockproof dryer can help prevent fatalities.
Ionic Or Tourmaline Technology
Most handheld hair dryers either have ionic or tourmaline technology. If you want a good quality wall mounted hair dryer, you should get one that comes with these two features. The ionic technology helps you get frizz-free and shiny hair, while tourmaline crystals, which are powered before being used in the dyer, help make hair very smooth. Tourmaline dryers are also better at blow-drying hair. They work 40% more quickly and efficiently than standard dryers.
Night Light
Optional LED night lights are such a great feature on a hair dryer. Also, you should purchase one that emits less noise. Generally, wall mounted dyers make way lesser noise than handheld ones.
Heat/Speed Settings
While most dyers do not have a new shot option, almost all hair dryers have the generic two heat settings – high and low. Some dyers also come with variable settings for air speed.
Auto Shut-Off
Almost all of the wall mounted hair dryers have the auto shut-off feature. They automatically shut-off when the dyer is placed back in its base. This saves electricity.
Let us now look at the various benefits of wall mounted hair dryers.
Benefits Of Wall Mounted Hair Dryers
Although wall mounted air dryers are not meant to be the one-stop-solution for all hair troubles, they do have certain benefits.
Great Temporary Solution To Hair Drying
You do not need to drag around your hair dryer while traveling. Your stay at a hotel is way more convenient because you have access to a wall mounted hair dryer.
Easy Storage Solutions
If you have limited space, you should go for a wall mounted hair dryer instead of opting for a regular one. You do not need any extra storage space for this. Neither do you have to rummage through the drawers when in a rush. A wall mounted hair dryer is the perfect asset for a small studio apartment or a tiny bathroom.
Lightweight And Easy To Handle
Wall mounted hair dryers weigh lesser than average hair dryers. Many of them weigh less than one pound – as they are designed to hang securely on the wall. Their lightweight design also makes them easy to handle. You can have a strain-free hair drying experience.
They are also designed to prevent slips. In case they slip, they hang from the cord and would not fall down.
Great Power Saving Option
Wall mounted hair dryers use way lesser wattage compared to generic hair dryers. Regular hair dryers have a standard wattage of 1875 and above, which makes them super powerful. However, they also consume a lot of electricity. On the other hand, wall mounted blow dryers come with wattages of around 1400 to 1600. They consume much lesser electricity than other hair dryers. If you want to keep your power consumption low, the wall mounted hair dryers are the right investment.
Budget-Friendly
If you are on a budget, a wall mounted hair dryer can save you some money. These hair dryers may look fancy but cost way lesser than regular dryers. You can get a decent quality wall mounted hair dryer within $25 to $65.
If saving space and electricity, and getting something fancy for your washroom is what you desire, you can pick one of these wall mounted hair dryers. They also are safe and way more effective. Choose your favorite piece today!
Recommended Articles
The following two tabs change content below.

Latest posts by Harini Natarajan (see all)

Harini Natarajan
As Chief Editor, Harini sets the tone and editorial direction for StyleCraze to deliver engaging, interesting, and authentic content revolving around women's health, wellness, and beauty. She has over 14 years of experience in content writing and editing for online media. She specializes in the areas of Beauty, Lifestyle, and Health & Wellness and is proficient in Medical Sciences (Biology, Human Anatomy and Physiology, and Biochemistry). Her background in Biomedical Engineering helps her decode and interpret the finer nuances of scientific research for her team. Harini is a certified bibliophile and a closet poet. She also loves dancing and traveling to offbeat destinations.