9 Best Lighted Wall-Mounted Makeup Mirrors
Transform your dress-up experience by paying attention to all the details of your look.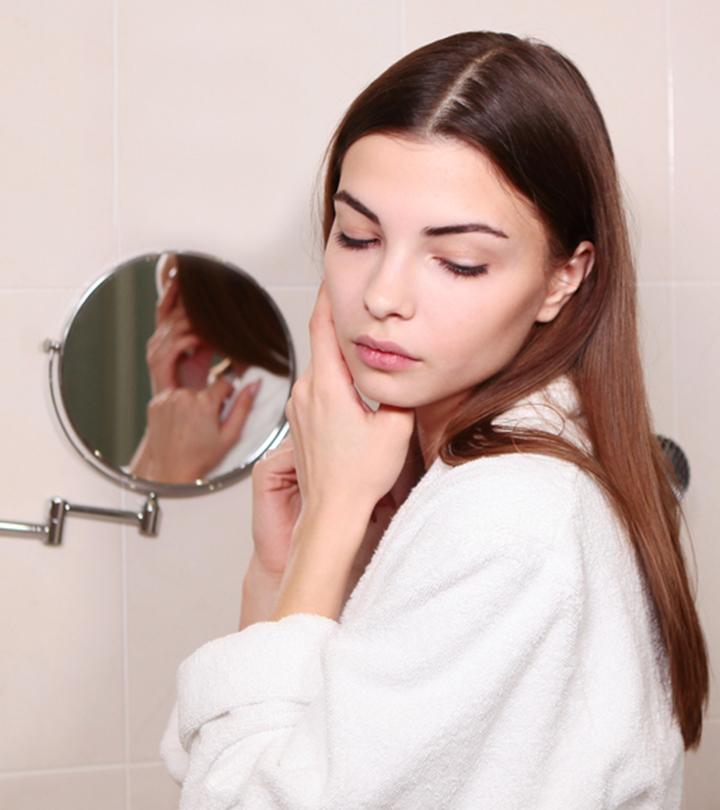 Let's clarify, nothing is embarrassing about checking your reflection in the mirror throughout the day, especially when you have the best lighted wall mounted makeup mirror staring right at you. Get one if you haven't already because that way, you can make sure you never leave the house without looking neat and well-dressed. Whether you are commuting to work daily, going shopping, hanging out with friends, or even dressing up for a date, it is habitual to look in the mirror multiple times. As the light should hit right on your beautiful face while doing makeup, invest in a bomb makeup mirror.
When applying makeup, other than the right makeup products, brushes, accessories, and expertise, there is another important aspect that you should never ignore – a lighted wall-mounted mirror. It makes makeup application much easier. If you do not have a lighted wall-mounted mirror, it is high time you invest in a sturdy, attractive mirror. To help you find the right product for your home, we have created a list of the 9 best lighted wall-mounted makeup mirrors. Scroll down and take a look.
How To Choose The Best Makeup Mirror
Wall-mounted makeup mirrors, whether lighted or not, are either fixed or adjustable. Most of the fixed makeup mirrors make up in size where they lack in flexibility. Depending on how the light hits your face at different times of the day, it also affects your final look. Hence, it is wiser to invest in a wall lighted mirror that is flexible and adjustable.
If you want a better view of your face or you like to pay attention to every detail (for example, hiding every clogged pore), you should opt for a double-sided, wall-mounted, magnified mirror with light. However, with a fixed makeup mirror, you can't get a double-sided view.
Fixed wall-mounted mirrors usually have a square or rectangular shape while adjustable mirrors come in round and oval shapes. The shape may not directly affect how you apply your makeup, so choose a central mirror in a shape that appeals to you more.
Some of us don't have the luxury of natural light seeping into our bedrooms, so it is wise to opt for a lighted makeup mirror. Even if you do have a room that sees enough sunlight, the room lights may not be the most flattering ones for makeup. A lighted makeup mirror will illuminate your face and make the process of applying makeup easier.
Choose a wall-mounted makeup mirror that provides magnification. This way, you can get rid of that stray eyebrow or cover any spots on your face that you may have missed.
Let's take a look at some of the best lighted wall-mounted makeup mirrors.
9 Best Lighted Wall-Mounted Makeup Mirrors
Illuminate not just your face but also your bedroom with this lighted wall-mount mirror. Elegant yet practical, this mirror will aid you in improving both your makeup and hair styling skills. It comes with a classy nickel finish and is extendable up to 14 inches. It can either be used as a magnification mirror or a regular one. So, if you are looking to cover every little blemish, this clear mirror will be perfect for you. You can mount this mirror in your washroom as it is fog-free too. This mirror, which is 8 inches in diameter, is also double-sided and offers a 360° swivel. Shaped like a halo, it features a rotary knob on the base to turn the lights on. It comes with the required mounting hardware and a 25 W replacement bulb as well. It is the best Magnification Mirror.
Pros
Halo-shaped
Comes with an in-built light
14 inch extension
1x or 5x magnification
Two-sided
The reflective surface doesn't fog up.
Cons
Not battery-powered
Some may find the light too dim.
Price at the time of publication: $74.99
In a world of millions of competitive products, finding the best makeup mirror is like finding a needle in a haystack. Yet, some gems truly stand out. Enjoy distortion-free magnification with this dual-sided lighted mirror, and reveal a flawless face each time you step out. Whether you need to tweeze an ingrown hair on the chin or cover that chin acne, you can make use of the LED light ring that comes with the mirror. The light not only provides an excellent spot of concentrated light on your face, but it also imitates natural light. You need not worry about clumsy cords or wires with this light-up mirror as the light runs on AAA batteries.
Pros
10x magnification
Dual-sided
360° swivel
Dark brown extendable arms
Cordless
Cons
The batteries need to be replaced often.
Price at the time of publication: $34.99
Sometimes, a full-length mirror, no matter how clear it may be, just doesn't cut it, does it? It doesn't help you check the back of your head, and mobility is a major issue. For times like these, you need to invest in a wall mounted magnifying mirror like this one. Considered to be one of the best lighted makeup mirrors, it provides 5 times the magnification that is required to help you check blind spots. It imitates natural sunlight and automatically lights up when it detects your face. It also turns off on its own as you walk away from it. You can recharge the light and can use the mirror for up to 5 weeks on a single charge. The telescopic swing arm is made of durable stainless steel. It is the best Lighted makeup mirror Wall Mount. This video takes you through this product's details.
Pros
600 lux brightness
5x magnification mirror
Cordless
Auto sensor on and off
This clear mirror simulates natural sunlight.
Cons
Price at the time of publication: $199.99
Elegant, chic, and practical are only some of the words used to describe this wall-mounted magnified mirror with light. It is a dual-sided mirror in a satin nickel finish. One side is a standard mirror, while the other gives you a chance to view every aspect of your face in great detail with its 10x magnification feature. If you are looking for a wall-mounted mirror without the hassles of plug-ins, this mirror perfectly fits your need as it comes with a cordless LED light built in it. The LED light included is an energy-saving one and consumes up to 70% less electricity than standard household bulbs. The mirror functions on 4C batteries or a power adapter.
Pros
In-built energy-saver LED light
Cordless lighted mirror
10x magnification mirror
227.036 lux brightness
Comes with a power adapter
Cons
Doesn't include batteries
Changing the batteries isn't very easy.
Price at the time of publication: $137.21
If you want a magnifying mirror like no other, trust this mirror to help you achieve perfect makeup skills. It can either be used as a regular mirror or a magnifying one as it catches even the most unnoticeable mistakes with its 10x magnifying power. This mirror has a modern and sleek character to it, and its attractive nickel finish gives it a beautiful gleam. The built-in LED light provides a soft, natural light, ideal for morning or night. With a 360° swivel, this double-sided mirror can spin in any angle to help you achieve even the most complicated makeup looks. You can extend it to 12 inches or fold it up against the wall when you are not using it. It is the best Lighted Wall Mounted Make Up Mirror.
Pros
Distortion-free
Built-in LED light
10x magnification mirror
360° swivel
Protection against moisture
Made of brass and glass
Cons
It is not battery-operated.
Price at the time of publication: $92.99
One of the best makeup mirrors with lights, this one is durable, attractive, and won't fog up. It provides a soft light that doesn't throw bright beams directly at your eyes. Ideal for the bedroom or the bathroom, this mirror comes with all the hardware required for easy installation. 8.5 inches in diameter, this mirror can rotate to 350°, allowing you to inspect your face in detail. This mirror is double-sided and comes with 8x magnification. A 5 ft line cord enables it to light up easily. It is the best wall mounted makeup mirror.
Pros
Comes with a soft light
Easy to install
8x magnification
Dual-sided
Fog-free
Cons
Some may feel that the light is not bright enough.
A perfect addition to your bathroom, this wall-mounted mirror comes equipped with LED light. As it is a mirror with a strong suction hold, installation is easy and takes only a few minutes. The LED light is adjustable to Super Bright, Natural Light, and Micro Bright Light, at the press of a button. This clear mirror also comes with dimming technology. The best part about this smart mirror is that the LED lights can run for up to 50,000 hours. It swivels to 360°, and the extendable arm can be stretched up to 11.5 inches.
Pros
10x magnification
LED light with 3 modes
Dimmable LED lights
Extendable up to 11.5 inches
Strong suction cup for mounting
The bulb uses 60% less energy than standard household bulbs.
Cons
Is not dual-sided
Batteries are not included
Price at the time of publication: $50.36
If you are looking for something different, something unique, this might be the best makeup mirror for you. It is a dual-sided lighted makeup mirror that allows you to use it as a standard mirror on one side and a magnified mirror on the other. This wall makeup mirror with lights features a 360° swivel design, and is adjustable to 180° as well. It comes with 54 LED lights that offer 3 light settings— White Light, Cool Light, and Warm Light. You can simply turn the light on by pressing its sensor switch, and if you want to dim the light or adjust the brightness, you need to press the sensor switch for longer. Here's a video to help you know more about this product.
Pros
54 LED lights
3 types of brightness settings
10x magnification
Sensor touch
Battery-powered
Cons
Batteries are not included.
Price at the time of publication: $38.06
Whether you are trying to tame your bushy eyebrows or attempting a cat eye that will put all other cat eyes to shame, this wall-mounted magnifying mirror is at your service. It is made of high-quality stainless steel, and the chromium electroplating gives it a smooth surface. This wireless mirror is double-sided and features adjustable light settings. To increase or decrease the brightness, you can press the switch on the mirror for longer. It also rotates 360°, and the arms are extendable up to 15 inches. 
Pros
Adjustable brightness settings
7x magnification
Wireless
Moisture-proof
Anti-rust
Anti-corrosion
Cons
Batteries are not included.
Price at the time of publication: $39.99
Why Trust Stylecraze?
Chaitra Krishnan is a makeup enthusiast and is passionate about creating detailed articles on the same. She has conducted in-depth research to help her readers find the best lighted wall-mounted makeup mirrors. The author went through hundreds of user feedback and product specifications to curate this list. Her recommended mirrors are convenient and help you ace your makeup game effortlessly!
Frequently Asked Questions
Are lighted wall mirrors good for makeup?
Yes. A well-lighted mirror gives you a natural reflection. The lights hit the right points of your face enabling you to do your makeup effortlessly.
Which makeup mirror is the brightest?
The Simplehuman Sensor Lighted Makeup Mirror provides the brightest light. It gets turned on automatically when it detects your face and offers 5x magnification.
What magnification is good for a makeup mirror?
A magnification level somewhere between 5 and 15 is good for a makeup mirror. This helps you to have a detailed look at different parts of your face while applying the makeup products. And, if you wear lenses, a high magnification level always helps.
What's the difference between backlit and lighted mirrors?
Lighted mirrors are illuminated from the front, making them ideal for makeup applications. They are portable and travel-friendly. On the other hand, the light of a backlit mirror emanates from its back. They are used primarily for decorating a room. They are adjusted to the wall and are not portable.
What is the best lighting for putting on makeup?
Soft white light is similar to natural daylight and is great for putting on makeup. It also provides a cooling effect that calms your hand which aids in better application of makeup.
What is the difference between 5x and 10x magnification?
The magnification level of 5 provides a 1.5-inches field of view. So, it is good when you want to focus on a large section of your face. And, a magnification level of 10 provides only a 0.5-inch field of view. Thus, 10x magnification is ideal if you want to focus on very particular portions of your face.
How are lighted mirrors powered?
Some lighted mirrors work on electricity and others are powered with batteries.
Recommended Articles