15 Best Wall Mounted Towel Warmers For Your Bathroom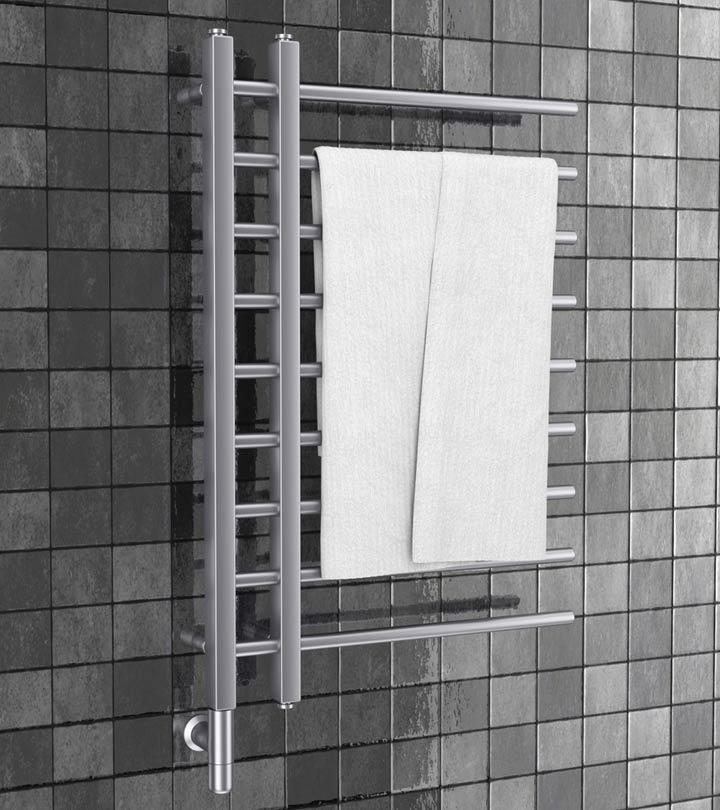 There's nothing that a relaxing long bath can't fix, no matter how stressed a day you had at work. Feeling the warm water droplets on the skin or soaking your body in a nice warm bath is a great way to relax those tensed muscles and lift your spirits. Now imagine stepping out of the shower and the cold air immediately hits your skin. Uncomfortable, isn't it? However, there's a way to deal with it. All you gotta do is wrap yourself with a warm towel and you can escape the chilliness until you get dressed. To help you continue the serenity post-shower a while longer, we have compiled a list of the 15 best wall mounted towel warmers.
15 Best Wall Mounted Towel Warmers For Your Bathroom-Buying Guide
This towel warmer from HEATGENE has 10 bars that evenly distribute heat across every bar. It is ideal for warming up to 2 bathrobes or large towels at a time. The energy-saving design takes just 30 minutes to reach the optimal working temperature which is 130°F. Built with overheat protection, it allows the user to run it 24 hours a day without burning the towel. Made using durable 304 stainless steel, this electric towel warmer is easy to clean as well.
Pros
Fast heating
Energy efficient
Easy installation
Reliable and durable
Minimum risk of overheating
Cons
The on-off indicator is placed on the bottom of the rail
One of the best wall mounted towel warmers, it comes with a built-in timer designed with LED indicator lights. The towel warmer has both hardwired and plug-in options available so you get to choose if you want to hardwire it to the wall or not. Constructed with 12 bars, it offers faster drying and better heat distribution. Made using 304 stainless steel, the power leg is hidden so that the elegance of the appliance isn't compromised. The wall mounted towel warmer also includes an optional garment hook with it.
Pros
Eco friendly
Faster drying time
Elegant construction
Built-in on/off timer
Included garment hook
Cons
May not be as easy to install
Upgrade your towel racks with this towel warmer from Amba that will keep them dry and warm. If you are conscious about electricity usage, then this towel warming rack is the perfect pick for you. The towel racks save electricity by reducing your laundry loads and adding a touch of style to your bathroom. It can be installed in bathrooms, spas, hotels, and even mudrooms. Made with the finest stainless steel, make sure you warm the towels by providing optimal temperature range in the racks.
Pros
Energy efficient
Great style
Keep towels dry and warm
Quick heating
Cons
Doesn't feature a timer switch
Featuring a 10 bar design, it is one of the best wall mounted towel warmers in the market. The cord-free design can be hardwired to the bathroom wall and is equipped to warm up to 2 bathrobes or large towels. This electric towel warmer also includes an automatic timer that allows you to set the start and stop time for convenience. Constructed with durable stainless steel, the heated rails are easy to clean. The free-cord design fits beautifully in any bathroom.
Pros
Easy to install and clean
Cord-free design
Automatic timer
304 stainless steel construction
2-hour battery backup
Cons
Doesn't have a plug-in feature
Tangkula Electric Towel Warmer has a plugin and wall mounted design for extra convenience. The 5.7ft long cord can be plugged into any standard 120V outlet. The multi-functional design quickly dries bathing suits and also warms up the towel after a relaxing bath. If you are worried about too much power consumption, then this electric towel warmer has the power consumption of a small light bulb, making it eco-friendly as well. The rails are waterproof, safe, and capable of maintaining constant temperature heating.
Pros
Reaches stable temperature in 5-10 mins
Dryer and heater
Waterproof switch
Compliments bathroom decor
Minimum power consumption
Cons
May require an electrician to install
The Amba Plug-In Towel Warmer is well-equipped with 10 bars of stainless steel for optimal drying. Available in polished or brushed stainless steel finish, both horizontal and vertical bars are heated. It has a built-in on/off switch and offers quick heating. This towel warmer is designed with a programmable timer that can be programmed 7 day/24 hours. The appliance can be wall-mounted or plugged in depending on the user's needs.
Pros
Built-in on/off switch
Heats quickly
Offers optimal drying
Both horizontal and vertical bars will be heated
Can be wall mounted or plugged in
Cons
The Tangkula Towel Warmer stands out from the rest for its unique and modern design. The towel warmer works both as a floor standing or wall-mountable structure and is equipped with 5 bars. Made using premium iron that is spray painted in white, the practical design is meant to fit any decor. The sturdy construction is portable and long-lasting. The towel warmer also comes with a manual for convenient installation.
Pros
Easy to assemble
Easy to operate
Works as a wall-mounted or floor-standing construction
Modern design
Portable construction
Cons
Doesn't have an automatic timer
Next on our list of the best wall mounted towel warmers is the INNOKA 2-in-1 Towel Warmer and Drying Rack. This portable appliance can be wall-mounted or used as a standing rack in any bathroom or laundry room with limited space. It keeps towels and robes dry, warm, and comfy for when you step out of the shower. Designed with a built-in thermostat, the mounted towel warmer maintains the temperature while conserving energy. Made using aluminum, the towel warmer reaches the optimum temperature of 43°C to 50°C within 30 to 40 minutes.
Pros
Easy operation
Designed with a light indicator
Can be set up in 2 ways
Built-in thermostat
Affordable
Cons
Doesn't have an automatic timer
Make sure to install it away from water
Having a warm towel waiting for you as soon as you step out of a nice long bath is truly a luxury. The Riviera Towel Warmer is constructed with low maintenance curved bars that are easy to clean. The cord-free design can be mounted to any bathroom wall. The model features 9 stainless steel bars that are capable of uniformly warming two bathrobes or large towels. This wall-mounted towel warmer is available in brushed as well as polished stainless steel.
Pros
Easy to clean
Quickly heats up
Features an automatic timer
Easy installation
Stainless steel construction
Cons
It is not a free-standing model
The  HSRS Regent Wall Mounted Towel Warmer comes in a luxurious nickel finish that will perfectly go with your bathroom decor. The mounted towel warmer can be used to warm your towels and dry your swimwear anytime. It comes with a 6.5-inches power cord or hardwire option. The electric towel warmer takes only about 15 to 20 minutes to heat up. It can be used to dry baby blankets and beddings as well.
Pros
Quickly heats up
Classy nickel finish
Warmer and dryer
Hardwire and power cord option
Aesthetic design
Cons
You are sure to beat the chill with this electric towel warmer rack from Knox Gear. Designed with an on/off switch and light indicator, the towel warmer can either be mounted on the wall or used as a free-standing model. Made using lightweight aluminum, the rack has a sturdy construction and offers durability. It showcases a sleek design with 6 aluminum bars that will provide you toasty warm towels when you step out of the shower. The affordable wall-mounted towel warmer would add a touch of elegance and luxury to your bathroom decor.
Pros
Easy to use
Sturdy construction
Can be set up in two ways
Features a light indicator
Affordable
Cons
The ANZZI Eve Modern 8-Bar Wall Mounted Towel Warmer quickly heats up to warm bathrobes, towels, hand towels, and washcloths. Crafted with stainless steel (certified by RHINO ALLOY), the black finish gives it a polished look. The energy-efficient model takes just a few minutes to warm the towels. Designed to save space, the towel warmer can be easily mounted on a bathroom wall. The ingenious design allows you to place more towels by utilizing the top shelf as well.
Pros
Available in polished chrome and black design
Reliable material
Space-saving
Quick heating
Cons
Doesn't work as a free-standing model
Keep your towels fresh throughout the day with this SHARNDY electric towel warmer. Powered by a standard electric outlet, the towel warmer is designed so that it can be used 24 hours a day. It has a compact and simple design, thus perfect for less spacious rooms. It also comes with a very low consumption rate, making it an ideal and affordable option for daily use. The towel warmer is made of 201 stainless steel and has a polished chrome finish.
Pros
Available in both plug-in and hardwired option
Built-in thermostat prevents overheating of towels
Offers silent heating
Low energy consumption
Comes with a 3-year warranty
Cons
Not ideal for saturated wet towels
Looking for the best wall-mounted towel warmer? This product from Warmrails comes in a sleek nickel finish and with the option of a power cord or direct wire. The towel warmer reaches the optimal temperature range in 15 to 20 minutes. It can be used to warm not just your towel, but dry your swimsuits, delicates, and bedding as well. The unit can be easily mounted on the wall to save space.
Pros
Heats up within 20 minutes
Ideal for drying delicates and swimsuits
Space-saving model
Affordable
Cons
Doesn't feature an automatic timer
Amba J-B004 towel warmer comes with a swivel hinge model that allows the unit to rotate 180 degrees. Moreover, each arm can be moved independently, making it an ideal option for warming multiple towels. The towel warmer heats up to a temperature of 136°F. It uses a standard voltage of 110V. Amba J-B004 towel warmer is made of high-quality stainless steel, thus perfect to fix on your bathroom wall.
Pros
Easy installation
Energy-efficient design
No battery required
Perfect for less wall space
Offers 5-year manufacturer's warranty
Cons
Slightly on the expensive side
We know that with a wide range of designs to choose from, it may be confusing to choose a model that's perfect for your home. However, with our detailed buying guide, you are sure to choose a model that fits your requirements.
Wall Mounted Towel Warmer Buying Guide
How To Choose The Right Towel Warmer?
Here is a list of factors that will help you choose the ideal model:
Capacity: Capacity determines how many towels you can hang on the rack.
Heating source: An electric heating source is always better unless you are planning to remodel the bathroom to integrate a hydronic system.
Mounting: You can go for mounted or standalone models. Mounted models take up more wall space whereas standalone models take up floor space.
Timer: Some models feature an automatic timer that shuts off after a certain time for greater convenience.
How To Use A Wall Mounted Towel Warmer?
Towel warmers are easy to use regardless of wall mounted or standalone models. Most towel warmers come with an on/off switch. Depending upon the time it takes to warm up a towel, you can leave it on the rack. Some advanced models also feature an indicator light or automatic timer.
Advantages Of A Wall Mounted Towel Warmer
A wall mounted towel warmer takes up no floor space as it is mounted on the wall. Plus, it adds a touch of elegance to your bathroom.
Wall mounted towel warmers can be considered as one of the best innovations for your bathroom since motion sensor faucets. Whether you hate the feeling of a cold towel on your skin after a shower or you simply are not a fan of soggy towels, towel warmers can be the perfect solution. From free-standing and wall-mounted to plug-in and hardwired models, towel warmers come in a wide variety of designs. We hope that our list of the 15 best wall mounted towel warmers available in the market helps you choose the one that's ideal for your bathroom. Do you have some suggestions? Do reach out to us in the comments below.
Expert's Answers For Readers' Questions
Is a towel warmer worth it?
Yes, they can be used not just to warm your towels, but dry your delicates, swimsuits, and bedding as well.
Can you leave a towel warmer on?
Most towel warmers take just about 30 to 40 minutes to get the job done. So, there's no need to leave it on overnight or for several hours. However, most towel warmers are designed to function continuously without the risk of overheating or burning your towel.
What is the purpose of buying a towel warmer?
A towel warmer helps your towel stay warm so that you can wrap it comfortably around your body without feeling cold when you step out of the shower.
Can you leave a heated towel rail on overnight?
Yes, most towel warmers are equipped to run 24 hours a day. However, it is best to check the product description to ensure how it works.
Are towel warmers dangerous? Can it catch fire?
Since most models are made with stainless steel, they are resistant to different environmental hazards. However, an electric surge can result in fire. So it is better to turn it off during lightning and power surges. And since you are dealing with high temperatures, it is a good idea to place the towel warmer away from the water or sink and also be careful not to brush up against the bars.
Do towel rails heat a bathroom?
Most towel rails provide enough heat to keep mildew and humidity at bay while also keeping your towels dry and toasty. But if you have a larger bathroom, the towel rails may not be efficient in keeping your bathroom dry and cozy.
Do heated towel rails use a lot of electricity?
Most heated towel rails are energy efficient and utilize very little electricity even if you run it all day.
The following two tabs change content below.

Latest posts by Mitha Shameer (see all)