10 Best Washable Incontinence Underwear For Women In 2022
Deal with incontinence by adding these washable incontinence underwear to your kitty.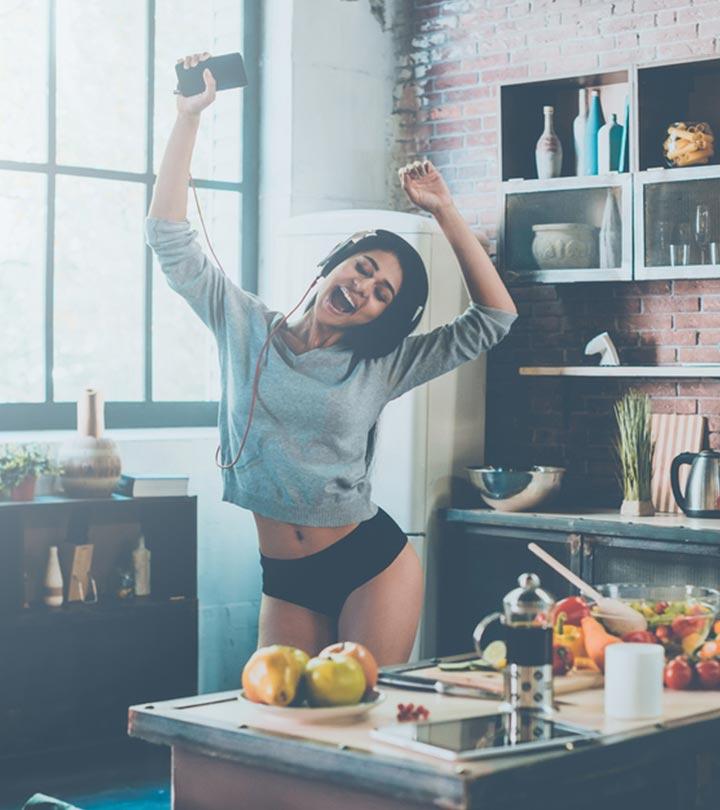 Urinary incontinence is a common issue faced by women from different walks of life. It is absolutely manageable with a few best washable incontinence underwear in your wardrobe. Sometimes, something as small as a sneeze can cause bladder leakage and ruin your day if you are not prepared for it. Other factors like stress, food-related triggers, pregnancy, childbirth, and even menopause can cause incontinence.
Incontinence affects daily life and can get embarrassing for women. Often it is temporary, but sometimes it becomes a part of life, and the best way to deal with it is by investing in good incontinence underwear. The market is filled with brands that offer several types of incontinent underwear. To save you the trouble of having to go through them all, we have compiled a list of the 10 best incontinence underwear for women. Read and find out more about each of them and choose the best according to your needs.
10 Best Washable Incontinence Underwear For Women For All-Day Comfort
Whether you're looking for relief on heavy-flow days or trying to keep your bladder in check, you can count on these panties to keep you protected throughout the day. Crafted with 95% bamboo viscose and 5% spandex, you can rest assured that it's going to offer unparalleled comfort. With a soft cotton lining, the panty offers full coverage from front to back and helps prevent embarrassing leakage. It features an extended protection layer and absorbs water droplets in a matter of seconds, keeping you dry and leak-free all day long. If you were wondering what the crotch area feels like, we're glad to let you know that it's made of 100% cotton.
Pros
Waterproof lining
High elasticity
Full coverage
Breathable fabrics
Cons
Has to be worn with sanitary napkins or tampons and the like
Hand wash only
If you've been scouring the Internet for high-waisted briefs that don't make you feel like you're wearing a child's briefs, you're in luck as we bring to you a comfortable solution! Not only do these briefs offer a super-comfortable fit, they can also hold up to 5 ounces of liquid! Made with a cotton and polyester blend, these panties will last for up to 250 washes and dry rather quickly. Available in 3 nude colors, you can simply slip into these odor-reducing panties and go about your day without worrying about leakage and staining.
Pros
Pack of 3
High-waisted
Available in plus sizes
Machine washable
Waterproof outer layer
Cons
It may not be suitable for heavy flow days or for someone with frequent urinary incontinence.
We're all aware that incontinence can be a real mood killer and for some, something that slowly takes their confidence away. But with the helps of this reusable incontinence underwear, we're going to ask you to give yourself a shot and reclaim yourself. Soft as a bunny and made of bamboo fiber and spandex, this underwear has your back with water resistant lining. With a higher waterproof platform in the front, you can trust the leak-proof crotch linings to keep you dry all day. Available in small to XXXL sizes, these panties will not let you down.
Pros
Available in many sizes
Pack of 3
Water-resistant lining
Bamboo fiber and spandex blend
Cons
Not of absorbency, must be supplemented with pads, tampons, menstrual cups etc.
We're bringing to you what might possibly be the best incontinence underwear for women! Wondering why we've jumped to this conclusion? Well, with its stellar reviews, it's quite hard not to! These highly absorbent urinary incontinence panties can hold up to 8 tablespoons of liquid and dry quickly, making them a great choice for those with light to moderate bladder leaks. The Speax washable underwear for incontinence comes with a built-in leak protection feature in the gusset and also boasts leak-resistant and odor-controlling properties to help keep you fresh. Even after you wear it for the whole day, it will not feel heavy and washing it is a piece of cake as it you can just throw it into the machine!
Pros
Machine wash
Odor control
Moisture-wicking
Does not feel bulky
Cons
Some may not like the high-waisted design of the washable incontinent underwear
If you have long been looking for some reusable underwear for incontinence, we're here to tell you that you can take some rest now and settle on these ones from Hatsure. Crafted with 95% and 5% spandex, these incontinent panties are the real deal. Not only are they suitable for controlling and preventing leaks during menstruation and urinary bladder control issues, they also offer moderate abdominal support, making them a great choice for new moms and postpartum recovery. The panty features a leak-proof lining and a breathable waterproof membrane for day-long comfort.
Pros
Highly-absorbent
Leak-proof
Moisture-wicking
Bamboo fiber cotton
Double-layer waistband
Breathable moisture barrier
Cons
Well, you can spend hours going over incontinence underwear reviews, or you can simply choose these panties by Bambody. Incredibly absorbent, the panty is super comfortable owing to the bamboo blend make. It features a leak-proof layer that extends from front to back, offering full coverage while the absorbent layer on the crotch area can hold up to 30 ml of liquid. That's as much as 2 tampons can accommodate! Want to hear something unbelievable? The cool and breathable underwear wicks away sweat 400% faster than cotton! Have we found the best incontinence panties? It sure looks like we have!
Pros
Wicks sweat 400% faster than cotton
Highly absorbent
Holds up to 30 ml of liquid
Pack of 3
Available in plus sizes
High cut leg
Cons
Sizing may run small, so you have to order a bigger size
This washable cotton incontinence underwear can hold up to 60 ml of liquid and ensures a leak-free experience to keep you fresh and active throughout the day. Highly recommended for urinary leaks and heavy flow period days, the absorbent area in this panty is roughly the size of a sanitary napkin. You can wash and re-use these panties for over 100 washes and they withstand the test of time. With a patented 3D multi-functional fiber structure, it keeps foul odors at bay while the multilayer technology used in the making of these panties ensures dryness and keeps chafing away for good.
Pros
Sealed seams
Machine wash
Available in 5 sizes
Multilayer technology for dryness
Cons
The absorbent strip/area is not removable.
If you're bored of wearing underwear that's simply just black, white, beige, or grey, this incredibly funky collection of women's washable incontinence underwear will have you jumping around in glee. From leopard prints to polka dots and vibrant colors to choose from, these panties can very well replace panty liners! The moisture-wicking and odor-repelling underwear are designed with built-in leak-proof features in the gusset and the multi-layers help absorb fluids quickly to keep you dry and relaxed. Available in sizes ranging from small to XXX-L, these panties also offer gentle compression to the waist.
Pros
Machine wash
Stretchable
Moisture-wicking
Odor-repelling
Leak-proof
Cons
Don't mind being called a "crazy cat lady"? We've got just the underwear for you! With an extended front for extra protection and a full-coverage back, you can rest assured that with these panties, leaking will be a thing of the past. Crafted with bamboo, these breathable panties are also suitable for those with sensitive skin. Ideal for all seasons, these highly absorbent panties will serve you well for light incontinence or spotting.
Pros
Made of bamboo
Biodegradable
Machine washable
More absorbent than cotton
Cons
May not be suitable for heavy flow days or severe incontinence
Whether you're trying to solve the problem of urinary incontinence or enjoy a relaxing day even when Aunt Flo comes to visit, you can trust these panties for incontinence from Continuon. Made with bamboo, these stylish yet comfortable briefs absorb 7 ounces of fluids. Good for at least 250 washes, these urinary continence underwear briefs are made with waterproof layers to eliminate all leaks. And the best part? You can simply toss the briefs in the washing machine and it dries fairly quickly too!
Pros
Machine-wash safe
Highly absorbent
Waterproof layers
Holds 7 ounces of fluids
Cons
Not available in plus sizes
Now that we've looked at the 10 best washable incontinence underwear for women in 2022, here are a few things you need to keep in mind before purchasing one for yourself.
How To Pick The Best Washable Incontinence Underwear For Women
Before settling on a panty or two, keep an eye out for the following features:
The first thing you need to determine when buying a pair of washable incontinence underwear is to figure out the purpose of it. Is it that you need it to prevent leaks brought on by urinary incontinence, is it that you need it for heavy flow days while menstruating, or do you simply need it as a replacement for panty liners when spotting? Look for briefs that can hold at least up to 7 ounces of fluids or liquids, so that they are good for mild incontinence. If you face severe leakage problems or have an overactive bladder, opt for absorbent underwear that can soak more. Even if you are wearing heavy absorbency panties, it is always wise to supplement the panty with panty liners, sanitary napkins, tampons, or menstrual cups for ultimate peace of mind.
Visibility under clothing
It's no secret that incontinence underwear are heavier, thicker, and bulkier than regular underwear. So, if you are the type of person who likes to wear figure-hugging clothes or are in a profession that requires you to do so, look for lightweight pairs. Alternatively, you can buy thick ones that offer better leak protection and wear loose-fitting clothes.
Some incontinence underwear can last you 100 washes while some may even last you for up to 250 washes. While most can be thrown into a machine for a quick wash, some are incredibly delicate and can only be hand washed. If you're the type who can't be bothered about being delicate with your delicate, make sure you choose ones that are machine-washable. However, all undergarments when handled with care and hand washed last longer and will serve you better.
Our bodies produce numerous fluids and more those specifically looking for incontinence underwear, the fluids can be narrowed down to blood and urine. Make sure you opt for underwear that is multi-layered, quick-absorbing, and also moisture-wicking so that all odors are kept at bay. Choose materials like cotton or bamboo, which is bio-degradable and absorbs more than cotton does.
Why Trust Stylecraze?
Priyam Gupta, the author of this article, is a fashion enthusiast. She loves to explore fashion trends and combines fashion with function. She curated the best washable incontinence underwear list after thorough research and reading many user reviews online. These underwear are the best way to manage urinary incontinence, and they also come with a waterproof lining. Additionally, their skin-friendly fabric can control odor.
Frequently Asked Questions
How does leak-proof underwear work?
Most leak-proof underwear are made of 3 layers. The inner layer, the one that's closest to your skin is made with a moisture-wicking material. It's designed to be water-repellent but also comes with channels for liquids/fluids to pass through. The central layer is a super-absorbent layer that holds all the fluids and liquids. The final or the outer layer is made of water-impermeable materials to prevent the fluids from leaking into your clothes.
How to wash leak proof underwear?
Machine-wash in a delicate cycle
Don't use harsh detergents
Use cold water and a fabric softener
Let it air dry
Always wash with cold water
Do not twist or wring
Don't put it in the dryer
Why should I buy washable leak-proof underwear?
No need to keep changing panty liners
All-day comfort and confidence
Lightweight although bulky
Environmentally-friendly
Looks like regular underwear
Can incontinence underwear be washed?
Yes, you can wash incontinence underwear without any hassle. Make sure you are washing the underwear with cold water to remove any kind of stain. It is also advised to not use any fabric softener as it can reduce the absorption power of the underwear.
How long can you wear incontinence underwear?
You can wear incontinence underwear for a period of three to 5 hours at a stretch. After that, it is recommended to change your underwear for hygiene purposes. The rule of the thumb should be to change the pad as soon as it is soiled.
How often should you change disposable underwear?
You should change disposable underwear at least four to six times a day to maintain good hygiene. You can also make your own routine based on the underwear's absorbency, your needs, and hygiene requirements.
Can reusable pads be used for incontinence?
Yes, you can use reusable pads for incontinence if you are facing light bladder leaks. However, they will not be effective if you are entirely incontinent.
Recommended Articles