14 Best Watches For Women In India
Adorn your wrists with these amazing watches so you never run out of time or style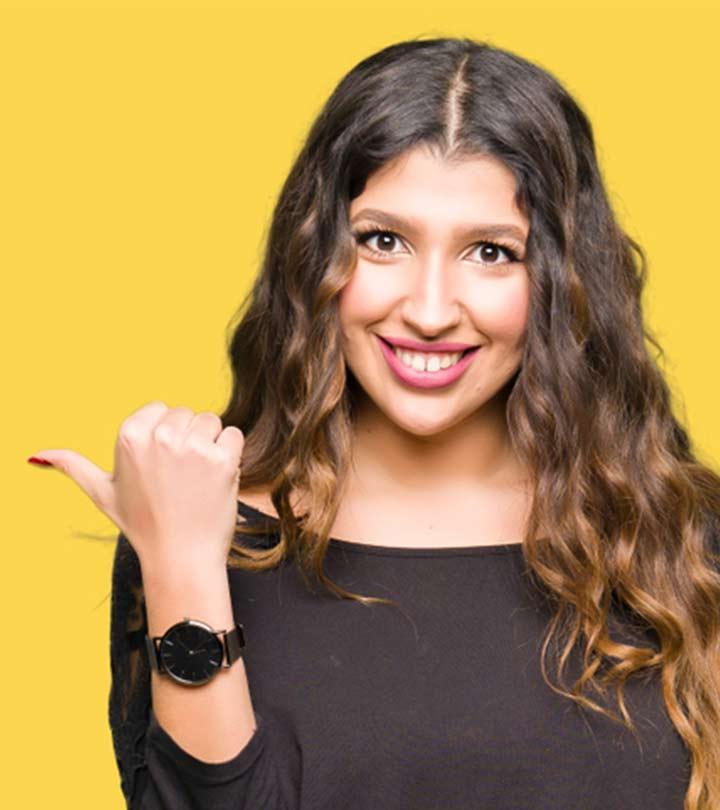 A sophisticated and charming women's wristwatch certainly adds weightage to your personality and style. Irrespective of what your preferred choice is, there is no dearth of styles you can pick from. You can go gaga over a wide array of dials, straps, shades, and tones to pick the best one for you.
However, there is always that one watch that we all prefer – whether it is for an office meeting or a dazzling weekend party. If you are on the lookout for a stunning wristwatch that can complement your style, you have arrived at the right place. Check this exclusive collection of the 14 best wristwatches for women available on the Indian market.
14 Best Watch Brands For Women In India
Fastrack's Analog Dial Women's Watch has a mineral glass covering that is sturdy. It is reflective and scratch-resistant. This quartz watch features a simple operation with minimal display. Its intricate design is kept stylish and smart to make a statement every time you adorn it. This signature style watch is crafted with a stainless-steel strap ending with a push-button clasp that can be pressed to release the strap. This attractive yet classy wristwatch has an analog display with a round dial and a backdrop of a pink shade. Plus, the stainless steel hour and minute hands add a touch of elegance to your personality.
Specifications
Dimensions: 9.4 x 8.8 x 8.7 cm
Weight: 160 gms
Pros
Water-resistant
Stainless steel
Scratch-resistant
Cons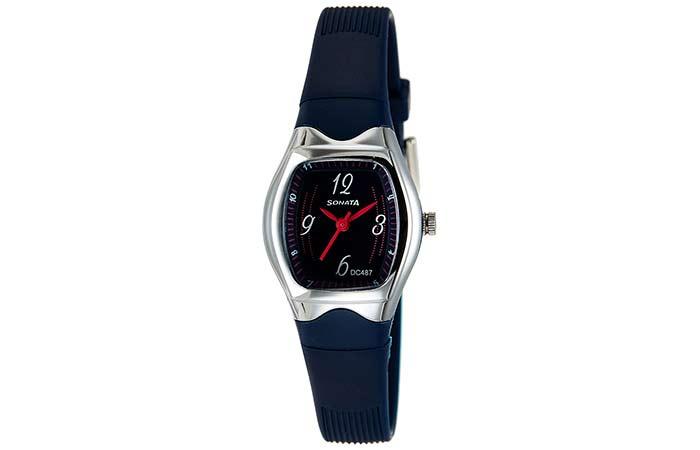 The Sonata Analog Blue Dial Women's Watch has a simple and sporty style. It is ideal for daily wear to the gym and outdoor activities. The blue strap of this watch is leather-made that has a unique-shaped dial. It is water-resistant up to 3ATM and has an analog display. The stainless steel body of the watch has a quartz movement type with a tang buckle clasp.
Specifications
Dimensions: 8.9 x 9.7 x 8.6 cm
Weight: 60gms
Pros
Water-resistant
Lightweight
Durable leather strap
Stainless steel case
Buckle clasp
Durable
Cons
Could be too small for some
This analog women's watch from IIK Collection has an elegant design. It is specially crafted for those who prefer a classic style. This high-quality, affordable wristwatch is light and lasts long. It is meant to complement your daily look. It features a silver round-shaped dial with modest appeal and petite style. Its ceramic strap is twin-shaded in silver and rose gold to add more to its look.
Specifications
Dimensions: 8.6 x 8.4 x 6.6 cms
Weight: 135gms
Pros
Lightweight
Lasting quality
Ceramic twin-shaded strap
Push-button clasp
Glass crystal material
Cons
The strap color may fade too fast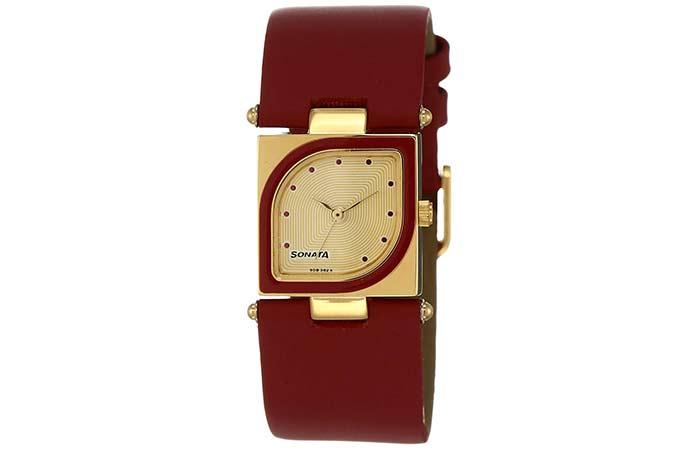 Sonata's Yuva Analog Gold Dial Women's Watch has a stunningly crisp design crafted with striking red straps to grab everyone's attention. This analog wristwatch has a square-shaped dial with gold and white colors and three plain hands for hours, minutes, and seconds. This watch is made out of leather and its strap is equipped with comfortable and secure buckle closure. Moreover, this watch is water-resistant up to 30 meters.
Specifications
Dimensions: 12.5 x 7.9 x 0.51 cm
Weight: 77gms
Pros
Unique-shaped dial
Lightweight
Durable
Tang buckle clasp
Water-resistant
Cons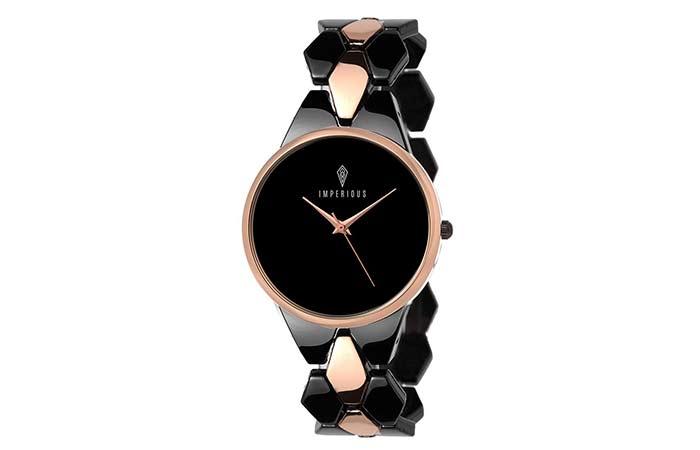 The Imperious Analogue Women's Watch has a timeless vintage design with elegant black straps that add class to your appearance. This analog display women's watch fits well onto the wrist and its quartz movement displays accurate time. This elegant and attractive watch has a luxurious feel and complements most types of clothing styles. Its stainless steel band stays soft and comfortable. The watch and strap are durable. Besides, the watch comes with a buckle closure clasp to ensure safety at all times.
Specifications
Dimensions: 8.2 x 8.1 x 6.9 cm
Weight: 130gms
Pros
Lightweight
Comfortable fit
Clasp buckle closure
Durable
Quartz movement
Stainless steel
Brass metal dial
Cons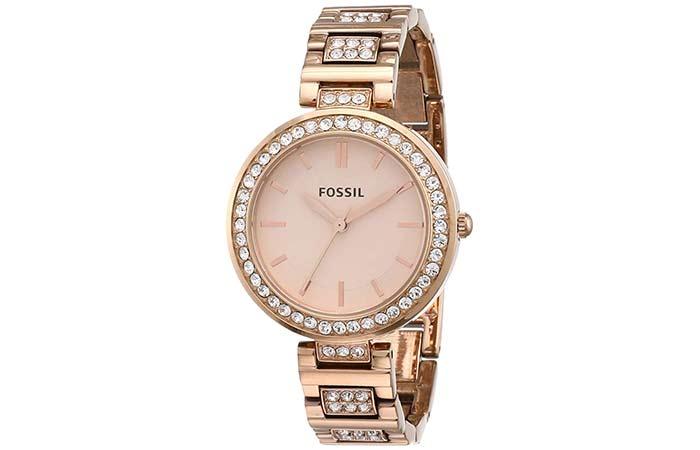 This Analog Gold Women's Watch from Fossil has a luxurious and elegant touch. It is embellished with a rose gold tone to enhance the looks and add that bling to your party look. It is equipped with accurate movement. This electronic wristwatch features quartz crystal movement and stainless steel straps that are durable. The watch has an analog display with a round studded dial and rose gold finish in the backdrop. Plus, it offers water resistance for up to 50 meters.
Specifications
Dimensions: 9 x 8.9 x 7.4 cm
Weight: 120gms
Pros
Durable
Lightweight
Water-resistant
Jewelry-style clasp
Stainless steel band
Cons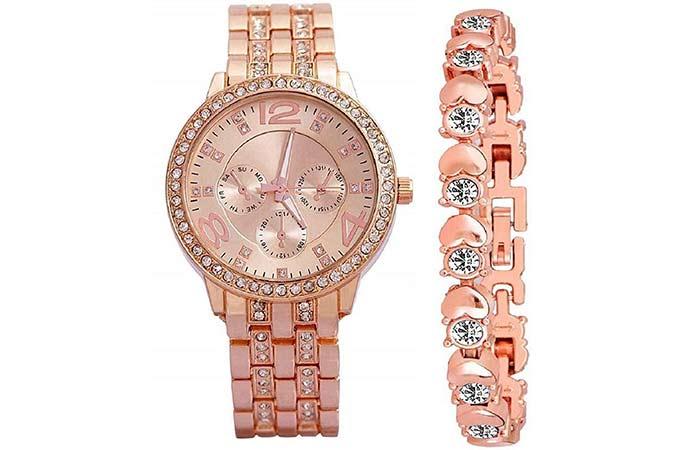 The Zuperia DiamondStudded Analogue Watch features exemplary craftsmanship combining elegant jewelry design with a watch. This stainless steel watch has a metallic finish with a rose gold shade. Its sleek band fits thoroughly to the clasp to offer secure and comfortable wear. This lavish and stylish watch and bracelet are lead- and nickel-free. They are skin-friendly and prevent allergies. Moreover, the high-quality rose gold plating stays intact for years without losing its shine.
Specifications
Dimensions: 10 x 10 x 10 cm
Weight: 50gms
Pros
Comfortable wear
Lightweight
Durable
Skin-friendly
Lead-free
Nickel-free
Lasting finish
Secure fit
Non-fading
Stainless steel
Cons
The Fastrack Analog Black Dial Women's Watch has a simple and stylish look with a smooth, polished finish. This silver-colored wristwatch comes with markings on the 12th and 6th hour with plain three hands to add a touch of elegance and simplicity. Its stainless steel metallic strap offers a rich feel. The uniquely designed black dial adds more style to its design. This watch is water-resistant up to 30 meters.
Specifications
Dimensions: 9.4 x 8.5 x 8.5 cm
Weight: 109gms
Pros
Stainless steel straps
Durable
Smooth finish
Water-resistant
Cons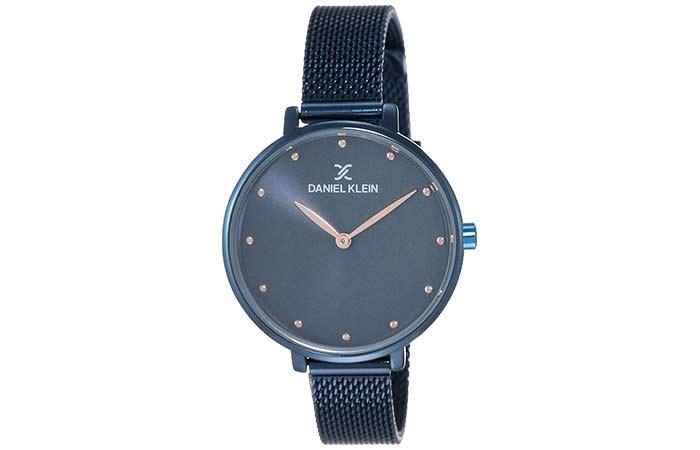 Daniel Klein's Analog Women's Watch has a midnight blue color that grabs everybody's attention. This sleek and elegant wristwatch has slim metallic straps that snug into a secure and comforting push button clasp. The watch'sround blue-tinted dial has a prominent appearance with minimal details in the background. This analog watch features a quartz movement and is water-resistant up to 30 meters.
Specifications
Dimensions: 8.8 x 8.6 x 7.6 cm
Weight: 140gms
Pros
Water-resistant
Secure push-button clasp
Comfortable fit
Durable
Cons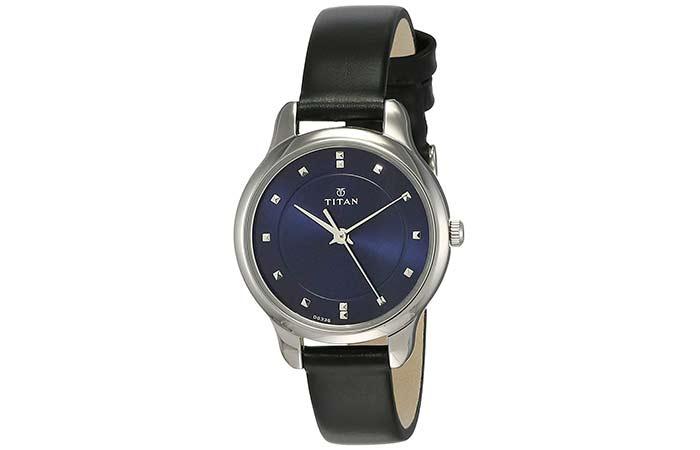 Titan's Ladies Neo-Ii Analog Blue Dial Women's Watch has a beautifully crafted round blue dial with an analog function. Its dial is strapped to a durable black leather strap. It is fitted with a traditional buckle lock clasp to let you wear the watch easily. This strikingly shiny dial is adorned with a silver bezel on the sides and the hands of the watch showcase quartz movement, which can be conveniently adjusted using the crown on one of the sides.
Specifications
Dimensions: 10.5 x 9 x 8.7 cm
Weight: 200gms
Pros
Lightweight
Metallic straps
Buckle lock clasp
Comfortable fit
Cons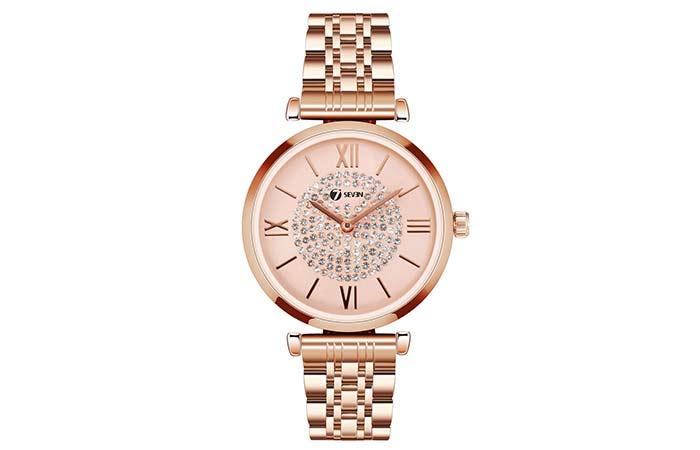 This Analogue Women's Watch from Seven has an edgy design adorned in a silver and gold finish to complement any look. This iconic watch showcases accurate quartz movement while requiring minimal maintenance. Its round rose gold dial is adorned with several studs in the middle. The metallic rose gold straps fit into the deployment buckle clasp for secure and easy locking. The watch is water-resistant up to 30 meters.
Specifications
Dimensions: 15.5 x 8.5 x 2.3 cm
Weight: 100gms
Pros
Water-resistant
Stainless steel
Lightweight
Deployment buckle clasp
Comfortable wear
Durable
Cons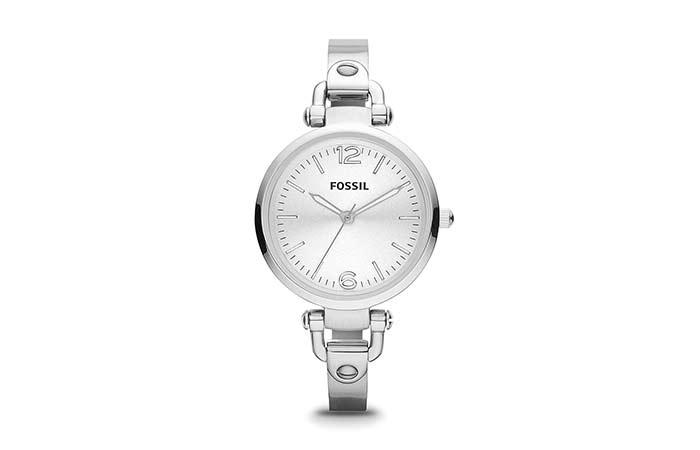 Fossil's Georgia Women's Watch has an exclusive and sleek design to complement one sophisticated style. Its round analog dial is accompanied by a stainless-steel strap that adds a feminine appeal. Its luminous display hands let you see the time even in the dark while the straps can be adjusted based on your wrist size. This stylish bracelet-like watch comes with automatic locking and the watch is designed in such a way that it is always protected from humidity and perspiration.
The watch features a silver dial with prominent markings whereas the mineral glass coating adds to the security and safety functionalities by preventing scratches. This petite women's watch is suitable to match any look. It is also water-resistant up to 50 meters.
Specifications
Dimensions:15.24 x 15.24 x 17.78 cm
Weight: 300gms
Pros
Water-resistant
Automatic locking
Sleek bracelet design
Durable
Scratch-free
Luminous hands
Stainless steel strap
Cons
None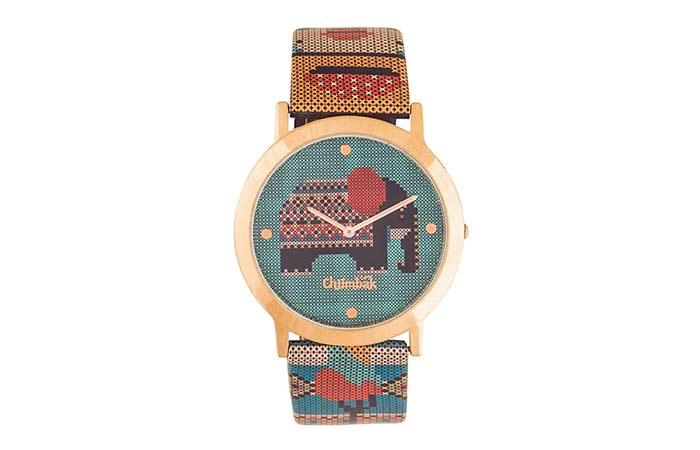 The Tribal Elephant Aztec Watch from Chumbak has a casual and chick design featuring a metallic analog dial. This vintage watch has a tribal elephant motif with a modern chumbak design touch. The straps adorn modern Aztec prints accompanied by a cross-stitch design. This watch is easy to maintain and focuses on attention to detail. It is water-resistant up to 30 meters.
Specifications
Dimensions: 3.88 x 3.56 x 3.56 cm
Weight: 200gms
Pros
Water-resistant
Vintage tribal design
Easy to maintain
Durable
Cons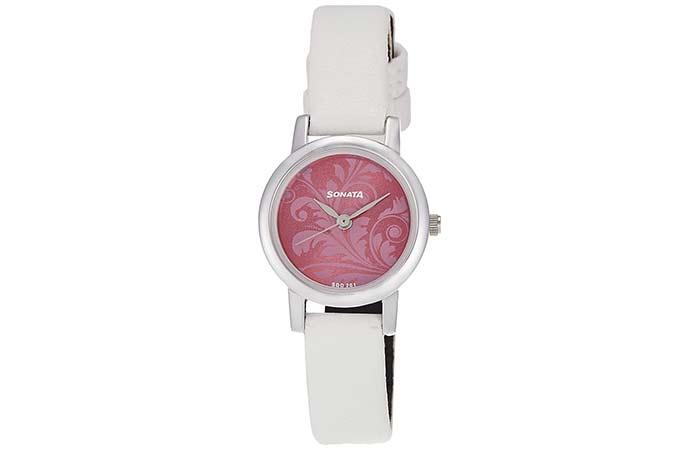 The Sonata Analog Pink Dial Women's Watch has an eye-catchy design due to its pink-tinted self-print dial. This watch is made of mineral glass material and features white leather straps with a small dial that allows one to carry a casual yet attractive look. The analog display watch is equipped with a quartz movement type to show accurate time and offers water resistance up to 30 meters. The watch's buckle clasp lock lets you wear and remove it with ease.
Specifications
Dimensions: 11.6 x 7.9cms
Weight: 9gms
Pros
Lightweight
Water-resistant
Buckle clasp lock
Leather strap
Self-printed dial
Cons
These are the top 14 women's watches available on the Indian market. But what factors make a good women's watch? Understanding them can help you make a better purchase decision.
How To Choose The Best Watch For Women?
Choose a wristwatch according to your wrist size. If your wrist is broad, go for a watch with a bigger dial. Those with smaller wrists can go for small or medium dial watches.
Wristwatches for women come with leather or metallic straps. Choose the one that complements your regular style and taste. However, be careful while you choose. Low-quality leather can start cracking while low-quality metal can start fading with time.
Wristwatches come with analog or digital dials. An analog dial has a numbering system with hands, whereas a digital dial has a digital display of time. Choose as per your preferences.
Conclusion
A gorgeous, durable wristwatch that complements your taste is a must-have in today's times. We have shortlisted some of the top sellers onthe market. We believe these would enable you to pick the right wristwatch for yourself – an accessory that shall stay with you for a long time to come.