11 Best Water Based Mascaras Of 2021 For Luscious Lashes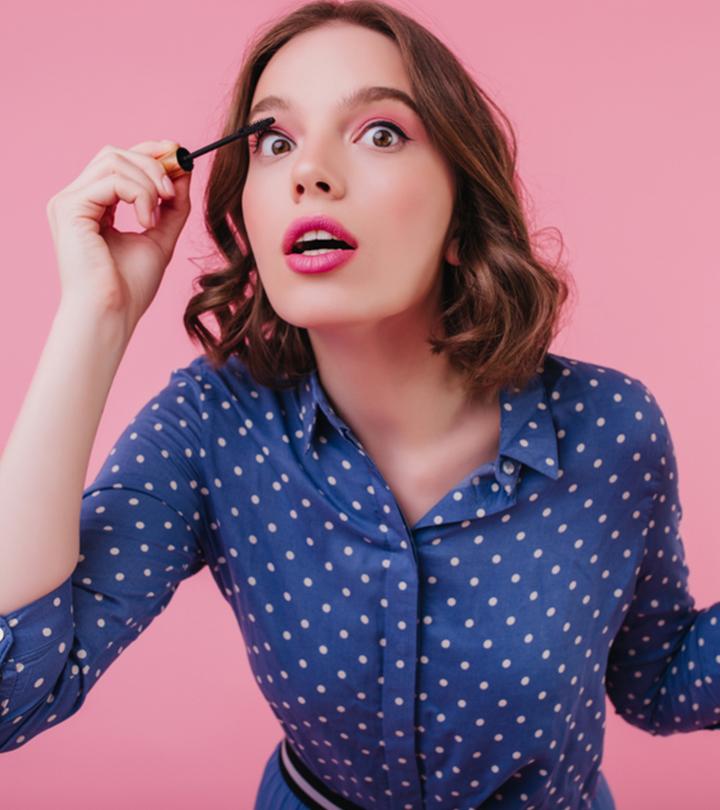 Choosing the right mascara can be a rather daunting task, as there are many different kinds available in the market, each claiming to be the best. But one simple rule applies when you have eyelash extensions— you cannot use an oil-based mascara. The oil breaks down the glue used to hold the extensions in place, and the weight of the mascara causes the fragile extensions to fall off. If you do want to add a bit of extra oomph, you need to use one of the 11 best water-based mascaras on the tips of your extensions.
Usually, extensions do not require mascara as they are already thick and voluminous. But mascara does give a dramatic pop to your eyes, and when your lash extensions are at the fag end of their life because of shedding, it gives you a polished look. Also, if you have sensitive eyes, or wear contact lenses, a water-based formula mascara is the way to go as it's free of chemicals. They are also lightweight and can be easily washed off at the end of the day. We hope our review of the 11 best water based mascaras will help you achieve those luscious and thick eyelashes you have always dreamt of.
What is water based mascara?
Water based mascaras do not contain any added oils, have a neutral pH, and are chemical-free. It's also the only mascara that is safe for eyelash extensions and unlike oil-based mascara, it doesn't break down the adhesive that keeps the extensions in place. Water-based mascaras as a rule do not contain as many additives and chemicals as other mascaras, which means they are ideal for people with sensitive eyes. They also dry faster and can be easily removed. They are water-resistant to an extent and come with natural hydrogen PG levels, which means they are safe for people with sensitive skin or allergies.
11 Best Water Based Mascaras Of 2021 For Long Sweeping Lashes
If you are a fun person looking for fun makeup, this is just the product for you. It promises you voluminous eyelashes with its new waterproof formula. It features a conic fiber brush that catches each and every eyelash, giving it volume and definition, without forming globs or clumping. You don't have to bother with eyelash extensions with this mascara as it gives an instant false lash look to your natural lashes. You can confidently go through your day without fear of it fading, flaking, or streaking. And you don't have to worry at the end of the day, as a gentle makeup remover or micellar water will remove all traces of your mascara. This cruelty-free, water based mascara has 4 other options to choose from, so go for that bold and dramatic look and watch the envious looks come your way.
PROS:
Cruelty-free
Waterproof
Long lasting
Easily removable
Doesn't clump or glob
Comes with a conic brush
CONS:
Just one coat of this 4D silk fiber awesome mascara will give instant volume and definition to your eyelashes, making them look thicker and fanned. It features a soft fiber brush that ensures smooth and creamy application on each and every eyelash without flaking, smudging, clumping, or drying out. This waterproof and long-lasting mascara gives your eyelashes gorgeous length and thickness that lasts through the day, and is very easy to remove with lukewarm water or a simple makeup remover. Its hypoallergenic formula contains gentle ingredients that are safe for even sensitive eyes and people who wear contact lenses. Suitable for all occasions, this water based mascara is a must-try for longer, thicker, and voluminous eyelashes.
PROS:
Waterproof
Cruelty-free
Hypoallergenic
Smudge-proof
No clumping
Long lasting
Easy application and removal
CONS:
Contains parabens and beeswax
Have you always craved long, curling lashes? Well, this lightweight, water based mascara for lash extensions with its unique natural wax formula holds the curl all day and doesn't weigh them down like oil-based mascaras. It uses flexible tubing polymers that wrap themselves around each lash, ensuring that each lash has 360° coverage, giving it superior length and volume for fuller lashes. And it stays on perfectly through the day as it's sweat-proof, smudge-proof, and doesn't clump. Its corset shaped brush ensures an even application and applies just the right amount of mascara to all the lashes. Its water-based formula is gentle on lash extensions and doesn't harm them in any way.
PROS:
No animal testing
Sweat-resistant
Smudge-proof
Corset shaped brush
Unique natural wax formula
CONS:
Contains parabens and beeswax
If you are fed up with your mascara smudging, clumping, or flaking, it's time for a change! This water based mascara is deeply pigmented and immediately creates bold and dramatic lashes with just one application. This hypoallergenic water-based mascara instantly volumizes and lengthens your lashes and is a complete game changer in eye makeup. This 4D silk fiber mascara has a gentle yet powerful formula and coats your lashes flawlessly for that ultimate glamorous look. This long-lasting and deeply pigmented mascara is hypoallergenic, and doesn't smudge or flake. Its natural and non-toxic formula makes it completely safe for those with sensitive skin or who wear contact lenses. You can be assured of a natural look with the silky, feathery smooth formula of this mascara.
PROS:
Hypoallergenic
Waterproof
Long lasting
No smudging
No flaking
Deeply pigmented
CONS:
Some may find it a bit clumpy
Have you ever envied those models in glossy magazines for their long, sweeping eyelashes? This water based volumizing mascara has a unique formula that prevents clumping, keeps your eyelashes soft, and separates, lifts, and builds lashes up to 5 times their natural thickness. It comes with an innovative curved brush that instantly thickens every individual eyelash evenly for a luscious and bold look. Infused with panthenol and ceramide-R, this water based mascara conditions and protects your lashes. The end result is no flaking, and soft and supple lashes that are to die for.
PROS:
No clumping
Voluminizes up to 5 times
Unique curved brush
Contains panthenol and ceramide-R
CONS:
Contains parabens and PEGs
Make a difference to your beauty quotient with this amazing mascara! This hypoallergenic, water based mascara by Maybelline comes in an intense black color and not only lengthens but also defines your lashes so that your eyes always look gorgeous and bold. This clump-free formula features a unique lash catching mini-brush that separates and coats each eyelash, including the hard-to-reach ones. Made of safe ingredients, it's suitable for the most sensitive skin and also for those who use contact lenses. And you never have to worry about your mascara forming globs or clumps. This waterproof mascara ensures that your mascara never smudges or streaks and you always have that poised, freshly groomed look.
PROS:
Hypoallergenic
Waterproof
Ophthalmologist-tested
Contact lens safe
Lash catching mini brush
CONS:
Ranking among the best water based mascaras for eyelash extensions, this vegan product takes your beauty regimen to a whole new level. This lash lengthening mascara uses iron oxide coated with flower cutin and clay to give you fuller, smooth, natural looking lashes without globs and clumps. Flower cutins, the delicate coating that protects a flower's petals keeps your eye makeup fresh all through the day. The water-resistant formula of this natural water-based mascara makes it easy to remove without scrubbing and damaging your eyelashes. It features a uniquely designed brush that separates and coats each lash and also comes with a convenient mirrored tube for application while you are on the go.
PROS:
Vegan
Cruelty-free
Paraben-free
Gluten-free
Silicone-free
Fragrance-free
No mineral oil
CONS:
Some might find its consistency a bit dry
Be the showstopper at any occasion with this water based mascara that gives your lashes up to 20 times more volume without the annoying globs and clumps. It features a unique curved brush that hugs the curve of the eye and covers your lashes from root to tip with loads of color and combs out any clumps. The bristles are precisely designed so that each lash is separated for flawless application and monster volume. This mascara is suitable for any skin tone or eye color and is sure to turn heads whenever you apply it.
PROS:
Vegan
No phthalates
No mineral oil
No formaldehyde
Talc-free
Sulfate-free
CONS:
Especially designed for the confident and poised woman, this 4D silk fiber water based mascara gives your eyelashes ultimate volume and length. It is deeply pigmented and spreads evenly on the bristles of this unique brush, which wraps each lash for voluminous eyelashes. The smudge-proof and non-clumping formula ensures that you never have to deal with spidery, flaky, and unnatural looking lashes again. This mascara can be removed easily with lukewarm water or lotion. Just brush your eyelashes lightly with this mascara and you can carry long, thick, curly eyelashes with glam for the rest of the day.
PROS:
Hypoallergenic
Long lasting
Waterproof
Deeply pigmented
Easy to remove
Lengthening and volumizing
CONS:
Some feel it might clump a bit on drying
Long, sweeping eyelashes are now just a stroke away! This gel based formula defines lashes naturally by lengthening, glossing, and enhancing them to perfection. Your lashes stay pliant, clump-free, silky, and flake-free giving you a picture perfect look. This jet black, water-based mascara separates each eyelash and thickens them with an even coat, giving them a striking and beautiful look. It features a bushy, easy-to-use brush that applies mascara evenly from root to tip. This long lasting mascara will make sure that you look poised and well groomed through the day.
PROS:
Long lasting
Gel-based
No clumping
Ophthalmologist-tested
CONS:
Contains SLS, beeswax, carmine, and PEGs
You can really up your WOW factor with this mascara that not only beautifies but also looks after the health of your lashes. This water based mascara features a large, lash maximizing brush that thickens, lengthens, and voluminizes each and every lash from base to tip. Its highly pigmented formula creates high definition without any clumping, flaking, or smudging. Its high quality ingredients condition your lashes and protect your eyelash extensions. This long-lasting, non oil based mascara is enriched with vitamin B and is ideal for sensitive eyes and contact lens wearers. It's formulated specifically for use with semi-permanent lash extensions and lower lashes for dramatic definition and color.
PROS:
Vitamin B5 enriched
Long lasting
Smudge-proof
Can be removed easily
Ideal for sensitive eyes
Safe for contact lens wearers
CONS:
Some may find its texture thick and clumpy
Now that you've been through our review of the 11 best water based mascaras, let us give you a few guidelines to follow while choosing your mascara so that you can get the best out of it and always have dramatic and bold eyes.
How To Choose Water Based Mascara
If you like the usual, evenly spaced lashes you need to go for a light formula. But you will require a specialized mascara if you are looking for a specific effect. A curling mascara would give an upward lift to your eyelashes as it contains resins and waxes. In the same way, you can decide on a lengthening or volumizing mascara. As far as colors go, black is always a safe bet, unless you have blonde eyelashes, in which case you should use a black brown mascara.
As with all makeup, you always need to read the ingredients carefully to see that there are no harmful chemicals or additives. Also, if you are particular about it, check whether the product is vegan and cruelty-free or not.
A big and bushy brush will give you similar eyelashes, while a brush with spiky plastic combs will ensure that each lash is separated.
Select a mascara that is not waterproof:
It's better to avoid a mascara that is waterproof as they are difficult to remove and you may damage your eyelash extensions while scrubbing the mascara off. The lashes will fall out and can also damage your natural eyelashes. A water-resistant formula is better as it's easier to remove and won't leave streaks.
Choose a mascara with a sealant:
This not only increases the longevity of your eyelash extensions, it also provides nourishment to keep your extensions and natural lashes healthy.
Look for a mascara that has added nutrients:
Having vitamins and other added nutrients in your mascara can keep your natural lashes strong and healthy. The added vitamins like vitamin B5 can assist in the overall growth and stimulation of lash follicles.
Water-based mascaras are a godsend for people with sensitive skin as they don't contain oils, additives, or chemicals that can irritate your skin or eyes. And that's the only type of mascara that you can use with eyelash extensions as they are light on the lashes, and give them volume and thickness without dissolving the adhesive that keeps them on. And another thing going in favor of water-based mascaras is that they dry faster and are pretty easy to remove. We hope our review of the 11 best water-based mascaras will help you in your quest for the perfect mascara to highlight your beautiful eyes.
Frequently Asked Questions:
How do I know if my mascara is water-based?
All water-based mascara comes with natural hydrogen PG levels. The chemical-free nature of this mascara makes it the preferred option for people with sensitive skin or skin allergies. Also, it is easy to remove and dries faster compared to oil-based or silicone-based mascaras. Some natural water-based mascaras also come with beneficial ingredients like provitamin B5, which is good for healthy skin and hair.
Can you use water based mascara on eyelash extensions?
If you use an oil based mascara, your eyelash extensions are likely to fall off as they are rather heavy and fragile. A coat of a water-based mascara is a much safer option and it will give your lashes extra volume.