11 Best Water Dispensers (2020) – Reviews And Buying Guide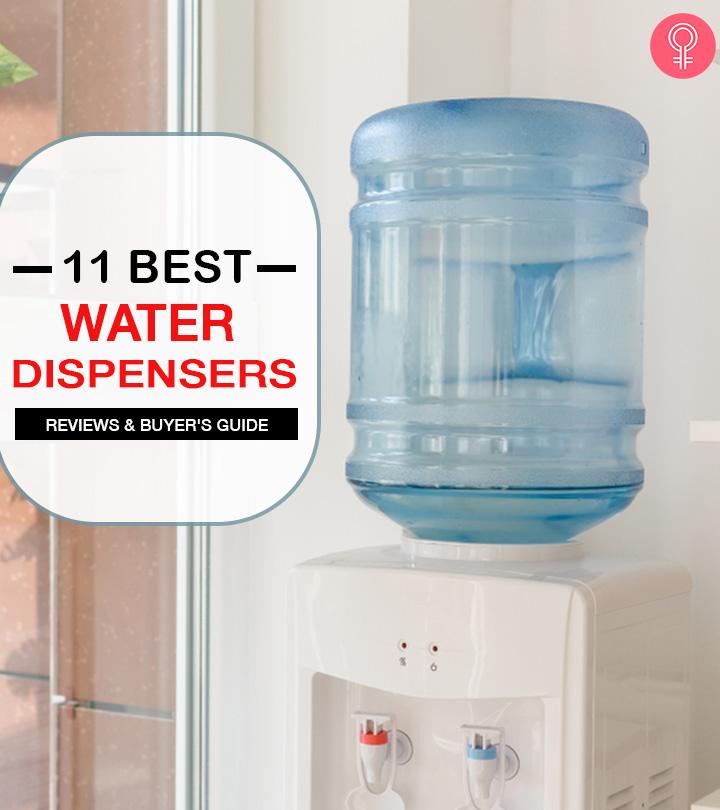 Getting clean, filtered water is a must at home and in the office. The perfect water dispenser filters and cools drinking water in one go. That is why it is such an essential appliance.
From counter top to free-standing to electric stainless steel units – water dispensers are available in a variety of makes, shapes, and sizes. We have compiled a list of the best water dispensers to assist you in picking the right dispenser for your residence or office. Check them out below! 
11 Best Water Dispensers – Reviews
Brita is one of the first choices a customer opts for when they are in search of the best water filter pitcher for their refrigerator. Brita Ultra Max Filtering Dispenser can filter and fill 18 cups of water. It has a large capacity but does not occupy much space in the refrigerator. The Ultra Max is easy to assemble and maintain. It is made of BPA-free plastic.
Brita Ultra Max Filtering Dispenser can be used in the refrigerator or on a counter top. Its durable filter lasts up to 3x longer than usual filters and can filter up to 120 gallons of water before you need to change it. It filters out chlorine, mercury, asbestos, benzene, cadmium, and 99% of the lead in the water. You may also replace it with the standard filters in the dispenser. The filter reminder function is loved by many users. Replacing the filter is not pricey either as a pack of two is priced at less than $20.
Features
Size: 37 x 5.67 x 10.47 inches
Material: BPA-free plastic
Type Of Dispenser: Filtering dispenser
Warranty: 30-day unconditional money-back guarantee
Pros
Durable filter
BPA-free
Capacity of 18 cups
Affordable
Easy to pour
Filter change reminder
Compact
Cons
Average quality
Difficult to wash
My vision 5 Gallon Water Bottle Pump Dispenser is made of BPA-free plastic. Its hose is made of food-grade 304 stainless steel and thick ABS plastic. This drinking water dispenser has no smell or toxins. It is designed with a rechargeable 1200 mAh battery that runs for 30-40 days or filters 4-6 cans of 5-gallon capacity on a single charge. It can also be used with cans of various other capacities.
This drinking water pump is apt for watercans with a neck size of 2.16 inches or 5.5 cm. Once switched on, it pumps up to 0.16 gallons of water and stops on its own. You need to long-press the button for 3 seconds to change the mode to pump water continuously.
This brand offers good customer service. Customer service issues are usually resolved within 12 hours. It is a portable unit that can be used both indoors and outdoors. 
Features
Size: 5.35 x 3.62 x 3.39 inches
Material: Stainless steel
Type Of Dispenser: Electric
Pros
Safe material
USB-powered
Fits standard bottle sizes
Portable
Easy to set up
Cons
Difficult to clean
Battery drains quickly after using for a few months
Avalon water dispensers are some of the best water dispensers for residential use. This one is a bottom-loading dispenser with 3 temperature modes ​​​​–​ hot, cool, and cold – making it perfect for use throughout the year. For energy efficiency, there are separate power buttons fixed behind the system for hot and cold water.
You may use 3-5 gallon water bottles with this dispenser. The bottom-loading compartment opens and closes to safeguard your water bottle. Independent, easy-to-use push switches are available to adjust the temperature. Just press the temperature switch of your choice and let the water flow through the spout.
The hot water faucet dispenses hot water that is perfect for coffee or tea. It is also equipped with a safety lock to safeguard kids and pets. Using this Avalon water dispenser in the dark is easy as has dim built-in light indicators. It also has an indicator for replacing the bottle. The removable drip tray helps in cleaning the dispenser.
Features
Size: 13.2 x 12.2 x 41 inches
Material: Stainless steel
Type Of Dispenser: Self-cleaning water cooler
Warranty: 1 year
Pros
Easy to load
Multiple temperature settings
Compatible with 3-5 gallon water bottles
Child safety lock
Energy-efficient
Cons
Brio Self Cleaning Bottle less Water Cooler Dispenser is a pre-assembled unit. Its detachable drip tray is made of BPA-free plastic and can be washed in the dishwasher. It comes with a user manual comes that contains details about the warranty and product set-up.
To fix this self-cleaning water cooler, you require a grounded outlet with at least 8" inches of space from the wall. This is required to keep the coils away from the wall and prevent any damage to the system behind the unit.
This dispenser has 2 stainless steel tanks for dispensing hot and cold water individually. They can be switched on independently with the switches behind the dispenser. The cold tank can hold 3.6 liters, and the hot tank can hold 1 liter of water.
Features
Size: 45.5 x 17.5 x 14.5 inches
Material: Plastic and metal
Type Of Dispenser: Water cooler dispenser
Warranty: 1 year
Pros
Bottom loading reservoir
Versatile temperature settings
Self-cleaning ozone feature
Energy-efficient
Low noise
Cons
Not suitable for outdoor use
Must be cleaned regularly
Cannot dispense water during self-cleaning
This hot and cold water dispenser has a capacity of 5 gallons. This system has a 550 watt heating power and 75 watt cooling power. It also comes with an energy-saving mode. This space-efficient model is an ideal office water dispenser. The water can needs to be loaded on top.
This unit consumes more power to dispense hot water. The water heated in this system is dispensed at a temperature of 94° F,and it chills water to 59° F. It has the efficiency to maintain its temperature with its thermoelectric cooling system.
This dispenser is known for its energy-efficient operation and compact design. Its sleek model has a chic black exterior that is perfect for an office space. The most amazing feature of this dispenser is the storage cabinet below that is ideal for storing extra drinks. However, keep in mind that it is not a refrigerator.
Features
Size: 13 x 13 x 35 inches
Material: Plastic
Type Of Dispenser: Free-standing hot and cold water cooler
Pros
Silent dispenser
Dispenses hot and cold water
Energy-efficient
Extra storage space
Cons
Top-loading dispenser
Sold via third party
Avalon A12 Countertop Bottleless Water Dispenseris made with long-lasting stainless steel. It is equipped with 3 types of temperature functions. As there is no water storing reservoir, this dispenser needs to be directed hooked to the water line. Its double filter treats tap water to separate impurities and harmful sediments.
The installation pack comes with 20' of ¼" tubing, 3-way plastic ¼" adapter, an under-sink  3/8″ adapter with a shut-off valve, and a filter flushing adapter. The instructions are illustrated for easy assembling of the unit. The components are sturdy and safe to handle.
After setting up the dispenser, switch it on for a few minutes to flush out the system. The taste, color, and odor of the water change as the water flows through the dispenser. Since this Avalon dispenser is small, it has a low water capacity.
Features
Size: 13 x 12 x 19 inches
Material: Stainless steel
Type Of Dispenser: Counter top
Warranty: 1-year limited warranty
Pros
Compact
Self-cleaning ozone system
Dual filtration system
3 temperature modes
Easy to set up
Cons
Small capacity filters
Costly maintenance
Brio Self Cleaning Bottom Loading Water Cooler Dispenser comes with 3-way temperature settings and a push-button faucet. It has alert lights set up for maintenance and refilling. This water dispenser can accommodatea 3-5 gallon water jug. The child safety lock and self-cleaning technology are its additional features.
Its internal parts are made with a combination of stainless steel, ABS materials, polycarbonates, and ceramics. This free-standing is innovative and long-lasting. Its self-cleaning technology filters water without any impurities and keeps it safe from any bacterial contamination.
Just like other top-rated water dispensers, this Brio dispenser can also be assembled and maintained easily. Its push-button controls and indicators help you choose the temperature and alert you when the water has reached the required temperature. It is a perfect fit for an office or home.
Features
Size:44.9 x 17.2 x 14.2 inches
Material: Stainless steel
Type Of Dispenser: Bottom-loading water cooler
Warranty: 1 year
Pros
A variety of temperature controls (hot/cold/room)
Self-cleaning
Low maintenance
Child-safety lock
Durable
Energy-efficient
Cons
Slightly noisy compressor
Unreliable indicator lights
Primo Top Loading Water Cooler has a durable stainless steel structure and a removable, dishwasher-safe pet bowl. It also has an LED night light with a fast-flowing water feature and a spill-proof bottle holder.
This Primo water cooler dispenser has a pet station with a function to program and dispense water for your pet when you are not around. This model also has kid-friendly functions and a safety lock feature. This BPA-free water dispenser has a variety of functions within its sleek frame.
Features
Size: 10.8 x 11.7 x 36.4 inches
Material: Stainless steel
Type Of Dispenser: Top-loading water cooler
Warranty: 1-year limited warranty
Pros
BPA-free
Pet-friendly
LED nightlight
Kid safety lock
Leak guard
Detachable drip tray
Cons
Difficult to lock the pet bowl
Not suitable for commercial spaces
Cost way Top Loading Water Cooler is a sleekly designed cooler that serves chilled water. It has multi functional water dispensing functions. It is a well-known tri-temperature water cooler that has a good control panel and LED indicators that alert you on water usage. Its sleek design makes it ideal for commercial spaces.
This product is a versatile dispenser that serves water at three different temperatures. Therefore, it is perfect for making beverages and meals. Its child safety lock is user-friendly, and it also has a built-in ice maker that can make up to 4 pounds of ice at a time. This water dispenser is easy to use, compact, and lightweight.
Features
Size: 12 x 14 x 39 inches
Material: Plastic
Type Of Dispenser: Top-loading water cooler
Warranty: 3 months
Pros
Sleek design
Compact
Lightweight
Easy to use
Child safety lock
Built-in ice-maker
Dispenses hot and cold water
Cons
Noisy
No temperature adjustment option
Expensive
Exc Mark Auto Bottled Water Pump is an easy-to-use water pump with a volume control button to adjust the volume of water between 300 ml, 500 ml, and 1L. This unit has one button to pump and auto-stop when the required level of water is reached.
This water dispenser is BPA-free and compact with wireless control features. The quite pumping motor is perfect for both residential and commercial purposes. The built-in rechargeable battery runs for 30 days and pumps 30-40 gallons of water when it is completely charged.
It has a unique design that is ideal for 1-5 gallons of water bottles or jugs. It comes with a 60-day money-back guarantee.
Features
Size: 14 x 10.7 x 6.6 cms
Material: BPA-free plastic
Type Of Dispenser: Water pump
Warranty: Life warranty
Pros
Safe
Quiet functioning
USB-rechargeable
Compatible with water cans of various sizes
Cons
Short nozzle
Slow water flow
YOMYM Water Bottle Pump has a built-in copper compressor for dispensing cold water around 35-45°F. The hot water is this dispenser heats up to 180-195°F. Its cold tank has a 4-liter capacity, and it has two child safety options. One safety lock is for hot water and the other is for the anti-tipping chain.
This water bottle pump is Energy Star-certified and highly efficient for both cooling and heating purposes. Its energy-saving feature controls the inflation in your electricity bill.
Features
Size: 5.5 x 3.5 x 3.4 inches
Material: Stainless steel and plastic
Type Of Dispenser: Water bottle pump
Warranty: 1 year
Pros
Two child safety features
Heats and cools water
Fast and reliable compressor cooling system
Built-in tank drain
Easy to clean
Cons
Heavy
Replacing the bottle is difficult without spillage
A water dispenser can make your life very easy. However, there are some things that you need to keep in mind before you buy the perfect one for your needs. Check them out in the next section.
Key Features To Look For In a Water Dispenser – Buyer's Guide
Size: Choose a water dispenser based on the space available. Try to choose a sleek and compact dispenser that can fit in any space.
Capacity: The requirement of water in a day depends on your family or team. Based on whether the dispenser is for home or commercial use, choose a dispenser with good purification and storage capacity.
Weight: Make sure the dispenser you buy is lightweight and easy to move. A hefty dispenser can be a problem if you want to shift it for repair and maintenance or relocation.
Material: Go for BPA-free plastic dispensers as they don't harm your health. You can also go for a stainless steel dispenser if you want a durable option.
Leak-proof: Opt for a leak-proof model that prevents spillage of water from the dispenser or bottle. Not only are they more durable but also safe for kids, senior citizens, and pets.
Levers And Buttons: If you have kids, check if the buttons and levers are above their height. Also, choose a dispenser that has separate buttons for every mode for easy operation.
Ease Of Use: The dispenser should be easy to use by everyone around you. Its buttons and indicator lights must be easy to understand.
Hot Water Safety Lock: This safety lock is a must. It must be switched on only by adults when they need hot water. This is to prevent kids from burning themselves.
Noise: Most modern dispensers function silently. A noisy dispenser can disturb your peace and sleep, so check the noise decibel level before you buy a dispenser.
Thermostat Settings: Thermostat settings in a water dispenser help in adjusting the water temperature.
Filtration: Water dispensers with filters are best as they filter out the impurities and serve fresh and clean water.
Types Of Water Cooler Dispensers: Majorly, water dispensers are of two types – bottle less and bottled. Bottle less water dispensers dispense water continuously as they are connected to the main water line, whereas bottled models require you to buy and replace the water bottle.
A good water dispenser can not only make your life easy but also save you a lot of money because they eliminate the need to purchase bottled water. Grab one of the dispensers listed above and enjoy fresh drinking water at your ease!
Expert's Answers for Readers Questions
What is the difference between a regular water dispenser and a water cooler dispenser?
An electric water cooler dispenser chills the water before dispensing it, while a regular water dispenser just dispenses the water at room temperature.
Do water dispensers use a lot of electricity?
As water dispensers dispense water continuously, they are said to be a high energy-consuming appliance.
What is the best 5-gallon water dispenser?
According to our research, Avalon Limited Edition Self Cleaning Water Cooler Dispenser is the best 5-gallon water dispenser.
How do you clean a water dispenser?
A water dispenser can be disinfected using bleach or with white vinegar. Both are safe and effective in cleaning the dispenser.
How long do water dispensers last?
Water dispensers are usually durable, depending on the brand and the quality of their components. The filters, however, require replacement every 6-12 months
Are water coolers sanitary?
If not maintained and cleaned regularly, water dispenser can breed germs and bacteria.
How often should you clean your water dispenser?
Cleaning and sanitizing your water dispensers frequently is a must. The recommended frequency of cleaning is 3 to 6 months.
Recommended Articles
The following two tabs change content below.

Latest posts by Harini Natarajan (see all)

Harini Natarajan
As Chief Editor, Harini sets the tone and editorial direction for StyleCraze to deliver engaging, interesting, and authentic content revolving around women's health, wellness, and beauty. She has over 14 years of experience in content writing and editing for online media. She specializes in the areas of Beauty, Lifestyle, and Health & Wellness and is proficient in Medical Sciences (Biology, Human Anatomy and Physiology, and Biochemistry). Her background in Biomedical Engineering helps her decode and interpret the finer nuances of scientific research for her team. Harini is a certified bibliophile and a closet poet. She also loves dancing and traveling to offbeat destinations.