The 9 Best Water Rowing Machines For Your Home Gym (2023)
These can take your muscle strength and shape to a whole new level.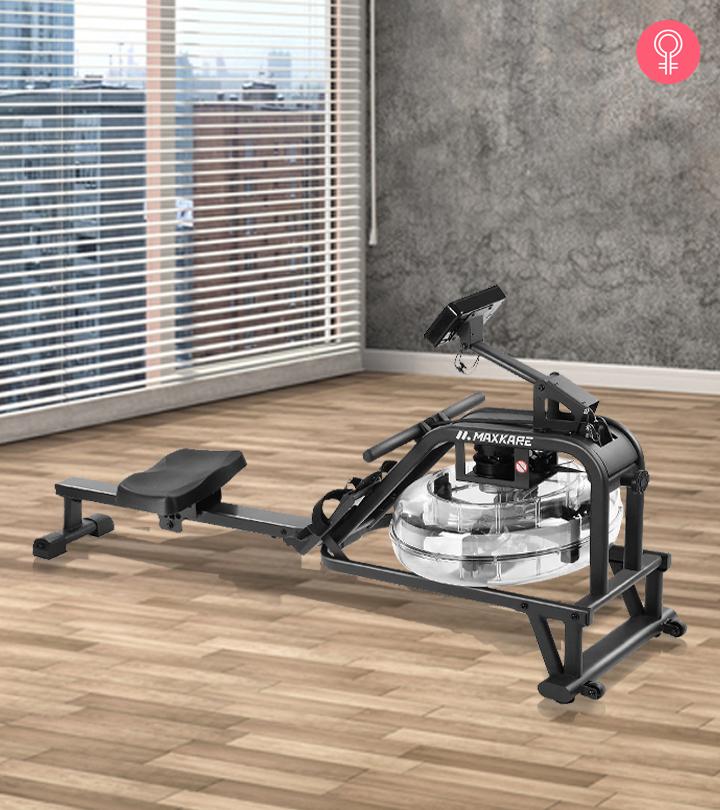 Rowing can be an extremely useful addition to your fitness regime if your goal is to burn some calories in a short frame of time. When you lay your hands on the best water rowing machine, you get to work out the different muscles of your body to strengthen and tone them. Robert Savin, a master certified personal trainer with 15 years of experience, states, "Water rowing machines can be a fantastic tool for implementing cardio into your fitness regimen. They can be used for high-intensity interval training, in which you can perform short bouts followed by double the amount of bouts as well as for low-intensity training. Both these training methods are effective for fat loss and body re-composition."
And the good news is that you can reap the benefits of a water rowing machine at the comfort of your home. Equipped with features such as a water tank, full-view LCD screen, and the soothing sounds of splashes from the water, water rowing is a treat to the body and the mind. To help you out, here's a list of the 9 best water rowing machines curated after carefully analyzing several rowing machine reviews.
10 Best Water Rowing Machines For An Indoor Workout

The Sunny Water Rowing Machine is designed with hydro-blades for vigorous rowing strokes. Exercising on this rowing machine strengthens your muscles, and it is a great cardio workout equipment, as also mentioned by the reviewers online. It has non-slip foot pads for a stable ride and a strap to secure your foot.
This rowing machine is designed with a transportation wheel that helps in convenient storage. In addition, it is equipped with floor stabilizers that assist you in keeping the rowing machine level without wobbling. The device also has a fitness meter that displays heart rate, pulse rate, and other necessary details.
Pros
Lightweight
Non-slip handlebars
Water-resistance
Adjustable strap
Wide cushion design
Easy storage
Cons
None

The Merax Water Rowing Machine sports a sleek and elegant design. The inclined blue water tank provides extra resistance. It is the best water rower among its class and is highly refined with solid steel construction for steady performance and durability. The large LCD monitor accurately tracks the rowing intensity, duration, strokes, calories burnt, distance, and heart rate. You can quick-start and stop the rowing workout with the push of a single button.
The most exciting aspect of the machine is that you can challenge yourself under the "competitive race mode" by getting into an intense rowing competition. This water rowing machine features a 19" long ergonomic handle to maximize your rowing performance and a 12.5" x 10" contoured seat for comfort during your long-time rowing workouts. The 12" long footrest with a fully adjustable velcro strap secures your feet. It is equipped with wheels for portability. It supports up to 330 lbs.
Pros
Water tank for more resistance
Durable and stable mental frame
Single-button push for quick-start and stop
Competitive race mode
Wheels for portability
Upright storage
Cons
The Water Rower Club Rowing Machine is made of hard wood and is super sturdy and stable. The padded contoured seat increases comfort so that you can use this indoor rowing machine for a long duration while performing water rowing workouts. The pulley handle is foam padded for a good grip throughout the workout session. The footrest is equipped with straps for a secure workout. The parts are labeled and easy to assemble. This water resistance rower is also easy to store. 
Pros
Sturdy
Stable
Easy assembly
Soothing sound
Beautifully labeled parts
Footrest with straps
Easy to store
Cons
The First Degree Fitness Apollo Pro II Indoor Water Rowing Machine is constructed with high-quality steel and hand-lacquered ash. The patented twin tank features two triple-bladed impellers for smooth resistance. Ergonomic handles keep the wrists or forearms from twisting and straining. A LED display helps track time, distance, strokes per minute, 500-meter split time, calories burned per hour, and heart rate. The height-adjustable footplates come with adjustable straps. Cushioned contoured seats ensure comfort. Front wheels make it portable. The machine's maximum weight capacity is 330 lbs.
Pros
Smooth resistance
Durable belt drive
Ergonomic handles help prevent twisting.
USB connectivity
Height-adjustable footplates
Cushioned contoured seats
Front wheels
Cons
The Stamina Elite Wave Water Rower features a sturdy frame and a high-end fitness monitor. The chest strap heart rate sensor syncs wirelessly with the monitor to display heart rate on the large, readable display. The monitor also displays distance, time, calories burned, stroke count, strokes per minute, and pulse. The blue water tank provides infinite levels of resistance and sounds like rowing on the water. A siphon is provided for the easy filling and removal of the water from the reservoir. A wide, molded seat offers comfort during workout.
The rowing machine features ball-bearing rollers for smooth seat gliding while rowing. The steel rowing beam allows smoother rowing. The padded, textured rowing handles aid better grip. The adjustable-length footplates accommodate a wide range of foot sizes. The foot straps can be easily adjusted to secure the feet. The foldable frame of the machine allows for easy storage. The machine is equipped with wheels for transport and leveling endcaps with a dial for stability.
Pros
Sturdy frame
Foldable
Large, readable display
Water tank for resistance
Wide, molded seat for comfort
Smooth seat gliding while rowing
Padded, textured rowing handles for better grip
Adjustable-length footplates
Adjustable foot straps
Easy to store
Equipped with wheels for transport
Leveling endcaps with a dial for stability
Cons
Handle padding may not be durable
Use the Marcy Water Rowing Machine for a full-body workout. It is equipped with an in-built LCD monitor that displays calories, pulse rate, distance, total reps, calendar, temperature, and clock. However, the chest strap to monitor your pulse rate is not included with the machine and you have to buy it separately.  In addition, the device has large pedals and loops for secure footing to avoid skidding. Moreover, the contoured seat ensures a comfortable workout session and reduces soreness if you are sitting for a longer period. This rowing machine can hold weight up to 300 pounds and can be stored vertically when not in use.
Pros
6 water adjustable resistance
Large pedals
Easy to assemble
Sturdy
Easy maneuverability
Easy storage
Cons
None
The XTERRA Fitness Water Rower features an advanced multi-bladed impeller water tank for a realistic rowing feel. Its unique inclined water tank generates a significant range of resistance. The dual aluminum covered rails provide a smooth and quiet rowing motion. The padded handles and flex footplates are designed to give you an authentic rowing experience while maintaining maximum comfort.
This versatile water rowing machine features a 15" high seat. You can get on and off the rower easily. It also comes with 15 workout programs that track strokes, target calories, distance, time, and more. It comes with 2 AA batteries and an owner's manual.
Pros
Easy-fill water tank with 6 levels of resistance
Peaceful operation
Console holds a phone or tablet
Padded rowing handles
Cushioned seat
Flex pedals with adjustable straps
Cons
Enjoy a real rowing experience at your home with the Real Relax Water Rowing Machine made of wood. This machine can effectively train your body muscles up to 84%. It burns excess fat, builds an attractive body with sharp muscle lines, and exercises spinal joints. The device is equipped with an LED monitor that can show you the minutes spent on the machine, calories burnt, and the number of strokes completed per minute. Moreover, this rowing machine has handles bent at 20° that is considered as the perfect angle for exercising. It has movable wheels to allow easy portability and has an easy water rowing machine setup process.
Pros
Sturdy
Easy to move and store
Easy to install
Ultra-quiet slides
Cons
Footrests are not adjustable
The IRON COMPANY Water Rower is a sturdy rowing machine for home use. It has a quiet operation. The double blade impeller helps create resistance to improve your cardiovascular fitness and strengthen the muscles. The large footplates with adjustable straps fit different foot sizes and keep the feet secured throughout the workout session. The LCD display helps track distance, time, calories burnt, heart rate, and strokes. The padded and contoured seat provides comfort. The padded rowing handles allow a strong grip.
Pros
Sturdy body
Quiet operation
Large footplates with adjustable straps
Cushioned seat
Padded rowing handles for stronger grip
Cons
These are the 9 best water rowing machines you can buy online. Including the machine in your regular workout routine can help you with the following benefits.
Benefits Of A Water Rowing Machine
Helps burn about 200-300 calories in a 30-minute session.
It is a low-impact cardio workout. It is easy on the joints.
Improves cardiovascular fitness.
Helps strengthen the muscles.
Targets the whole body.
Suitable for adults of all ages.
Most of them have a meditative operation.
Resistance can be adjusted by controlling the amount of water.
Does not take too much space.
Easy to store.
Here are some more benefits of rowing exercises you may want to know. But before you make your purchase, do keep the following points in mind. Check out the comprehensive buying guide below, enriched with expert perspectives and insider tips to choosing the right water rowing machine.
Choosing A Good Water Rowing Machine – A Buying Guide
Construction: A sturdy steel body or hardwood frame suits the best for stability and durability.
Water tank: The capacity of the water tank or reservoir determines the levels of resistance. This means that a machine with a larger reservoir will help you get a better and more intense workout.
Impeller blades: Double or multiple impeller blades help provide more resistance. The blades should also be rust-resistant.
Pulleys: Your catch, drive, and recovery are dependent on how smooth the pulley works without turning or twisting the band. Buy the one with a good quality band that does not fray quickly.
Comfort: The seat, footplates, footplate straps, and handlebars determine the comfort level. Padded and cushioned seat and handle bars provide comfort and a good grip. Large footplates with adjustable straps secure the feet thereby providing a hassle-free workout experience.
Storage: Buy a water rowing machine with two front wheels for easy portability and storage. Getting your hands on a folding water rowing machine would be best.
Why Trust StyleCraze?
Aditi Naskar has a diploma in health and wellness and loves to review fitness and exercise equipment. For this article, she went through multiple user reviews on trusted forums and picked the best water rowing machines to guide her readers and help them make the best pick. These machines can be a useful addition to your fitness regime if your goal is to burn some calories in a short frame of time.
Frequently Asked Questions
Why are water rowers better?
Water rowers are less noisy and meditative. Hence, they are a better alternative to regular rowing machines.
Are water rowers loud?
The high-quality, top water rovers are not loud. They have a soothing water splashing sound that is quiet and meditative. Choose one after a careful water rowing machine comparison for less noise.
Can you get a realistic experience of rowing in water with a water rowing machine?
Yes, the best part of using a water rower is its splashing sound that gives you a realistic experience of rowing in the water.
What maintenance does a water rowing machine require?
Water rowing machines need low maintenance. Add a purification tablet to the water every 3 months, and you're done with the water rower maintenance!
Do water rowers leak?
Yes, the tank in this home fitness equipment may leak if it is not made of good quality material. However, water rowers last a few years before any damage happens.
How often do you need to change water in a rower?
You can replace the water in your water rowing machine every three to six months. Add a purification tablet if the water inside the tank starts feeling discolored.
Should I fill my water rower with distilled water?
No, distilled or purified water has the additives removed. This can promote algae growth which is harmful to the equipment. Regular tap water is the way to go.
Recommended Articles