15 Best Water Shoes For Women (2023) For Comfortable Water Hiking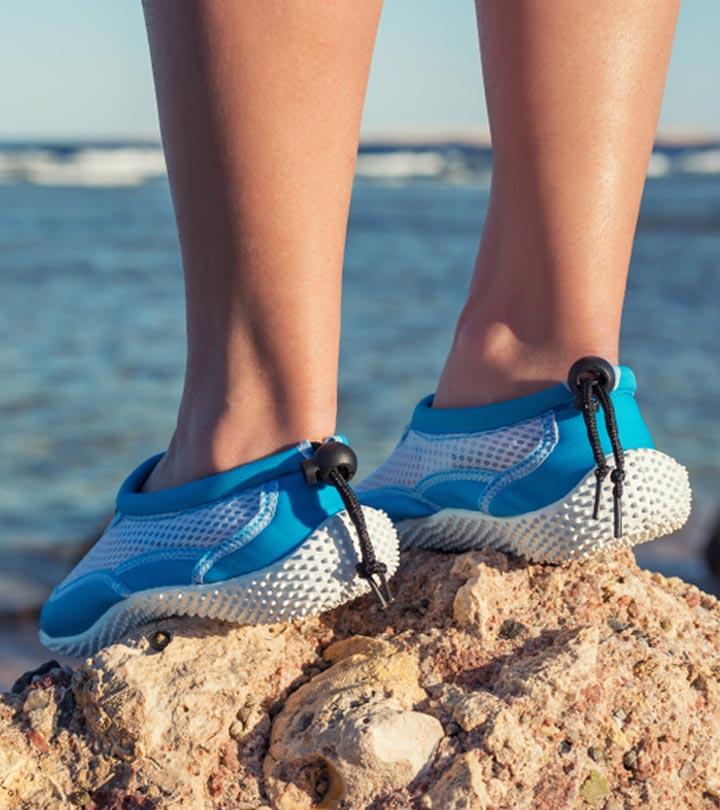 Do you love aqua sports? Whether it is boating, kayaking, hiking, or diving, you need the right sports gear to perform at your best. Yes, we are talking about water shoes for women. The comfort and protection the footwear offers does make a difference.
These shoes have a lightweight design, better interior cushion, proper drainage system, and adequate thermal protection. Here, we have listed the 15 best water shoes meant for different water activities. Keep reading!
15 Best Water Shoes For Women
The VIFUUR Water Sports Shoes come with a smooth neck design that prevents chafing and blisters while you indulge in a water sport. The whole water shoe is lightweight and made of breathable, smooth fabric. These come with a non-slip rubber sole that provides optimum support and best grip. They are strong enough to protect your feet from gravel, stones, or rough ground.
The fabric of these shoes is quick to dry. The flexible fabric can be bent into a small piece and easily put in your backpacks. These shoes work perfectly for indoor and outdoor activities, beach or pool activities, or surfing. They can also be used for walking.
Key Features
Rubber outsole
Fine-stretch fabric
Barefoot type
Slip-on
Pros
Unisex shoes
Optimum feet protection
Suitable for all seasons
Provides better grip
Ensures extra comfort
Quick-drying
Suitable for all
Cons
No arch support
Not long-lasting
The WateLves Water Shoes are ultra-lightweight. They are flexible and provide optimum comfort while performing underwater sports activities. They are made of 92% polyester with 8% spandex that enhances stretchability. The smooth neck prevents chafing too.
The inner sole is made of anti-slip rubber material that helps with shock absorption. The optimum rubber thickness protects your sole from gravel, rock, and other rough materials. The entire fabric is quite breathable. The outer-sole is wear-resistant and skid proof. The compressible design allows for easy packaging.
Key Features
Polyester fabric
Stretchable upper sole
Thick rubber inner sole
Shock absorption insulation
Ergonomically molded
Slip-on
Pros
Ultra-lightweight fabric
Flexible inner and outer soles
Compressible
Flexible
Smooth designed neck
Water-resistant
Anti-skid soles
Cons
Do not have an arch support
Not sturdy
Flimsy fabric
The Mishansha Water Shoes are made of spandex that provides ultimate comfort to your soles and feet. The upper sole is made of lycra material that enables fast draining and ensures cross ventilation, preventing shoe odor. The fabric is salt-resistant, water-resistant, and lightweight. It also offers excellent flexibility. It is made of a soft insole with thick rubber padding to ensure proper shock absorption.
The thick foam provides excellent arch support to maintain your posture while walking or performing any water sports activities. The unique and top-quality soles contain seven drain holes to ensure proper water outflow. This unique drainage system keeps your feet cool and provides a healthier shoe environment. The elastic lacing is perfect for adjusting the shoes as per your foot width.
Key Features
Salt-resistant fabric
Breathable and soft insole
Elastic straps
Pros
Ultra-lightweight
Anti-slip rubber sole
Cross ventilation
Flexible
Optimum arch support
Quick-drying
Cons
May slip on very wet ground
The Zhyanglin Aqua Water Shoes are engineered with a breathable upper mesh. 90% of its fabric is durable and sturdy enough to withstand any adverse conditions. The midsole is lightweight with an excellent bounce-back feature that provides optimum comfort.
The water-grip outsole provides excellent traction in wet and slippery conditions. The top-quality anti-slip rubber sole with thick foam protects the feet from stones and gravel. It also enhances stability and comfort. It has a comfortable sock liner that provides optimum cushioning and creates a cooler, drier, and healthier shoe environment.
Key Features
Breathable upper air mesh
Detachable upper mesh
Non-slip hollow design
Bounce-back midsole
Pros
Lightweight fabric
Durable
Contains sock liner
Optimum cushioning performance
Unique drainage hole
Quick-drying
Cons
Not sand-resistant
Expensive
If you want lightweight yet stylish aqua shoes, the Aleader Women's Mesh Water Shores are the right pick for you. These breathable mesh shoes are perfect for land and water activities. Their fluid flow technology offers better traction. The upper sole is made of quick-drying textile and synthetic fabric that enhances durability.
The cushioned EVA midsole provides an exceptionally lightweight and excellent bounce-back facility. The rubber pods are placed strategically in high wear areas to provide better traction. The unique water flow technology ensures proper drainage to keep your feet cool. The water drainage insole can absorb about 50% water and offer faster drying. The strategically engineered hydrophobic mesh provides quick drying.
Key Features
Patterned rubber sole
Solyte midsole makes it floatable
Hydrophobic mesh
Bounce-back midsole
ComforDry sock liner
Pros
Lightweight
Breathable fabric
Traction-resistant
Excellent water drainage
Quick-drying fabric
Durable and sturdy
Cons
Unpleasant smell
Not suitable for beach water sports
The Ryka Women's Hydro Sport Shoes are a perfect gear for all types of water aerobics. They are made of synthetic fabric, and the upper hybrid mesh is breathable enough to provide optimum comfort. They have a unique webbing mid foot cage that provides medial and lateral support.
These aquatic cross trainer shoes contain a removable, perforated Nitracel footbed and an impressive drainage insole that squeezes out all the excess water. The faster lace system with a toggler makes wearing the shoes or removing them quite easy. The padded tongue and collar provide maximum support. The sticky rubber outsole provides excellent traction both on dry and wet surfaces.
Key Features
Unique lace lock with sturdy eyelets
Padded collar and tongue
Perforated Nitracel foot bed
Webbing mid foot cage
Multi port drainage system
Pros
Choline-resistant
Breathable fabric
Unique lace locks
Padded tongue and collar for comfort
Compressible
EVA midsole with drainage ports
Provides excellent traction
Durable and sturdy
Cons
Shoe design may hurt toes
The SIMARI Outdoor Water Shoes are made of 92% polyester with a breathable and quick-dry ability. These provide flexibility and comfort. The soles are made of TPR material with excellent breathability. They are slip-resistant too. The upper sole is smooth and stretchable and ensures hassle-free outdoor activities. The smooth neckline protects your ankles from chafing and prevents painful blisters.
These ergonomically designed water shoes offer a cushion for better shock absorption. Their compressible soft design allows them to be easily stacked in your backpack. The rapid permeable drying technology keeps your feet cool and relaxed. The shoes are suitable for use in humid weather. They also protect your feet from the hot beach sand.
Key Features
Smooth neckline design
Soles are made of TPR material
Compressible design
Pros
Sand-resistant
Quick-drying
Smooth and stretchable
Breathable mesh
Offer shock absorption
Slip-resistant
Lightweight
Cons
The Barerun Barefoot Water Sport Shoes are lightweight and ultra-comfortable. They are made of breathable textile fabric with a fine stretch on the uppers. They provide maximum flexibility and comfort. The flexible neckline protects your feet from developing blisters. The shoes are convenient to put on and take off.
They have top-quality,thick rubber soles that safeguard against sharp objects when in water. The soles are anti-slip and durable, even in muddy conditions. Their compressible soft design allows them to be stored even in minimal spaces.
Key Features
Breathable textile upper
Flexible neckline
Pros
Lightweight
Thick rubber soles for optimum protection
Suitable for all types of outdoor activities
Suitable for both men and women
Cons
No arch support
Poor quality insoles
The Dreamcity Women's Athletic Water Shoes are engineered with a breathable upper mesh. Their versatile design makes them a perfect sports gear both for men and women. The midsole is made of solyte material, which is half the weight of EVA sponges. It offers 20% more shock absorption power. The water-grip out sole provides exceptional traction in wet or muddy conditions.
The comfortable sock liner provides ultimate cushioning comfort to maintain a healthier shoe environment. It has a unique drainage system with a drain hole that squeezes out excess water from the inner soles and keeps your feet comfortable.
Key Features
Lightweight midsole
ComforDry sock liner
Pros
Breathable fabric mesh
Water-grip outsole
Durable air mesh
Excellent bounce-back
Quick-drying
Anti-slip
Tear-resistant
Unique drainage holes
Stretchable fabric
Cons
None
The DOUSSPRT Women's Water Shoes are made with a breathable polyester lightweight upper mesh that provides optimum comfort and flexibility. The mesh structure always helps dry out your athletic water sports gear quickly. The upper air mesh and upgraded sole work together to provide the fastest drainage. The upgraded sole also is slip-resistant. The unique elastic rubber shoelace helps you adjust the shoes as per the feet width.
Key Features
Open mesh on the upper
Upgraded sole with a drainage system
Elastic rubber shoelace
Pros
Breathable fabric
Lightweight
Quick-drying
Modernized drainage system
Suitable even for hot, humid weather
Slip-resistant
Cons
The JointlyCreating Water Sports Shoes are light weight and flexible with a unique design. Their wide foot design gives you more space to move your big toes. They have an anti-slip outsole that provides enough traction and better grip even in an extremely wet environment. The quick-drying facility with drainage holes helps squeeze out excess water. The super-high traction rubber with average padding provides a protective layer below your foot. It keeps stones and gravel out.
Key Feature
High traction rubber padding
Pros
Lightweight
Quick-drying
Anti-collision material
Anti-slip sole
Wide-foot design
Cons
Not suitable during summers
The Hiitave Aqua Beach Water Shoes are easy to wear on and off. They are made of comfortable fabric suited for most outdoor activities. The upper sole, with stretched, breathable, and lightweight material, provides cross ventilation and prevents shoe odor. The pull tap at the heel allows for quick and easy handling of the shoes. They have a top-quality anti-slip Camo rubber sole with several holes that ensure easy drainage of water. The elastic lace locks are durable enough to adjust shoes according to the width of the foot.
Key Features
Upper with stretchable mesh
Pull tap at the heel
Elastic drawstrings
Pros
Breathable fabric
Lightweight upper mesh
Provides cross ventilation
Flexible
Cons
None
The Murdesot Women's Water Shoes come with a breathable fabric upper. Their stretchable upper with lightweight fabric provides optimum cross ventilation and comfort. They are quick-drying. Their drainage holes ensure proper water flow out of the soles. The out soles are slip-resistant. The elastic straps with durable eyelets enable a perfect adjustment of the shoe with the width of your foot. The pull tap at the heel provides quick and easy wear experience.
Key Features
Pull tap at the heel
Elastic straps
Pros
Breathable fabric upper
Ultra-lightweight
Provide proper cross ventilation
Flexible
Quick-drying
Anti-slip soles
Cons
None
The CIOR Water Shoes are designed with a perfect fabric blend of 8% spandex and 92% polyester that improves performance in wet areas. The upper and insoles are made of a breathable mesh. The smooth neck and upper mesh allow users to wear them without chafing.
The quick-dry drainage system with seven holes ensures a moisture-free environment inside. The sturdy rubber sole with thick foam arrangement provides better arch support. The thick soles are slip-resistant and protect you from extremely wet environments.
Key Features
Thick rubber sole
Smooth designed neck
Shock absorptive padding
Pros
Breathable
Quick drainage system
Durable soles
Slip-resistant
Quick-drying
Cons
The Pooluly Quick Drying Water Shoes provide full coverage. They wrap your entire foot and protect it completely. The super lightweight, soft, and elastic Phylon sole enhances stability without compromising comfort. The upper durable double mesh not only provides protection but ensures proper air circulation.
The shoes contain ComfoDry sock liners that offer a cushioning performance. The full range of drainage system drains water effectively. The anti-slip outsole with better traction adhesion provides a reliable grasping performance.
Key Features
Cotton blend fabric
Professional anti-slip outsole
Durable, double-breathable upper mesh
Soft cushioning insole
Pros
Good toe protection
Multiple drainage holes
Lightweight
Cons
None
These are the 15 best water shoes for women that you can buy online. Let us take a quick look at the different types of water shoes available on the market.
Different Types Of Water Shoes
Sandal Water Shoes: They just look like sandals with no covering. They are not waterproof. But they are sturdy enough to withstand harsh conditions. They appear similar to regular sandals with familiar cutouts, straps, and other openings.
Closed-Toe Type: They are similar to regular loafers with a sturdier design. They are closed from the toes and cover your entire upper part. They offer maximum cushion and comfort. They are built with a complete insole-outsole cushioning, quick release laces, and collars to give you all-round comfort.
Aqua Socks/Barefoot: These are the lightest shoes for perfect water sports. They are often made of flexible, elastic material that hugs your feet firmly. The sole and the upper are tightly kneaded together to provide a better walking and diving experience.
When choosing the perfect pair of athletic water shoes, you need to keep certain factors in mind. Check the following buying guide to know more.
How To Choose The Best Water Shoes For Women – A Buying Guide
Breathability: Water shoes are often made of breathable and durable air mesh that allows proper inflow and outflow of air. This property helps in the summertime to eliminate obnoxious shoe odors. The mesh covers also help water to flow in and out of your shoes freely. It also gives you the freedom to stay in water for long periods. The level of breathability will allow the shoes to be fast-drying.
Grip Or Traction: While doing water activities, it is important to hold your grip for long. A slip-resistant outsole is softer and made of thick rubber. It gives better traction when exposed to water.
Weight: Water shoes should be lightweight so that they help you float underwater. Lightweight shoes won't hamper your kicking power or distract your aerobic movements.
ComforSock: It is a removable liner, which is one of the main features of water shoes. This liner adds extra comfort to your shoes by adding thick cushioning foam to the feet. The breathable mesh stitched in the ComforSock line helps maintain a healthy shoe environment.
 Cushioning: Water shoes should have cushioned insole to provide proper insulation between your foot and the surface below. It also helps with shock absorption. Always check for proper, thick yet soft cushioning for your water shoes.
Purpose: Not all shoes are designed equally. Few shoes are designed for playing around the pool or beach sides, while few are designed for hiking a mountain or walking along a sandy beach.
Slip-On Feature: Water shoes are mainly versatile and flexible. Few shoes come with lace locks while others are just slip-on. The lacing system helps adjust the shoes as per the foot width. But they may become loose when water gets into them. Slip-on shoes are pretty easy to wear on and off as per the requirement.
Drainage Holes: A proper drainage system is one of the key features of water shoes. You will get water into your shoes. This accumulated water can reduce shoe longevity. Check for the drainage holes on the bottom side of your shoes. Drainage holes on the sides help remove sand, dirt, and other particles along with water.
Material:Look for the shoes that are made of durable and sturdy material. The shoes should also be flexible enough to give the best sporting experience.
Durability: Durable material and smart design always increase the longevity of water shoes. Whether you are running hard on beaches or swimming rapidly, a durable and sturdy sole is important to withstand wear and tear.
Comfort: Comfort should not be compromised. If the shoes are not comfortable enough when dry, they may irritate you when wet. Check for the comfort level along with longevity.
A perfect pair of water shoes will add extra comfort and enjoyment whenever you are into aquatic activities. Water shoes are specifically designed to protect and give a cooling effect to your feet with a proper drainage system. The lightweight design will not make your feet feel heavy. Choose your favorite water shoe from this list today!
Frequently Asked Questions
Are water shoes actually waterproof?
Yes, water shoes are made of a durable and sturdy nylon mesh with a proper drainage system to squeeze out excess water. Hence, they are waterproof.
Can water shoes be worn for hiking?
Water shoes are uniquely designed and versatile to be used for hiking or any other purposes.
Can water shoes be cleaned in the washing machine?
Yes, the nylon or polyester material with durable mesh is washing machine-friendly.
Can we wear socks in water shoes?
Yes, you can wear socks in water shoes. They will increase your comfort and keep your feet safe.
Recommended Articles