9 Best Water Softener Salts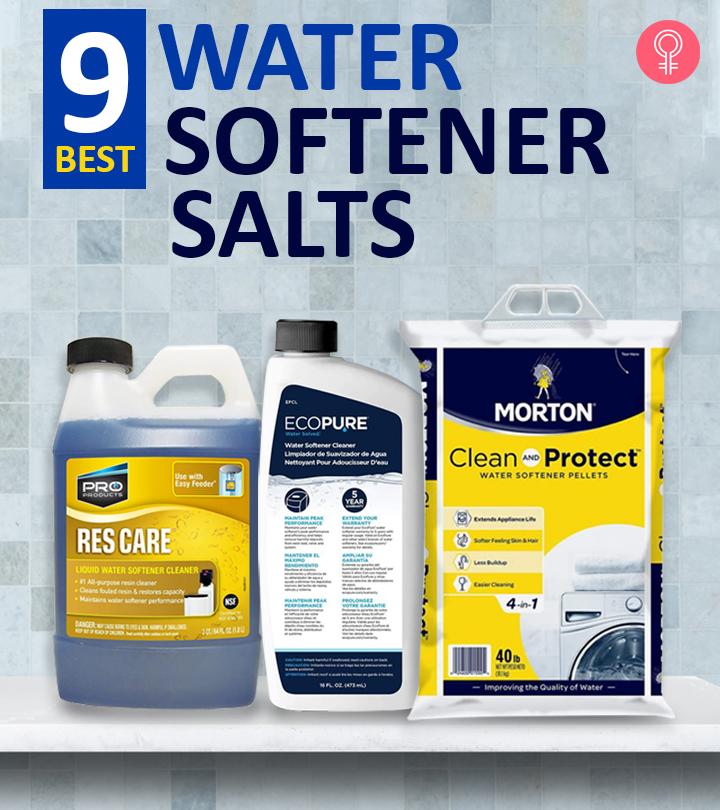 A water softener is a device used to resolve issues with hard water, including stains, deposits, and clogging in and around plumbing fixtures or appliances. The right water softener also increases the lifespan of kitchen utensils and clothes. It achieves this by removing the dissolved minerals in hard water (like magnesium and calcium) through an ion exchange process. What you get is softened water that is fit for use.
However, without adding an adequate amount of salt to your water softener, you may not be able to remove the hard water minerals. What sort of salt should you choose? We have made it easier for you by listing here the 9 best salts for water softeners. Check them out.
9 Best Salts For Water Softeners
The Morton Clean And Protect Water Softener Pellets come in a 40 lb pack. They are simple to use. Not only do they prevent mineral build-up in the pipes and fixtures, but also leave your skin and hair feeling smooth. They also help extend the life of the appliances.
Features
40 lb pack
Pack has sturdy handles
Pros
Convenient carriage
Makes skin and hair softer too
High purity
Cost-effective
Long-lasting
Cons
May cause odor in the softened water
The ResCare All-Purpose Liquid Water Softener Cleaner is a uniquely formulated resin cleaner. It not only helps soften water but also protects water softeners from contaminants. Continuous use of this liquid can enhance the efficiency of the water softener valves and improve its lifespan. Pour 4 oz. of this cleaner in your softener unit and allow the cleaner to work on it.
Features
64 oz. bottle
Instruction manual
Pros
Improves efficiency of the water softener unit
Easily installs inside/outside the brine tank
Feeds automatically
Improves the smell and taste of water
Excellent customer service
Easy cleaning
Surplus quantity
Cons
The Portacool Hard Water Treatment Salt is highly effective in reducing equipment corrosion. It also removes scaly build-up from water softeners. It improves evaporative media life and makes your equipment run efficiently.
Features
Pack of 4 strips
1 application lasts about 30 days
Pros
Multipurpose
Tasteless
No foul odor in water
Reduces lime build-up
Can be used with softeners of various brands
Enhances cooling of evaporative cooler
Cons
Less quantity for the price
If you are looking for a gentle, functional cleaner for your water softener, the EPCL Ecopure Universal Water Softener Cleaner could be ideal. It is compatible with water softeners from different brands. It removes harmful deposits from the valves. It also removes sediments, dirt, iron deposits, and rust from the water softener resin bed.
Features
Pros
Universal cleaner
Water-soluble
Efficient cleaning
No harmful ingredients
Improves softener performance
Warranty can be extended
Cons
The Purolite Cationic Replacement Salt is an industrial-grade gel offered in the form of sodium. The gel can be used as an industrial water softener. It consists of high-quality beads designed for treating water used for various purposes. This multipurpose softener salt can be used for food and beverage processing, industrial softening, and portable water softening.
Features
Pros
High bead integrity
Excellent physical stability
Great kinetic performance
Odor-free
Highly soluble
Versatile
Cons
The Compass Minerals Nature's Own Potassium Water Softener Cubes soften water without adding any salt. They work on different types of water softeners. The cubes are highly durable and keep the resin and entire unit from damage. They help remove stains from sinks, utensils, tubs, faucets, and other kitchen and plumbing equipment.
Features
Certified by the National Sanitation Foundation
Available in a 40 lb bag
Pros
Easy to use
Potassium adds nutrition and health to water
Unique formula
Does not make water salty
Cons
Does not prevent lime-build-up
The Diamond Crystal Water Softener is filled with premium grade Cargill salt and potassium chloride pellets. The potassium chloride acts as a low-sodium alternative to the standard water salts. It effectively cleans the water softener unit. This softener salt is made using 99% untainted potassium chloride and helps your unit run smoothly.
Features
Patented 2-handled bag
40 lb pack
Pros
Versatile
Highly efficient
99.7% water soluble
Improves efficiency and life span of softener
Prevents mushing in the softener tank
Improves taste of water
Cons
The Pro Rust Out Water Softener Cleaner efficiently cleans the water softener resin bed. It also eliminates iron build-up. The cleaner is versatile as it also removes stains from sinks, utensils, tubs, faucets, and other kitchen and plumbing equipment. The cleaner maintains the efficiency of water softeners.
Features
Pros
Odor-free
Highly water-soluble
Economical
Enhances softener performance
Chemically removes rust and iron coats
Cons
None
The Impresa Products Water Softener Salt comes with coarse grains that do not contain any additives. The salt is 100% pure and helps clean the dishwasher and various other plumbing appliances and fixtures. It immediately cleans the residue and limescale in your softener. It also makes the softener spot-free and more efficient.
Features
4.4 lb pack
Food-grade salt
Pros
Non-GMO
Vegan
Does not cause caking
Free from iodine or harmful compounds
Compatible with different softeners
Effectively regenerates resin
Cons
These are the top salts that you can use in your water softener. The following buying guide can help you understand what you need to look for before making a purchase.
Water Softener Salts – A Buying Guide
Check your water softener. Purchase only that softener salt that is compatible with your softener. Some water softeners also use the crystallization process to turn hard water into soft water, and these do not need salts.
Salts for water softeners consist of salt, and they may make the water taste saltier. Either go for a high-quality salt that does not cause this issue, or you can altogether avoid pure salt-based products. You may instead choose cleaners with potassium chloride, which is a low sodium variant of salt.
When you start using the salt for cleaning your water softener, you need regularly refill it. You also need to clean the softener tank periodically. Go for those salts that do not cause bridging or mushing, and help prevent build-up in the softener.
A good water softener salt should offer the best results without affecting the good minerals in the water. Salt that is free from toxins and harmful chemicals should be used in water softeners. This will elevate the performance of your softener.
Conclusion
Hard water causes a build-up in tubes, showerheads, and sinks. It also may lead to itchy skin and brittle hair. You may use a water softener as a solution. The salts mentioned in this post help boost the performance of your softener unit and also keep it clean. Choose your favorite salt from this list. We are sure it will add value to your life.
Expert's Answers For Readers' Questions
How much salt should you add in your water softener?
The amount of salt to be added in your softener depends on the hardness of the water. However, to make sure that your water softener has enough salt, fill 1/3rd of the brine tank with water and add up to 4 ounces of the salt. If your resin clogs quickly, you will have to use more salt. Also, refer to the instruction manual and follow the guidelines to use the right amount of salt.
What is the best type of salt to use in a water softener?
Potassium chloride is the best salt for cleaning water softeners. This low-sodium alternative elevates the performance of your water softener. You can also use sodium chloride pellets, crystals, or block salt to clean the softener. Evaporated salt pellets and solar salt pellets are other alternatives. Do not use table salt to clean the unit.
How often should I put salt in my water softener?
Check your softener tank at least once a month. When the level of salt goes below 3-4 inches from the water level, add salt to the softener. Certain cleaners or salts are highly effective, and they last for over 4 months.
How do you add salt to a water softener?
Start with checking the level and consistency of salt in the softener. If the salt feels dried up and its level is 3-4 inches below the water level, you need to refill the tank. Add the amount of salt mentioned in the product packaging to fill the tank. The amount of salt you add depends on how hard the water is and its consumption.
Which is better to drink – hard water or soft water?
Soft water generally tastes salty and does not have a high mineral content. Hard water consists of some essential minerals and is often used as drinking water. However, hard water consists of a high amount of calcium and magnesium that can react with iron, phosphorous, and other minerals in the intestine, reducing their absorption. Hard water is usually preferable for consumption. But if you have any health issues related to the absorption of nutrients, consult your doctor regarding the same.
Can you drink softened water?
Generally, soft water is safe to drink if it contains less sodium. If the water contains less than 400 ppm of calcium before softening, it (softened water) is safe to drink. But softened water is salty, and you may want to avoid it if you do not like the taste or have health issues that require you to avoid sodium.
What do water softener salts do?
Water softeners are used to soften hard water. The salts are used in this softening process. When you add salt in the water softener, the positive charge in the sodium breaks away from chloride and gets attached to the negatively charged resin. This causes the magnesium and calcium to get flushed out of the water softener. This is known as the ion exchange process, and it continues to remove minerals from the hard water, keeps the unit clean, and supplies softened water.
Do water softener salts work?
Yes. A high-quality water softener salt with pure salt or potassium chloride prevents build-up, stains, clogging, and keeps the softener clean. Some salts are effective enough to enhance the performance of water softeners too. You need to how hard the water is and use the most suitable salt for your water softener to get the best results.
Is there an alternative to a water softener?
There are some alternatives to a water softener. Some modern softeners come with salt-free technology and work with the crystallization process. Some other options are electromagnetic water treatments, reverse osmosis systems, electronic water conditioning systems, electronic descalers, electrochemical water treatments, etc. However, a water softener is the most common and affordable way to soften hard water.
Recommended Articles
The following two tabs change content below.

Latest posts by Harini Natarajan (see all)

Harini Natarajan
As Chief Editor, Harini sets the tone and editorial direction for StyleCraze to deliver engaging, interesting, and authentic content revolving around women's health, wellness, and beauty. She has over 14 years of experience in content writing and editing for online media. She specializes in the areas of Beauty, Lifestyle, and Health & Wellness and is proficient in Medical Sciences (Biology, Human Anatomy and Physiology, and Biochemistry). Her background in Biomedical Engineering helps her decode and interpret the finer nuances of scientific research for her team. Harini is a certified bibliophile and a closet poet. She also loves dancing and traveling to offbeat destinations.