15 Best Waterproof Concealers of 2023
Camouflage dark circles, conceal pimples, and hide spots with these waterproof concealers.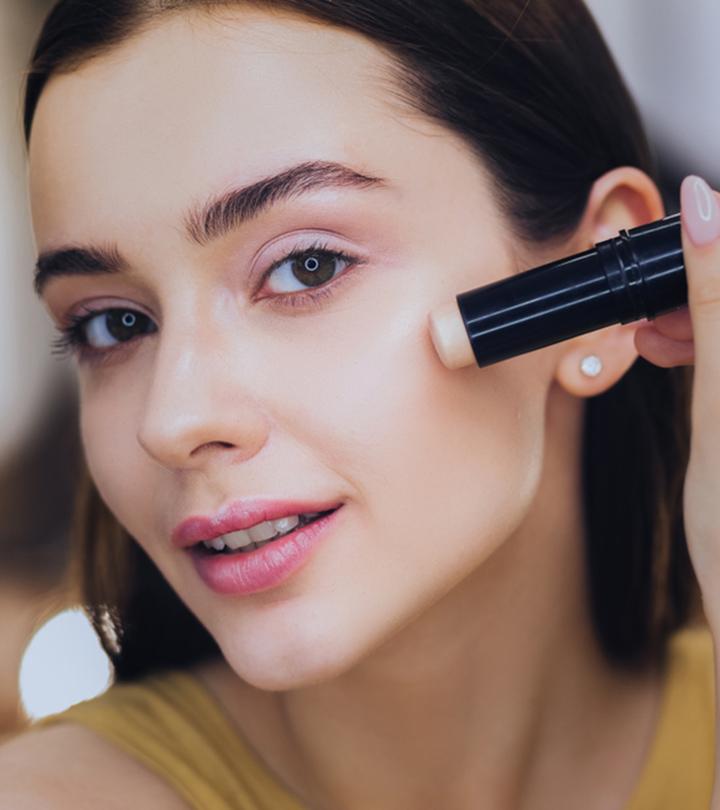 If you thought makeup products could not get more upgraded, think again. Concealers have now joined the bandwagon of waterproof products. The best waterproof concealers can be used for hiding all sorts of imperfections. They can camouflage dark circles, conceal the sudden appearance of a pimple, and also hide spots or marks that are marring your complexion. The best thing about them is that they can be used for multiple purposes like a base product for eyes or simply as a quick replacement for foundation. To help you out on your makeup journey, we have listed the 15 best waterproof concealers below. Check them out!
15 Best Waterproof Concealers That Offer Long-Lasting Coverage – 2023
Trust America's #1 concealer brand, Tarte, to bring to you a waterproof and sweat-proof concealer that blends seamlessly to conceal imperfections on your face. This creamy formula is enriched with Amazonian clay, vitamin A and E that help nourish your skin while lending you an oil-free matte finish. Designed to minimize dark circles, blemishes, redness, and other skin discolorations, this easy-to-use, twist-up stick concealer offers full coverage that lasts for 12 hours straight. Check out this YouTuber's review of the product if you require more details.
Pros
Provides natural-looking full coverage
Long-wearing formula
Non-greasy
Free from parabens and phthalates
Hypoallergenic
Enriched with skin-soothing and balancing properties
Cons
Tends to crease under the eyes
Price at the time of publication: $28.0
Look no further than Lancôme Waterproof Concealer to hide dark circles that will make you look like you had a good night's sleep. It dries out to a soft, matte finish and gives your skin a flawless appearance. It also helps even skin tone by blending into the skin and providing natural coverage without creasing or fading. What's more? It also is an anti-aging product that helps minimize fine lines around the eyes. It is the best waterproof eye concealer. You can also check this YouTube video for a complete idea about the product.
Pros
This formula covers dark circles
Evens skin tone for a natural-looking finish
Crease-free and fade-resistant
Easy to blend
Long-wear
Available in various shades
Anti-aging properties
Cons
Thin watery consistency
Expensive
Price at the time of publication: $26.2
One single stroke of this classic drugstore waterproof concealer is enough to provide a flawless matte finish that lasts all day. The extra-large, doe-foot applicator ensures smooth application and offers maximum coverage. This waterproof formula is used to mask under eye circles, acne scars, and skin discoloration on the face, and minimize the appearance of stretch marks, veins, and bruises on the body. It offers full coverage, is buildable and non-greasy, and available in 25 shades, so there is something for every skin tone. If you want to know more about the results, take a look at this review on YouTube.
Pros
Transfer and flake-resistant
Can be used to conceal, highlight, and contour
Creamy, non-greasy texture
Does not flake
Stays put for 24 hours
Available in 25 shades
Extra-large applicator brush provides maximum coverage
Cons
Strong fragrance may irritate sensitive eyes
May not be suitable for mature skin
Price at the time of publication: $8.97
A cult-favorite, award-winning formula, this waterproof concealer is formulated with anti-aging peptides, vitamins, antioxidants, and hyaluronic acid, and is clinically proven to make your skin look younger. This anti-aging waterproof product minimizes the appearance of wrinkles and covers skin imperfections such as dark circles, redness, hyperpigmentation, age spots, and discoloration. It is highly pigmented, delivers a long-lasting full coverage, and sits well on your skin without creasing or cracking.
Pros
Multi-tasking waterproof formula
Infused with vitamins, antioxidants, and other anti-aging ingredients
Long-staying power
Highly pigmented and offers full coverage
Does not crease
Available in varied shades
Developed with the help of plastic surgeons
Cons
Texture may be thick and difficult to blend
Slightly expensive
Price at the time of publication: $21.24
Amazing Concealer is quite popular among celebrity makeup artists, and for a good reason. This full-coverage, long-wearing waterproof formula instantly erases all skin imperfections, including dark circles, blemishes, redness, sun damage, brown spots, and uneven skin tone, all while providing a natural skin-like finish. Formulated with cucumber fruit extract and antioxidants, it helps soothe, de-puff, and soften skin. It is a concealer that doesn't crease, a little goes a long way, so just a tiny amount is enough to achieve a flawless look!
Pros
Long-wearing and water-resistant
Enriched with cucumber extract and antioxidants
Ultra-concentrated pigments
Flawless, skin-like finish
Easy-to-blend creamy texture
Does not cake or crease
Doubles as a highlighting and contouring product
Available in a wide range of shades
Cons
May not work well on wrinkly skin
Slightly expensive
Price at the time of publication: $29.0
What's not to love about this waterproof concealer that gives you a seamless and even coverage and lasts long? To begin with, it is used to cover and correct skin imperfections such as uneven skin tone, under eye circles, redness, blemishes and reduce the appearance of fine lines. Besides, it can also be used as a foundation, highlighter, contouring product, and an eye shadow base. This liquid concealer is lightweight and blends smoothly to give your skin a flawless-looking matte finish, all while also providing hydration.
Pros
Full coverage for up to 16 hours
Keeps skin hydrated
All-in-one makeup formula
Radiant and flawless-looking skin
Glides and blends smoothly
Buildable formula
Available in 8 shades
Crease and smudge-proof
Cons
May not work well on oily skin
The tiny amount of cream may not last long
Price at the time of publication: $8.99
Correct, conceal, and contour with bareMinerals BAREPRO waterproof concealer! This easy-to-use, super creamy stick covers dark circles and blemishes and delivers full coverage that lasts for 16 hours. Also, this waterproof formula can be used as a contouring tool. It is enriched with bamboo stem extract and antioxidant-rich raspberry and blackcurrant seed oils and sea lavender, which helps minimize the look of pores and fine lines, hydrates, and nourishes the skin and protects it from damage due to pollution. It glides on smoothly and gives your skin a natural-looking soft matte finish.
Pros
Long-lasting for up to 16 hours
Sweat, humidity, and transfer-resistant
Crease and smudge-proof
Designed with MINERAL LOCK™ Long Wear Technology
Cruelty-free and vegan
Dermatologist and ophthalmologist-tested
Non-comedogenic
Available in 15 highly pigmented shades
Cons
Some people may not like the thick and sticky consistency of the product
Price at the time of publication: $19.99
This one by MAKE UP FOR EVER is one of the best waterproof cover up concealers in the market. It is designed to cover tattoos and birthmarks and skin concerns such as acne, scars, hyperpigmentation, burns, and also correct skin discoloration. Packed with highly concentrated pigments, this formula delivers a matte finish and can be used to conceal imperfections on the face and body. It is completely oil-free, provides full coverage, and its waterproof technology ensures a long-lasting result.
Pros
Long-lasting waterproof formula
Offers full coverage on face and body
Highly pigmented
Oil-free creamy texture
Suitable for all skin types
A little goes a long way
Cons
Price at the time of publication: $32.0
Address dark circles and blemishes with this ultra-creamy waterproof concealer by Estee Lauder. It blends well and conceals skin imperfections while offering 24-hour full coverage. This oil-free formula doesn't cake or crease and delivers a natural matte finish. A small amount of this formula gives maximum coverage, so always start with little and build it up as you go. It is perfect for daily wear as it is light and stays put on the skin. It is the best waterproof concealers for swimming, no matter the weather.
Pros
Stays on for 24 hours
Hydrates skin
Full coverage
Does not crease or cake
Humidity, sweat, and transfer-resistant
Ophthalmologist and dermatologist-tested
Non-acnegenic
Cons
Sets quickly so you have to work fast while blending it
Price at the time of publication: $64.99
With this under-eye waterproof concealer by Maybelline, hiding your dark circles is not complicated anymore. It features a precise paddle applicator that provides maximum coverage in a single swipe and creates a long-lasting effect that lasts for 24 hours straight. This full-coverage formula is lightweight and glides effortlessly to give a smooth, matte finish to your skin. This is a good waterproof concealer which is smudge-proof, transfer-resistant and is available in 12 shades.
Pros
Conceals dark circles and brightens eyes
Lasts for up to 24 hours
Matte finish
Full-coverage concealer
Comes in 12 shades
Smudge and transfer-resistant
Cons
May not be suitable for dry under eye skin
Price at the time of publication: $3.95
Catrice Liquid Camouflage Waterproof Concealer can do it all! It offers better coverage and blends well into the skin to instantly mask dark circles, redness, blemishes, and other imperfections. It features a precise practical flock applicator for easy and smooth application, while this intensely pigmented formula ensures high coverage with just a tiny amount of liquid. Available in 3 shades – light natural, porcelain, and light beige, this ultra-light formula delivers an even and emollient coverage and provides a natural finish.
Pros
High-coverage formula
Blendable liquid texture
Lasts for 12 hours
Highly pigmented
Easy to apply
Lends a natural, radiant look
Cons
Limited range of shades
The fragrance may be too strong for some
Price at the time of publication: $4.3
Give your skin some much needed hydration with Gotcha Covered Waterproof Concealer that is infused with the goodness of coconut oil. This is a moisturizing formula that leaves your skin with a dewy finish and a healthy-looking glow. This waterproof formula is specially formulated to cover skin discoloration and a variety of imperfections, without creasing or caking. It is full coverage, highly blendable and long-lasting, and is available in a varied range of shades.
Pros
Full coverage and long-lasting
Easy to blend
Enriched with coconut oil
Available in 10 shades
Moisturizes skin
Gives skin a luminous finish
Cons
Tends to be a little oily or greasy
Price at the time of publication: $3
Dior Diorskin Forever Undercover will not only effectively mask imperfections, scars, and blemishes but will also help improve your skin over time by reducing the signs of aging. One coat of this waterproof concealer provides a perfect camouflaging effect without creasing, cracking, or settling into fine lines. This hydrating formula evens skin tone while lending a soft, matte finish that lasts long. Best of all, it is waterproof and provides full coverage.
Pros
Full-coverage formula
Hides imperfections
Offers a flawless matte finish
Reduces signs of aging
Does not crease or crack
Cons
May not be effective in covering very dark under eye circles or spots
Slightly expensive
Price at the time of publication: $39.15
This waterproof concealer is specially formulated to instantly correct and cover skin imperfections such as post-acne marks, sun spots, and dark spots, while visibly fading their appearance over time. It is a long-wearing, full-coverage formula that lasts all day long and dries out to a matte finish once applied. Formulated with antioxidants and anti-inflammatory ingredients, this product reduces redness and helps heal damaged or irritated skin faster.
Pros
Natural-looking matte finish
Antioxidant and anti-inflammatory properties
Lightweight liquid formula
Fragrance and oil-free
Features Photoset Polymers
Free of parabens, sulfate, and phthalates
Available in a wide range of shades
Cons
May not be suitable to be used around the eye area because of its drying quality
Price at the time of publication: $24.73
An excellent combination of a foundation and a concealer, this 2-in-1 makeup product will conceal all the imperfections and give you a flawless-looking complexion. This waterproof formula hides dark circles and blemishes and evens out skin tone. It is packed with a high concentration of pigments, which means that a tiny amount of the product is enough to give you high coverage. It blends easily, has an excellent staying power, and lends you a nearly invisible finish. It also helps mask tattoos and port stains.
Pros
Nearly invisible flawless finish
Foundation and concealer rolled in one
Lightweight and easy to blend
Long-lasting and full coverage
Highly pigmented
Cons
Everyone needs a concealer – from covering up blemishes to dark circles, this magical product can do it all! A waterproof concealer is a must in your makeup arsenal, however, you just cannot get any product off the shelf. Keep the following points in mind before making a purchase.
Things You Should Know Before Buying A Concealer
Parabens, sulfates, phthalates, and other similar chemicals should be avoided at all costs. Whenever possible, go for all-natural ingredients that are suitable for your skin. Concealers that are dermatologist and ophthalmologist-tested are always a safer option.
Before purchasing a concealer, you should determine your skin type. Choose a product that has skin-balancing and soothing properties if your skin is easily irritated. Also, always opt for a hypoallergenic concealer. If you have dark circles, go for options that provide full coverage and are especially formulated to tackle this issue. In the case of acne-prone or overly-sensitive skin, you should only use products that are non-comedogenic.
For more mature skin types, go for concealers that provide anti-aging benefits. If you are getting fine lines and wrinkles, opt for concealers that can hide them effectively.
If you are planning to wear the concealer all through the day, opt for a product that mentions 'long-lasting' on the packaging. Those with oily skin should go for liquid concealers that dry to a matte finish. Women with dry skin can go for creamy, moisturizing formulas. Always opt for a sweat-proof, transfer-resistant concealer if you stay in a humid place, sweat a lot, or touch your face often.
Concealers are meant to be put on blemishes, so it is better to stay as chemical free as possible. Always choose fragrance-free products as you only require very little amounts and scent shouldn't be your primary concern when getting this product.
In the next section, we have listed down a few points that might help you pick the right waterproof concealer.
A Useful Guide To Help You Choose The Best Waterproof Concealer
Waterproof concealers are meant to last for long periods and should not smudge or crease due to sweat or water. While some concealers last for 12 hours, others last an entire day.
Not all waterproof concealers are suitable for all skin types. If you have oily skin, it is best to opt for an oil-free liquid concealer with a matte or a dewy finish. For people with dry skin, a stick or a hydrating cream formula works well as they glide smoothly on the skin. That said, normal, sensitive, and combination skin types, can go for any concealer. But it's always wise to try out the product first.
Most of the waterproof concealer products can be used to hide dark circles, blemishes, acne, and many other imperfections. But there are a few concealers that are used only to cover dark circles, some of them also help to conceal tattoos, stretch marks, and scars on the body. Choose a formula depending on your skin concern.
While a good concealer is meant to hide skin imperfections and improve discoloration, they can also be used for other purposes. Concealers are perfect to be used as a highlighting and contouring products too. Some of them also work as a foundation or a base for lipstick or eye shadow.
How To Apply Waterproof Concealer
Once you have found the right waterproof concealer, the next step is to learn how to use it.
For optimal results, always apply concealer before the foundation or moisturizer.
The concealer that you choose should be a shade or two lighter than your foundation unless you are using it under your eyes.
Now dab the concealer on areas that you want to cover.
Blend it well using your fingertips, brush, or a sponge.
If you haven't applied the foundation yet, this is the right time to do so.
Lastly, finish by setting the concealer and the foundation with a pressed powder.
How To Remove Waterproof Concealer
If your concealer is waterproof, it can't be removed by using splashing water on your face. What you need is a makeup cleanser that is specifically designed to react with the ingredients in a waterproof product. Soak a natural cotton pad in the solution and wipe off the makeup. Repeat the step until your face is clean and free of makeup.
Why Trust StyleCraze?
The author of this article, Chaitra Krishnan, is a makeup fanatic and loves experimenting with various beauty products. Her passion for providing well-researched articles made her analyze reviews on several online forums to narrow down this list of the best waterproof concealers. The products listed in the article can hide blemishes, dark circles, and discoloration and also nourish the skin.
Frequently Asked Questions
Is waterproof makeup bad for your skin?
Excess of anything is bad, and this holds even for waterproof makeup. If used regularly as part of your makeup routine, it could clog your pores and may also cause skin damage. Apply waterproof makeup sparingly or as and when necessary.
Is waterproof concealer oil-free?
Yes, there are oil-free waterproof concealers. But not all of them are made with an oil-free formulation.
Which is the best waterproof concealer for your skin?
All the products mentioned above are some of the best waterproof concealers that are there. But we recommend 2 products from the list. First is Tarte Waterproof Concealer because of its oil-free creamy formula that lasts for 12 hours and also nourishes the skin. The second one from the list is L'Oréal Paris Infallible Full Wear Concealer due to its buildable formula and 24-hour long-lasting quality. However, do go through the list and select what works best for you.
Can you swim with waterproof concealer on?
Yes. You can swim without worrying about your waterproof concealer fading away. You can wear waterproof concealers while performing all water-based activities.
Is waterproof concealer full coverage?
Yes. A waterproof concealer offers full coverage, is buildable, and is used to hide acne scars, under-eye circles, and skin discoloration on the face, and minimize the appearance of veins, stretch marks, and bruises on the body.
Recommended Articles: