Best Eye Makeup Removers – Our Top 10 Picks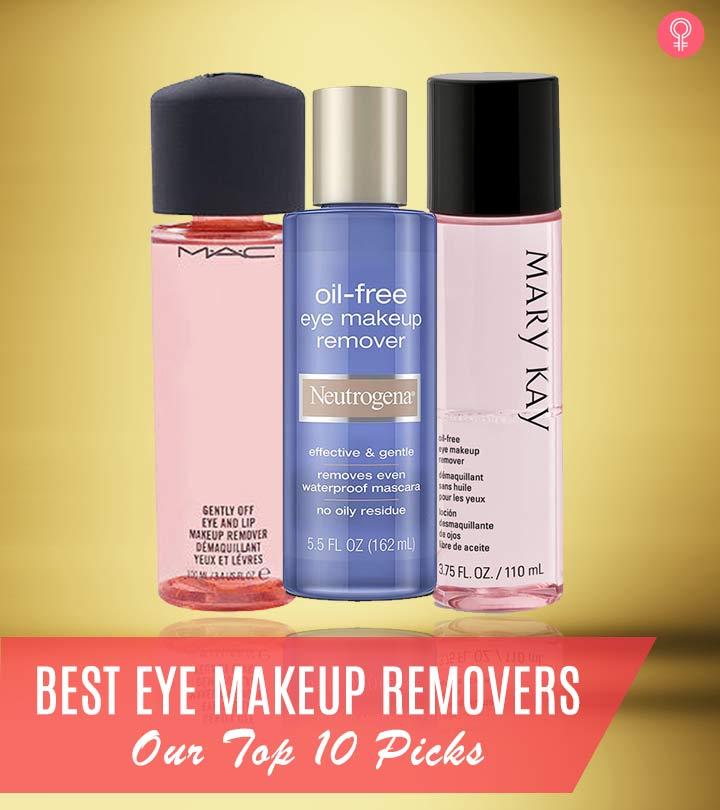 Your eyes are the mirror of your soul. And for most of us, our eye makeup is an indispensable part of our daily beauty routine. Whether you love trying out new eyeshadow techniques or wearing winged eyeliner and a ton of mascara, it is essential to take it all off at the end of the day. Enter: a gentle yet effective eye makeup remover to cleanse and protect your delicate eyes. With an abundance of options out there, picking an eye makeup remover that suits your eyes and skin type can get tricky. To make your job easier, we've rounded up the best eye makeup removers on the market right now that are absolutely worth trying.
But, why do you need an eye makeup remover? Scroll down to find out!
Why Is It Important To Use Eye Makeup Remover?
Plain water does not effectively remove all the traces of waterproof eyeliner or mascara. You need a formula that quickly breaks down your eye makeup and efficiently removes every last bit of it. Besides, hitting the bed with remnants of these chemicals in your eye area spells disaster. No matter how tired you are, you should make it a point to remove your makeup with the right kind of products at the end of the day. This little move will prevent eye infections, allergic reactions, and premature aging.
Let's now check out the best eye makeup removers. 
10 Best Eye Makeup Removers
Review
Lancome's Bi-Facil Double Action eye makeup remover gets rid of even the most stubborn waterproof mascaras. It leaves your skin feeling moisturized, and your lashes feeling softer. The best part? It does not leave behind a slimy residue, so you don't have to wash it off. This formula has a fresh scent and a watery consistency that leaves your skin feeling hydrated. It is the best eye makeup remover for sensitive eyes owing to its skin conditioning properties.
Pros
Removes all eye makeup while conditioning your skin
Ideal for sensitive skin and contact lens wearers
Leaves the eye area feeling cool and refreshed
One bottle lasts you a long time
Cons
Price is on the higher side
Review
This Neutrogena eye makeup remover is a cult favorite as it is the best for waterproof eyeliner and mascara. You only need a few drops of this solution on a cotton swab to cleanse your eyes and lips. Despite its oil-free claims, it does leave behind a bit of greasy residue, and it's important to wash your face after using it. Nevertheless, it leaves your skin feeling hydrated and moisturized. This formula is one of the best drugstore eye makeup removers out there, and we highly recommend giving it a shot.
Pros
Removes waterproof makeup quickly
Fragrance-free
Inexpensive
Suitable for sensitive skin
Cons
Review
These eye makeup remover pads from Almay come in handy when you are traveling or just need something to carry with you on-the-go. It does leave a little oily residue behind, but this oil base helps in removing all traces of stubborn mascara. The pad simply glides over your eyelids and lashes, taking all the makeup off without any hassle. This is the best eye makeup remover for sensitive skin.
Pros
Easy to use
Hypoallergenic
Soothes and depuffs eyes
Budget-friendly
Cons
Leaves a thin layer of oil on the skin.
Price at the time of publication: ₹14.99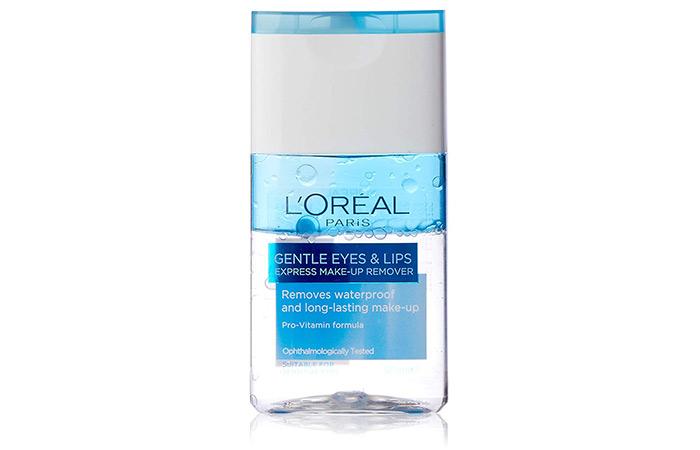 Review
This eye and lip makeup remover from L'Oreal is one of our favorite fragrance-free and non-irritating formulas. The dual-action formula inside the bottle separates into two layers of oil and lotion. One helps dissolve makeup and get rid of it while the other refreshes and moisturizes your skin. This is the perfect pocket-friendly alternative to Lancome's Bi-Phase eye makeup remover. It is incredibly gentle on the skin and also gets rid of long-wearing lipstick with ease.
Pros
Dual-action formula
Travel-friendly
Reasonably priced
A small amount goes a long way
Cons
Leaves a slimy residue behind
Price at the time of publication: ₹13.84
5. Clarins Gentle Eye Makeup Remover For Sensitive Eyes
Review
This newly formulated solution by Clarins contains soothing organic plant extracts. It dissolves light to medium eye makeup easily. It is extremely gentle and does not sting even the most sensitive of eyes. It is mild enough for contact lens wearers. It has a slightly oily consistency that helps melt away all your makeup. You will need to follow up with some washing after using this formula.
Pros
Great for daily use
Removes waterproof makeup
Nourishes and hydrates skin
Gentle
Cons
Price is on the higher side
6. Chanel Gentle Bi-Phase Eye Makeup Remover
Review
If you have the urge to splurge on a makeup remover, this one from Chanel is all you need to try! This bi-phase eye makeup remover removes the most stubborn makeup gently. It is non-irritating, and its fragrance-free formula contains mineral oil, cornflower water, and rose oil. You not only get cleansing benefits, but your skin also feels thoroughly moisturized and nourished after using it.
Pros
Bi-phase formula
Extremely gentle
Suits sensitive eyes
Cons
The price tag
It takes a considerable amount of remover to do the job, so the bottle won't last you for very long.
Review
If you're on the hunt for a drugstore eye makeup remover that won't break the bank, the Nivea Visage Eye Makeup Remover is something to look out for. It is a light, oil-free formula that contains soothing Pro-Vitamin B5 to hydrate your delicate eye area while removing any traces of makeup effectively. It does leave a residue behind, so you will have to wash your face after using it. However, it makes your skin feel softer and smoother instantly.
Pros
Budget-friendly
Mild fragrance
Removes waterproof makeup
Cons
Stings if it gets into your eyes
Price at the time of publication: ₹16.44
Review
This Eye Makeup Remover by Body Shop is waterproof and suitable for sensitive skin types. The bi-phase formula effectively removes stubborn makeup, mascara, and lipstick. This product contains chamomile extracts that help soothe your skin. It is vegan, cruelty-free, and does not leave any residue.
Pros
Cruelty-free
Vegan
Does not sting your eyes
No residue
Cons
Might feel oily
Might cause redness
Price at the time of publication: ₹1045
Review
This eye makeup remover from MAC is an excellent competition to Lancome. It is a dual-phase formula that removes every last bit of heavy makeup. It smells incredible and contains cucumber extract and Damask rose flower water. Your skin instantly feels soothed and refreshed after you get all the makeup off. It leaves no residue, so no rinsing is required. Also, this formula is non-acnegenic and dermatologist-tested.
Pros
Removes waterproof makeup
Gentle
Does not leave any oiliness behind
Cons
Review
Remove easily waterproof mascara or eye makeup using Benefit They're Real! Remover. This eye makeup remover effectively removes any waterproof mascara and eyeshadow combo. It comes in a smooth, creamy texture that you can conveniently use to remove tough eye makeup.
Pros
Gel formula
Suitable for sensitive eyes
Contact lens wearer
Convenient to use
Cons
Sensitive skin may experience redness
These are some of the best eye makeup removers. But before you buy any of them, here are some vital points to consider.
Things To Remember When Buying An Eye Makeup Remover
Use an oil-free eye makeup remover to ensure the product does not leave behind any oily residue. This may clog the skin pores and cause itching and breakouts.
Avoid eye makeup removers with synthetic fragrance as this is a potential irritant and may cause rashes and irritation on the delicate eye area.
Choose a makeup remover containing quick and powerful solvents to ensure it dissolves makeup easily and quickly. It should also remove waterproof eye makeup gently without requiring you to rub your skin aggressively.
Ladies, your eyes deserve special attention, especially after a long day. Scrubbing your eyes until they are red and irritated to get rid of that waterproof mascara is never a good option.
Investing in a good eye makeup remover is key, and it will save you a whole lot of time and trouble. That was our round-up of the 10 best eye makeup removers. Which one are you excited to try? Let us know in the comments section below!
Frequently Asked Questions
Can I use baby oil as an eye makeup remover?
Yes, baby oil works well as a makeup remover. It does not irritate sensitive eyes and removes all traces of eye makeup.  However, it's important to wash your face after using baby oil.
Can I use coconut oil to remove eye makeup?
Coconut oil and olive oil both work wonderfully to remove eye makeup. These also help in promoting eyelash growth and provide added moisturizing benefits to your skin.
Can I use eye makeup remover on eyelash extensions?
You can use an oil-free eye makeup remover on eyelash extensions.
Can I use eye makeup remover to clean makeup brushes?
If you're out of makeup brush cleanser, you can use an oil-free eye makeup remover to clean your brushes gently. However, for a thorough cleaning, you need to use soap and water or a brush cleanser.
Recommended Articles:
The following two tabs change content below.