15 Best Waterproof Eyeliners You Absolutely Need In 2023
Glam up your eyes with a cat or winged look and prepare for all-day events. If you wear makeup regularly through the sun, rain, and snow, you understand the need for a good-quality eyeliner. The best waterproof eyeliners can last you all day without getting smudged or coming off easily. Eyeliners are versatile makeup products that help you nail a regular formal look and also the perfect glam cat eyes or winged eyes.
Our eyes speak volumes, and eye makeup plays a central part in our looks. Eyeliners are no longer just black or brown, as they are also available in a variety of other colors to suit all your moods. But make sure you get yourself a mascara that can withstand a few splashes or some full-blown tears. With our list of the 15 best waterproof eyeliners, you can nail every look in the book and go all day and night without worrying about your eyeliner coming down in streams.
Top 15 Best Liquid Eyeliner That Lasts All Day
The NYX Professional Makeup Epic Ink Liner is a long-lasting eyeliner especially for a cat-eye look. The black eyeliner comes with a precise tip, which is very easy and flexible to use, making it a great choice for beginners. The thickness of the lines can be controlled easily, hence offering a smooth finish. This high-quality drugstore liquid liner is available in multiple shades. The brand also sells gel, cream, and matte liners as well. The product is cruelty-free and 100% vegan.
Pros
Waterproof
Doesn't smudge
High quality
Flexible felt tip
Cons
The product might slightly leak.
Price at the time of publication: $7.97
Wish to get the perfect winged eyeliner in one go? Be your own makeup artist with the new Wingliner Stamp, it is possible to flaunt your beautiful eyes in just one shot. The Flick Stick is hailed as the perfect waterproof, smudge-proof eyeliner with a vegan-friendly formula. Your shaky hands can no longer get in your way, slay with the Wingliner Stamp and enjoy the look you've always wished for.
Pros
Vegan
Cruelty-free
Smudge and waterproof
Long-wear
Cons
Might need some practice to use it effortlessly
Price at the time of publication: $14.98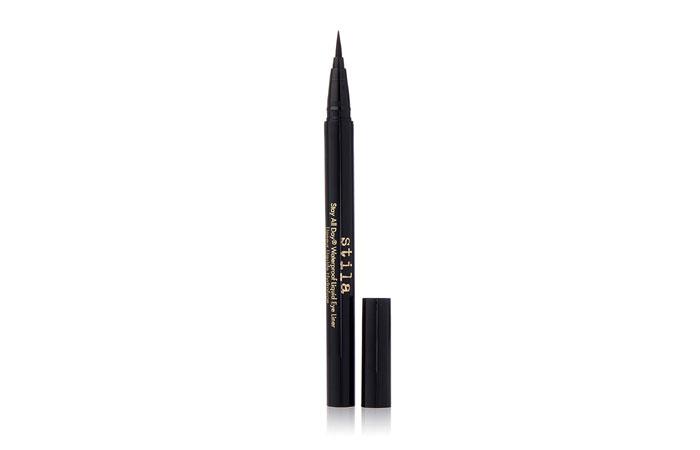 This best-selling liquid eyeliner is available in a plethora of exciting colors and can help you nail the eye makeup you have wanted to try since forever! The waterproof eyeliner formula from stila helps draw fine, precise lines to create looks that are sure to garner compliments. The smudge-proof formula and marker tip allow for smooth application. It is available in various waterproof eyeliner shades, making this graphic liner very popular among makeup enthusiasts. The stila Stay All Day waterproof eyeliner is a stay-put eyeliner that can last all day and help your makeup last for hours.
Pros
Available in a lot of colors
Waterproof
Smooth application
Sharp and dark
Cons
Might not be suitable for sensitive skin
Price at the time of publication: $23
This vegan and cruelty-free liquid waterproof eyeliner is the go-to option when it comes to high-quality makeup. The waterproof gel eyeliner is available in various colors hence allowing you to express yourself fully! The liquid felt tip liner offers a smooth and long-lasting look, helping you stand out in a crowd. You can create any look with the flexible and felt tip waterproof eyeliner that will surely turn heads wherever you go.
Pros
Flexible felt-tip
Good for oily skin
Cruelty-free
Cons
Price at the time of publication: $20.0
Sharpen your creativity skills; give rise to the hidden Picasso in you with the best waterproof eyeliner. No more gaps, skips, slips, or any other struggles that one could have with their eyeliner. Smokey eyes, subtle lines, or any different brow look can be easily pulled off with the Maybelline Hyper Easy Liquid eyeliner. Its flex-tip brush offers optimal control and ease in application. HyperEasy, a good waterproof eyeliner, delivers the smoothest lines that suit your eyes the best.
Pros
Easy to apply and remove
Flex Brush molds to the shape of eyes
Lasts for up to 36 hours
Cons
The liquid liner may not be suitable for those with skin allergies
Price at the time of publication: $20.0
The waterproof eyeliner pencil comes with a built-in sharpener that creates smooth lines for precise application and proper eye definition. The eyeliner has a retractable tip with a built-in smudger that can help you create a smokey eye look. The long-lasting brown waterproof eyeliner offers a matte finish, making your eyes look irresistible.
Pros
Good color
Stays for long
Has a strong gliding power
Inexpensive
Cons
Might cause an allergic reaction. It is advisable to take a patch test before using it.
Price at the time of publication: $4.44
This waterproof eyeliner is formulated to be long-lasting, is easy to remove, and is fade-resistant. This waterproof gel eyeliner is easy to remove with soap and water. You can now try on your favorite look with the COVERGIRL Ink It to slay on all occasions. No more dragging, pulling, or skipping. Just wing it with Ink It!
Pros
Easy to remove
Long-lasting
Waterproof
Cons
The pencil might cause scratches if not applied carefully.
Price at the time of publication: $3.95
This smudge-resistant, infinity waterproof eyeliner glides on effortlessly to create a smooth, long-lasting look. L'Oreal Paris eyeliner is available both in pencil and gel form. This waterproof eyeliner comes in multiple colors that offer a clean, smudge-free look. It is one of the only eyeliners that doesn't smear and stays on exceptionally well!
Pros
Doesn't smear
Waterproof
Long-lasting
Cons
Might be difficult to sharpen
Price at the time of publication: $14.98
Create your perfect makeup look with L'Oreal Paris Telescopic Precision liquid waterproof eyeliner. What makes it unique is that it can be applied by those who wear contact lenses and have sensitive eyes. You can easily choose from a variety ranging from liquid to gel felt tip eyeliners and pencil eyeliners. This eyeliner for sensitive eyes has a slanted felt tip that allows you to quickly draw an accurate line, ensuring that the liner is applied neatly.
Pros
Lasts for more than 12 hours
Waterproof
Shimmer finish
Easy to apply
Cons
Might not work well for oily eyelids
Price at the time of publication: $14.98
Get longer, thicker, gorgeous lashes with the Arishine Magnetic Eyeliner with particles that help magnetic lashes stick to your eyelids. The product offers a stronghold and is meant to last for long. Application of this stay-all day waterproof liquid eyeliner is super easy and is worth every penny spent on it. This waterproof and smudge-proof eyeliner is one of the best additions to your collection to beautify your eyes and lengthen your lashes.
Pros
Convenient
High quality
Water-resistant
Easy to remove
Cons
Price at the time of publication: $8.99
The gel waterproof eyeliner provides a saturated intense color that offers a rich payoff once applied. The product is clinically proven to last for more than 10 hours. The creamy formula glides on smoothly without tugging. It has been ophthalmologist-tested and is cruelty-free. The eyeliner is SLS and paraben-free, making it safe to use on your eyelids. The cruelty-free waterproof eyeliner leaves a sparkle behind every stroke and provides a smudge-free finish.
Pros
Long-lasting
Cruelty-free
paraben -free
Sulfate-free
Intense pigmentation
Cons
Might take time to remove
Price at the time of publication: $12
The Urban Decay 24/7 Glide-On Eyeliner Pencil gives a long-lasting, intense look and delivers a beautiful color to the eyes. The product is cruelty-free and offers 5 different types of finish in a variety of colors. The award-winning eyeliner smoothly glides on and makes application smooth. The eyeliner is formulated using hydrating and nourishing ingredients that help to keep the delicate skin on your eyes supple and moisturized.
Pros
Blendable and versatile
Cruelty-free
Matte finish
All-day wear
Cons
Might require a special sharpener
Price at the time of publication: $22.0
The Sephora waterproof eyeliner promises to stay on all day without getting smudged.IT can be worn when swimming, exercising, or doing any other work without worrying about sweat and water smearing it. The tip of the liner can be sharpened once it gets a bit blunt using the built-in sharpener. The retractable waterproof eyeliner doesn't dry or cause creasing. The matte waterproof eyeliner is the perfect buy for those who love to look presentable at all times of the day.
Pros
Matte finish
Long-lasting
Sweat-proof
Tear-proof
Waterproof
No allergic reactions
Cons
Price at the time of publication: $17.99
Physicians formula waterproof eyeliner enhances the appearance of your lashes and is said to be one of the top waterproof eyeliners out in the market. The product boasts of a long-lasting, high-quality formulation, thereby making it a crowd-favorite for many years!. The ultra-fine eyeliner can also be used to enhance your eyebrows. This fine line waterproof eyeliner has never disappointed its loyal customers and continues to deliver what it promises.
Pros
Durable
Long-lasting
Waterproof
Cons
Might cause an itching sensation on sensitive skin
Price at the time of publication: $8.53
Lancome Grandiose Liner offers you skin-friendly eyeliner that lasts all day and gives you an attractive eye-enhancing look. Boost your appearance with the black waterproof eyeliner and get a toned eye look. It is the holy grail of eyeliners as it provides a smooth and sharp look that you have always wanted for your eyes!
Pros
Water-proof
Smudge-proof
Safe to use
Cons
The quantity might be less.
Price at the time of publication: $40.79
Here is the perfect buying guide to help you choose the best eyeliner that suits you, your skin, and the occasion the best.
How To Choose The Best Waterproof Eyeliner
Different eyeliners impact the eyes; some might help you create bold eyes looks with a dramatic appeal while others might provide a subtly sophisticated look that you'd want for your daily office look.
Some of the different types of eyeliners and finishes provided by them are:
Liquid eyeliners: These are the traditional kinds and have been a part of everyone's memories and trial and error sessions. The liquid eyeliners are known to last long without getting smudged. These are perfect for evening parties and celebrations. It gives a neat, sharp look with the help of its fine edges. However, the application might be tricky and may require some practice. Those with shaky hands might struggle a bit initially but get the hang of it later.
Pencil eyeliners: These waterproof pencil eyeliners come in two types, the one that needs sharpening, i.e., the hard pencil, and the other that can be used by twisting mechanically like done for a pen. The pencil eyeliners are hassle-free and more convenient as you can control it in a better manner and smudge it slightly for a smoky look. Unlike liquid eyeliners, these might lighten a bit as the day progresses and might demand a touchup. Clarin's waterproof eyeliner and Fenty waterproof eyeliner are some of the best eye pencils you can look for to get the best look.
Gel eyeliners: The gel eyeliners are the latest and have already become popular among many. You can now create the perfect cat-eyes or sharp strokes that you've always wished for. The eyeliner goes well for a casual and natural look. The waterproof gel eyeliner doesn't smudge and maintains a pleasant look all day.
Powder eyeliners: an angled, thin brush is all you need to get the look you desire. The application is super simple; all it needs is to get a dampened brush and a little bit of the powder to get the best eye-look. These are colored eyeliners and add variety to your collection.
Gel pencil: The felt tip waterproof eyeliner smells tremendous and dries off quickly. It gives a sharp and dark look. The waterproof gel eyeliner pencil is easy to apply but is also the most expensive type.
It is also essential to read the ingredients before purchasing eyeliner to ensure it is a hypoallergenic waterproof eyeliner for those who have allergy-prone skin. Ensure that the ingredients are safe to use, suitable for your skin type, and have been dermatologically tested.
Why Trust Stylecraze
Srijita De is a makeup enthusiast with a knack for sieving through numerous options to find the best cosmetic products for her readers. She applied her research skills to peruse numerous options and poured through user reviews to curate this list of the top waterproof eyeliners on the market. These eyeliners are formulated in different rich colors for long and smudge-free wear.
Frequently Asked Questions
Is waterproof eyeliner safe for use?
It is essential to use waterproof eyeliner for your waterline. Using the wrong type of eyeliner can be infectious to the eyes and unsuitable for those wearing contact lenses and sensitive skin. It is essential to read the label to ensure that there are safe ingredients in the product.
Are waterproof eyeliners oil-free?
Not all eyeliners are oil-free. Oil in the eyeliner can be harsh to the eyes and might break the eyelashes. Hence oil-free products should be searched before purchasing. Most natural waterproof eyeliners from a reputed high-quality brand sell their products without any harmful chemicals and ingredients, one of which is oil.
Do waterproof eyeliner smudge?
Sometimes the waterproof can budge significantly when applied near the waterline. The smudging can happen if the oil is present in the eyeliner. Hence it is recommended to use oil-free eyeliners to prevent smudging from happening. It is also advisable to keep the face clean and moisturized to avoid eyes from smearing.
How long does waterproof eyeliner last?
It is seen that good waterproof liquid eyeliners last for 10-12 hours or sometimes even longer. It depends on the brand and the expiry date.
Can waterproof eyeliner be used with eyelash extensions?
Magnetic eyeliners have magnetic particles that help magnetic eyelashes get attached to them. These waterproof eyeliners can add a clean finish to the eye makeup, making eyelashes look more voluminous and dark.
Can one swim with waterproof eyeliner?
Yes, the professional waterproof liquid eyeliners can resist water and let the makeup stay even in pools. The tricky part is only when the makeup needs to be removed, and hence not all types of makeup removers should be used. Infallible waterproof eyeliner is one of the best eyeliners that are water-resistant.
Which is the perfect smudge-proof and waterproof eyeliner?
The Urban Decay Waterproof Eyeliner and the stila Stay All Day Waterproof Liquid Eyeliner are some of the best waterproof eyeliners to ensure eye makeup longevity as they don't smudge and stay untouched for long hours. These eyeliners dry quickly. No matter how much you cry, run, sweat, or work hard, the eyeliner will remain by your side through thick and thin.
How do you take off waterproof eyeliner?
Oil-based makeup removers are the best option to remove waterproof eyeliners. It just requires a small quantity to be poured on a cotton pad, and the makeup will quickly come off. Don't rub the place all over the eyes; just rub towards the out of the eyes. This will prevent the eyeliner from smudging.
Recommended Articles: