14 Best Waterproof Eyeliners Available In India (2023) – Reviews And Buying Guide
Stay stunning and let your bold and beautiful eyes do the talking.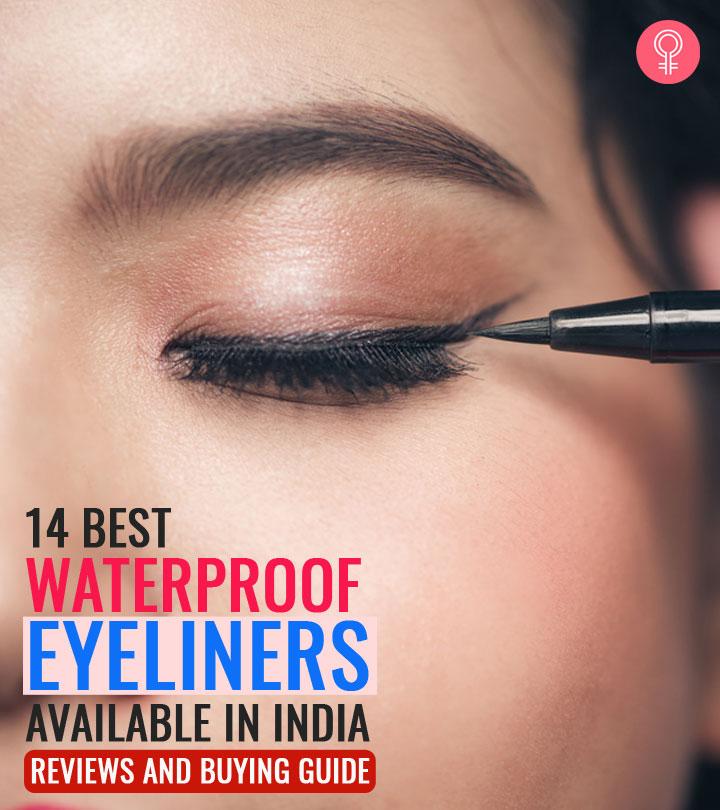 Imagine you are out on a date, looking just right for the occasion, wearing the perfect dress and shoes, and the just the right amount of makeup – strawberry lips, rosy cheeks, and beautifully lined eyes. But the humid weather smudges out your eyeliner, and your entire look gets ruined. Awful, right? Well, you don't have to be stuck in such embarrassing situations anymore. There is a whole range of eyeliners in the market that are waterproof and stay on come what may – rain, tears, or sweat.
Let's take a look at the top 14 waterproof eyeliners available right now.
14 Best Waterproof Eyeliners Available In India
Stila Stay All Day Waterproof Liquid Eyeliner tops the list of the best waterproof liquid eyeliners. Its smudge-proof formula glides quickly with ease and dries instantly on application. The fine pen-like tip allows precise application. Unlike other liquid liners, you can easily create thick or thin lines and get that perfect wing with it without much expertise.
The formula is suitable for watery eyes or oily eyelids and stays on for hours without smudging. It is available in various other colors like green, blue, brown, and gray. It is hard to find such an excellent shade range in waterproof eyeliners!
Pros
Smudge-proof formula
Glides easily
Long-wearing
Suitable for oily eyelids
Offers precise application
Available in a wide range of colors
Suitable for beginners
Cons
None
Price at the time of publication: ₹23.0
If you are looking for a fast-drying liquid eyeliner, Maybelline Hyper Glossy Liquid Liner is the perfect choice for you. Its formula dries within seconds of application. It is intensely pigmented, and a single swipe is enough to give you the perfect jet black, gel-like finish. It has a good-quality applicator that allows smooth application. It also lasts almost an entire day without smudging.
Pros
Smudge-proof
Intensely pigmented
Easy-to-use applicator
Gel-like finish
Travel-friendly packaging
Cons
Not very waterproof
Unsatisfactory quantity
If you prefer the precision of a creamy formula, try out this liquid eyeliner by ADS. This is a 2-in-1 waterproof gel eyeliner and eye powder. It comes with an applicator brush that defines your eyes perfectly. Its formula is ultra-light, smudge-proof, waterproof, and dries quickly after application. You can wear this eyeliner for every occasion.
Pros
2-in-1 eyeliner
Creamy formula
Comes with an applicator brush
Dries quickly
Ultra-light feel
Suitable for every occasion
Cons
Spanking Precision 36H Liquid Waterproof Eyeliner is a smudge-proof eyeliner that is very easy to use. It gives you the perfect black finish in just one stroke. The formula lasts up to 12 hours and does not wear away. It gives your eyes a remarkably enhanced, dramatic look.
Pros
Smudge-proof
Lasts up to 12 hours
Easy to use
Cons
None
Price at the time of publication: ₹15
You don't have to make too much effort or spend a fortune to find a long-lasting liquid eyeliner. Colorbar Waterproof Liquid Eyeliner comes in a tiny jar with a fine-tipped applicator that smoothly swipes the liquid on your eyelids. The durable, smudge-proof formula does not crack, peel, or wear away with time. The tip of the applicator can apply fine, thick, or thin lines. It is fast-drying and also suitable for those with sensitive eyes.
Pros
Intense black finish
Long-lasting
Precise applicator
Waterproof
Smudge-proof
Fast-drying formula
Suitable for sensitive eyes
Cons
Price at the time of publication: ₹9.81
This creamy eyeliner by L'Oreal Paris comes in a creamy-gel formula in a glass pot along with an applicator that allows convenient application. The bristles of the brush are firm and don't fall out easily. You can go overboard with this smudge-proof formula and experiment with different eye looks, starting from graphic liners to winged ones. The formula is highly pigmented and stays on for about 36 hours without any chipping. If you are not a big fan of glossy finish and prefer more of a matte look, you will love this eyeliner.
Pros
Travel-friendly packaging
Highly pigmented
Matte finish
Smudge-proof
Waterproof
Does not chip
Comes with an easy-to-use applicator
Cons
L'Oreal Paris Telescopic Waterproof Eyeliner is perfect for adding drama to the eyes that lasts all day long. The slant-angled felt tip is designed for accurate application and glides smoothly on the eyelids. Its formula is smudge-proof and lasts up to 16 hours without smudging or creasing.
Pros
Long-lasting
Smudge-proof
Glides on smoothly
No artificial fragrances
Ophthalmologist-tested
Suitable for contact lens-wearers
Cons
Price at the time of publication: ₹7.71
Revlon ColorStay Liquid Liner stays on for hours until you want to take it off. The formula is developed with Revlon Original Technology that prevents any kind of smearing or smudging. It glides smoothly on your eyelids and gives you dramatic eyes with absolute precision. The rich black hue is what makes this liquid eyeliner one of the preferred choices among reviewers.
Pros
Does not smudge or fade
Excellent color payoff
Easy to apply
Cons
None
Price at the time of publication: ₹1994
If you love to create detailed eye looks but are scared that you might mess it up, try this eyeliner by atongm lucy. Its formula is quick-drying and gives you 24 hours of long-lasting finish. The waterproof and smudge-proof formula resists sweat, humidity, and rain. The ultra-precise tip makes it easy to use and is one of the best options for beginners. No matter what look you prefer, bold or subtle, you have complete control. This eyeliner offers you a dark, intense color payoff with its ink pigment technology.
Pros
Formulated with high-quality materials
Dries quickly
Waterproof
Smudge-proof
Offers precise application
Dark color payoff
Easy to carry
Affordable
Cons
None
Be it a casual lunch date, or an evening party, create a stunning eye look with the AYA Waterproof 24 Hours Long Lasting Feather Eyeliner. Its formula lasts for hours without fading away. Its unique feather design makes it easy to hold and apply.
Pros
Long-lasting
Smudge-proof
Ergonomic packaging
Easy to use
Cons
For those who want to define their eyes with extreme perfection, the Swiss Beauty Pro Super Black Eyeliner Pen is the best choice. It has a quick-drying, long-lasting, and smudge-proof formula that does not fade away. Its applicator is pen-like, with a pointed tip that makes application super easy. Get your desired eye look in just one stroke with this eyeliner.
Pros
Jet black finish
Transfer-proof
Smudge-proof
Highlights the shape of your eyes
Dries quickly
Easy to apply
Long-lasting
Cons
None
Long Wear Gel Eyeliner by Bobbi Brown was awarded the "Best Beauty Buys" award by In Style magazine in 2015. This award-winning liner provides a liquid liner's precision and the easy application of a gel liner. It is sweat- and humidity-resistant and lasts up to 12 hours. Its longevity is considered its stand-out feature. This exceptional gel eyeliner also comes in a wide range of colors, including black, blue, brown, violet, and emerald green.
Pros
Gel-like finish
Comes with a precise applicator
Highly pigmented
Available in a wide range of colors
Creamy formula
Long-lasting
Cons
Price at the time of publication: ₹2160.0
Your winged eyeliner requires a perfect flick, right? Then, go ahead and try out the SUGAR Cosmetics Arrested For Overstay Waterproof Eyeliner. If you are planning to go out for a sweaty workout or a pool party, you can blindly rely on this eyeliner. Its intense black pigment gives you an opaque finish. You can create different looks – from bold graphic lines to carefully crafted cat eyes – with its precise tip and 100% waterproof formula.
Pros
Suitable for a winged eye look
Opaque finish
Offers precise application
Cons
None
M.A.C Liquidlast Liner is a creamy black liquid eyeliner that provides a smudge-proof, long-lasting, and glossy effect to the eyes. The felt tip is pointed to help you in drawing a precise line and adding definition to your eyes. This is a must-have product to have in your makeup kit.
Pros
Rich pigmentation
Smudge-proof
Easy to apply
Long-lasting
Glossy finish
Cons
Price at the time of publication: ₹22.0
[ Also Try – Music Flower Gel Eyeliner ]
Now that you know all about the best waterproof eyeliner, let's check out all the different types available on the market.
Listed above are some of the best waterproof eyeliners. However, before you invest in any of them, consider keeping in mind a few essential points that are listed in the bext section.
Things To Consider When Buying A Waterproof Eyeliner
Buy a product that has natural and safe ingredients as they do not irritate the eyes. Eyeliners made with natural additives like almond oil, coconut oil, beeswax, or apricot oil are safe to use and moisturize the skin. Avoid products that contain harmful additives, fragrances, and allergy-causing ingredients like alcohol, parabens, and phenoxyethanol.
Waterproof eyeliners are long-wearing and come in different shades like black, brown, blue, green, plum, and gray. You can opt for any suitable shade according to your eye color. For black and brown eyes, shades of black, blue, and brown are perfect. For green eyes, buy plum or purple hues. If you have blue eyes, shades of brown are the best. If you have hazel or light brown eyes, shades like black, brown, green, and navy blue look perfect.
Eyeliners come in three types of finishes – matte, shimmery, and glossy. You can opt for any finish according to your choice and occasion. For a perfect daytime look, a matte-finish eyeliner is recommended. For night time, go for either a shimmery or a glossy finish.
Opt for a liner that is highly pigmented. These eyeliners offer deep color in just one stroke. To get a better idea about the product, check the user reviews before buying it.
Types Of Waterproof Eyeliner Applicators
A felt tip applicator looks like a marker pen. It is good for creating winged looks, thick or thin lines, and graphic designs. They are specially meant for those who are not quite a pro at applying liquid eyeliner.
Brush applicator, as the name suggests, is a thin brush that you dip into a pot or bottle of liquid eyeliner. They can be used to create unique and thick lines.
Pen-like applicators are unique and mostly used by makeup professionals for a precise dramatic eye look.
Whether you are a makeup fanatic or not, a good eyeliner that offers an intense black finish is something we all need. But, picking the best eyeliner depends on certain factors. Check them out in the next section.
How To Choose The Best Waterproof Eyeliner
Eyeliner formulas are available in different types, and not everyone is comfortable using all the formulas. The two main formulas are liquid and gel. Irrespective of what formula you choose according to your convenience, your eyeliner should offer you a high pigmentation. Highly pigmented formulas offer better coverage.
When buying an eyeliner, choose a product that has good reviews by users. Watch makeup tutorials online where the beauty blogger is trying out a particular eyeliner and giving you honest feedback. This is important because not-so-good-quality eyeliners can often chip or flake off.
Not every eyeliner is suitable for everyone. Those who have sensitive eyes or wear contact lenses should always go for water-based formulas that are free from harsh chemicals as they are easy to remove and gentle on the eyes.
Buy an eyeliner that is long-lasting and does not smudge, flake, or wear off within just a few hours of application. It should dry out within seconds of application. So, a quick-drying formula is another factor you should take into consideration.
Determine the kind of applicator that you'd prefer. For beginners, it is better to opt for a precise felt-tip applicator.
Some eyeliner formulas have harmful chemicals. Make sure your eyeliner is free from parabens and other harmful additives.
Paying too much money for a tiny eyeliner bottle is not worth it unless you want to try out high-end brands. So, go for an eyeliner that is not very expensive.
These were our top picks for waterproof eyeliners that can make your eyes look beautiful and defined. What are you waiting for? Give them a shot and get beautiful-looking eyes today!
Frequently Asked Questions
How do I remove waterproof eyeliner?
Waterproof eyeliners can be removed with the help of a cotton pad and an oil-based makeup remover.
Can I wear eyeliner with eyelash extensions?
You can wear eyeliner with lash extensions, but make sure you apply it above and not through the lash extensions.
What kind of applicator can I use?
You can use a felt-tip applicator, a brush applicator, or even a pen-like applicator, according to your preference.
How long does it take for waterproof eyeliners to dry?
Waterproof eyeliners take 20-30 seconds to dry up completely.
Recommended Articles
Best Eyeliner Brands Available In India
Top Liquid Eyeliners In India That Make Your Eyes Pop!
Top Black Liquid Eyeliners In India
Best Pencil Eyeliners Available In India
Best Revlon Eyeliners