15 Best Waterproof Liquid Eyeliners That Stay All Day Long (2023)
Let your eyes do the talking with the deep pigment and long-lasting stay of these liners.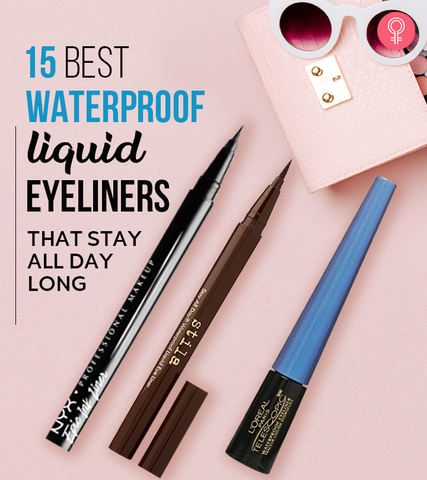 The best waterproof liquid eyeliners can help you nail all your eye makeup looks with minimal effort. No one wants their cat eyes to turn into panda eyes within a few hours of stepping out of the house. But thanks to water, sweat, tears, and sebum, your cat-eye eyeliner can easily get smudged. However, this can be avoided with good quality waterproof liquid eyeliners. These are easy to use, cost-effective, and long-lasting. Here, we have listed the 15 best waterproof liquid eyeliners that you can use to nail the best eye looks. Go ahead and check them out now.
15 Best Waterproof Liquid Eyeliner Of 2023
The NYX Epic Ink Liner comes with the best applicator in town. This deeply pigmented, sweatproof, and waterproof liquid eyeliner features a slender felt tip brush. Its pro-design and texture uniformly deposit the ink on your eyelids and help you achieve jet-black, seamless, and defined lines. This eyeliner lets you control the thickness of each stroke when you lightly press the tip down. Be it fine and natural or broad and bold lines – this liquid liner never cracks, bleeds, or fades. You can wear it every day in any weather. If you need more convincing, feel free to take a look at this YouTuber's video on the merits and demerits of this cruelty-free waterproof eyeliner.
Pros
Intensely pigmented
Long-lasting
Ergonomic applicator
Leak-proof
Flexible felt tip
Cruelty-free
Cons
None

Price at the time of publication: $18.17
The Stay All Day Waterproof Liquid Eye Liner by Stila glides very smoothly on the eyelids. The thin, marker-like, fine tip delivers the smooth, rich, and pigmented formula effortlessly over the eyelids without skipping, smudging, bleeding, or pulling. It helps you crack the tricky feline, winged, and fishtail eyes like a pro! The rich and chocolaty Dark Brown shade contours the eyelids perfectly and makes the eyes look bigger from a distance. It goes perfectly with brown eyes. If you want a detailed review of the product, make sure to take a look at this video.
Pros
Easy to use
Smooth application
Long-lasting
Smudge-proof
Thin precision tip
Dries quickly
No flaking
Cons
Price at the time of publication: $23.0
If full-drama eye makeup is your thing, you will love the L'Oreal Paris Telescopic Waterproof Precision Liquid Eyeliner. It comes with a 16-hour wear formula that gives smudge-proof, dramatic definition to your eyes. The slanted precision felt tip is angled to deliver accurate application and smooth strokes. The applicator gives you complete control over the product, so you get to create multiple looks. This long-wearing liquid liner is developed to suit everybody, including those with sensitive eyes and contact lenses.
Pros
Long-lasting
Smudge-resistant
Ophthalmologist-tested
Suitable for sensitive eyes
Suitable for contact lens wearers
Sweat-proof
Fragrance-free
Hypoallergenic
Cons
Price at the time of publication: $9.99
The Skone Cosmetics Insanely Intense Tattooed Waterproof Eyeliner will stay in place with indelible wear. Its waterproof, rich, and deep pigments glide effortlessly and deposit in one clean swipe over eyelids while the formula flows freely and dries quickly. This liquid liner has a beginner-friendly flexible felt tip applicator. It makes sure you pull off a winged liner look like a pro with no or minimal effort. Whether you are hitting the gym or watching your favorite tear-jerker movie, this eyeliner will not budge, leak, or fade. And no more panda eyes after an all-nighter too!
Pros
Intense pigments
Fast-drying
Smudge-proof
Long-lasting
Beginner-friendly applicator
Sweat-proof
Cruelty-free
No flaking
Cons
Price at the time of publication: $21.49
The Eye Booster Waterproof Ultra-Fine Liquid Eyeliner by Physicians Formula is one of the best drugstore hypoallergenic liquid eyeliners. Its deep, rich, black pigments allow seamless flow-through application. The ink dries fast on the lids to leave a smooth and semi-matte finish. This liquid liner is enriched with a Lash-Boosting Complex that strengthens and conditions your lashes. If you have oily eyelids or love wearing false lashes, this drugstore waterproof eyeliner is your BFF!
Pros
Hypoallergenic
Fragrance-free
Paraben-free
Gluten-free
Dermatologist-tested
Clinically tested
Vegan
Cruelty-free
Fast-dry formula
Ergonomic applicator
Cons
None
Price at the time of publication: $8.53
The Clio Waterproof Pen Liner is long-lasting, deeply pigmented, and user-friendly. Its pitch-black pigments are composed of polar resins, which enhance the staying power and make it last all day long without leaking, flaking, or fading away. The felt-tip waterproof eyeliner smoothly contours the eyelids without feeling clunky or coarse. It is a sweatproof eyeliner pen that quickly dries to a matte finish and helps you create cat-eye, winged, or tightline styles in various shades of black and brown.
Pros
Long-lasting
Highly pigmented
Smudge-resistant
Easy to use
Sweat-proof
Ergonomic felt tip applicator
Cons
Difficult to remove
Tip may feel rough
Price at the time of publication: $15
The NYX Matte Liquid Liner has a micro-fine felt tip applicator. You can define your eyes, fill in your eyelash line, and create a matte, subtle cat-eye look with this versatile fine-tip liquid eyeliner. Its flexible fine tip deposits rich and intense pigments on your eyelids. It gives you full control over the product and ensures a seamless application. This precision waterproof eyeliner does not budge or leak and stays opaque from morning through night. It also does not turn your eyelids dry, itchy, or flaky, unlike regular matte finish products.
Pros
Smooth formula
Vegan
Flexible felt tip applicator
Long-lasting
Dries fast
Sweatproof
Cons
Difficult to remove
Smudges on oily lids
Who said achieving the winged eyeliner is difficult? With Stila's Stay All Day Waterproof Liquid Eyeliner, you get a microtip applicator that gives you smooth, well-defined lines. Its thin, marker-like, fine tip uniformly deposits the waterproof pigments on the lashes, giving a professional finish.
Pros
Easy application
Long-lasting
Glides smoothly
No flaking
Ideal for beginners and professionals
Quick-drying
Sweat-proof
Cons
Price at the time of publication: $23.0
The Docolor Waterproof Liquid Eyeliner gives you flawless clean lines without skipping, smudging, or jarring across delicate skin – thanks to its rich, intense, waterproof black pigments. Its high precision tip comes with soft and yet firm bristles that helps you draw the desired liner styles in a few fast-drying strokes. This waterproof liquid eyeliner gives long-lasting results that define your eyes.
Pros
High-precision tip
Long-lasting
Soft bristles
Allergy-free
Ideal for sensitive eyes
Smooth application
Easy to wash off
Quick-drying
Cons
None
Price at the time of publication: $2.24
Elevate your eye makeup with the LA PURE Eyeliner Stamp and get a perfect cat-eye look. The kit includes eyeliner and a stamp. Stamp assists in drawing precise wings while the eyeliner enhances your look. The double-sided pen has eyeliner pencils on the other side. Wing stamps promote symmetrical drawing.
Pros
Water-resistant
Smudge-proof
Long-lasting
Paraben-free
Synthetic fragrance-free
Unisex
Cons
Price at the time of publication: $12.95
The Aesthetica Waterproof Liquid Eyeliner Pen comes with rich and intense pigments that glide effortlessly on your eyelids. Its high-quality flexible felt tip helps you create various eyeliner styles in seamless strokes and flicks. The brush tip gives you full control over maneuvering the product. This waterproof liquid eyeliner pen defines your eyes with a finish that lasts from morning to night. It does not crack, melt, flake, or budge and does not need frequent touch-ups. The package comes with a step-by-step tutorial that makes using this eyeliner a breeze.
Pros
Paraben-free
Vegan
Long-lasting
Glides easily
Smudge-proof
No fading or melting
Quick-drying
Gluten-free
Cons
Not buildable
May irritate the eyes
Price at the time of publication: $9.97
If you are a matte black and vegan beauty lover, the Italia Deluxe Perfect Eyeliner is a godsend for you. This waterproof eyeliner has dense and highly concentrated black pigments that provide a stunning matte finish. Its precise fine brush applicator is user-friendly and helps deliver full coverage of the product. This versatile waterproof eyeliner brush tip allows you to create bold, strong, and beautiful lines and flicks that last all day. Once the formula dries, it becomes smudge-proof and does not budge until you wash it off.
Pros
Easy-to-use applicator
Highly pigmented
Long-lasting
Cruelty-free
Vegan
Ideal for oily skin
Cons
Price at the time of publication: $17.79
Urban Decay's Perversion Waterproof Fine-Point Eye Pen is the ultimate game-changing eyeliner. The blackest of black intense pigments are loaded into this pen with a cartridge system that allows a constant flow of ink for the smoothest application. The tip glides across your eyelids without pulling, giving you full control. This waterproof eyeliner pen draws precise fine, bold, and thick lines that last all day long without feathering, leaking, or flaking. It comes in a funky metalized black tube with pale purple artwork.
Pros
Paraben-free
Smooth application
Cruelty-free
Has break-free ink flow system
Dense pigments
Fast-drying
No feathering or running
Trendy packaging
Cons
None
Price at the time of publication: $20
This is an ideal liquid eyeliner for beginners. It comes with a reusable stencil that helps you create the perfect winged eye look in just a few minutes. The formula is enriched with butylene glycol to enhance the texture of black pigments. It has the perfect felt tip that glides along your eyelids and rich pigments that create stunning lines on your eyelids. This waterproof liquid eyeliner gives your eyes a bold definition and a smudge-proof finish that lasts 24 hours.
Pros
Beginner-friendly design
Includes stencil
Long-lasting
Bold pigments
Fade-proof
Smooth application
Cons
Price at the time of publication: $14.96
Maybelline's EyeStudio Hyper Easy Liquid Eyeliner offers a seamless, skip, and slip-free eyeliner application. Its Hyper Easy Brush tip glides effortlessly across the length of your eyelids and delivers a flawless contour. This fine flexi-tip draws artistic strokes, flicks, and lines. The liquid liner pen has a custom hexagonal grip to give optimal control and ensure stable application. Its intense, pitch black pigments are dense and waterproof and lasts all day long without smudging or feathering.
Pros
Ergonomic grip
Flexible brush tip
Smudge-proof
Long-lasting
Intense black pigments
Glides smoothly
Safe for sensitive eyes
Cons
Short tip
Not full coverage
Price at the time of publication: $7.98
Why Trust StyleCraze?
The author of this article, Shalini Roy, is a makeup enthusiast who loves trying out liquid eyeliners. She has curated this list of the best waterproof liquid eyeliners available in the market after carefully researching, checking reviews online, and going through multiple forums for user feedback. These eyeliners are intensely pigmented and leak-proof. They are waterproof, budget-friendly, have flexible felt tips, and ensure smooth application.
Frequently Asked Questions
Can you swim with waterproof liquid eyeliner?
Yes, you can swim with waterproof liquid liners because they are long-lasting and will not run or smudge when swimming.
Can you put waterproof liquid eyeliner on your waterline?
Yes, you can apply a waterproof liquid liner to your waterline since it is long-lasting and smudge-proof. The waterproof formula prevents the eyeliner from smudging around your waterline.
Can we use waterproof liquid eyeliner as mascara?
Yes, you can use waterproof eyeliner as mascara, although the texture will differ because mascara is thicker than eyeliner.
Do you put liquid eyeliner on before or after eyeshadow?
You should apply liquid eyeliner after eyeshadow to make the lines sharp and apparent.
How long does waterproof liquid eyeliner take to dry?
Waterproof liquid eyeliner will take almost 30-40 seconds to dry.
Is waterproof liquid eyeliner hard to remove?
Yes, waterproof liquid eyeliner is hard to remove because it is moisture-resistant. However, you can remove waterproof eyeliner with oil or micellar water to break down the product and clean it away.
Recommended Articles