10 Best Waterproof Makeup Products Of 2020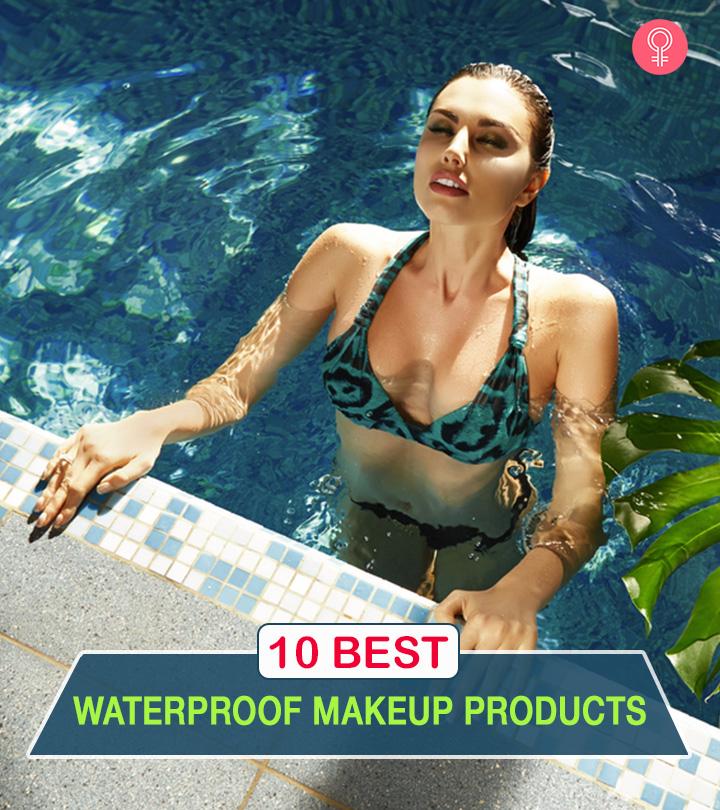 Do you love wearing makeup regularly but are worried that the sweaty summers and monsoon rains might wash it off? Well, let me tell you that this is a problem faced by many. Have you ever wondered how the makeup of all those movie stars remains intact even after shooting for a rain or swimming sequence? The answer is waterproof makeup.
If you want your makeup to last all day long, through all the humidity and rains, this article is going to help you. We have listed some of the best waterproof makeup products that you can try out for an evergreen, long-lasting look.
Are you ready? Let's go for it!
10 Best Waterproof Makeup Products Available Right Now
Make your eyebrows look thick and bushy with the Wunder2 WunderBrow Waterproof Eyebrow Gel. It is gentle yet long-lasting and fills the gaps in your brows with a subtle tint. It is infused with hair-like fibers that fill, sculpt, and shape your brows.
WunderBrow is entirely waterproof, smudge-proof, transfer-proof, sweat-proof, and vegan. The upgraded pack of this brow gel kit comes with a dual-precision brush that makes application very easy.
Pros
Offers natural-looking brows
Smudge-proof
Sweat-proof
Long-lasting
Vegan
Oil-free
Alcohol-free
Cons
The applicator is a bit tricky
Trying hard to get that perfect winged liner look but failing repeatedly? No need to worry now. With The Flick Stick by Lovoir, create the perfect winged eyeliner look you have always wanted. Its formula is cruelty-free and vegan, which makes it a safe option to use.
It is waterproof and smudge-proof as well. So if you want to sport a cat-eye look to a pool party, you can go for this product.
Pros
Easy to use
Cruelty-free
Vegan
Smudge-proof
Long-lasting
Cons
The Cover girl Lash Blast Volume Waterproof Mascara gives you voluminous lashes that look enhanced and dramatic with just a single swipe. It promises to create 10 times more volume instantly and is available in a range of colors so that you get options to choose the best one for you.
This mascara coats each of your lashes without any clumps or flakes, and it is 100% cruelty-free. This waterproof mascara also contains a wax that makes your lashes stay curled for an extended period of time.
Pros
Adds volume instantly
Available in a wide range of colors
Cruelty-free
Does not clump or flake
Vegan
Cons
None
Get flawlessly defined brows with the L'Oreal Paris Brow Stylist Definer. This brow pencil is waterproof and ophthalmologist tested, making it a safe option for people with sensitive eyes and contact-lens wearers. It comes in 7 different shades to match your brow color. The ultra-fine tip and in-built soft spoolie brush define your brows perfectly. 
Pros
Ophthalmologist-tested
Safe for sensitive eyes
Suitable for contact-lens wearers
Precise application
In-built spoolie brush
Cons
SHERUI Matte Velvety Liquid Lipsticks come in a set of 6 different shades. The formula of this liquid lipstick is very comfortable, smooth, creamy, and velvety. It does not feel drying on your lips. The color variety will suit every mood, and the set is very convenient to carry.
These lip colors are water-resistant, smudge-proof, and last all day. We recommend applying a moisturizing lip balm and then wearing a thin layer of this lip color to get a comfortable feel on your lips. 
Pros
Comfortable to wear
Long-lasting
Smudge-proof
Travel-friendly 
Cons
Dark circles, redness, and blemishes make your skin look dull and tired. The waterproof formula of Maybelline New York Cover Stick Corrector Concealer hides all those imperfections efficiently. This corrector sticks smoothly on your skin and gives you natural coverage.
The waterproof formula lasts for hours. If you are a water baby who loves swimming but feel conscious about your blemishes, you can try out this concealer. Dot the areas that need to be concealed and blend it lightly with your fingertips. 
Pros
Easy to blend
Natural coverage
Long-lasting 
Cons
NYX Proof It! Waterproof Eyeshadow Primer is magical. This primer can make any eyeshadow waterproof. Apply the primer smoothly all over your lids before applying your favorite eyeshadow. Your eyeshadow will stay on even if you get completely drenched in the rain or go for a swim.
This eyeshadow primer gives you maximum pigmentation and works well on humid days or for long-haul functions. Investing all that time on your eye makeup will be worth it with this product. This primer is certified cruelty-free. 
Pros
Lasts through any weather
Maximizes pigmentation
Cruelty-free
No creasing or smudging 
Cons
Not suitable for oily eyelids
A highlighter can light up your face instantly, unlike any other makeup product. If you don't want that glowy shimmer to wear away from your cheeks, use the Ow nest Magical Halo Shimmer Stick. This highlighter has a waterproof, creamy formula that is ideal for daily use.
The flattened top of the stick is convenient for highlighting your cheekbones and other high points of your face with a single swipe. It is long-lasting, water-resistant, and sweat-proof. Don't worry about getting caught in the rain or being pushed in the pool when wearing this highlighter.
Pros
Sweat-proof
Long-lasting
Creamy formula
Suitable for all occasions
Lightweight
Travel-friendly
Cons
None
This waterproof mattifying powder offers a smooth matte finish to your foundation. This translucent powder is enriched with vitamins A and E that give you a healthy, natural-looking complexion. It is long-lasting and renews your skin. It works well on all skin types, and you can conveniently carry it around in your travel pouch.
Pros
Smooth matte finish
Nourishes the skin
Long-lasting
Enhances your natural complexion
Travel-friendly
Suitable for all skin types 
Cons
None
Get thick, bushy, and dense eyebrows with Stylia Waterproof Eyebrow Pencils. This set consists of 12 waterproof eyebrow pencils in 5 different colors – black (4), dark brown (2), brown (2), light brown (2), and gray (2).
The pencils are 100% waterproof and last for hours without smudging. Use the small sharpening blade to sharpen the tips and give them the shape that works the best for you.
Pros
5 different shades
Long-lasting
Comes with 2 free sharpeners
Safe to use
Cons
If you are happy with your current makeup products and are wondering how to make it waterproof, check out the easy tricks listed in the next section.
How To Waterproof Your Normal Makeup
Use Aqua Seal: Aqua seal is a liquid that transforms all your regular powdery formulas into waterproof formulas. Mix a few drops of aqua seal into your powder eyeshadow or highlighter. Apply it like any makeup with a creamy formula. You will get the desired waterproof formula.
Use A Makeup Setting Spray: You can also use a makeup setting spray to make your makeup last longer. Just spray it all over your face after applying your makeup if you want a long-lasting look with regular makeup. 
Don't endure another hot day of smeary makeup ever again with these waterproof products. Take your makeup collection to the next level by getting your hands on some of the products listed above!
Expert's Answers for Readers Questions
Does waterproof makeup work?
The wax content of waterproof makeup products makes them last longer. Your makeup will not wash away even if you jump into a pool.
How can I make my makeup waterproof?
If you are satisfied with your signature look using regular makeup and want to make it water-resistant, you can spritz on some makeup setting spray after applying it.
Recommended Articles:
The following two tabs change content below.

Latest posts by Oyendrila Kanjilal (see all)

Oyendrila Kanjilal
Oyendrila Kanjilal has a Master's Degree in English Literature. As a Beauty and Lifestyle writer, she writes about everything that the modern woman needs to know about grooming and self-care. She also reviews makeup, skin care, and lifestyle products to help readers make the best purchase. She is a trained classical dancer and loves binge-watching web series of different genres.