The 9 Best Waterproof Makeup Products You Should Buy In 2023
Invest in these products and never let sweat and water ruin your flawless makeup look!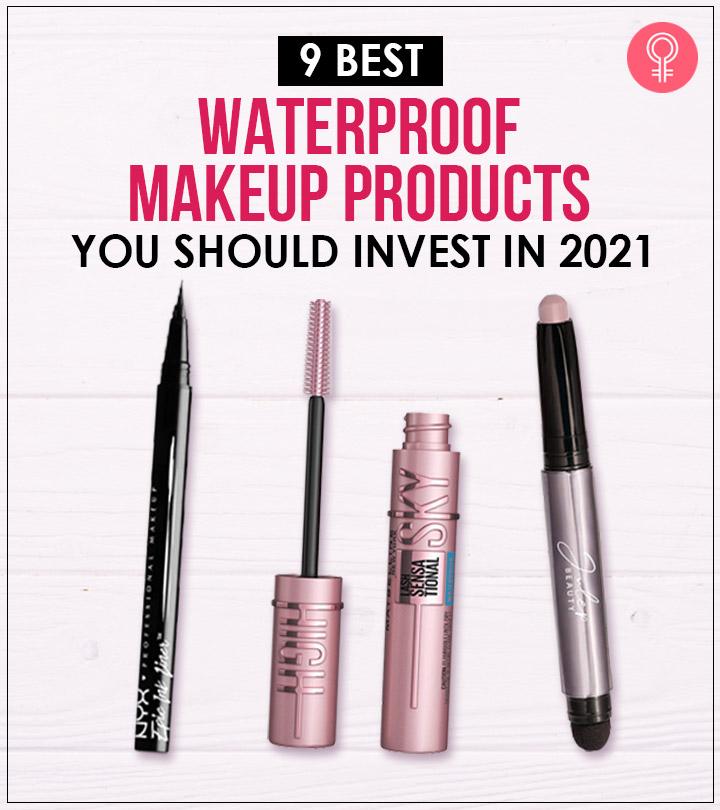 "Treat your makeup like jewelry for the face. Play with colors, shapes, structure — it can transform you." – François Nars 
It would be quite embarrassing if your mascara smudges off or your foundation melts away, especially in hot climates. So, use the best waterproof makeup products that are waterproof, smudge-proof, and resist sand and sun waves. So, you can use these products while heading to a romantic dinner date or a beach party, or any event without worrying about smudging. This article mentions the 9 best waterproof makeup products that offer full coverage. Read on. Keep scrolling!
9 Best Waterproof Makeup Products You Should Invest In
These waterproof, matte liquid lipsticks from BestLand are highly pigmented, long-lasting, and do not fade away. They are infused with moisturizing ingredients that feel comfortable on the lips. The blend of vitamin E, moringa oil, and grapeseed oil in the lipsticks prevents your lips from drying out and keeps them plump. The lipsticks offer a charming matte finish and are fade-resistant. Get this set for yourself or gift it to your loved one – we promise they will just love it as it lasts the entire day without the need for frequent touch-ups.
Pros
Waterproof
Long-lasting
Non-sticky
Highly pigmented
Non-drying
Sweat-proof
Smudge-proof
Full coverage
Cons
None
Price at the time of publication: $9.99
Whether you are leaving for work or dolling up for a zoom date, mascara can elevate your look by a notch. Maybelline's Lash Sensational Sky High Waterproof Mascara offers full volume, high impact lashes in seconds. It lengthens your lashes and adds volume, giving you bigger bolder eyes each time. The flex tower mascara brush runs from root to tip to give you the perfect finish. This mascara is infused with bamboo extract and fibers and does not weigh down your lashes. It is tested by ophthalmologists and is anti-allergic, making it completely safe for those with sensitive eyes and contact lens wearers. Go ahead and check out this YouTuber's video for more details about the product.
Pros
Ophthalmologist-tested
Allergy tested
Smudge-proof
Volumizing
Suitable for sensitive eyes and contact lens wearers
Cons
Price at the time of publication: $9.98
 Nailing the perfect cat-eye look has got easier with the Epic Ink Liner from NYX Professional Makeup. The ultra-precise tip provides a defined finish that accentuates your look. This vegan liner has a waterproof formula that stays on long without touch-ups. The unbelievably fluid texture of this smudge-proof eyeliner brings out the perfect stroke every time. Flatter your bold look with this ink liner and renew your appearance for any occasion. Use some tinted brow gel to enhance your look and watch the drama unfold! To get a better understanding of the product, you can check out this video on YouTube.
Pros
Long-lasting
Goes on smooth
Precise tip
Vegan
Cruelty-free
Cons
Price at the time of publication: $7.97
This eyeshadow stick from Julep has a long-lasting, waterproof, and no-crease formula that stay on even through sweating. It contains candelilla wax that enhances blendability and vitamins E and C that help smooth, brighten, and protect your skin. The creme-to-powder texture glides easily on the eyelids. This eyeshadow stick comes with a built-in smudger for effortless blending. Its convenient size allows you to stash it away in your handbag to get a glamorous look anywhere, anytime. Check out the review of this product for more information.
Pros
Crease-proof
Long-lasting
Glides easily
Nice color payoff
Nourishing formula
Cruelty-free
Paraben-free
SLS-free
Vegan
Cons
Price at the time of publication: $13.6
 This concealer from L'Oreal Paris has a sheer, lightweight formula and offers 24-hour full coverage. Its extra-large applicator helps you cover a large area with just one stroke and covers under-eye circles, discoloration, and acne scars. It helps conceals imperfections and contours and highlights the face. It is available in 25 unique shades to suit various skin tones. Make sure to have translucent powder and bronzer handy so you can pull off a perfect glowy look.
Pros
Long-lasting
Full coverage
Transfer-resistant
Non-greasy
Does not flake
Fade-resistant
Cons
May crease
Settles in fine lines
Price at the time of publication: $6.39
 This waterproof foundation from Phoera works in all weather conditions. It is super easy to blend and helps you achieve a flawless look instantly. The waterproof formula resists moisture and sweat, keeping your makeup intact for a longer duration. Its oil-controlling feature is a huge plus, and it gives you a flawless look without adding a shimmery glow to your skin. The ultra-smooth finish covers under-eye circles, skin blemishes, and other imperfections seamlessly. This foundation contains moisturizing ingredients that keep the skin hydrated and minimize fine lines and wrinkles. It is available in 10 shades.
Pros
Oil-controlling
Lightweight
Long-lasting
Buildable
Moisturizing
Cons
Price at the time of publication: $14.99
Prevent your eye makeup from flaking or creasing with this waterproof eye primer from Laura Geller New York. The formula spreads evenly over the skin, giving you a killer base for your eyeshadows. It also works as a color corrector for discoloration and adds a subtle fleshy tone to your dry lids. This product enhances your eyeshadow color and does not smudge or crease.
Pros
Long-lasting
Goes on smooth
Works as corrector
Lightweight
Crease-proof
Cons
None
Price at the time of publication: $15.43
Highlighters help add a dewy glow to your face. This highlighter palette has four amazing shades that help contour your face and make it look brighter. The transparent pigments with soft texture add a soft and sheer look to your makeup. These highlighters are great for all skin tones and have a super silky and waterproof formula that holds your picture-perfect look for a long duration without smudging.
Pros
Long-lasting
Lightweight
Travel-friendly
Smudge-proof
Cons
None
Price at the time of publication: $5.99
 Add a little flush to your cheeks with the Music Flower 5-Color Blusher from Ucanbe. The set includes five shades – coral pink, rose pink, baby pink, cream orange, and caramel – to boost your glam quotient. This highly pigmented blush has a waterproof formula that retains your statement-making look all day. Each shade is soft and smooth and does not irritate your skin. This blush set comes with a mirror and brush for your convenience.
Pros
Long-lasting
Highly pigmented
Non-irritating
Travel-friendly
Has a mirror and brush
Cons
Price at the time of publication: $11.99
Waterproof makeup products won't disappoint regarding durability, but there are a few things to remember before investing in one. So read along and find out some essential tips and features to look to buy the perfect waterproof makeup product that helps you achieve that glamorous look safely and effortlessly.
Things To Consider Before Buying The Best Waterproof Makeup Products
Select a product that is appropriate for your skin type. Most waterproof makeup products like foundations or primer provide a flawless matte finish. They are perfect for those with oily and combination skin types. Waterproof eye makeup products are great for those with watery and sensitive eyes. However, look for hydrating ingredients in your makeup if you have dry skin.
Many chemicals in waterproof makeup products have the potential to irritate, unsettle, or even harm your skin. Therefore, avoid those that contain alcohol, preservatives, sulfates, phthalates, artificial perfumes, or dyes while making your selection.
Choose products that contain silicone as it improves the shelf-lifelong lasting effect of the product. In addition, safe chemicals that dissolve upon evaporating, such as isododecane and acrylates copolymer, provide waterproof makeup its water resistance. To replace additional dangerous chemicals in your waterproof cosmetics, look for polymers.
Choose a makeup product with medium coverage if you have fewer fine wrinkles, dark patches, discoloration, or breakouts. But pick a full-coverage product if you have apparent scars or imperfections.
To shield yourself from damaging UV rays, pick a makeup product containing SPF. It guards against tanning, sunburn, and black spots. You don't need to use sunscreen, which can make your skin feel heavy and look blotchy. Waterproof makeup with SPF helps prevent early aging and preserves your youthfulness.
Choose a makeup product with an easy-to-handle brush or one that requires easy touch-ups. For example, short-bristled brushes are a good option because they cover the blemishes and flaws quickly and cleanly. In addition, give priority to the consistency of the makeup because products with thick formulas do not offer a smooth finish. Therefore, opt for lightweight formulations.
Why Trust StyleCraze?
The author, Baishali Bhattacharya, is a certified makeup expert. With her expertise in the domain, she has compiled a list of the best waterproof makeup products. She curated the list following hours of research and a thorough review of user feedback gathered from different trusted online platforms. These makeup products are smudge-proof and are heat-resistant. Moreover, they are non-sticky and long-lasting, and ensure full coverage.
Frequently Asked Questions
Is waterproof makeup bad for me?
No, waterproof can be safe for your skin if they are made with gentle ingredients. However, they do contain silicon that can clog your pore and cause breakouts if you wear them on a regular basis.
Can I swim while wearing waterproof makeup?
Yes, you can enjoy a swim wearing waterproof makeup. However, do check the label of the product to know how much water resistance it offers.
Is waterproof makeup tearproof?
Yes, waterproof makeup is usually resistant to heat, humidity, and tear.
How do I take off waterproof mascara without makeup remover?
Splash warm water on your eyes and then coat the makeup wipe with 2-3 drops of olive oil. Then gently press it over your eyelash and then wipe off the mascara residue.
How can I make my makeup waterproof?
If you don't want to invest in a waterproof range, you can use a waterproof primer and set your look with a waterproof setting mist or setting spray with SPF to make your makeup water-resistant to some extent.
What ingredients in cosmetics make them waterproof?
Beeswax, candelilla wax, carnauba wax, or film formers make cosmetics waterproof.
How long does waterproof makeup products last?
If you use long-lasting waterproof makeup products, they can last up to 6-12 hours.
Recommended Articles