12 Best Waterproof Makeup Removers That Won't Irritate The Skin
Gently cleanse your face to remove stubborn makeup and help it breathe again.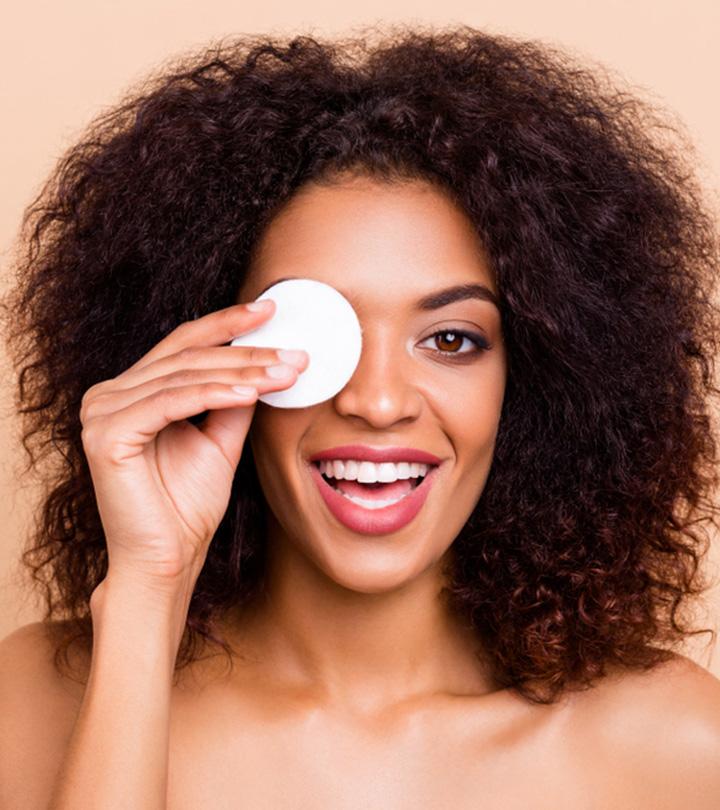 The best waterproof makeup should be hand in glove with the best waterproof makeup remover. There's ofcourse solid reasoning behind that. Water or regular makeup cleansers are often inadequate when it comes to removing waterproof makeup and nobody wants their face to be streaked and striped with mascara or lip color at the end of a long day. Waterproof makeup has many merits, but being easily removable isn't one of them. Rather, it is exactly why waterproof makeup lasts so long without smudging, smearing, or transferring. But to remove them, you need a remover designed specifically for the task.
And there are plentiful options out there, from luxury brands with high-end makeup removers to efficient removers from popular drugstore brands. There is no dearth of the not-so-good ones either. To help you choose, we have narrowed down the options and listed the top 12 makeup removers suited for waterproof makeup removal.

12 Best Waterproof Makeup Removers Of 2023 To Not Leave A Trace Behind!
Whether you are too tired to clean your full face of makeup at the end of a hectic workday or if you need to cleanse your face while traveling but can't afford to spend more than a minute on it, then these Neutrogena Waterproof Makeup Remover Cleansing Face Wipes are all you need. Just pick one and swipe across your face and you are done! These wipes are ophthalmologist tested and gentle enough for your eyes to safely remove that stubborn waterproof mascara off your eyelashes. Also, being alcohol-free and dermatologist tested, these work well with all skin types.
Pros
Dermatologist-tested
Alcohol-free
Convenient
Travel-friendly
Cons
Price at the time of publication: $10.98
If you are looking for a gentle yet effective cleanser for your waterproof makeup, then the Garnier SkinActive Micellar Cleansing Water is just right for you. It is based on micellar technology wherein the micelles act as magnets to gently lift and cleanse the makeup and dirt in a single wipe. Whether you want to simply refresh your face or use it as a makeup remover, you will find this micellar waterproof makeup remover effective and handy. Infused with skin-friendly ingredients, it is deemed suitable for all skin types. Here's an honest review of the product.
Pros
Paraben-free
Multitasking
Cruelty-free
No greasy residue
Cons
Might not be suitable for sensitive skin
Price at the time of publication: $7.99
Cetaphil is a brand that is trusted by dermatologists worldwide. It has always maintained its reputation of having products with a clean, gentle, and effective formula, for adults and children alike. No wonder this gentle waterproof makeup remover from Cetaphil cleanses all your makeup with ease and care. Infused with the goodness of aloe vera and soothing botanicals like ginseng and green tea, it removes makeup without making your face too dry. It has a bi-phase liquid formula that gets activated on shaking. The hydrophobic and hydrophilic elements come together to dissolve the most stubborn makeup stains without leaving behind any greasy residue. Here's a video featuring a detailed review of the product.
Pros
Oil-free
Non-comedogenic
Fragrance-free
Dermatologist-tested
Ophthalmologist-tested
Cons
Bottle design not user-friendly
Might feel greasy
Price at the time of publication: $10.36
Based on Japanese beauty traditions, the DHC Deep Cleansing Oil is a cult favorite for all the right reasons. It has a water-soluble formula that nourishes and hydrates your skin while rinsing away any traces of makeup. On adding water, it transforms into a milky emulsion that rinses off all the makeup and dirt without stripping the skin of its natural moisture. This oil based waterproof makeup remover is rich in olive oil, vitamins, and skin-defending antioxidants that protect the skin from pollution and other environmental stressors. This video will help you understand the product better.
Pros
Residue-free
Non-comedogenic
For all skin types
Rinses off easily
Cons
MIght not be fragrance-free
Price at the time of publication: $23.2
Instead of using bottles after bottles of remover for your waterproof makeup, have you ever wondered if there could be a more eco-friendly option? Well, this unsuspecting piece of cloth works like a charm in removing all your waterproof makeup with nothing but just water! How amazing is that! It is made up of millions of tiny hair-like fibers that when wet, work together in lifting all the tiny pigments of makeup, dirt, and grime out of every pore, giving you a squeaky clean feel. You just have to completely soak it in warm water and rub your face gently in circular motions. That's all the effort you need to let this piece of cloth work its magic!
Pros
Reusable
Machine-washable
Vegan
Cruelty-free
Dermatologist recommended
Sustainable
Cons
Price at the time of publication: $20.0
iUNIK makeup removing oil is an oil-based makeup cleanser that is formulated with alcohol-free and all-natural ingredients. This natural waterproof makeup remover deeply penetrates pores to clean build-up that helps prevent acne and breakouts. Its moisturizing formula gets easily absorbed through the layers of the skin restoring hydration and providing all-day moisturization. Just two pumps are all you need to cleanse your face of all the layers of waterproof makeup and debris. It proves to be economical and affordable in the long run that way.
Pros
Natural ingredients
Minimal packaging
Affordable
Cons
Need to follow up with a regular cleanser
Not odor-free
Price at the time of publication: $19.99
Sometimes, other than the makeup remover for your face, you might prefer to have a different one, exclusively for your eyes. Few makeup removers work effortlessly on your stubborn waterproof mascara like this one by Lancome. This Double Action Eye Makeup Remover Bi Facil is a bi-phase eye makeup remover that gets activated on shaking. Its lipid phase pulls off your waterproof eye makeup with utmost ease while the water phase uses unique tiny emollients to cleanse your face completely. This cult-favorite eye makeup remover feels fresh as water and doesn't leave behind any greasy residue. Suitable for all skin types, it is one of the best makeup removers for the eyes.
Pros
Award-winning
Safe for sensitive eyes
Suitable for contact lens wearers
No oily residue
Cons
Price at the time of publication: $25.47
This Camomile Waterproof Eye & Lip Makeup Remover by Body Shop removes all traces of your waterproof mascara and transfer-proof lipstick in one clean swipe. Its bi-phase formula is soothing, gentle, and effective. Just squeeze a little amount onto a small cotton ball, place it on your closed eye for a moment and gently wipe it outwards. There you go, off with all your stubborn mascara in a flash. After a hectic workday, if you want to seamlessly squeeze into an evening party look, you can easily use this remover to change the shade of your waterproof lipstick and mascara and be party-ready in a jiffy. This Body Shop waterproof make-up remover is alcohol-free, color-free, and 100% Vegan, making it suitable for sensitive skin and contact lens wearers.
Pros
Silicone-free
Fragrance-free
Suitable for sensitive skin
Paraben-free
Cons
Not suitable for the whole face
Price at the time of publication: $1045
Formulated with a blend of botanical amino acids that help maintain the skin's natural moisture, this oil-based makeup remover by boscia, removes all traces of makeup and dirt without leaving any residue. It is a gentle but effective cleansing oil that not only removes the stubborn waterproof makeup but also cleanses and refines the appearance of your pores simultaneously. It has a gel-like texture that emulsifies on adding water, glides the makeup off your face and rinses off easily. The packaging is sleek and nice and one pump gives you enough product without being wasteful.
Pros
Natural ingredients
Rich in vitamin E
Color-free
All skin types
Cons
Might need a double cleanse for oil-based makeup
Might be drying
Price at the time of publication: $37.0
A waterproof eye makeup remover that contains cornflower extract with its soothing properties and provitamin B5 to protect the eyelashes. The bottle is made up of 100% recycled plastic that comes in a mini travel-friendly size as well as a regular classic size for everyday use. Free of parabens, sulfates, SLS, and other harmful chemicals, this 'clean product' from Sephora is also ophthalmologist-approved for sensitive eyes and contact lens wearers. This lightweight formula is suitable for all skin types and removes all kinds of heavy eye makeup effortlessly.
Pros
Ophthalmologist-tested
Value for money
Vegan
Recyclable packaging
Cons
Might leave an oily residue
Price at the time of publication: $16
This luxurious eye and lip makeup remover by Elemis has a bi-phase formula that is one of the most effective at removing mascara. It is made of nourishing cleansing oils that break down the tiny pigments in the makeup. The 'water' phase contains natural ingredients like the luxurious white water lily, the skin nourishing white peony, and the soothing white tea along with the lash-conditioning vitaminB5. It can be safely used on sensitive and irritated skin without any stinging. It has a nice soothing fragrance that gives you a luxurious feel after every cleanse.
Pros
Gentle formula
No greasy residue
Suitable for sensitive eyes
Cons
Price at the time of publication: $36
This makeup remover by Paula's Choice is one of the most effective yet gentle makeup removers out there. Infused with aloe and green tea extracts, it has a balanced pH and is suitable for even the most sensitive eyes. It works mildly but efficiently on the most stubborn waterproof mascara and the multiple layers of your favorite transfer-proof matte lipstick. It acts as a facial moisturizer that leaves the delicate areas around your eyes and lips moisturised, soft, and refreshed.
Pros
No parabens
No fragrance
Non-irritating
No greasy residue
Cons
Pricey for the amount provided
Price at the time of publication: $17.0
With so many makeup products and corresponding makeup removers available in the market, it might seem a bit daunting at first, to choose a good makeup remover for yourself. Now that you know the top makeup removers for waterproof makeup, let us also help you decide how to choose your makeup remover with the buying guide below.
Buying Guide:
1. How to choose the best waterproof makeup remover
Skin Type:
All of our skin types are different and react differently to various products. When you intend to use something on your face, you must first be certain of your skin type. Then make sure the makeup remover you choose will enhance and heal your skin along with proper cleansing.
If you have dry skin, you can opt for a cleansing oil. They cleanse with an oil base and add moisture to the skin. If you have oily acne-prone skin, then you can go for micellar makeup removers that cleanse with micelle technology, without adding any oil to your skin. This also works best for sensitive skin. Combination skin people can get the best of both worlds but make sure to do a trial patch test first for any new product you use.
Usage:
The kind of makeup remover you need also depends on how often you use makeup. Are you someone who likes a flawless full face makeup with foundation and concealer each time you step out or are you one who prefers just a dash of mascara and a swipe of lipstick? Do you wear waterproof makeup every day? Do you go for layers of eye makeup each time or do you invest more time on your lipliners and lipstick? Well, if you are someone who focuses primarily on the eyes and lips, then a good hypoallergenic makeup remover for these delicate areas is important. If you are a regular user of heavy makeup, then you can have something like a reusable makeup eraser cloth for a more sustainable option. If you wear makeup just on occasions or while traveling, then the waterproof makeup remover wipes may come in handy for you each time.
Formula:
Based on your preference and the above criteria, you can opt for a makeup cleansing balm, micellar water for waterproof makeup, a cleansing oil, makeup cleansing wipes or the more eco-friendly makeup eraser cloths and towelettes for everyday use.
2. How to remove waterproof makeup with makeup remover
For most makeup removers, all you need to do is pour a few drops onto a cotton round placing it gently on your face. Let it sit for a few minutes, and then lightly wipe it outwards to cleanse the makeup off. Makeup remover wipes can be used on the face directly, wiping off makeup from your eyes and lips instantly. The eco-friendly makeup eraser cloth should be soaked in warm water and then rubbed on the face in light circular motions to clear off your makeup and debris. Some waterproof makeup removers might need a double cleanse afterward with another mild facial cleanser to give you a clean and fresh canvas all over again.
Frequently Asked Questions
Does micellar water take off waterproof makeup?
Micellar water makeup removers are based on the micelle technology wherein numerous clusters of molecules, the 'micelles' adhere to and gently pull off the makeup, dirt, and grime from the face. These are good at removing waterproof makeup, especially for oily and sensitive skin since they help maintain the skin's natural barrier.
Should we use a facial cleanser after using a waterproof makeup remover?
Well, most makeup removers do a nice job of removing makeup and cleansing your skin as well. The whole idea should be that you won't need another cleanser to follow up the routine at the end of a tiring day. But few may leave an oily residue, that's when you might feel the need to add another rinse off with a mild facial cleanser.
Does baby oil remove waterproof makeup?
Yes, baby oil helps remove waterproof makeup without causing skin irritation.
Does waterproof makeup come off with soap?
Yes, waterproof makeup comes off with soap and warm water.
Is olive oil suitable for removing waterproof makeup?
Yes, olive oil is suitable for removing waterproof makeup. Olive oil helps dissolve the oil in your cosmetics, making it easier to remove.
What is the difference between makeup remover and micellar water?
Micellar water is a water-based product with a more watery consistency and fewer oil components. It helps remove minimal makeup or the dust, oil, and dirt accumulated throughout the day. On the other hand, makeup removers contain more oil than water and are ideal for heavy makeup like foundation, concealer, blush, and contour.
Recommended Articles: