11 Best Waterproof Socks To Keep Your Toes Toasty And Dry
Keep your feet dry this season with the right monsoon essentials in your arsenal.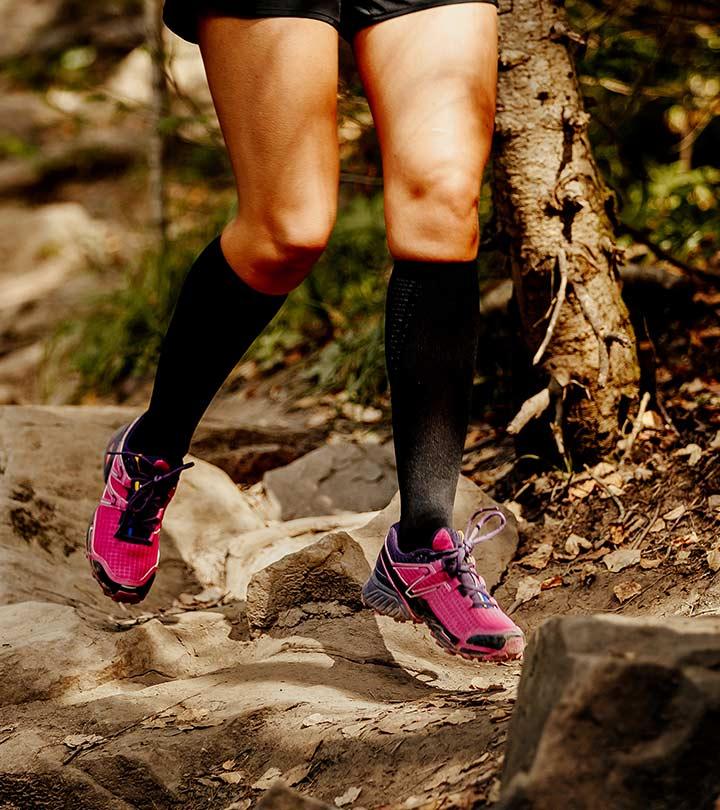 One of the most annoying feelings in the universe is to walk around in wet socks. Your feet feel wet, cold, uncomfortable, or it may even cause blisters, or you may end up falling sick. However, the best waterproof socks can be a good investment if you are an adventurous person who loves to go on marathons, long walks, hikes, or treks to keep your feet comfortable and dry the whole time. Waterproof socks usually have three layers — the external layer protects the sock from rubbing against your shoe and getting damaged, the middle layer serves as a waterproof and breathable layer, and the inner layer with moisture-wicking properties keeps your feet warm and comfortable.
These waterproof socks can help you avoid any discomfort, and they are the best option to keep your feet dry throughout any adventure. Moreover, they are breathable enough to avoid numb feet, frostbite, and blisters. They offer all-weather protection, and you can trudge through wet spots without any worries. So, are you geared up for your next hiking session and want to try out a pair of waterproof socks? If yes, we have got you covered. In this article, we have listed the best waterproof socks available online. Keep scrolling to take a look at the list and pick one now!
11 Best Waterproof Socks You Must Have For Every Hiking Trip
While a number of waterproof socks don't have breathability, you can get Randy Sun's 100% waterproof socks, which have a 3-layer construction with a breathable membrane for maximum comfort. These waterproof hiking socks come with an ultra-lightweight cushion sole to keep your feet comfortable during hikes, treks, and even snow or water sports. The socks are wear-resistant and have high elasticity plus thickness to keep your feet cool and dry. They also provide optimal shock absorption capabilities that are ideal for rainy days and treks.
Pros
 Three-layer construction
 Optimal shock absorption capabilities
 Prevents bugs from getting in
 Cushioned sole
 Prevents blisters
 Seamless toe
 Highly breathable sock
Cons
 You might need loose-fitting shoes.
Heading to the beach soon and don't want the sand or water to creep into your socks and cause your feet discomfort? Grab this pair of waterproof socks made from neoprene – a water-resistant material that is also highly elastic – and allow it to protect your feet from small rocks on the beach as the silicone traction helps you maintain your grip on wet surfaces. The seamlessly glued and blind-stitched material is breathable, soft, and stretchy, thereby keeping your feet and heels comfortable and free from blisters.
Pros
 Neoprene fabric
 Provides grip
 Breathable
 Protects from micro sand particles
 Stretchy, soft fabric
 Great for water sports
Cons
 Size may run slightly small
Battle the windy, wet, and cold weather with these knee-length socks specially formulated for outdoor activities. The waterproof socks have a 3-layer construction with a merino wool lining for moisture control, insulation, and comfort along with zonal elasticity for extra support. The socks cover most of your legs for extra protection and warmth while also being breathable and preventing blisters. They have a 4-way stretch fit and flat toe seams to prevent any sort of rubbing and avoid discomfort.
Pros
 Merino wool lining
 Prevents blistering
 4-way stretch fit
 Flat toe seams
 Zonal elasticity
 Provides insulation
Cons
 Might cause slight sweating
Pick up Layeba's 100% waterproof socks for your next hiking trip as they are made up of a waterproof nylon material that will keep your feet cool and dry. The breathable socks come with a layer of lining that allows sweat to escape, while its antibacterial function helps reduce bad odor from sweat. To make travel easier, the pair has a waterproof packaging with a drawstring that can be hung from your trekking bag. The lightweight fabric is also wear-resistant and great for outdoor work as well as for sporty activities in harsh environments.
Pros
 Waterproof nylon material
 Allows sweat to escape
 Anti-bacterial function reduces odor
 Wear-resistant
 Comes in a waterproof packaging
 Provides warmth
Cons
 Size may run slightly large
SuMade's mid-calf waterproof socks offer you ample protection from any wetness or cold heading your way. The lightweight crew socks are moisture-wicking and cushioned at the heels and toes for optimal shock absorption, thus reducing pressure and friction. The seamless toe helps avoid blisters as it reduces chances of chafing. The mid-length socks have a 3-layer design and a breathable membrane to keep you warm and comfortable, while the high-quality nylon fabric makes the waterproof hiking socks sturdier and more durable.
Pros
 High-quality material
 Moisture-wicking and durable socks
 Optimal shock absorption
 Prevents blistering
 Provides warmth in cold conditions
 Cushioned heels and seamless toe
Cons
 Might be slightly thick and bulky for some
TANZANT's waterproof socks are the perfect companion to take with you on wet or watery trails in winter weather. The socks are made of a breathable cotton fiber material that is abrasion-resistant and feature a ribbed, non-slip top that keeps them from slipping. The seamless toe prevents blisters, while the cushioned heel gives you maximum comfort. With a fabric that is wear-resistant, moisture-wicking, and thick, these socks do an excellent job of keeping your feet warm. This pair has high flexibility to give you a wide range of motion as well.
Pros
 Prevents abrasion
 Moisture-wicking
 Prevents blistering
 Wear-resistant
 Non-slip ribbed top
 Cushioned heels and seamless toe
Cons
Head for your next fishing trip with ease with Meikan's funky, colorful, and waterproof socks that are made from a high-tech and breathable Porelle membrane and a CoolSun and bamboo fabric to wick away moisture, prevent stickiness, and get rid of foot odor. A seamless toe helps stop blistering while the deep heel cup style and non-slip ribbed top keep the socks from slipping. The best part is that these lightweight socks are thermal and windproof, thus keeping your feet warm and dry in harsh weather.
Pros
 Breathable fabric
 Abrasion resistant
 Moisture-wicking
 No feet odor
 Seamless toe
 Funky colors
Cons
 May be thick and cause feet to feel hot
DexShells' waterproof socks are made of a 3-layer design with a protective outer layer, which is a waterproof and moisture-permeable Coolmax membrane lining that keeps out water and gets rid of sweat. The inner layer will keep you warm and comfortable, especially with the merino wool liner formulated for severe environments. The elastic cuff keeps the socks from slipping down while the lining stops yarn abrasion and prevents blistering.
Pros
 Abrasion resistant
 Moisture-permeable
 3-layer construction
 Gets rid of sweat
 Lightweight
 Seamless toe
 Prevents blistering
Cons
 Water can seep in from top
If you are looking for ankle-length socks that will keep your feet warm and dry during outdoor activities, grab a pair of HyperShellz waterproof socks. They are seamless and made with Lycra fiber for better arch support and durability The socks have a 3-layer construction as well and a moisture-permeable inner merino wool along with an acrylic and polyester membrane to keep your feet warm, dry, and breathing well.
Pros
 Ankle-length
 Breathable fabric
 Moisture-wicking
 3-layer construction
 Lycra fiber
 Seamless design
Cons
 Socks may be slightly bulky
Otter's socks are ideal for those looking to head out for snowboarding, hiking, or even walking around in warm weather. Suited for all weather conditions, these waterproof socks are made from a 74% high-strength waterproof polyamide, lycra, and elastane, which don't absorb water and keep your feet sturdy and dry. The polyamide sock is abrasion-resistant and wards off any sweat even in warm weather due to its sandwich layer construction, while its inner layer is also made of Coolmax core technology that wicks away moisture and keeps your feet cool and dry while regulating heat.
Pros
 Suitable for all conditions
 Abrasion-resistant
 Moisture-wicking
 Extra sandwich layering
 Heat regulating
 Complete waterproof protection
Cons
 Some moisture might be able to seep in from top.
If you are looking for the right pair of socks that you can perform your ablutions in, look no further than these non-leather waterproof socks from Abdeez. These breathable pairs can also be used for outdoor trekking, hiking, and sports activities. The bamboo fiber helps with thermal regulation and wicks away moisture, keeping your feet dry while the waterproof outer membrane also stops the rain, mud, and sand from entering. The nylon exterior provides durability and the 4-way stretch fit gives you comfort along with a wider range of motion.
Pros
 Moisture-wicking
 Non-leather
 Ideal for ablutions
 Bamboo fiber
 3-layer design
 Prevents bad odor
Cons
So, now that you've taken a look at the list of the 11 best waterproof socks that we've compiled for you, here are some tips you can keep in mind before choosing the right pair.
How To Choose The Best Pair Of Waterproof Socks
While standard waterproof socks are less breathable than regular socks due to their extra ability to keep out water, it's important to check whether the socks you are buying still allow some form of breathability. New-age technology and fabric allows you to enjoy the best of both in one pair now, so make sure you get one that helps your feet breathe and stay dry at the same time.
Thick waterproof socks tend to get your feet hot and sweaty after a while, which is something even regular socks do. That's why you should check whether the socks you are going to buy are moisture-wicking and will get rid of the moisture accumulating inside the sock to keep your feet cool and dry.
Though they might have a thick fabric, heat regulating socks are essential for making sure your feet don't get too hot or cold at any point. This makes them versatile as you can wear them in any season without worrying about the safety of your feet.
Feet can smell, and if you want to avoid that when removing your boots after a long hike, it's best to look for a pair of waterproof socks that help alleviate bad odor.
Why Trust StyleCraze?
Priyam Gupta, the author of this article, is a fashion enthusiast who loves to stay updated about the latest trends. She spent hours researching waterproof socks to help her readers pick the best. Her opinion is based on her in-depth analysis of several user reviews on various online platforms. These waterproof socks help keep your feet dry, warm, and comfortable, preventing rashes and blisters.
Frequently Asked Questions
Are waterproof socks good?
Yes, waterproof socks are great to use in conditions that may get your feet wet, which can lead to discomfort and blisters.
What are waterproof socks made of?
Waterproof socks can be made of a range of material including neoprene, polyamide, cotton fibre, bamboo, and lycra among many others.
Do waterproof socks keep your feet dry?
Yes, they are specially formulated to keep out water so your feet can be cool and dry.
Are Sealskinz actually waterproof?
Yes, they are formulated for outdoor activities and are waterproof.
Who needs water-resistant socks?
Anyone can use water-resistant socks, whether you're shoveling snow, going on a wet trail hike, or generally walking around in rainy weather!
Who needs water-resistant socks?
People who like to go for long walks, run marathons, trek, or hike can opt for water-resistant socks.
How to wash waterproof socks?
Wash waterproof socks inside out gently in lukewarm water to prevent damage. You can use any detergent to wash them.
Can waterproof socks protect your feet when you go swimming?
Yes. If you have foot conditions, but like to swim, waterproof socks are ideal.