13 Best Waterproof Sunscreens Of 2023
These awesome waterproof sunscreen products will take your skincare game to the next level.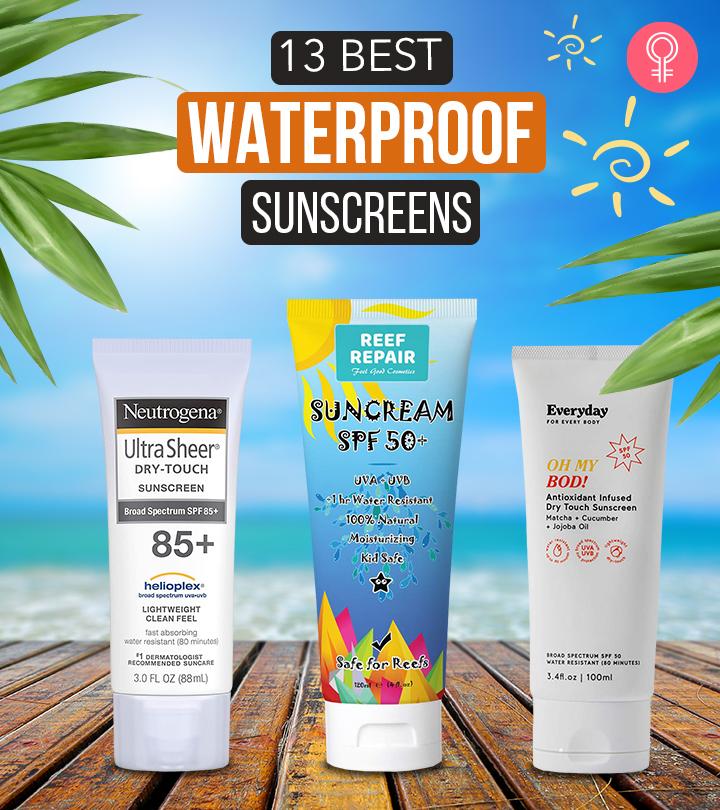 Waterproof sunscreen is formulated with certain polymers, essential oils, and wax that can survive on your skin even when your skin comes in contact with sweat or water. The best waterproof sunscreen will be effective when you sweat heavily or during swimming or in the rain. They come with 40 minutes to 80 minutes of water resistance.
A water-resistant sunscreen can also prevent skin spots, protect your skin from the harmful UVA/UVB rays. The sunscreen you pick must have a high SPF value; the higher the SPF, the better the protection. In this article, we have compiled a list of the 13 best waterproof sunscreens. Read on below!
13 Best Waterproof Sunscreens Of 2023
The Zinka Sunscreen SPF 50 Face Stick provides complete protection to your face against the sun. It contains 20% zinc oxide as the active ingredient, along with aloe vera leaf extract, shea butter, coconut oil, candelilla wax, sunflower seed oil, sunflower seed wax, castor seed oil, cacao butter, and squalene. These non-chemical ingredients make the formulation water-resistant, easy to apply, lightweight, and safe for use. This non-greasy sunscreen offers broad-spectrum protection against the harmful effects of UVA and UVB rays. It is suitable for use in all weathers and for people of all ages.
Pros
Easy application
80 minutes water-resistant
Sweat-proof formula
Lightweight formula
Non-greasy
Suits people of all ages
Cons
Price at the time of publication: $9.99
The Zealios Sun Barrier Sunscreen keeps your skin from tanning. It comprises 8% zinc oxide as the active ingredient. Its other ingredients include ascorbyl palmitate, butylene glycol, dimethicone, Iodopropynyl butylcarbamate, Lauryl PEG-9, and NaCl. This sunscreen is ideal for use during jogging, biking, or swimming. The zinc oxide scatters the incoming sun rays, thereby preventing potential skin damage. It works without blocking the pores. This product is suitable for sensitive skin too and is not tested on animals. It is non-greasy and hypoallergenic. It is free of parabens and oil, and vegan and cruelty-free as well.
Pros
Paraben-free
Oil-free
Vegan
Cruelty-free
Non-greasy
Suits sensitive skin
Non-comedogenic
Cons
Price at the time of publication: $15
The Solbar Fifty Water-Resistant Sunscreen is composed of octocrylene, Ethylhexyl methoxycinnamate, oxybenzone, dimethicone, PVP, cetyl phosphate, glycerin, and benzyl alcohol. These ingredients absorb the UVA and UVB rays and prevent skin damage. This quick-drying sunscreen also works against the UVA II rays. This sunscreen is non-comedogenic as well. This product is free from PABA and synthetic fragrances.
Pros
Non-comedogenic
Lightweight
Fast-absorbing
Ideal for sensitive skin
PABA-free
Cons
Price at the time of publication: $13.42
The Reef Repair Suncream includes 25% zinc oxide. Its other inactive ingredients include coconut oil, avocado oil, vegetable emulsifying wax, beeswax caprylic triglyceride, vanilla oil, and propanediol. This sunscreen guards your skin against the harmful UVA, UVII, and UVB rays. It retains its effect for up to 80 minutes. It also is safe for coral reefs and aquatic life. This non-sticky sunscreen with moisturizer is suitable for all skin types, including sensitive skin.
Pros
Reef-safe
Paraben-free
Silicone-free
Titanium dioxide-free
Non-sticky
Moisturizes skin
Suits all skin types
Suits sensitive skin
No animal testing
Cons
Price at the time of publication: $19.95
The Reef Safe Sunscreen Spray contains homosalate, octinoxate, oxybenzone, and octisalate as its active ingredients. Homosalate and octisalate absorb the UVB rays and prevent any DNA damage. The octinoxate and oxybenzone offer protection against UVB and UVA rays. Its other inactive ingredients include algae extract, Matricaria flower extract, comfrey root and leaf extract, dandelion leaf extract, coneflower extract, and ginseng root extract. This eco-friendly product is safe for reefs, thanks to its biodegradable properties in seawater and freshwater. It is suitable for use during snorkeling, scuba diving, etc. It is safe for use by both males and females.
Pros
Reef-friendly
Biodegradable
Bait-safe
Pleasing fragrance
Affordable
Cons
The Neutrogena Ultra Sheer Sunscreen Lotion offers clean and no-mess protection for your skin. The formulation consists of avobenzone, homosalate, octisalate, octocrylene, and oxybenzone. Avobenzone reduces the risk of skin cancer by resisting both UVA and UVB rays. This dermatologist-tested sunscreen does not clog the pores.  It also slows down the signs of aging and prevents sunburns. This non-greasy formulation is resistant to water for 80 minutes and is fast-absorbing. It is available in both stick and spray form. It is also suitable for all skin types.
Pros
Lightweight
Fast-absorbing
PABA-free
Non-comedogenic
Non-sticky
Cons
Price at the time of publication: $19.5
The Mama Kuleana Sunscreen uses natural ingredients in its composition, making it safe for the user as well as for the reefs. It contains organic shea butter, organic coconut oil, rosehip seed oil, organic safflower oil, non-nano zinc powder, raspberry oil, and vitamin E oil.This sunscreen with Vitamin E plays the role of an antioxidant and protects the skin from free radical damage. The carrot seed oil and Frankincense oil also have skin-protecting properties. It is devoid of toxins. This clinically-tested handmade product assures smooth and glowing skin. It also prevents tanning.
Pros
Skin-safe
Coral-safe
Oxybenzone-free
Butylparaben-free
Lightweight
Pleasing fragrance
Cons
Price at the time of publication: $19.99
The Everyday For Everybody Oh My Bod! Sunscreen contains butyl methoxydibenzoylmethane, homosalate, octocrylene, and octyl salicylate as the active ingredients. It also contains aloe leaf juice, tocopheryl acetate, cucumber extract, jojoba extract, safflower plant extract, and tea plant. It offers significant UVA/UVB protection. It also seals skin moisture for a long time and keeps skin from turning dry or itchy. This lightweight sunscreen is free of parabens, sulfates, phthalates, artificial colors, and fragrances. It is suitable for all types of skin textures and is free of animal testing.
Pros
Fast-absorbing
Oxybenzone-free
Octinoxae-free
Paraben-free
Sulfate-free
Phthalate-free
Artificial color-free
Fragrance-free
Lightweight
Suits all skin textures
Cons
The eltaMD UV Sport Sunscreen contains 9% zinc oxide that blocks UV rays and reflects them away. Its other active ingredients include octinoxate, tocopheryl acetate, and octisalate. Tocopheryl acetate is rich in vitamins with anti-inflammatory properties. Octinoxate protects skin against UV rays. This dermatologist-recommended sunscreen also counters infrared radiation and slows down skin aging. It is compatible for use on wet or dry skin. It is suitable for all skin types. It is free from parabens, oil, and fragrances.
Pros
Fragrance-free
Paraben-free
Oil-free
Non-greasy
Suits all skin types
Cons
None
Price at the time of publication: $28
The Blue Lizard Australian Sunscreen consists of octinoxate, octocrylene, oxybenzone, and zinc oxide as the primary ingredients. Its secondary ingredients include beeswax, cetyl alcohol, Ethylhexyl palmitate, Ethylhexyl stearate, and tocopheryl acetate that is rich in Vitamin E. The other vitamins and minerals in the sunscreen nourish the skin and keep it healthy. The bottle comes with a smart technology, where it turns blue upon exposure to UV light.
Pros
Lightweight
Fast-absorbing
PABA-free
Non-comedogenic
Non-sticky
Cons
Expensive
Contains parabens
Price at the time of publication: $35.84
The Bare Republic Sunscreen spray offers 80 minutes of water resistant protection. It comprises antioxidant skincare ingredients such as grape, raspberry, carrot seed oils, zinc oxide, and titanium dioxide. It can decrease the risk of skin cancer. It also can slow down skin aging. This beach sunscreen is ideal for tropical climates and suitable for those involved in water sports as it helps prevent tanning. The non-greasy, high-performance formulation offers long-lasting protection. It is also reef-friendly, and is free of parabens and synthetic fragrances.
Pros
Reef-friendly
Synthetic Fragrance-free
Paraben-free
Long-lasting
Non-greasy
Lightweight
Cons
None
The Badger Sport Sunscreen Cream blends organic sunflower, organic jojoba, and organic beeswax. Its non-nano coated zinc oxide helps block the UVA and UVB rays. These ingredients are safe for coral reefs. You can use this sunscreen while swimming, surfing, skiing, etc. Its SPF 35 formula offers the necessary protection required to prevent sunburns and skin damage, and reduce the risk of skin cancer. You can apply it all over your body 15 minutes before sun exposure. The product is hypoallergenic, non-comedogenic, and fragrance-free. It is also free from dyes and parabens.
Pros
Coral-reef safe
Biodegradable
Non-GMO
Hypoallergenic
Non-comedogenic
Fragrance-free
Dye-free
Paraben-free
Suits all skin types
Suits sensitive skin
Not tested on animals
Cons
None
Price at the time of publication: $31.99
The Australian Gold Botanical Sunscreen consists of Kakadu plum, red algae, and eucalyptus. Kakadu plum is a rich vitamin C source, which works as an antioxidant, promotes collagen production, and prevents detrimental effects due to the UV rays. Eucalyptus helps rejuvenate the skin. Red algae is a good source of proteins, vitamin A, niacin, folic acid, and amino acids. This sunscreen suits all skin tones. It is free of parabens, phthalates, oxybenzone, sulfates, dye, oil, petrolatum, and PABA. It also is hypoallergenic and cruelty-free. It is dermatologist- and pediatrician-tested. 
Pros
Oxybenzone-free
Paraben-free
Phthalate-free,
PABA-free,
Petrolatum-free,
Sulfate-free,
Dye-free
Oil-free
Hypoallergenic
Cruelty-free
Dermatologist-tested
Pediatrician-tested
Cons
None
Price at the time of publication: $15.35
These are the 13 best water-resistant sunscreens available online. But how do you apply one? Understand more in the following section. 
How To Apply A Water-Resistant Sunscreen?
Take sufficient amount of the sunscreen in your hands and apply a layer liberally over the areas that will be exposed to the sun. Massage gently.
Make sure you apply sunscreen at least 15 minutes before stepping out.
Add another layer of sunscreen after a few minutes on your hands, neck, face, arms, shoulders, and the top of your feet. These areas are more prone to get sunburnt. Reapply sunscreen on these areas every 2-3 hours if you are outside and directly under the sunlight.
Dr. M. Khawar Nazir, cosmetic dermatologist, says, "I love going to the beaches and love water sports. To avoid any damage on my skin due to ultraviolet rays, I always put water-resistant sunscreen on my skin so that it does not wash away easily and protect my skin longer from any damage as compared to routine sunscreen."
Sunscreens are available in different types. Let us briefly explore them in the following section. 
Types Of Sunscreen
Sunscreens are available in two major types – mineral sunscreens and chemical sunscreens. Each type has its own mechanism to block sun damage.
Chemical sunscreens: These first absorb the harmful UVA rays and convert them into heat before releasing them out from your body. They take about 15-20 minutes to work. Chemical sunscreens may irritate certain sensitive skin types. These are generally lightweight and fast-absorbing.
Mineral sunscreens: These shield your skin against the sun rays by reflecting them away from your face. They start working immediately upon application. These are ideal sunscreens for sensitive skin as they are unlikely to cause any irritation. They feel heavy and thick on your skin, and often leave a white cast behind.
You must consider certain factors before you pick a waterproof sunscreen. We have discussed them below. 
What To Consider Before Purchasing A Waterproof Sunscreen 
Form: What kind of sunscreen do you prefer – a spray, creamy, or powder-based product? Cream-based sunscreens are more preferred due to the ease of application. Spray- and powder-based sunscreens contain nano-particles that may enter your bloodstream and cause certain health issues. Cream-based sunscreen are always preferable.
Water-Resistance (Duration): A water-resistant sunscreen can protect your skin from sun rays for up to 40-80 minutes while you are in the water. The longer the duration, the better.
SPF Rating: The SPF rating mentioned on the sunscreen tells you the time UV radiation can take to affect your skin. If you are wearing a sunscreen with SPF 30, the UV radiation would take 30 times longer before affecting your skin. Purchase a sunscreen with SPF 30 or higher for decent protection.
Zinc Levels: Ingredients like titanium oxide and zinc oxide act as sun blockers and protect your skin from harmful sun rays. However, ensure the sunscreen has these ingredients in lower quantities as they may cause skin harm when used in excess.
Reef-Friendly Properties: Mineral sunscreen contains zinc oxide that is thought to be less harmful to coral reefs than any other type of sunscreen. Reef-friendly sunscreens do not contain oxybenzone and octinoxate, and hence do not contribute to coral bleaching.
Why Trust StyleCraze?
Shiboli Chakraborti is a certified skin care coach who has an in-depth knowledge of skincare brands, their products, and formulations. She understands the science behind these formulations and how it affects various skin types. That's why she has done intensive research and reviewed several customer feedback before curating this list of the best waterproof sunscreens for you. The sunscreens included in the list are safe for the skin and will not irritate it.
Frequently Asked Questions
What level SPF should I use?
Skin experts recommend using a sunscreen with SPF 30 or higher that blocks 97% of the UVA rays.
Does a sunscreen have other benefits?
Sunscreen lotions also lower the risk of skin cancer, prevent premature aging, and help maintain an even skin tone.
How often should I reapply sunscreen?
You can reapply a sunscreen every 2-3 hours, especially after sweating or swimming.
Is waterproof sunscreen actually waterproof?
In general, waterproof sunscreen lasts up to 80 minutes after water exposure. But it requires reapplication if you are swimming for a long period. So, wait for 20 minutes after you apply your sunscreen before swimming.
Is it OK to wear sunscreen in the pool?
Yes. Sunscreen is water-resistant, not waterproof, which means that it does not last long throughout swimming. Apply sunscreen every two hours, as it wears off with sweat and gets absorbed by your skin.
Which sunscreen SPF is good for the beach? One mentioned on google is not on the list
The Bare Republic sunscreen spray is good for the beach, as it decreases the risk of skin cancer and slows down the process of aging.
How long does waterproof sunscreen last?
If you are swimming, choose a sunscreen that is water-resistant. However, a water-resistant sunscreen needs to be reapplied every 40 to 60 minutes
Should you wear water-resistant sunscreen every day?
Yes. Water-resistant sunscreens are essential for outdoor activities like swimming, skating, or sports, as they stay on the skin for long hours. However, reapply the product timely to keep your skin protected.
Recommended Articles