6 Best Ways To Use Hydrogen Peroxide For Teeth Whitening
Are you one of those people who use anything they can find to hide their teeth while talking to somebody? We feel you! Do not let your stained (=yellow) teeth cause you any more embarrassment. Because we have the perfect home remedy for you that will not only make your teeth whiter, but also cleanse your mouth thoroughly. HYDROGEN PEROXIDE to the rescue!
Apart from healthy hair and glowing skin, shiny, white teeth are associated with beauty and smartness, both in men and women. Bad dental hygiene and excessive consumption of carbonated drinks and caffeine can easily stain your teeth and turn them yellow over time. Specialized teeth whitening toothpastes claim a lot, but very rarely produce satisfying results. There is the other option of using dental whitening strips, but haven't we heard enough of how they can damage our enamel? The third option of visiting the dentist is not viable, thanks to your phobia of sitting in that horrendous chair.
Well, keeping all these in mind, we decided to present to you a simple ingredient that you can conveniently use at home and get your desired set of white teeth. Hydrogen peroxide is all that is needed.
Would you like to know more? Read this post!
Is Hydrogen Peroxide Good To Whiten Teeth?
The main benefit of using hydrogen peroxide for teeth stain removal is that it is effective and does not cost you much. You can find bottles of this solution in any drugstore throughout the year. The key properties of this ingredient are as follows:
It is a chemical lightening agent that removes the build-up from the teeth and whitens them (1).
It possesses antimicrobial properties that can benefit those afflicted with oral ailments like plaque, gingivitis, and bleeding gums (2).
It can counter bad breath by eliminating the odor-causing bacteria from the mouth.
The antiseptic or disinfectant properties of hydrogen peroxide have been used by humans since ages for cleaning purposes as well as healing small wounds. With knowledge of the above properties, its usage as a DIY teeth whitening agent is on the rise, and it is definitely worth the hype. Here's how you can use this potent ingredient.
How To Use Hydrogen Peroxide To Whiten Teeth
Whiten Teeth With Hydrogen Peroxide Using These Methods
1. Gargling With Hydrogen Peroxide To Whiten Teeth
You Will Need
1 tablespoon 3% hydrogen peroxide
1 tablespoon water
What You Have To Do
Mix the two liquids and swish the mixture in your mouth for 2-3 minutes.
Spit it out and rinse your mouth with plain water.
How Often You Should Do This
This can be done twice or thrice a week.
Why This Works
The peroxide solution will remove all harmful bacteria from your oral cavity and lighten the yellow stains on your teeth.
2. Using Cotton Swab And Hydrogen Peroxide
You Will Need
3% hydrogen peroxide solution
Cotton swab
What You Have To Do
Dip the cotton swab in the solution and rub it against your teeth.
Leave the hydrogen peroxide on for a minute or two and then rinse your mouth with water.
How Often You Should Do This
Repeat this two to three times in a week until you get the desired results.
Why This Works
If you do not like swishing hydrogen peroxide solution in your mouth, you can use this alternative method. The same lightening and cleaning properties of hydrogen peroxide can be utilized by employing this method. However, please note that it can be less effective in removing teeth stains compared to the gargling method.
3. Baking Soda And Hydrogen Peroxide For Teeth Whitening
You Will Need
1 teaspoon baking soda
3% hydrogen peroxide solution
Toothbrush
What You Have To Do
Add enough peroxide solution to the baking soda to get a paste of medium consistency.
Transfer this paste onto your toothbrush and brush your teeth with it.
How Often You Should Do This
Use this DIY teeth whitening toothpaste twice a week.
Why This Works
The coarseness of the baking soda helps to breakdown the yellow stains on the teeth. It basically acts as an abrasive agent. It also has teeth whitening properties (3).
[ Read: Simple Ways To Whiten Teeth ]
4. Listerine And Hydrogen Peroxide For Whitening Teeth
You Will Need
1 part Listerine mouthwash
1 part hydrogen peroxide
What You Have To Do
Mix the ingredients and use this as a mouthwash to rinse your mouth.
Do not forget to do a final rinse with clean water.
How Often You Should Do This
This mouthwash can be used instead of your regular mouthwash up to thrice a week.
Why This Works
While the hydrogen peroxide whitens your teeth, Listerine helps clean your teeth and oral cavity. All harmful bacteria will be killed with ease (4).
5. Hydrogen Peroxide And Lemon Juice For Teeth Whitening
You Will Need
1 teaspoon baking soda
Lemon juice
Hydrogen peroxide
What You Have To Do
To the baking soda, add a few drops of lemon juice and hydrogen peroxide.
Mix everything well and apply this paste on your teeth.
Leave it on for a minute or two.
Rinse your mouth thoroughly with water.
How Often You Should Do This
Do this once or twice a week.
Why This Works
Lemon juice is a natural bleaching agent that can remove the yellow stains from your teeth and whiten them (5).
6. Hydrogen Peroxide And Salt For Teeth Whitening
You Will Need
2 tablespoons hydrogen peroxide
1 tablespoon salt
What You Have To Do
Mix the two ingredients and rub this paste against your teeth with either a toothbrush or your fingertip.
Rub gently for 1-2 minutes and then rinse your mouth.
How Often You Should Do This
Repeat this twice a week.
Why This Works
Just like the baking soda, the graininess of the salt helps to dislodge the yellow stained layer on your teeth and restore them to their natural white selves.
When you use any of these remedies, once you see visible results and your teeth turn whiter, discontinue using hydrogen peroxide for a couple of weeks. It cannot be a part of your daily oral care regimen as continuous usage can cause more harm than good to your teeth. Also, refrigerate hydrogen peroxide once you purchase it to keep it in its stabilized form for longer.
While hydrogen peroxide solution has the approval of the ADA and top dentists also recommend it for teeth stain removal, you need to proceed with caution. It can cause unnecessary side effects in some people. Read the next section to know more.
Are There Any Side Effects Of Using Hydrogen Peroxide On Teeth?
Using hydrogen peroxide solution can cause temporary gum irritation or tooth sensitivity. This is not severe and will subside soon by itself.
Never swallow hydrogen peroxide solution as it may interact with the stomach acids and cause gastrointestinal issues (6).
If ingested, hydrogen peroxide can cause bleeding in the esophagus.
It is not advisable to use this compound to remove stains from children's teeth.
It may not be a good idea to use and combine hydrogen peroxide with OTC teeth whitening products. Doing so may result in enhanced gum irritation and erosion of the teeth enamel.
People with sensitive teeth, bleeding gums, and existing teeth ailments should not use this solution at random. They should consult a dentist before trying this solution for teeth whitening at home to be on the safer side.
If you do not fall into the above categories, you are lucky. Give any of the remedies mentioned in this article a try and let the world see your beautiful, white teeth in no time.
Let us know how this posted has helped you. Do comment in the box below.
Recommended Articles
The following two tabs change content below.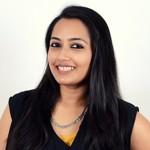 Latest posts by Kushneet Kukreja (see all)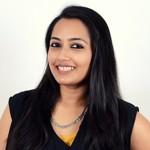 Kushneet Kukreja
She is a Biotechnologist, what we in normal English would call Scientist. While she is an expert in experimenting, she also holds an exceptional talent in juggling words and churning out content with just the right amount of sass added to it. When not saving the world with her articles, she likes to hang around with her Siberian Husky (because, aren't dogs the best?). In her spare time, she likes a little 'jibber-jabber, full of chatter' time with her friends. So, what gives her the energy to do all this? If you ask her, she would say,"My cup of sanity - an extra large mug of coffee!"