Best Ways To Style Your Overalls
You don't have to be a kid to wear overalls, and you don't have to be an adult. When it comes to overalls, it's official that we can all pull it off without looking like we are trying too hard to be cool. Just like everything 90s, there is a sudden spurt in people wearing overalls, and so if you have been thinking about trying it out, now is a good time to start. As far as how to wear them and where you can wear them to – plus everything else there is to know about them, we are here to help, and are happy to do so! Let's go over some interesting overall outfit ideas. Check them out!
Cute Overall Outfit Ideas
1. Black Linen Overalls
In summers, when the weather is out of control and you cannot deal with denim overalls (but the urge to wear them is unstoppable), you might want to venture into lighter fabrics like linen. Shop for it, and keep it handy if you are one of them who want to look a certain way one day, and cannot budge no matter what. Throw on a tank or a plain T-shirt and finish it with loafers or something comfortable.
2. Distressed Denim Overalls
Distressed, frayed, faded or anything else that falls under this category is in vogue right now, and we couldn't be happier. While at it, let's try the distressed overalls too. A classic style will be to pair it with a striped T-shirt, even better if it has sleeves, and a pair of converse shoes.
3. Complete Denim Overall
You know how they say go all out or don't do it at all? Yes, let's take that a little personally and get one of these overall denim suits that are an in-between of overalls and jumpsuit. It looks incredibly stylish and suits all body types too.
4. White Frayed Mini Overalls
There are days when you don't want to wear pants, which to me sounds like tropical and Southern summers. That's when you need these mini overalls that give you a perfect dose of style, comfort, and breathability. It's effortless too – pair them with a plain T-shirt, wear sneakers, and put your hair in a messy bun.
5. Frayed Overalls With Off Shoulder Top
Heading to a music concert or a beer festival, or doing something fun? Let your clothes reflect your state of mind! Reach out for that perfect off-shoulder top and pair it with your overalls.
6. Denim Overalls With Pink Ruffle Top
Pink and blue is another stunning combination, just like white and blue. The next time you are going out for lunch, dinner or anywhere exciting with friends, swap your white jeans or shorts with overalls and go for a pink ruffle top.
7. Short Overall Dress
There are days when you just refuse to believe that you have grown up, and we are all allowed to have them. And that's when you pick up your mini denim overalls, and pair them with a T-shirt or top that reiterates these feelings. Take this one step ahead and braid your hair in a plait or two.
8. Crop Top With Overalls
And of course, every piece or outerwear should be paired with a crop top at least once. The crop top can be sleeveless, with short or long sleeves, or it can even be a tube top. If it's a tube top, you can add layers like a plaid or chambray shirt for some added fun. Style your hair in beachy waves or use a bandana for a hippie vibe.
9. Camo Overall Dress
Anything in camouflage is perfect and gives you a vibe like no other, and when it is overalls, it takes it all to the next level. Pair them with a plain white or black fitted T-shirt, fold it at the ankles and go for aviators, white shoes, and big hoops. A look to die for!
10. Torn Overall Dress
Add some sass and sexiness to your outfit with these torn overalls and show people how it needs to be done. You can spin this outfit any way you like; wear a sequin top and nude peep toes for a party and finish with a crossbody bag, or wear a halter neck or tube top for a Sunday brunch and complement it with a side body bag.
11. Pleated Overalls And Ankle Boots
Haven't you heard? Pleated, red, sequin and striped overalls are totally trending – we cannot get enough of them. Keep the top simple, and preferably plain, and let your overalls be the showstopper. Spruce up the look with details like ankle boots, a hat, side body bag, etc.
12. Overall Skirt Dress
You have not done overalls if you have not done the overall skirt. This probably is a classic example of acing the overall look while still looking like a grown up. Wear them with converse shoes, leave your hair in beachy waves, and throw on a pair of aviators – and even after all this you look like a kid, so be it.
13. Green Corduroy Overalls
Just like old times, bring back the green overalls in corduroy and pair them with a plaid shirt. Throw on a scarf and floppy hat if you are in the mood for looking Southern today. Wear round vintage shades, like good old times.
14. Black Distressed Overalls And Jacket
Denim overalls and a denim jacket? I mean, why not? When the theme in your head is grunge, and you want to feel it inside out, go for distressed black overalls and pair it with a black tube top, and finish the look with a denim jacket. Pointed ankle boots or black converse shoes are great.
15. Striped Overall Dress
Every big or small brand has a section dedicated to overalls, or they at least have a few signature pieces because that's what makes a collection complete. An overall dress with a plain full sleeves T-shirt and ankle strap heels, smokey eye make up, and something like the Oxford shoes with a half bun will look absolutely amazing.
What started as a summer staple, found its way into all the other seasons as well! Because we want to wear what we want to wear when we want to wear it! Isn't it? Did you get a chance to sport them in round two? Do you plan to try them? What are your favorite overall outfit ideas? Let us know by dropping in a text in the comments section below.
Recommended Articles:

The following two tabs change content below.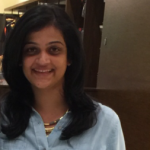 Latest posts by Pratima Ati (see all)