11 Most Loved Wedding Day Perfumes For Women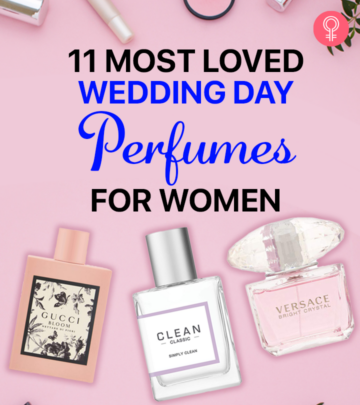 Selecting the perfect gown and a stunning set of accessories to complement it is what we all do for our wedding day. However, we skip choosing a signature scent for the wedding. Just like the other things you must choose for your big day, a classy perfume should also be on your radar. Why? Smell has the power to evoke memories. In the future, whenever you will catch the whiff of your wedding perfume, it will bring back memories associated with the big day.
Sweet, floral, and juicy fragrances are often associated with weddings. But sultry-spicy, tempting-woody, and creamy-vanilla aromas are also popular among the brides. Well, finding a perfect scent for your wedding day can be tricky due to the plethora of options available. Worry not, as we have got you covered with the 11 best wedding day perfumes for brides.Scroll down to check them out!
11 Best Wedding Day Perfumes For Women
Fleurs de MARIAGE by SERGIO NERO has a tempting floral aroma with top notes of pink pepper, peach, tangerine, black coffee, and licorice. Its middle notes consist of jasmine, fleur de orange, and patchouli. The base notes are taken from amber, vanilla, and cedar. This wedding day perfume is carefully crafted by world-renowned perfumers and is sure to lift your mood.
Fragrance: Floral
The Bright Crystal Eau De Toilette Spray from Versace is a designer women's perfume with a classic yet fresh fragrance. This enchanting wedding day perfume will remind you of summers and beach holidays. The top notes feature pomegranate and yuzu, the middle notes consist of peony, lotus, and magnolia, and the musky base notes include amber and mahogany.
Fragrance: Tropical beach
The Marc Jacobs Daisy Eau De Toilette Spray has a flirty fragrance with a playful and feminine touch. Its fresh and innocent scent will remind you of daisies. The top notes of this bouquet perfume are derived from wild strawberries and violet leaves. The mid notes are from violet petals and jasmine bouquet, and the base notes are of musk and vanilla.
Fragrance: Summer floral
It is one of the top choices for wedding day perfumes due to its light, casual, yet bold fragrance. This luscious perfume, inspired by crisp morning air, has a breezy, fresh scent. The top notes consist of cardamom, bergamot, and lavender, while aquatic blossom, fresh laundry, and mimosa constitute the middle notes. The base notes are heliotrope, white musk, and hinoki wood.
Fragrance: Woody
The Gucci Bloom Nettar Di Fiori Eau De Parfum has a classy floral fragrance that uplifts your mood. This sensually intense perfume is ideal for your wedding day as it passes the feminine aroma to your skin. The beautiful mix of authentic rose and ginger with Rangoon creeper, jasmine, and honeysuckle give this perfume an earthy tone. The base notes consist of osmanthus flower, patchouli, and bloom accord that enhance the aromatic blend.
Fragrance: Floral
The Black Tulip Eau De Parfum has an unforgettable floral scent with a seductive undertone. This pleasing and alluring scent exudes a luxurious fragrance blended with the botanical essences. Its notes consist of black amber, plum, pink pepper, patchouli, Japanese violet, and Indonesian jasmine to keep anyone mesmerized.
Fragrance: Spicy floral and fruity
Christian Dior's Miss Dior Blooming Bouquet Eau De Toilette Spray has a delicate and fresh fragrance blended with a floral aroma. The captivating essence of white musk and Calabrian bergamot with the bouquet of peony and roses offers a feminine touch to the perfume. The top notes include Calabrian bergamot, base notes are of white musk, and mid notes include Damascus rose and peony to create a passionate fragrance for your wedding day.
Fragrance: Floral
The Tobacco Vanille Eau De Parfum from Tom Ford is a perfect perfume for those who always look for an edge. The unique and secretly blended scent has notes of vanilla, cinnamon, cocoa, dried fruits, aged tobacco, sweet wood sap, and tonka bean to spread a spell of subtle sweetness and elegance. This perfume symbolizes power and confidence and leaves a powerful impression.
Fragrance: Sweet and spicy
The Tiffany & Co. Eau De Parfum is a luxurious blend of romantic and glamorous fragrances that will fit your signature scent list. This radiant perfume has vibrant top notes, floral mid notes, and sensual base notes that symbolize the feminine character. The gentle and warm fragrance has a musky aroma gives this perfume a sparkling floral scent. Vert de Mandarine constitutes the top notes of this scent, while the mid notes include iris, and the base notes are of patchouli and musk.
Fragrance: Floral musky
My Burberry Blush Eau de Parfum has a fruity floral fragrance. Its captivating and feminine scent offers a burst of energy and floral freshness, while its delicate notes awaken the senses. This all-year-round fragrance is a blend of classy and modern transformed into an elegant and sophisticated essence. Its top notes are of glazed pomegranate and lemon. The middle notes are of rose pearls and crisp apples, whereas the base notes consist of jasmine and wisteria.
Fragrance: Fruity floral
Ralph Lauren's Romance Rose Eau De Parfum lets you create a lasting impression due to its non-dying, long-staying fragrance. It is ideal for a romantic date. This juicy and sublime wedding day perfume derives its top notes from red apple, bergamot essence, lychee, and black currant. Its mid notes are of white violet, rose de mail, sun goddess rose, and jasmine. The base notes are patchouli, benzoin, and skin musk.
Fragrance: Sweet floral
A perfume that offers lasting fragrance is the ideal choice for your wedding day. Choose any of the above, keeping in mind your preferences, and let it evoke sweet memories of your wedding day every time you wear it!
Recommended Articles