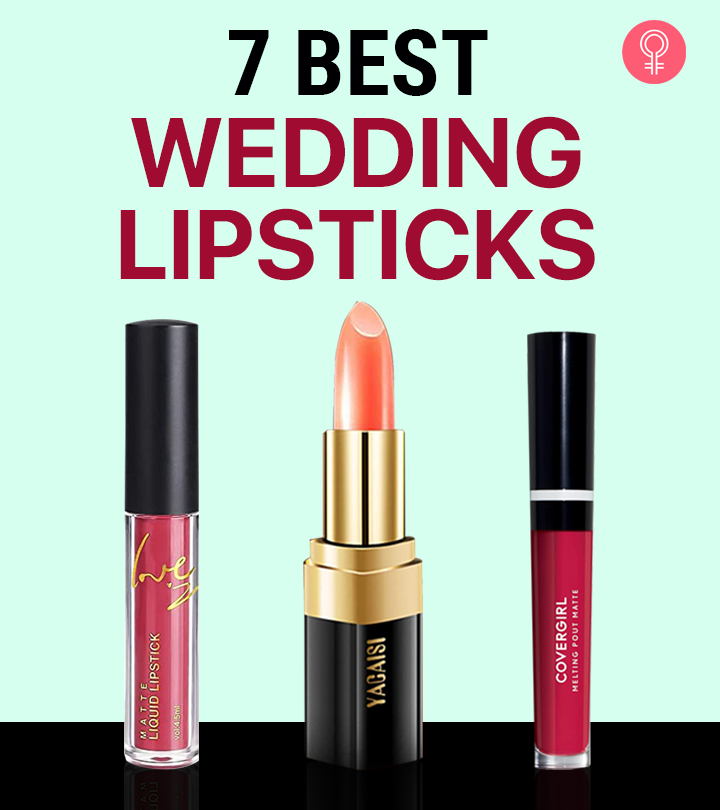 Are you dreaming about the perfect look for your big day? Well, whether it's a subtle, natural look or a bold and dramatic get-up, the truth is the color on your lips is what defines it all. A rich lipstick can make you feel special – like a princess. If you want to add oomph factor to your wedding look, scroll through our list of the 7 best wedding lipsticks that will not let you down on your big day. Check them out!
7 Best Wedding Lipsticks
The long-lasting crystal jelly lipstick set from Firstfly is enriched with beeswax, cocoa butter, and essential oils to keep the lips well hydrated. This three-piece set of waterproof moisturizing lipsticks is infused with vitamin E and candelilla wax to prevent chapping and keep the lips smooth. The lipsticks have color-changing properties, according to the temperature and humidity of the lips, so everyone gets a unique color. The bright color pigments are ideal for bridal makeup and can match any outfit.
Pros
Waterproof
Fade-resistant
Non-sticky
Color-changing
Cons
This fit-for-royalty liquid lipstick from Covergirl is enriched with nourishing ingredients that keep the lips from drying and prevent chapping. The creamy, richly pigmented color has a long-lasting matte finish. It comes with an easy-to-use applicator that glides on smoothly to ensure even coverage. The lipstick has a velvety texture that leaves the lips soft and smooth.
Pros
Long-lasting
Matte finish
Non-sticky
Easy application
Cruelty-free
Cons
The lightweight lipstick from By The Clique has a non-sticky formula that glides on smoothly to ensure full coverage. The delicate nude color is stylish and looks different according to each person's natural lip pigments. It can be combined with glitter gloss colors to bring out the best glow. The lipstick has a satiny texture and gives the lips a soft silky finish. It is made from skin-safe vegan ingredients.
Pros
Lightweight
Long-lasting
Non-sticky
Cruelty-free
Gluten-free
Vegan
Cons
Accentuates the lip lines.
This liquid lipstick from Dollup Beauty has a deeply hydrating formula infused with avocado oil and vitamin E to keep the lips soft and comfortable all day long. The rich, creamy texture is perfect for a glamorous bridal makeup look. This long-lasting lipstick comes with a smooth doe wand applicator for smooth and even coverage in one swipe. The vibrant pigments do not cake or smudge and feel light on the lips.
Pros
Long-lasting
Goes on smooth
Highly pigmented
Waterproof
Non-fading
Smudge-proof
Does not cake
Cruelty-free
Cons
The waterproof aloe vera lipstick from Firstfly is fortified with aloe vera, cocoa butter, beeswax, and candelilla wax to prevent the lips from chapping. It has a refreshing fragrance and keeps the lips moisturized and heals cracks to leave them soft and smooth. The innovative color-changing property ensures a unique color, depending on the temperature of the lips.
Pros
Color-changing
Natural ingredients
Waterproof
Long-lasting
Non-greasy
Cons
The Glamador liquid lipstick set features eight rich matte colors to create the best effect for your wedding look. The waterproof lipsticks glide smoothly on your lips with the premium quality lip brush and are easy to remove with cleansing oil. They contain moisturizing ingredients that hydrate the lips and make them smooth, supple, and silky.
Pros
Waterproof
Non-sticky
Long-lasting
Highly pigmented
Non-drying
Cons
None
The innovative color-changing lipstick from Raibaubl produces a unique hue depending on the temperature and humidity levels of the lips. This waterproof lipstick is crafted from natural botanical ingredients like cocoa butter, beeswax, and essential oils to keep the lips moisturized and prevent chapping. It protects the lips from dryness while improving elasticity.
Pros
Color-changing
Waterproof
Natural ingredients
Non-drying
Long-lasting
Cons
The right lip color can help you feel and look your best on your most special day. Go ahead and choose from the above list of the best wedding lipsticks that are long-lasting and can give you the perfect look you want.
Recommended Articles