13 Best Wedding Makeup Products For Every Bride (2023 Update)
A bridal makeup kit for the big day needs long-lasting and high-quality formulations.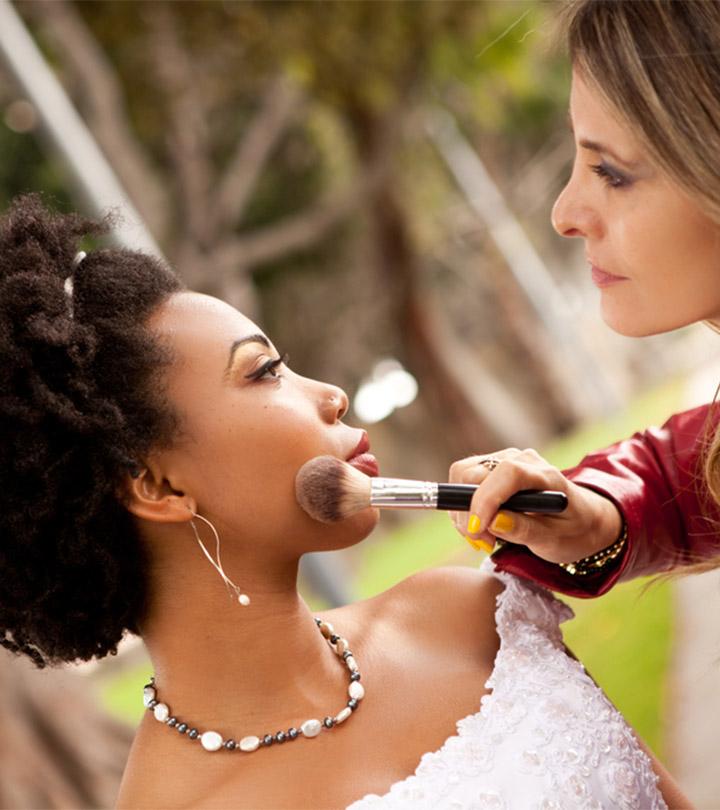 From being totally dramatic and cakey, to natural and subtle, wedding makeup has been through quite an evolution. Thanks to the best wedding makeup products available these days! High-quality makeup products available in the market help the new-age bride achieve a natural-looking glow along with enhanced facial features. It's imperative that your makeup products are versatile enough to last the sweat, harsh lightings, smiles, and tears, altogether. That's why you need to be mindful of the kind of makeup formulas and products you are going to use to bring out the best version of yourself. Bridal makeup calls for a product range that accentuates all your features without turning your look into something washed out or ghostly. And since every bride is bound to be a little anxious on their wedding day, their makeup should be the last thing that adds to their worry.
"As you start to prepare for your big day, try to keep it simple. Prepare your skin by using primers, setting products, and finding a long-lasting lip product to keep the makeup lasting all day long. I would also recommend keeping touchup items such as loose face powder, mascara, and lipstick to do touchups throughout the evening. If you're getting your makeup done, ask if they can supply, or you can pre-purchase an extra color-specific product they'll be using on you, such as lip color or blush," says Rachel D'Angelo, a Cosmetologist and a licensed beauty professional.
That's pretty much why investing in high-quality, and long-lasting makeup products is essential to ace your wedding look. So we've got you covered with makeup products ranging from foundations that make your skin shine with a pearly radiance to mascaras that don't drip even if you shed happy tears. Be sure to check out our specially curated list of the best makeup products along with a buying guide.
13 Best Wedding Makeup Products For The Gorgeous, Modern Bride
When you take your vows, the happy tears are bound to flow, and this is where a good mascara comes in handy. The potent formula lengthens and separates the lashes, giving an amazing falsies effect and a beautifully bold look. The smudge-proof mascara also has a conic-shaped wand that grips every strand and provides sculpted volume without clumps or globs. You don't have to worry about any annoying flakes falling in your eyes or fading because the formula will stay put the whole day. Unlike other mascaras, this one goes on smoothly and leaves your lashes feeling soft, not brittle or dry, which makes it a great product for your false eyelashes too. It's best suited for thin and stubby lashes, and you can apply two coats to get the desired volume and length. Watch this video of the product for more information.
Pros
Long-lasting
Lengthening
Provides volume
No fading or flakes
Clump-free
Vegan
Cruelty-free
Cons
May not be suitable for people with dry eye syndrome
Price at the time of publication: $4.99
Lock in your base makeup and make sure it won't budge the whole day with this amazing loose powder. Not only will it prevent shiny spots from appearing, but it also won't allow your makeup to settle in any fine lines or cake up around your nose. The loose powder is also great for those moments where you want a slight touch-up to cover any blemishes or acne scars. The lightweight air spun powder is long-lasting. It can be used to bake and set your makeup, resulting in a flawless airbrush makeup that won't look pale or ghostly in pictures. You can use your trusty makeup brush or a damp beauty blender while setting your makeup with this powder, and it will blend beautifully into your skin. A little goes a long way with this loose face powder, so be mindful of how much you apply, and you will be all set on your special day. Go through this video review for a detailed understanding of the product.
Pros
Lightweight
Long-lasting
Covers acne scars and blemishes
Doesn't settle in any fine lines
Eliminates shine
No flashback
Translucent powder
Cons
Price at the time of publication: $9.99
Not many people use a setting spray; they think it's an unnecessary extra step. But this could not be more untrue! A setting spray is crucial, especially for brides, to lock your makeup in place and keep it looking fresh the whole day/night. Think of this NYX setting spray as the proverbial cherry on your cake because two spritzes on your skin will work wonders on your look. The lightweight formula reduces any shine and mattifies your makeup almost instantly upon application. Makeup artists from all over highly recommend this product because it gives a smooth finish and prevents smudges or smears. You don't have to worry about feeling greasy once you apply the spray, as it's pretty much undetectable. We suggest that you apply it on areas that tend to crease so that the makeup stays put and doesn't move. Check out this video for a detailed review of the product.
Pros
Cruelty-free
Matte finish
Lightweight
Suitable for oily/combination skin
Easy to apply
Prevents smudging and creasing
Cons
Price at the time of publication: $22.0
You can't start your base makeup without priming your skin. This makeup primer by Maybelline sets up your canvas in the most perfect way. It's a great addition to any bridal makeup kit because the hydrating formula reduces the appearance of large pores by blurring and mattifying the skin. We are partial to this primer for many reasons because it creates a smooth base and is long-lasting. In addition, it calms the skin and locks in moisture, giving you a beautiful glow that only enhances your look. Apply this primer before the concealer and your high-definition foundation to get that beautiful and fresh look that will last you all through your big day.
Pros
Lightweight
Matte finish
Pore blurring
Moisturizing
Long-lasting
Breathable
Suitable for all skin types
Fragrance-free
Noncomedogenic
Cons
Some may find the texture thick
Price at the time of publication: $6.98
This bronzer is known for its buttery soft formula that just glides across your skin and blends like a dream. If you are looking for that perfect contour and warm island glow, then we highly recommend that you add this bronzer to your makeup bag. The formula is made from refined pearls and soft-focus pigments that give a smooth finish, along with a hint of shimmer. It also contains a moisturizing blend of murumuru butter, cupuacu butter, and tucuma butter, which leaves your skin feeling nourished with every application. In addition, the fatty acids and pro-vitamins condition your skin and keep it feeling supple too. Since the product uses high-quality natural ingredients, it is pretty safe on all skin types, including sensitive ones.
Pros
Natural hydrating ingredients
Subtle shimmer finish
Easy to blend
Potent pigment
Hypoallergenic
Cruelty-free
All-day coverage
Cons
Some may find the fragrance overwhelming
Price at the time of publication: $13.48
This little miracle in a bottle is a perfect fixer-upper for brides who need instant touch-ups to their hairline or brows. It's made from natural ingredients that are safe and hydrating; they not only enhance the elasticity of your hair strands but work with all hair colors. The finishing stick comes in a gel formula that is easy to use and glides on without any issue. Gently wipe it across your strands and wave goodbye to broken hair. Smear it and gather all your hair into a shiny ponytail or bun without having to worry about frizz, baby hair, or flyaway. Since it is travel-friendly, you can carry it in your bridal clutch and touch it up anywhere or anytime.
Pros
Natural ingredients
Gel texture
Suitable on any hair color
Enhances hair elasticity
Easy to apply
Smooth supplication
Cons
May leave a sticky residue
Price at the time of publication: $12.95
Gone are the days when brides would go for bold and shimmery looks, which meant that their eyelids would be jam-packed with vibrant colors that would mostly seem gaudy. Now, the modern bride is gravitating towards nude and subtle shimmer eye makeup; this includes colors like soft pinks, browns, and silver/rose gold glitter. The Lamora nude palette is the perfect makeup product. It will definitely help you achieve the subtle nude eye makeup look. The buildable formula is velvet smooth and suitable for all skin types. The palette contains 16 pigment-rich formulas that are easy to blend and stay on for long. You can create several combinations that result in a glamorous and subtle glitter eyeshadow look every time.
Pros
Velvet smooth formula
Easy to blend
Travel friendly
16 shades
Highly pigmented
Versatile
Cons
May need to primer to prevent creasing
Price at the time of publication: $6.99
Smile and sip as much champagne as you want; this lip crayon will stay in place through everything. The creamy matte formula glides on your lips, creating a rich pigmented layer that won't smudge or transfer throughout the day. It gives effortless eight-hour wear, with just one coat. Unlike other matte lipsticks, this one doesn't feel chalky or dry when you apply it, and it doesn't look flat. The crayon-tip makes the application easy, and in case you need it for touch-ups, it will fit in your clutch with ease. You can choose from 17 amazing shades from bold reds to neutral pinks; every bride has an option.
Pros
Lasts for up to 8 hours
Easy to apply
Creamy matte finish
Available in 17 shades
Smudge-proof
Transfer proof
Cons
Price at the time of publication: $8.66
If you want to bake and set your makeup, this is one of the best makeup products for weddings in the market. The powder can set your base makeup for up to 16 hours, and it's great for photographs as there will be no flashbacks. The oil-free powder is perfect for keeping makeup in place, eliminating shine, and minimizing the appearance of large pores. It is also fragrance-free, which makes it safe for sensitive, dry, and oily skin. We recommend that you apply the loose powder on targeted areas with a setting brush, keep it on for 2 minutes, and then brush off the excess to ensure that your makeup has a flawless finish for a long time. Another plus point is that the powder works great with any foundation, liquid, cream, mousse, or stick.
Pros
Lasts up to 16 hours
Reduces the appearance of large pores
Suitable for sensitive skin
Eliminates shine
Prevents flashback
Suitable with any foundation consistency
Oil-free
Fragrance-free
Cons
The shade range may not be very diverse
Price at the time of publication: $29.0
Having radiant skin is a must for brides, and this Lamora highlighter palette delivers on that promise! The palette has four beautiful shimmery shades that provide a high-end glow, which looks subtle yet lends a healthy glow. The various luminous highlighter shades are suitable for all skin tones, so you can play around with this palette, whether light or dusky. The illuminating pigments are pretty potent, so a little bit goes a long way; blending it is a dream because you can apply it with your fingers, and it will result in a flawless look. Suppose you are looking for a good quality budget-friendly alternative to high-end highlighters. In that case, we highly recommend that you give this palette a try.
Pros
Suitable for every skin tone
Smooth texture
Travel-friendly
Potent illuminating pigment
Easy to blend
Subtle shimmer
Cons
Price at the time of publication: $9.99
Beauty gurus and makeup artists swear by this primer because of its unique formula. The unique selling point is that it comes in a gel form that blurs visible pores and fine lines. It is infused with antioxidants, along with vitamins A and E that protect your skin from pollutants and external aggressors. It is also paraben-free and unscented, making it suitable for sensitive and acne-prone skin types. The primer dries down to form a matte finish that keeps your base makeup from fading or transferring. It is perfect for hot and humid weather, as it doesn't allow sweat to settle on your makeup and is quite breathable as well.
Pros
Breathable
Matte finish
Gel formula
Blurs pores and fine lines
Oil-free
Unscented
Suitable for sensitive and acne-prone skin
Cons
Price at the time of publication: $32.03
Urban Decay is known for its fantastic setting sprays. This one is perfect for people who have oily or combination skin. The lightweight formula contains kaolin clay that absorbs excess oil and controls shine, so you don't end up looking greasy during your big day. The spray will keep your makeup in place for up to 16 hours and won't let it smudge, fade, or get cakey/settle into any fine lines. The setting spray also has a unique temperature control technology that lowers makeup temperature on your skin; this prevents it from creasing or transferring. We recommend that you use this spray once you are done with your base and eye makeup, just before you apply your mascara.
Pros
Lightweight
Oil-absorbing
Suitable for oily and combination skin
Controls shine
Ultra-matte finish
Prevents smudging and fading
Temperature control technology
Cons
Price at the time of publication: $24.95
This is one of the popular wedding HD makeup look products because of its natural and buildable finish, which is great if you are going for a subtle glam look. A good quality blush should give you a soft flush of color without making it look like you developed an allergic reaction! Hence, you can use this amazing powder blush to enhance your complexion and natural glow. The formula is mineral-based and contains pearl pigment that sits on your skin while diffusing light to create a soft-focus blurring effect. This effect provides a smooth, picture-perfect finish that looks great in photographs and makes your skin look flawless. All you have to do is pop the color on your cheekbones and on your nose for that beautiful flushed look.
Pros
Buildable
Smooth texture
The soft-focus blurring effect
Enhances complexion
Satin finish
Cons
Price at the time of publication: $19.92
Now that you know the top wedding makeup products, you may want to know about the main factors to look for when shopping for them. Keep reading our buying guide to know more and make the right decision.
How To Choose The Best Wedding Makeup Products
Pigment

The main reason people opt for wedding makeup products is that they provide a higher saturation and pigmentation. In addition, the shimmer factor is a bonus, and altogether these elements can enhance your features and make them pop. So, when looking for good quality makeup, ensure that the formula is saturated with the intense color visible with just one swipe, and the shades complement your complexion.
Formula

Look for long-lasting products, won't fade, smudge, transfer or have minimal fallout. Look for formulas that suit your skin type and are breathable; they will last longer if they match your skin's needs.
Finish

Makeup products for weddings are great because they are specially formulated to prevent flashbacks and make you look flawless as well as fresh, all through your special day. Thus, you must look for formulas with a matte or velvet finish and pair them with a good quality setting spray. This will ensure a smooth finish that won't budge no matter how much you dance.
Top Tips For Your Wedding Day Makeup
Choose products that you feel comfortable in

There is a range of products catering to different skin tones and types; you have to find formulas and pigments that will work for you on your special day. We recommend getting a trial to look done with your makeup artist and the products of your choice. This will give you an idea of what the look will feel like on your wedding day.
Balance your look

If you want a dramatic and glam eye makeup look, by making use of eyeliners, brow pencils, etc., then you need to go easy on the lips. However, if you're going to keep the eye makeup simple, we suggest creating a bold lip. This will balance your look and highlight one set of features while downplaying the other.
Ensure that your foundation matches your complexion

Make sure that whatever foundation texture you choose should match your skin tone as close as possible. When shopping, you can swatch it along your jawline to know if it will suit your complexion. When applying the product, don't forget to blend it down your neck as well.
Why Trust StyleCraze?
The author, Priyam Gupta, loves experimenting with different kinds of makeup products. She has written several product reviews for her readers to help them select makeup brands according to their requirements. She believes in using the best wedding makeup to keep your look flawless and free of smudging or melting away. Since every bride is anxious on her D day, makeup is the last thing she needs to worry about. These high-quality products keep your look intact without making it feel heavy on your face.
Frequently Asked Questions
How can you get your makeup to stay fresh on your wedding day?
Prepping your skin with a moisturizer and primer, wearing waterproof makeup, and utilizing setting powder and spray will help your makeup stay fresh on your wedding day.
What is the difference between regular makeup and bridal makeup?
Bridal makeup is usually more subtle with a natural-looking finish. It aims to enhance your natural beauty and make you look your best self. It is not extravagant, but many brides choose a shimmery look. Everyday makeup, on the other hand, can be bold or nude, matte or glittery – it depends on your outfit, mood, and occasion.
How long should wedding makeup last?
The ceremony, reception, and photograph sessions on your wedding day might all take up to 6-7 hours. To be safe, your makeup should last for at least 8 hours. It would be wise to choose makeup products that would last for 8 hours, be waterproof, and not budge.
Recommended Articles
Best Makeup Products For Beginners, According To Reviews
Best Makeup For Women Of Color
Best Makeup Products For Oily Skin